Sign up to get our free news roundup, Georgia Trend Daily, in your inbox
Sign up to receive the free monthly digital edition of Georgia Trend in your inbox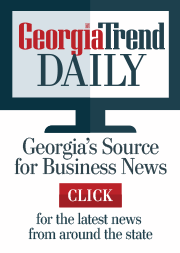 Innovative and accessible graduate education

Beginning this fall, students at Georgia State University's Robinson College of Business will be able to attend graduate courses from anywhere – in the state or across the globe — with the aid of leading-edge technology. That's the point of Robinson Anywhere, the culmination of the college's year-long effort to increase the access and convenience […]

Self-driving e-scooters now in Peachtree Corners

Last week, Peachtree Corners launched a fleet of the world's first teleoperated e-scooters on public streets. The six-month pilot of the e-scooters reflects the city's ongoing development of innovative transportation technologies that include a self-driving shuttle, which completed a pilot in January. Both the e-scooters and the shuttle operate on a 1.5 mile autonomous vehicle […]

Day of remembrance

Today, Memorial Day, we honor the men and women who died while serving in the military. Like many businesses, Georgia Trend is closed and will reopen tomorrow. Photo by David Everett Strickler on Unsplash. Do you follow us? Find us on Linkedin, Facebook, Twitter and Instagram. The post Day of remembrance appeared first on Latest Trends.