Cobb County: A Bright Tomorrow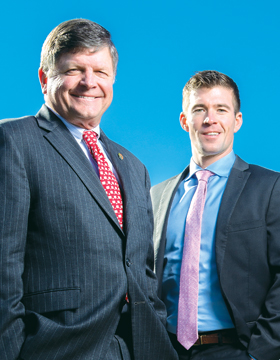 Cobb County is on the rise, and there's no better sign of the upsurge in development than Cumberland. As thousands of motorists stream by on Highway 41 near the intersection of two interstates, they see ongoing construction that is rapidly transforming the district into one of the metro area's premiere places to live, work and play.
The Atlanta Braves' new SunTrust Park is taking shape and has become a catalyst for a building boom that is sweeping through the Cumberland Galleria district. From Class A office and commercial space to a burgeoning residential market, the evidence of growth is everywhere.
And not just here, but throughout the county.
"The economy is coming back nationally, and we're seeing that play out here in Georgia especially," says County Commissioner Lisa Cupid, who represents the southwest swatch of this northwest metro county. "We've been doing very well in Cobb, and a lot of that has been buoyed by the momentum created by the Braves' decision to move here."
She is quick to add that developers are building and people are choosing to live here for many of the same reasons they always did.
"We're very competitive when it comes to attracting businesses," she observes, citing low property taxes, highly ranked schools, easy access to both Atlanta and its airport and a quality of life that offers something for nearly everyone.
---
Smart Draw
Both the Cumberland area and southern Cobb County, which share a border with Atlanta and Fulton County, are increasingly more urban than suburban. It's a good example of how much Cobb has changed. Once largely rural, it was a place that Atlanta residents came in the summers to escape the heat of city life. Now it's one of the first choices for the people who are reshaping Metro Atlanta and the nation – the millennial generation.
"By 2020, 75 percent of the workforce will be millennials," says David Connell, president and CEO of the Cobb Chamber of Commerce. "Think of what a shift that is in demographics. Cobb County is now the No. 1 fastest-growing millennial population in all of Metro Atlanta. People are beginning to see this as the hot spot of the future."
Cobb has the highest-educated population in Metro Atlanta – 45 percent of local residents hold at least a bachelor's degree. And higher education is another of the prime economic engines driving the local economy. There are a number of educational institutions including Kennesaw State University, which merged with Southern Polytechnic State University in Marietta to become the third largest in the state. Then there's Chattahoochee Technical College, one of the state's biggest tech schools, and Life University, the nation's No. 1 producer of chiropractors.
An educated workforce has made selling the county to business much easier.
Several years ago, the chamber crafted a strategy for the county's redevelopment that included making the region more desirable to the younger, highly educated workers that are so attractive to business. That strategy was slowly working, then everything shifted into high gear when the Braves showed up. And they were bringing more than baseball.
"The Atlanta Braves announced that they were coming to Cobb County, and that got everybody excited, but from an economic development standpoint the thing that was more exciting was the $600-million mixed-use development, The Battery Atlanta," says Connell.
The Battery Atlanta – the name refers to a term coined in the 1800s for the pitcher and catcher on a baseball team – rising around the ballpark features a new hotel, The Omni Atlanta Northwest, and about 350,000 square feet of retail, including some 20 restaurants. There will also be a 53,000-square-foot entertainment venue – named after the storied Roxy Theatre in Buckhead – and multifamily residential as well.
While the area will see a boost in restaurants, shops and cultural attractions, several other nearby facilities have been drawing people to the county for years. Just down the road, the Cobb Energy Centre has been presenting national entertainment to the public since it opened in 2007, and the Cobb Galleria Centre is one of the metro area's premier convention centers.
The Battery is a good name for a development that many see as powering a massive resurgence in the area.
"We've seen a lot of spin-off development in that Cumberland-Galleria area," says Michael Hughes, director of Cobb County's Office of Economic Development. "Right now we've got about five class-A office building projects under construction there in various stages."
It's been more than 15 years since the last high-quality office building went up in the district.
The new buildings include Riverwood 200 and 1100 Overton, the new home of Columbus-based Synovus's Atlanta area operations. Pope and Land Enterprises is developing a headquarters for Comcast's southeastern U.S. operations in The Battery Atlanta. HD Supply is relocating its operations under one roof at the $100-million Encore at I-75 and Cumberland Boulevard.
Aarons, the lease-to-own giant, has also decided to make the Cumberland-Galleria area its home. Gas South consolidated its Marietta customer call center into its Cumberland headquarters in 2015 and extended its lease through 2025.
In all, more than 4 million square feet of new commercial space is being added to Cumberland along with an impressive 7.2 million square feet of residential. That combination is creating the much desired live-work-play environment that attracts a millennial workforce.
To handle the influx of people who will be traveling through these highways every day (and not just when the Braves are playing), the county is in the midst of a massive transportation overhaul. A $900-million managed lanes project on I-75, the second largest road building effort in the history of Georgia, is underway. There will be new interchanges feeding into busy roads like Windy Hill and Bells Ferry roads from I-75 with diverging diamond interchanges sending traffic efficiently on and off the roads.
"It will be a huge congestion reliever," Connell says.
All this development sits in the midst of one of the state's richest job centers. Within the six-and-a-half-square-mile Cumberland Community Improvement District is almost six percent of Georgia's entire economy.
"We're seeing a lot of different things go on at the same time, which is turning [Cumberland] into its own city and giving it that feel that they are like a little neighborhood," says Brooks Mathis, the chamber's senior vice president and executive director of economic development.
While there are multiple factors driving this development, the Braves have certainly helped put Cumberland and Cobb on the map.
"Anytime you have a substantial development project like this where you've got Liberty Media [owner of the Braves] investing such a substantial amount in the community, other companies, developers, businesses want to take a look at this area," says Hughes. "They want to figure out 'did we miss something? What's going on here that we should have considered?'"
While the Braves stadium has gotten positive reviews from the business community, it stirred up a hornet's nest among some tax-weary citizens. A controversy over the county's spending of public dollars to support the building of the stadium is credited with the defeat of County Commission Chairman Tim Lee. He lost his bid for reelection last year to challenger Mike Boyce, a retired Marine colonel, who had criticized Lee for the way he handled the Braves coming to the county. He charged that the deal lacked transparency and public input. A majority of Republican primary voters apparently agreed.
---
Sports Corridor
While Cumberland may be getting the lion's share of attention, it isn't the only game in town. Drive a few miles north on 41, take a right onto Franklin Road and see what a difference a few years and the concerted efforts of government can make. Once known for dilapidated apartments and crime, this corridor is getting a makeover – with sports helping to lead the way.
After voters approved a $68-million bond referendum in 2013, Marietta began pouring money into reclaiming and revitalizing the corridor by buying and tearing down old apartments. It spent $11 million on Woodlands Park and $13.3 million to acquire and raze the adjacent 348-unit Flagstone Village. Another $3.26 million went to acquire and level the 200-unit Preston Chase complex. The four properties combined made up 92 acres.
The availability of this property was key to persuading the Atlanta United Football Club to give up plans to move to DeKalb County and instead build a headquarters facility and training complex here. The Major League Soccer franchise, which is owned by Arthur Blank, will play in Mercedes-Benz Stadium in downtown Atlanta starting this June but operate from Marietta.
The team is leasing 32 acres on which it is constructing a $60-million training facility along with spectator stands and playing fields. Just across the street, the city is building another set of fields for use by local residents and teams.
"We're leasing the facility to [Atlanta United], so they are putting their money into it – no public funds," says Marietta City Manager Bill Bruton. "They will have a lot of employees with the team, but they also are going to be running a youth developmental program as well."
Those moves attracted high-profile companies such as The Home Depot, which moved its IT department to New Market Business Park near Dobbins Air Reserve Base at the south end of Franklin Road. The 200,000-square-foot facility is now home to 1,200 workers. The company also acquired another building for additional operations.
The remaining acreage is getting interest from developers who now see potential in the newly rebranded Franklin Gateway.
"We would like to see some sort of corporate headquarters going in there," says Beth Sessoms, former economic development manager for the city of Marietta, who retired last November. "The corridor is really a great location, with access from I-75 both at Delk [Road] and the South Marietta Loop. The property has great visibility from I-75."
Marietta is also popular with residents who like its colorful and walkable downtown area. About 800 homes are currently under construction to accommodate the demand. These units – both multi- and single-family – are helping the city fulfill a longtime goal – drive more homeownership. In decades past, the number of renters was far higher than in most neighboring cities. Now that trend has begun to turn around, according to Bruton.
---
Vibrant Transition
In the northern part of the county, city officials in Kennesaw are busy keeping track of an explosion of residential and retail development. The biggest of these is the new Kennesaw Marketplace at the corner of Highway 41 and Barrett Parkway. The massive, 50-acre mixed-use development is opening in stages and includes national brands like Starbucks, Whole Foods Market, PNC Bank and Hobby Lobby. There's also a residential development nearby as well.
Although outside the boundaries of the Town Center CID, it reflects a resurgence of development in this vibrant jobs center.
"Over the past 18 months, … we've had an infusion of more than $150 million in new investment into that space," says Tracy Rathbone, executive director of the Town Center CID. "It's a really exciting time to see the change and potential for additional growth inside the district."
With Town Center Mall, surrounding retail and office parks, the region is a destination for both workers and shoppers throughout the northwest part of the county. It's also neighbors with one of Cobb's biggest economic engines, Kennesaw State University and its 34,000 students and more than 4,400 faculty and staff.
"We are working in concert with them to look ahead at where we can collaborate on projects and leverage our dollars together," says Rathbone. "Finding the right balance between infrastructure and quality of life is of great importance to us. We're looking at a number of opportunities for short- and long-term redevelopment of retail and restaurants – and for developing greenspace."
In fact, the district is already building two new parks and making enhancements to the Bell's Ferry Trail. When complete, more than 50 acres of new greenspace will be available for both residents and the 100,000 workers who enter the district every day.
The CID also recently completed the Noonday Creek Trail – a seven-mile walking and biking trail that runs from Bells Ferry Road to Kennesaw Mountain National Battlefield Park.
Quaint, historic downtown Kennesaw with its shops and restaurants is also seeing a resurgence of growth. There's a bevy of residential developments sprouting up on the corridor and in surrounding areas.
"One of our main focuses is on redevelopment in downtown," says Bob Fox, the city's economic development director.
Kennesaw completed its first large mixed-use project, Revival on Main, just last year. With 252 multi-family residential units and about 9,000 square feet of retail, it fronts directly onto the city's busy Main Street.
It's one of several mixed-use projects that have gotten underway recently as Kennesaw is becoming increasingly attractive to not just millennials, but also empty nesters and older adults.
Other Cobb cities such as Acworth, Smyrna, Austell and Powder Springs are also finding greater interest in their downtowns. In Smyrna, a $300-million, 82-acre mixed-use development by Jamestown, who redeveloped Atlanta's Ponce City Market, is under construction on a former industrial site along the Chattahoochee River. Riverview Landing will have a mix of homes, restaurants, greenspaces, shops and nearly a mile of river frontage.
And in Powder Springs, the city is gearing up to build a new downtown park and amphitheater that Mayor Al Thurman says will spur new investment and development in this quaint city center.
Cobb County is a region in transition. It is poised to offer residents a unique blend of urban culture and small-town charm. In every corner, there is progress toward a brighter tomorrow.
---
LOCAL FLAVOR
Something for Everyone
Amidst all the growth with its shiny new buildings, shopping centers, residential development and companies, one industry stands out in Cobb County: tourism. It's the sector that drives the local economy, generates the most money and employs the greatest number of people.
That's a fact most people overlook, and the sector's economic impact continues to accelerate. Last year tourism accounted for $2.75 billion – a 7 percent rise from the previous year. The industry also supported about 32,000 jobs, an increase of 5 percent.
"Cobb is such a diverse county, and there are so many great options for people to choose," says Holly Quinlan, CEO of Cobb Travel & Tourism.
The top attraction is Six Flags Over Georgia. Now in its 50th year, it's still going strong with new offerings such as a 4-D interactive thrill ride. The company also manages a popular water park, Six Flags White Water, in north Marietta. Together, the two properties had an economic impact of $228 million for the 2015 season.
Cobb is rich with history. Kennesaw Mountain National Battlefield Park continues to be the nation's most-visited Civil War site.
That national conflict is deeply engrained in the county's history. The infamous Great Locomotive Chase, which followed the theft of a passenger train by Union spies, is an iconic part of that history. Commemorated in books and films, it's easy to find the story preserved throughout the county. The Marietta History Museum occupies the building that was once a hotel where those Union spies spent the night and hatched their plan. The locomotive itself, The General, is housed in The Southern Museum of Civil War & Locomotive History in Kennesaw.
Rails and the trains that ride them are a popular topic of conversation at Marietta's historic depot, which now houses the city's Welcome Center. More than 50 trains a day pass through the city, and it's one of the best spots in the state for train watching. An endless throng of people from adult fans to little kids getting their first look at a powerful train thundering past use the depot as an outpost, according to Katie Peterson, executive director of the Marietta Visitors Bureau.
The depot is also a short walk to the square with its rich collection of shops and restaurants.
"The square is the gem of the city, and that's what brings a lot of people to Marietta," says Peterson.
If wandering amongst trees and plants is more your style, there's plenty of parks in Cobb County, including Smith Gilbert Gardens in Kennesaw, 23 acres of woodlands, a rose garden, perennial flowers and more. In Smyrna, there's also Heritage Park, a 105-acre nature preserve along Nickajack Creek. And of course there's the 61.5-mile Silver Comet Trail, 13 miles of which pass through the county along former railroad tracks in South Cobb.
Feel like doing a few half-pipes in a more concrete type of park? Check out the 40,000-square-foot Kennesaw Skate-park, a Street League Pro-Style facility with similar ramps, obstacles and rails that the pros ride in major competitions. – Randy Southerland