Georgia Trend 2022 40 Under 40
The annual list of the state's best and brightest under the age of 40.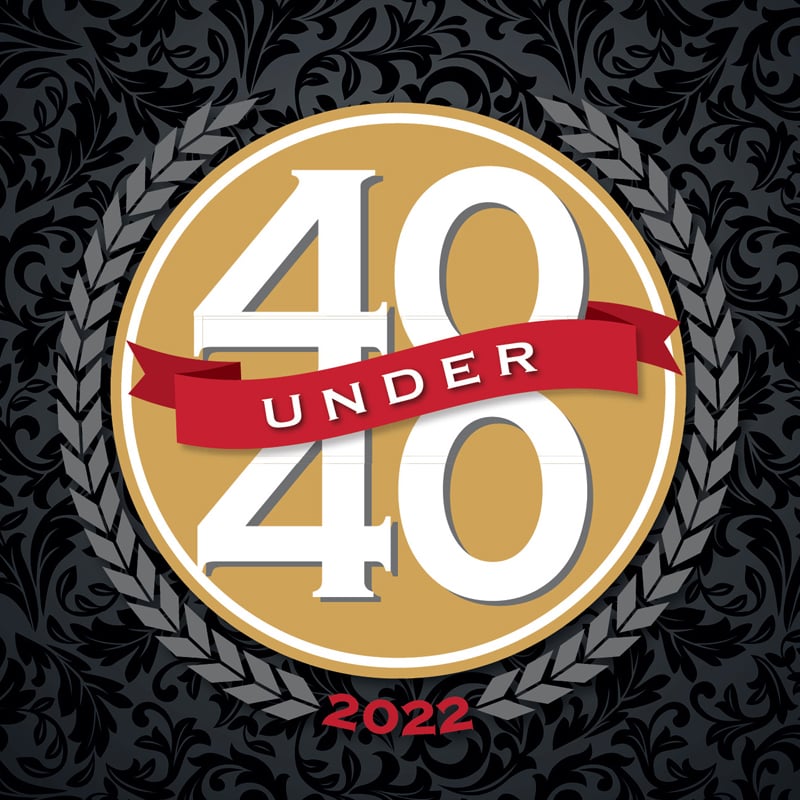 For the 26th year, Georgia Trend is celebrating 40 of the state's brightest stars under the age of 40. As always, the individuals recognized here awe and inspire us.
These outstanding young leaders make their homes throughout Georgia and represent the healthcare, legal, nonprofit and government sectors as well as large corporations and entrepreneurial startups. While they excel in their day jobs, they also find time to volunteer and give back to their communities and the causes they're passionate about.
The task of choosing the 2022 Georgia Trend 40 Under 40 was not an easy one. The magazine staff selected the final group from nominations submitted by readers from around the state who know them well. We take great pride in sharing their stories.
Profiles of the honorees were written by Betty Darby, Susana Hills, Brian A. Lee and Karen Snyder. We know you'll enjoy reading about these amazing men and women. – The Editors
---
Ashley Allen
39
Senior Director
CCBHC and Outpatient Services
River Edge Behavioral Health
Macon
Ashley Allen discovered her passion for mental health work while at the University of Georgia. Now, as head of a certified community behavioral health clinic (CCBHC), she spends her days leading and training others in suicide prevention, mental health first aid and nonviolent crisis intervention, among other duties.
When not working to improve mental health among people of all ages and income levels, she serves her community in many ways, including being an active member of the Macon Jaycees and as member and former president of Macon's UGA alumni chapter. She's on track to earn her doctorate in 2024. "I love that I get to help people every day and see them get better," says Allen. – BD
---
Benjamin Andrews
36
Statewide Program Manager
Advanced Technology Development Center (ATDC)
Georgia Institute of Technology
Chamblee
After earning his degree from Georgia Tech, Benjamin Andrews went home to Americus and distinguished himself as a city staffer. In 2017 he headed to ATDC, where he's been statewide program manager since 2018, taking the tech incubator outside of Atlanta. "I'm proudest of our expansion to new cities because there has not been enough investment in South and Central Georgia," he says of the expansion that adds Albany, Columbus, Macon and Peachtree Corners to existing sites in Athens, Augusta and Savannah.
Among many activities, he is a board member for Georgia- Forward, a nonpartisan think tank focusing on policy issues, and a big fan of Atlanta United. – BD
---
Kyle Bennett
39
Tourism Manager
City of Woodstock and Visit Woodstock GA
Canton
How many tourism managers can say their roots in the area go back nearly two centuries? Kyle Bennett can. With family in Cherokee County since the 1840s, there's plenty to look back on, but he's firmly focused on progress. "It has been an honor to play a part in the transformation of Downtown Woodstock from a sleepy train town to a thriving entertainment district full of restaurants, stores, attractions and a variety of places to live," says the manager of the award-winning Woodstock Visitors Center for 16 years.
Bennett dedicates free time to organizations such as Preservation Woodstock and Cherokee County Friends of the Library. The three-term Northwest Georgia Travel Association president credits his work ethic to his father, who balanced a manufacturing job with running a 100-plus acre cattle farm. – BL
---
Leonte Benton
38
President
T. Dallas Smith & Co.
Atlanta
At four years old, Leonte Benton pointed to the Bank of America building and told his father he would own a building like that one day.
"From there he started to feed my appetite with articles from the Wall Street Journal and books that were real estate-related, and I just ran with it," says Benton, who in 15 years rose from intern to president of T. Dallas Smith & Co. commercial real estate brokerage. It marks the first change in leadership for one of the largest Black-led CRE firms in the country.
Instrumental in securing space for Microsoft in Atlanta, the region's largest commercial real estate deal of 2020, Benton is among 3% of African Americans in the industry. He's closed more than $1 billion in commercial real estate deals across the country.
His community involvement includes roles on several boards, from the Georgia Department of Education to the Boys and Girls Club of Metro Atlanta. – KS
---
Laura Bollman
39
Director of Strategy and Operations
Rollins Center for Language & Literacy
Decatur
An advocate for equity in education, Laura Bollman's current position was a homecoming of sorts, as she had partnered with the Rollins Center since 2008 to expand early learning opportunities while teaching at Atlanta's Drew Charter School. "I got to witness firsthand, in the classroom, the power of language and how in those first five years…when you pour into children language skills and develop their oral language, it makes a huge difference in their ability to speak, write, read, understand the world around them and advocate for themselves and those around them, preparing them for a life of self-determination," says Bollman.
The former president and CEO of the State Charter Schools Foundation of Georgia, Bollman was the first staff member hired at Purpose Built Communities and continues to promote free cradle-to-college open-access public education. – KS
---
Ansley Booker
37
Director of Diversity and Inclusion Initiatives
Mercer University
Macon
Scientist and educator Ansley Booker is Mercer University's first director of diversity and inclusion initiatives, but her work extends beyond campus to encourage young people – especially minority youth and girls – to embrace STEAM careers. "I'm from rural Georgia [Eatonton] and I've seen how mentors have driven the good things that have happened in my life," she says in explaining both her career and her community activities, which run from dress-for-success fashion shows to encouraging post-secondary education ambitions.
She earned a biology degree from Georgia Southern University, a master's degree in pharmacy from the University of Georgia and a doctorate in higher education administration from Mercer. Her 2019 TED Talk was on "Unhidden Figures," about Black women who have earned graduate STEM degrees. – BD
---
Regina Bradley
38
Associate Professor of English and African Diaspora Studies
Kennesaw State University
Kennesaw
Author and scholar Regina Bradley's Southernness and love of hip-hop fuel her research on contemporary African American literature and culture. She knows growing up in the South is not a one-size-fits-all experience. "The research in place does not give credence to what it means to be Black in the post-civil-rights American South," she says.
Her upcoming essay collection, Sitting on Zora's Porch: Notes from a Black Girl in the Hip Hop South, explores the experience of young Black girls in the South through a hip-hop lens. Her essay collection Chronicling Stankonia: The Rise of the Hip-Hop South has already earned her the 2022 Georgia Author of the Year award from the Georgia Writers Association. Her podcast, Bottom of the Map, features a female perspective on hip-hop culture's impact on the world. – SH
---
Anne Vogler Brown
37
Physician Recruiter
Piedmont Columbus Regional
Columbus
Anne Vogler Brown's role as a physician recruiter means she needs to "sell" the community where she lives and works. "I'm not from Columbus, so I bring a good point of view and perspective. I don't hire somebody if I don't see myself or my family going to them," she says of her responsibilities, and she describes her adopted hometown as "a hidden gem."
She is a former Junior League of Columbus president and a graduate of Leadership Columbus. As the mom of three young daughters, she serves as a troop leader for Girl Scouts and head soccer coach for an under-six girls' team. For Columbus 2025, a regional comprehensive planning effort, she chairs one of the plan's five action areas. – BD
---
Brandon Bryson
38
Chief Magistrate Judge
Bartow County
Cartersville
"If people come into my court, they're not having a good day. They've either lost their freedom or they're out money or they're losing their home. I think about what shoes they're in and I try to be respectful," says Brandon Bryson, chief magistrate judge for Bartow County. When he took office almost six years ago, he was one of Georgia's youngest chief magistrates at age 32.
The Mississippi College School of Law graduate now serves as an instructor at new judges' training and as a mentor of recently elected or appointed judges, all part of his work as president-elect for the Council of Magistrate Court Judges. Among his community activities, he chaired the board for the Etowah Valley Humane Society as it became a no-kill shelter. – BD
---
Michael Caldwell
32
Mayor of Woodstock
Co-founder and Managing Partner
Black Airplane
Woodstock
Michael Caldwell became the youngest state legislator in the United States with his election to the Georgia House of Representatives in 2012. His bid for Woodstock mayor in 2021 brought him full circle, overseeing the burgeoning town of 36,000 residents that last year welcomed 3.2 million visitors. A small-business owner whose Black Airplane, a full-stack digital product agency, employs 30 people at its downtown location, Caldwell and his family also live in downtown Woodstock.
"I'm all-in on this city. Our family has placed all of its bets on this place," says Caldwell, who serves on the board of the Cherokee County Historical Society. "We're in a chapter where we're going to define what Woodstock looks like for the next generation in the next five years…that as Woodstock grows, it still feels like Woodstock." – KS
---
Aisha "Pinky" Cole
34
Owner and Operator
The Slutty Vegan and Bar Vegan
Atlanta
Pinky Cole is famous as the founder of The Slutty Vegan and Bar Vegan, a plant-based restaurant chain started in Atlanta, but as she's moved from the dining room to the boardroom she's also become a noted philanthropist. In 2019, Cole established The Pinky Cole Foundation with goals of building wealth in Black communities by teaching entrepreneurship and financial literacy to teens and young adults ages 13 to 22. Her donations have paid rent for struggling local businesses and tuition for 30 Clark Atlanta University (CAU) students.
In her commencement speech at CAU, the class of 2009 alum promised to give every 2022 graduate an LLC to get them started on the path to entrepreneurship. Meanwhile, lines still stretch around the block for her restaurants in Atlanta, Athens, Birmingham and now, Brooklyn, NY. – SH
---
Nieshia Crawford
36
Owner
1080 Productions
Atlanta
Nieshia Crawford is making waves in the male-dominated entertainment world and wants women to know that they can have it all. The encouragement she got from her professors at Clark Atlanta University drove her career from CAU's communications department to being a producer with established networks including Netflix, HBO, Bravo and ITV America, among others. In 2022, Crawford became co-executive producer for Netflix's largest docuseries, Love Is Blind. She is also the owner of 1080 Productions, an independent production company in Atlanta. After building her family and purchasing her first two properties, she transitioned those properties into housing for women who need help – a venture that earns her no profits and whose only goal is to provide support to women in need and their families. – SH
---
Kimberlynn Davis
39
Partner, Intellectual Property
Kilpatrick Townsend & Stockton LLP
Fayetteville
"No asterisk needed" is Kimberlynn Davis's way of saying no defense or explanation is required for her perhaps unorthodox career path, which took the self-described "scrappy" New Orleans native and lifelong learner from an HBCU in Louisiana to an Emory University Ph.D. in organic chemistry and on to Georgia State University College of Law. She now combines science and law as a patent attorney and partner in Kilpatrick Townsend's Intellectual Property Department.
"My mantra has always been: Just get me in the game and I'll show you," she says. The mother of two shows her commitment and work ethic in the community as well. In addition to supporting school, company and county causes, Davis achieved a whopping 446% year-over-year increase in funding for the Atlanta chapter of early childhood education nonprofit Jumpstart in 2021. – BL
---
Larry Evans
39
Partner
Oliver Maner LLP
Savannah
Lawyers aren't known for their work-life balance, but Larry Evans has certainly found his. When he's not in the courtroom, where his clients range from small businesses to Fortune 500 companies, this civil litigator's drive extends to the great outdoors and the greater good of charity work. He serves on the boards of The Savannah Center for the Blind and Low Vision and Junior Achievement of Georgia, which focuses on high-impact programs for students in the areas of financial literacy and career readiness while fostering an entrepreneurial spirit.
Evans' "unquestionable" inspiration is his multitalented wife Rebecca, whose warmth, selflessness and serenity help him scale mountains, both literal and metaphorical.
"My perfect day? Wake up early, long run, healthy breakfast, paddle a river, hike a mountain, later a big, delicious dinner with good friends and family, and close it out with a lively campfire conversation before bed in a tent," he says. – BL
---
Christopher Gilmore
35
Partner
Townsend & Lockett, LLC
Atlanta
Christopher Gilmore enthusiastically campaigns to increase investments in underrepresented businesses in Georgia and beyond. Four years after joining Townsend & Lockett – described as one of the nation's largest Black-owned corporate law firms – he has boosted the firm's practice in mergers and acquisitions and venture capital practice, and pioneered its entry into commercial real estate law. "It's something I was good at. I got on that path early and kept riding it," he says of his specialized law success.
The Atlantan earned his law degree at Vanderbilt University Law School. His busy calendar includes work with 100 Black Men of Atlanta and the city's governing board of the Office of the Inspector General, to which he was nominated by the Gate City Bar Association. – BD
---
Mary Githens
37
Owner and Operator
Latin Chicks
Savannah
Immigrating to Savannah at age 17, Mary Githens was soon homesick for the food of her native Peru. Collaborating with a business partner she met in entrepreneurial classes, Githens decided to offer authentic Latin cuisine. Thus began her career as a restaurateur.
"We didn't have much capital, but we unified forces," says Githens, who started with space in a mall, which was quickly outgrown. While looking for a second location, the partners found a property big enough to accommodate the entire Latin Chicks operation. Today it's grown to include catering as well as Mint to Be Mojitos, offering Latin-inspired cocktails, and The Apparition, a bar and speakeasy.
Not only does Githens support employees who have entrepreneurial dreams, she also mentors Hispanic students at Georgia Southern University's Armstrong Campus, her alma mater. – KS
---
Marquita Gooch-Voyd
38
Assistant Director for Tech and Training
Clayton County Library System
Hampton
Georgia's first Black Librarian of the Year, Marquita Gooch-Voyd made the Clayton County Library System the first in the country to offer free trades-skills classes. Serving libraries for over 16 years, she's used her technology skills to create afterschool activities like 3D design and printing, robotics and circuitry. She also developed a successful one-on-one tech-help program that has since expanded to more branches.
"Everything I've learned technology-wise has been through hands-on and experimental play," says the Florida State University graduate, who serves as marketing and website coordinator for CCLS, manages two library branches, facilitates classes and helps with grant writing.
As a volunteer, she offers technical support to the MTS Sickle Cell Foundation. Gooch-Voyd also owns MV3 Events, a boutique wedding officiant and planning service serving Metro Atlanta. – KS
---
Kate Haslam
34
Principal
Hancock Askew & Co., LLP
Savannah
Kate Haslam, a Savannah CPA, knows the importance of advocacy and giving back. "Representation is so important. Now as a principal in our firm, I strive to set a great example for the other young women in the office … It is also important that I play a role in making my community a better place for all who live here," she says. Her considerable volunteer service includes the families of fallen first responders, United Way and the March of Dimes.
Haslam didn't have to look far for inspiration. Her mother, a two-sport college athlete who pursued several graduate degrees before becoming a high school tennis coach, offers that. "[Her example] has kept me going, knowing that I can be successful in my career and at home as a mom to my two young children," she says. – BL
---
Cara Herzog
37
Vice President of Diversity, Equity and Inclusion
Southwire Company
Carrollton
Cara Herzog was promoted from director to vice president of Southwire's diversity, equity and inclusion programs earlier this year. Her activities outside work mirror her professional ones and this year she is chairing the board of directors of the national Women in Manufacturing Education Foundation. "Women in Manufacturing is all about increasing female representation in our industry, which is incredibly important to me," she says. "One of the programs I have been proud of supports women in production, women in frontline roles who aspire to bigger, supervisory roles."
Her additional volunteer activities are as diverse as the Wounded Warrior Project, the Court Appointed Special Advocates and work with the University of West Georgia Young Alumni Association. – BD
---
Femi-Ama Johnson
36
Director of College Access
Achieve Atlanta
Atlanta
Femi Johnson believes that we all have the responsibility to give back. "I got into the nonprofit world because I wanted to do the work necessary to change systems," says the Spelman College alum and former teacher who through Achieve Atlanta helps Atlanta Public Schools students get to college. "Committed to academia, I consider myself to be an 'access architect.' The most satisfying part of my job is knowing that I am creating more doors and opportunities for more students to realize their post-secondary [school] dreams."
As a former program manager for the National Math and Science Initiative, Johnson supported 45 Southeastern schools. She serves on the board of directors of SEM Link, which focuses on encouraging K-12 students to pursue STEM careers through exposure to positive role models from those fields. – BL
---
Kyle McCloud
39
Owner and Chef,
Back Paddle Brewing
Contract Analyst
U.S. Army at Fort Gordon
Lincolnton
There's perhaps no faster, deeper connection than providing nourishment to others. That passion has driven Kyle McCloud since his teens, before an 11-year stint in the Navy and formal culinary training. "There is just something satisfying about feeding people," says the disabled veteran, a contract analyst by day for the Army at Fort Gordon in Augusta, where he also founded Mack's Street Eats catering.
The caring connection goes beyond McCloud's two-year-old brewery business. His #Beer4Good program dedicates a portion of every beer sale to community causes, from donations to a local nonprofit to buying turkeys to give away. "We chose from the beginning to use our platform to take care of the community," McCloud says. "I love to give back to the community that has welcomed my business and my family." – BL
---
Amanda McCoy
37
President and Founder
Athens Area Horse Community
Watkinsville
Amanda McCoy has largely stepped back from her gig training horses and riders and is concentrating on her passion project: work with the Athens Area Horse Community, which is devoted to the interests of horse enthusiasts in a 100-mile radius of Athens. Those who want to resist urban sprawl and keep their land for equestrian pursuits have a better chance of doing so if there are more of them, McCoy thinks, and she is actively working on that with her new real estate license. Her community involvement also features horses – working with the local 4H programs and their Pony Clubs.
"Out here in the country, development and land pressure are making it more challenging for horse people to keep their land – and horses require a lot of green space," says McCoy. – BD
---
Leandrea Mikell
38
Executive Director of Governmental Relations and Community Engagement
Savannah State University
Rincon
LeAndrea Mikell thrives on connecting community. In fact, her role with Savannah State University requires just that. The first African American president of the Georgia Jaycees, she chooses her personal community outreach carefully.
"We all have something [else] we could be doing, whether it's time with family or watching a Netflix documentary, but in the time we're [volunteering], it has to make sense. It has to mean something for you and to you."
The mother of a child with special needs, Mikell is on the board of EmployAbility, preparing adults with disabilities for employment and community integration. And she helps families through Chatham Savannah Citizens Advocacy. Mikell interned with the Savannah Chamber and maintains that collaboration, appreciating the positive ripple effect of everyone focused on the success of local business and industry. – KS
---
Tiffany Moore
38
Legal Counsel
Mercedes-Benz USA
Smyrna
As former assistant U.S. attorney for the Northern District of Georgia, Tiffany Moore advocated for crime victims, including victims of child sex exploitation and human trafficking. During her time with Leadership Georgia, the Spelman College grad has canvased much of the state, which reminded her of what it was like to grow up in Macon. "It was wonderful to be in a position to advocate for the rural communities and introduce Atlanta transplants to the richness of the communities," she says.
Now as Mercedes-Benz USA legal counsel, Moore's personal mission remains the same: to bring professionalism, service, value and equity to whatever she's doing. "The more personal and professional success you have, the more obligated you are to use your unique point of view and your unique role to make an impact." – SH
---
Brendan F. Murphy
39
Chief Magistrate Judge
Cobb County
Marietta
Among the varied duties of Magistrate Courts in Georgia are handling civil disputes of up to $15,000. "In the eyes of the world, those may seem like small cases, but it means the world to some of those families," says Brendan Murphy. That sort of sums up how he feels about the court's responsibilities, as he tries to make its various processes fair and accessible. His innovative work in setting up an emergency rental assistance program on site to resolve eviction cases early in the pandemic got national attention and was a factor in the Council of Magistrate Court Judges naming him "2021 Workhorse of the Year."
A former prosecutor, he is a "double Dawg," with undergraduate and law degrees from the University of Georgia. He is a member of the Leadership Cobb Class of 2022. – BD
---
Christopher Raiford
39
Vice President of Commercial Lending
The Claxton Bank
Richmond Hill
While he's enjoyed great success as a community banker, Chris Raiford was raised by parents who worked in law enforcement and taught the importance of community service. His dad would say, "those with the ability to help have the responsibility to help," says the father of three boys.
"We try to teach that in our house. There really is a unique happiness that comes from helping others for a selfless reason," says Raiford, president of the local Exchange Club, which raises more than $65,000 annually for child-abuse prevention awareness, child hunger, scholarships, and recognition of military and public service providers.
Having completed his dissertation this summer, he will graduate from his doctoral program this winter. In addition, he coaches Little League baseball and serves on the local planning and zoning commission. – KS
---
Patrick Rodriguez
31
Co-executive Director
The Georgia Coalition for Higher Education in Prison
Atlanta
In 2021, within 24 months of being released from prison, Patrick Rodriguez garnered $1 million in grants to expand pathways from incarceration to higher education. He understands the impact of education and is a passionate advocate for providing high-quality postsecondary education to those within Georgia prisons. Through policy research and partnerships with colleges, universities, the Georgia Department of Corrections and the Department of Community Supervision, Rodriguez builds strategies focused on the common goal: education and empowerment for all Georgians.
He is currently interim director for Georgia State University's Prison Education Project, on the advisory board for Georgia's National Alliance on Mental Illness and is a recipient of the 2022 Canary Impact Fund Prize, which supports decarceration solutions. Rodriguez plans to attend law school after graduating from Kennesaw State University. – SH
---
Rajpal Sagoo
30
Managing Partner, MDD Holdings
CIO, Rugby ATL
Canton
Already boasting a successful career in the Army Reserves, as managing partner at his start-up MDD Holdings and in 10+ years of consulting experience across multiple industries, Rajpal Sagoo's latest pursuit is rugby. In 2016, Sagoo began meeting with the North American Rugby League to establish a team in Atlanta. "I was laughed at. They said, 'You're 22, you don't know what you're talking about.'" He is now CIO of Rugby ATL, one of the first professional U.S. rugby teams. "Our academies are growing. We're always looking for youth and offer free sessions to learn the sport," he says.
The Emory University MBA student is also a member of the Cherokee County Chamber and volunteers with University of North Georgia's School of Entrepreneurship and Innovation, Make-A-Wish Georgia and Pets for Vets. – SH
---
Ross Sheppard
32
Associate Broker
Austin Hill Realty
Savannah
As a real estate agent, Ross Sheppard aims to enhance his profession's understanding of the benefits of preservation. "People perceive that historic preservation and real estate are opposing forces. Historic preservation is a specific type of real estate and can be just as important. In terms of economics, preservation is not just a luxury, it's sustainable," he says.
Sheppard is a member of the Georgia Trust and the Historic Savannah Foundation, a board member of Georgia's Old Capital Heritage Center in Milledgeville and a former board member of the Flannery O'Connor Andalusia Foundation. He was elected Humanitarian of the Year by Georgia College and he sponsored an endowed scholarship. He and his partner have renovated several historic houses, including one in Milledgeville that was featured on HGTV's Life Under Renovation. – SH
---
Marcie Smith
36
Executive Director
The Children's Haven
Woodstock
For the past four years, Marcie Smith has overseen 11 staff members, 120 court-appointed advocates and dozens of community volunteers, all promoting the health and happiness of children impacted by abuse and neglect.
"I was naturally drawn to the nonprofit world because that's how I grew up," says Smith, who enjoys witnessing the "radical generosity" of others. "I feel compelled to make the world a better place, and I feel inspired by volunteers who want to do something small in their community that leads to big impact."
The Children's Haven has received local, state and national recognition. Outside work, Smith is involved with the Rotary Club of Canton, serves on the state board for Prevent Child Abuse Georgia and supports the Georgia National Guard Family with fundraising. – KS
---
Stephen Smith
38
Associate Regional Counsel
U.S. Environmental Protection Agency, Region 4
Decatur
Crediting his environmental career to working on offshore oil rigs during college, Stephen Smith serves as Associate Regional Counsel for the EPA, specializing in complex environmental cleanups, leading critical settlements and advancing policy.
Through his efforts, he has led one of the country's largest residential Superfund-site cleanups, addressing how the site impacted an underserved community. "My goal is to be super-intentional with my time and focus on solutions that make a meaningful impact," he says. Smith serves as chair of the board for Trinity Community Ministries, is an immediate past chair of the Avondale Elementary School Education Foundation and a trustee of the Hopeful/Honest Initiative on Race and Understanding, where he partners with business and community leaders from Atlanta and the Southeast to have hopeful and honest dialogue about race. – SH
---
Nicole Stewart
38
Tax Commissioner
Dawson County Government
Dawsonville
Now in her second term, Nicole Stewart was Georgia's youngest tax commissioner when first elected in 2017, having been encouraged to run by a previous employer. When the prior tax commissioner announced her retirement, Stewart researched the role and then went for it.
Volunteering with local non-profits is important to Stewart, who especially enjoys hosting mock job interviews for local high school students to prepare them for the real thing. "They're nervous and unsure, especially if it's [a position] they really want, but once they get with me, they're a little more confident going in because they know what to expect."
In addition, Stewart is president-elect for the Rotary Club of Dawson County and serves as secretary for Veterans Affairs and Public Image for Good Shepherd Clinic, which provides healthcare to those in need. – KS
---
Heath Tippens
38
Vice President
Cherokee Office of Economic Development
Canton
Heath Tippens, an eighth-generation Cherokee County resident, is uniquely positioned to help his home community thrive. "Economic development is one of the most satisfying careers. I truly love helping businesses and people and driving positive economic change in our community, region and state," says the 13-year Cherokee economic development pro, who's helped book $374 million in capital investment for the county in the last two years. "We are in essence 'doers,' finding a way to make a deal or initiative come to fruition through innovative thinking. And I also love being a part of our great team." Not surprisingly, that helpful, problem-solving, greater-good mentality also carries over to volunteer causes. The father of two boys has served on many community-focused committees, participated in Georgia's Young Gamechangers and was former chair of Leadership Cherokee. – BL
---
Takeita Tollman
37
Attorney
Deming, Parker, Hoffman, Campbell & Daly
Savannah
From Certified Nurse Assistant to attorney, Takeita Tollman knows medical terminology and legal rights. "I had a strong desire to help people. – I was a CNA in high school, [and] I wanted to be a doctor. In college, I realized I like to write. Law lets me do both," she says. Her specialties are Social Security disability, workers' compensation and personal injury. She aims to help people who have had life-altering setbacks, such as accidents and workplace injuries, piece their lives back together.
Tollman is a member of the Port City Bar Association and offers job shadowing to members of 100 Black Men of Savannah. She organized a sock drive for Savannah's homeless and was featured on Mayor Van Johnson's "Monday Motivation" livestream, offering legal advice to those with questions about disability benefits. – SH
---
Rebecca Van Loenen
34
Executive Director
Augusta Locally Grown
Augusta
A tireless advocate for Augusta Locally Grown, Rebecca van Loenen works with local farmers to get fresh, healthy, sustainably grown food into the community. Her passion is helping people living in food deserts. Under her leadership the past two years, ALG's operating budget has increased by 500% and food sales quintupled to meet the growing need. The organization launched new pickup sites, a home delivery program and a farmers market that doubles EBT/SNAP dollars. Located within the HUB Community for Innovation, ALG now has an increased staff, commercial teaching kitchen, greenhouse, pole barn and raised-bed gardens.
Van Loenen is a pioneer in food-as-medicine programs and boasts one of the first sites in Georgia to create a vegetable prescription initiative that works to provide chronically ill people with fresh fruits and veggies. – SH
---
Cassandra Velasco-Adams
33
Director of Children's Programming
Women's Resource Center to End Domestic Violence
Atlanta
Cassandra Velasco-Adams first began working with the Women's Resource Center to End Domestic Violence as a volunteer. Since 2019 she has directed children's programming for the organization, running children's activities at the center's safe house and, in the summer, heading up Camp PEACE, which aims to help prevent generational violence among children exposed to domestic violence. "I try to help them understand what has happened and to process that," she says. She managed to keep the camp going strong through the COVID pandemic with innovative virtual experiences.
She hails from a religious studies background, earning a master's degree with a concentration in nonprofit management from Georgia State University where she was graduate teacher of the year in 2017. She now teaches in the program. – BD
---
Jarryd Wallace
32
Professional Athlete
Watkinsville
How does a person not just come back from a life-altering setback, but soar? Jarryd Wallace knows. At 19, the former high school state track champion decided on elective leg amputation versus living in pain. "Never one to settle for normal, I made up my mind that day that I was going to become the fastest amputee in the world," he says.
The avid runner and UGA recruit never imagined that the next uniform he'd wear was Team USA. Sixteen months after the amputation Wallace won his first international gold medal.
His leadership continues. "I want to continue to help create more opportunities for those in the adaptive community to experience mobility through sport, which can change them in amazing ways" says the three-time Paralympian. "The possibilities for hope are endless." – BL
---
Donald Washington
38
Founding Principal
Bolster Real Estate Partners
Atlanta
Positive change can be big, bold and community-changing, but it can also be gradual and personal. As head of one of the few Black-owned commercial real estate development firms, Donald Washington operates on both planes. "Ultimately, my driving force is my passion for transforming communities and providing a pathway for building intergenerational financial mobility through an integrated ecosystem that connects people and programming to place," he says. "The most rewarding part of my job is that I can directly impact the change that I want to see in the world."
Change can do you good or, in Washington's case, it can do many goods. That includes reimagining and transforming a piece of underutilized real estate, helping his son's love for art grow and serving on two mission-driven boards that work to empower disadvantaged communities in Atlanta. – BL
---
Melissa Wikoff
38
Founder and Director of Audiology
Peachtree Hearing
Marietta
Melissa Wikoff founded Peachtree Hearing in 2016 and uses the practice's exponential growth to advocate for hearing inclusivity, such as hosting an open-captioned viewing party at a local theater for CODA, the Oscar-winning movie about a child of deaf adults and her family.
"A lot of our patients go to the theater, and they'll have to ask for captions or for an assistive listening device. It was a great opportunity for everyone to feel 'normal,'" says Wikoff, who created a program in 2017 that provides free hearing aids and services to Georgia-based Holocaust survivors. Wikoff, whose TikTok videos of ear wax removal have gone viral, with over 10 million views, also provides free hearing care to assisted-living communities in Georgia, mentors audiology doctoral candidates and volunteers as a yoga teacher. – KS
---
Chrystal York
38
Founder and CEO
The Bridge Solution
Manager
Ecolab
McDonough
Chrystal York made history as the first Black female to achieve the rank of JROTC Battalion Executive Officer in high school, and will do so again this month as the first Black woman and youngest regional president of the Association for Manufacturing Excellence.
The Mercer engineering alum and manager at Ecolab is focused on making a difference every day, from leading her nonprofit's board to raising two sons. "There is so much power in exposure," she says. "The love, support, confidence and exposure that my mother and father poured into me growing up transformed me into a fearless woman destined to lead the next generation of global manufacturing leaders and social change."
Her mother inspired her to launch The Bridge Solution, which bridges the gap between vulnerable populations and their need for affordable housing, proper nutrition and employment. – BL