2022 Georgian of the Year: Team Captain
Griff Lynch, Georgia Ports Authority Executive Director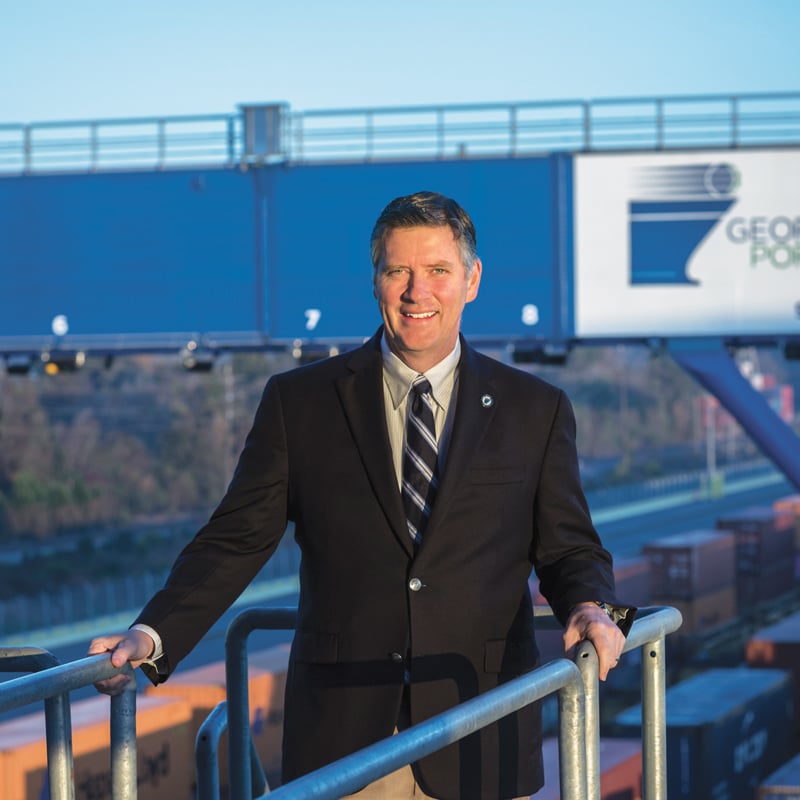 Growing up on Long Island, N.Y., sea water was in Griff Lynch's veins. From the time he was a kid, he dreamed of being a tug boat captain in New York Harbor. There was just one problem. While studying at the state Maritime College, he discovered that he got seasick. "I realized this was never going to be the career for me and I would have to go landside," he says. "I graduated and very quickly got into terminal operations – working with vessels." So began the 34-year journey that would eventually take him to Savannah to helm one of the nation's busiest ports. During the past two years, Lynch has faced the biggest challenges of his career, but he's steered the Savannah and Brunswick ports with a steady hand. First COVID-19 outbreaks disrupted the global supply chain, reducing cargo shipments as a result of factory shutdowns. "We were kind of back on our heels a little bit, trying to figure out how [to] move forward," he says. He and his team developed what they termed an "isolate and operate" protocol that sequestered equipment and areas of the port when someone tested positive for the virus. After sanitation measures were implemented, work resumed in those areas and fewer than 20 workers out of 1,500 became infected at any one time. In addition, the ports were declared an essential industry, which meant there was no complete COVID shutdown.
Practically overnight, soaring e-commerce sales sent shipping through the roof and the ports began to handle record volumes of cargo. That phenomenon continued throughout 2021, taxing capacity, especially the loading, unloading and storage of containers in Savannah. As in California and the Northeast, dozens of ships calling on Savannah were forced to wait in line for service.
"At first the business – for lack of a better term – very early on just tanked," he says. "We adjusted to handle that and then very quickly [we saw] a swing in the complete opposite direction. We had the peak of peaks and the low of lows in a very short period of time and the peak just continued. So working through that, and continually adjusting has been a challenge for all of us."
For successfully steering the state's vital ports through these turbulent times, Georgia Trend has named Griff Lynch its 2022 Georgian of the Year.
---
Increasing Capacity
Over the past few months, the ports have been seeing volumes that Lynch and the Georgia Ports Authority (GPA) board of directors were not anticipating until at least 2025. The more than 20% increase in volume at the Savannah port – a surge of about 900,000 additional twenty-foot equivalent container units (TEUs) – meant it was operating at nearly full capacity, which reduced efficiency because there were not enough workers or space to accommodate the influx of containers.
To address these issues Lynch and the GPA board moved up capacity-enhancement projects that had been slated to start later, such as clearing additional land for container storage, increasing berth capacity and building a new container terminal. The latter will take some time to complete, but additional container storage space became available in December.
In addition, construction of the Mason Mega Rail facility, begun in 2018, was completed in November. The initiative increased the number of on-port railroad tracks from eight to 18, doubling Savannah's rail capacity to 2 million containers per year. The new rail operation will help customers move their containers from the port to final destinations faster, which will help ease storage congestion at the port.
To further ease container congestion at the Savannah port, GPA was given the go-ahead to use $8 million in unspent federal grants to build five inland container yards that opened recently in Georgia and North Carolina. The policy change allowing the money to be redirected enabled GPA to be the first to improve facilities following the passage of the $1.2 trillion federal infrastructure legislation.
The port also began actively recruiting new workers to offset the long hours that existing employees and members of the International Longshoremen's Association (ILA) have had to work. Lynch says the ILA union members, who load and unload cargo, work in lockstep with GPA and its employees. "We're true partners in making this engine work," he says. [The ILA has] stepped up to the plate in this challenging environment."
In many ways, Lynch is the ideal captain for such a disruptive time. "He's a recognized leader, not just in Savannah, but throughout the maritime industry," says Joel Wooten, GPA board chair who's worked with Lynch during his eight-year board tenure. "He's worked all his life with ocean carriers, the International Longshoremen's Association, the stevedores, truckers, customers and other partners. The approach he has to the challenges that we are facing is exactly what he's been groomed for and what he's worked and studied and learned to do. We're very fortunate to have his steady, experienced hand at the helm these days."
---
Pushing the Envelope
Lynch's experience began in New York as a management trainee at P&O Nedlloyd, an Anglo-Dutch global container shipping line, where he planned container loading. From there he went to Sealand, working at ports in the Northeast in a similar capacity. (Sealand is the company founded by Malcom McLean, an American trucking entrepreneur who revolutionized the shipping industry by packing goods in uniform containers that could be moved efficiently via different modes of transportation.)
At Sealand, Lynch segued into a sales position and called on the owners of shipped goods, like Walmart, The Home Depot and other large retailers. While he is enthusiastic about each step in his career, Lynch says, "It was a great experience to learn that side of the business and understand that these containers were not just steel boxes but they actually had customers and people that were relying on them. It's really important to understand who the customer is and what their desires are, what their needs are. So that was something that really helped shape me and my work experience for the rest of my life."
A stint as terminal manager for APM Terminals Virginia in the late 1990s and then becoming the organization's vice president of sales for North America further reinforced his knowledge of both sides of the business. While in Norfolk, he had the opportunity to lead the team that was designing a new terminal in Portsmouth. He calls the Virginia International Gateway, which opened in 2007, "a world-class facility." It was one of the nation's first semi-automated facilities where operators didn't sit in the equipment but instead piloted cranes remotely from an office, which increased safety. In addition, the cranes were all-electric, making them more sustainable than diesel-powered cranes.
The biggest lesson he learned from the experience is "don't be afraid to go for stretch goals and then hire the absolute best people you can find." He says the project was very successful, "pushing the envelope, trying something new, improving upon what we had done in the past."
That experience helped him as vice president of operations for Global Container Terminals, working back in New York and New Jersey and introducing semi-automation there for the first time.
---
Best in the Business
On an October day in 2010, Lynch got a call from someone helping search for a chief operating officer at the Georgia ports. "I was tremendously excited," he says, "and the reason was because the Georgia ports had just a phenomenal name in the business – one of the best ports in the states and well run, well managed."
When he got the job, he and his family didn't know what it would be like to live in the deep South. "We had lived in multiple places, but we had never lived further south than Virginia. Honestly, Savannah has been by far the most favorite place – not just for me, but for my entire family. We're now Georgians for sure – with a New York accent."
In 2016 he became executive director of GPA and the past few years have been busy ones. The size of the ships calling on the Savannah port has increased from 10,000 TEUs to 16,000 in that time.
The port continues to break container volume records, moving more than 5 million TEUs in FY2020. The Brunswick port has become the nation's second busiest for import and export roll-on/roll-off cars and machinery, and Lynch says no other U.S. auto port has as much room to grow to meet customer needs. Brunswick's Colonel's Island terminal is already the country's single largest auto port.
Each year during his tenure, the GPA board has approved millions of dollars for expansions and enhancements designed to keep the ports' capacity ahead of demand. Among those Lynch has overseen are:
The $220 million Mason Mega Rail project that allows containers to be put onto rail cars – on the terminal – within 24 hours of coming off the ship, compared to a week or more at other ports.
Construction of the $24 million Appalachian Regional Port (ARP) in Murray County, which opened in 2018, providing a 388-mile direct rail line to and from Savannah. Since it began operations, the ARP has greatly exceeded volume projections.
Plans for a new inland port in Hall County.
The 20-year Savannah Harbor Expansion Project, which has deepened the harbor to accommodate ever-larger ships, now nearing completion.
Purchase of state-of-the-art cranes and equipment to increase efficiency.
40-acre Colonel's Island expansion at the Brunswick port for processing autos manufactured by Kia in West Point, Hyundai, Mercedes-Benz, BMW and GM.
According to Stuart Countess, COO of Kia Georgia, Lynch's biggest accomplishment is "the growth of the port and with that growth, the continued reliability of the port as we plan to get the materials that keep all the businesses – and especially the Georgia businesses – up and running. He's set a very clear vision and even for some of my Korean colleagues, they're always impressed with how clearly he can express what the port is doing. I think that speaks volumes about the way he communicates with all of his customers."
In typically humble fashion, Lynch looks at his accomplishments at GPA in another light. "I'm most proud of the entire team," he says. "Instead of talking about a certain physical asset, I just look at this and say that Georgia ports has an incredible leadership team, management team and employees. I would put them up against anybody. They're the best in the business."
---
Motivating and Building
There are a variety of reasons Lynch has been successful as the visible representative of the Georgia ports. His communication skills are excellent and he takes the time to patiently help outsiders – especially customers – understand the workings of port operations
"What I like about working with Griff is that we can talk about what our problem is and then he helps to provide insight into why something is happening," says Countess. "More importantly, he helps to provide solutions, what we need to do next in order to move a topic forward."
He also takes the time to get to know the members of his team, from executives to dock workers.
"He's very much a team builder and a consensus builder," says Wooten. If you ever walk around the terminals, the employees and the partners and the ILA workers all know Griff. He's not just a person who stays in his office. He gets in and sees the people day to day and knows what their jobs are and knows how they do it. He takes an interest, and he's a strong advocate for our employees and our customers and partners because he values and respects them."
Like most good leaders, Lynch isn't content to dwell on the status quo. He's continually aspiring to higher goals and says being a servant leader is one of his biggest aspirations. "I want to motivate and build," he says. "I feel as though my job is to help my team or the people I'm working with. Give them the tools they need … give them the green light to do what they already know how to do. Being part of a winning team is really important to me and I think part of that is just trying to be the best servant leader I can be."
He credits the ports' growth and success to support, not only from within GPA but from people and agencies throughout the state.
"There's nowhere that the port authority has the kind of support that we have," he says. "Whether it's the governor's office, or the department of transportation [GDOT] – Russell McMurry and his team, or GDED [Georgia Department of Economic Development]. GDED is doing a fantastic job of drawing businesses to the state and GDOT is investing in the roads and bridges and tunnels and doing everything they need to do to make sure we can support and sustain this type of growth. Our success is a byproduct of their success. It's like a symphony with all the parts working well together and we're happy to be a part of that."