Military Might
Georgia's nine military installations have a $20-billion economic impact on the state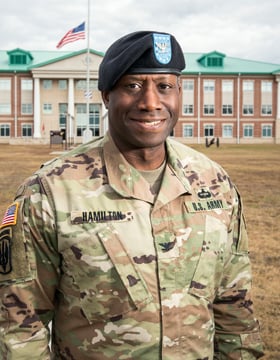 If you're in the mood to toast the people and institutions that make the military a crucial part of Georgia's economy and culture, consider using a glass of beer from Service Brewing Co.
Kevin Ryan, a West Point grad who commanded two companies in Iraq, founded the Savannah-based company with partner Meredith Sutton in 2014 so he could make craft beer while honoring people who serve.
Service Brewing sells beers like the Ground Pounder Pale Ale, which honors the infantry soldiers "who have worn out their soles preserving the freedoms we cherish," according to the words on each can. Customers relax in a high-ceilinged tasting room that has the feel of a glorified rec room found on a military base or an airplane hangar, with a military color scheme and design elements. If you want a souvenir, pick up a bottle opener shaped like a .50-caliber bullet or a T-shirt that says "No beer left behind."
Twenty of the brewery's 23 investors are veterans, Ryan says, and the company works with programs to help veterans transition into civilian life. Ryan wants to salute people who serve the community, not just in the military. When Service Brewing launches a new beer, the company donates money to a local nonprofit such as Toys for Tots and K-9s for Soldiers.
Though he grew up in Maryland, Ryan loves the Savannah area and plans to stay. "It's where I live," he says. "It's where I call home."
Likewise, the state and the military are mutually invested in each other. Georgia's military installations have a $20-billion annual economic impact on the state, according to the Georgia Department of Economic Development. Military employment is the fifth highest in the nation.
---
Potential Shifts
People paid to worry about the part of the economy connected to the Department of Defense (DOD) see some challenges on the horizon. The military is downsizing in ways that could wound the state economy and put some local economies on life support.
The state felt the pain in 2005 when a BRAC (Defense Base Closure and Realignment) eliminated Fort McPherson, Fort Gillem, Naval Air Station-Atlanta and a Navy supply school in Athens. That leaves nine bases in Georgia: Dobbins Air Reserve Base, Fort Gordon, Fort Stewart, Hunter Army Airfield, Kings Bay Naval Submarine Base, Moody Air Force Base, the Marine Corps Logistics Base, Robins Air Force Base and Fort Benning.
David Connell, president and CEO of the Cobb Chamber of Commerce, is a chief protector of Dobbins Air Reserve Base in Marietta. Last April, the Pentagon released a report stating that by 2019, 22 percent of the nation's military installations will be considered excess. For the Army, there will be 33 percent excess infrastructure, 7 percent for the Navy and 32 percent for the Air Force as well as 12 percent for the Defense Logistics Agency.
"What that means is some locations will gain and some will lose," he says. "Nobody knows who the winners will be and who the losers will be."
Dobbins illustrates how closely the public and private sectors are intertwined and how military cuts could have a ripple effect into the civilian economy.
The base has been an economic engine for Cobb County since the federal government bought property in the early 1940s for a Bell Aircraft Corporation factory to build B-29 bombers, as well as a pilot training base. The base was named after World War II pilot Charles M. Dobbins of Marietta, who was mistakenly shot down by friendly fire as he completed a combat mission over the coast of Italy.
Dobbins is now home to the 94th Airlift Wing of the Air Force Reserve and its fleet of C-130 cargo planes, the Georgia Army National Guard and Marine and Navy reserve units. About 2,500 people are employed full time at Dobbins, the only military base in the Metro Atlanta area.
Also located on the Dobbins property is the Lockheed Martin plant that assembles the very C-130J Super Hercules planes based at Dobbins, in addition to wing assemblies for F-35 fighter jets. The plant employs more than 5,000 people from 57 counties.
"If the missions Dobbins has were consolidated somewhere else, it's hard to conceive that base remaining open," Connell says. "It would be like a house of cards."
If the Air Force pulled out, who would operate the control tower and the runways that Lockheed depends on? What would happen to the convenience stores, restaurants and retail that Lockheed workers use? Would the National Guard headquarters have to relocate?
When asked how many people would be affected if Dobbins closed, Connell says "20,000 jobs is a minuscule estimate."
The Cobb Chamber and other community groups across the state are working to make their bases more difficult for the DOD to close.
It's now a staple for community groups to stage "fly-ins" to Washington so local leaders can make sure the Pentagon and congressional leaders don't forget the importance of the local bases. Many community groups have hired lobbyists in Washington to augment the state government's lobbying efforts.
Dan Penny, executive director of 21st Century Partnership, the community group that supports Robins Air Force Base, says one of his goals is strengthening relations with the civilians who work on the base and turning them into more vocal advocates for keeping the base alive.
"We cannot get to where we need to be without those 24,000 people out there," Penny says. "We need all those people to believe a BRAC is possible."
Penny says 21st Century Partnership is buying print advertisements, commercials on a local television station and placing messages on Twitter and Facebook. The base website will be "demilitarized" so "it speaks to the community and not just the people who work at the base," he says.
"I tell the community, 'Don't get complacent. Don't think we're the only depot that works on airlift airplanes and that we can't go away.' I tell them it doesn't take much – maybe extra property at another base – and the [BRAC] committee might recommend consolidations."
Bases are also trying to become home to new military endeavors.
Fort Benning ended up losing 2,400 soldiers to downsizing in 2015 but is lobbying to regain troops by landing an advise-and-assist brigade, says Gary Jones, executive vice president for military affairs at the Greater Columbus Chamber of Commerce. These brigades would go to foreign nations, such as Iraq to train soldiers and help with government initiatives through training and funding.
"If that happens, we'll receive about 500 [soldiers] coming in. While that's not the same as 2,400, it's starting to work at that deficit," Jones says.
---
Increasing Security
One base that fully expects to grow is Fort Gordon in Augusta, thanks to the emphasis on the increasing danger of hacking and cybersecurity. The Army is relocating the Army Cyber Command from Fort Belvoir, Md., to Fort Gordon and establishing a Cyber School. A groundbreaking ceremony was held for the first phase, an $85.1-million, 179,000-square-foot facility, in November; it's slated for completion by May 2018.
So far, the base has seen nearly 3,900 new service members and government civilians arrive since 2012, says Col. Todd Turner, commander of the Army Garrison at Fort Gordon. The Army expects 3 percent growth, amounting to 750 additional personnel, by fiscal year 2019 and 2020.
"We spent this past summer planning and synchronizing over a billion dollars worth of future construction projects that are required to support the growth that has already occurred or will occur in the next three years," Turner says.
Of course, the bases pump more than money into the region. They also shape the identity of local communities – sometimes very directly.
For instance, more than six decades ago the commander of a Middle Georgia air base wanted to honor his mentor by naming the installation after him. The problem: Military regulations required bases to be named after the nearest town. Not one to give up, the commander did some politicking. In 1942 the town of Wellston voted to change its name, allowing the base to be named after Brigadier General Augustine Warner Robins.
Civilians appreciate the base, especially the ones who work there, says Col. Jeff King, 78th Air Base wing commander at Robins Air Force Base.
"For many, the intangible benefits of the base are the peace of mind of having a stable job and the satisfaction knowing the work performed here is critical to our nation's defense," he says. "Members of Team Robins raise families in this community, some for multiple generations. They shop and dine in local establishments, attend churches and go to area schools."
Col. David Hamilton, deputy commander – support, 3rd Infantry Division at Fort Stewart, says Southern communities seem especially welcoming to the military.
"What I have found in the South, especially in Southern installations, is a great amount of patriotism and respect for our military," he says. "I think there's a mutual admiration, if you will."
Service members appreciate outreach from the communities, which comes in the form of welcome-home celebrations for troops, Veterans Day parades, community centers or job opportunities for the families of service members.
"Those all make a difference in terms of improving the relations between the military and the local community," Hamilton says.
Jones, with the Columbus Chamber, says Fort Benning provides an important international flavor for the region through training programs for soldiers from other lands: the International Military Student Office and the Western Hemisphere Institute for Security Cooperation (WHINSEC), previously known as the U.S. Army School of the Americas.
"You're looking at 25 countries that are sending the best of their best to our country," he says of WHINSEC.
---
Community Input
Even more important are the people who retire while stationed at Fort Benning.
"They become the coaches on our soccer teams, they become the Sunday school teachers," Jones says. "Fort Benning is integrated into the fabric of this region."
Indeed, about 750,000 veterans live in Georgia, often in towns with military bases.
Drew Hunt, community relations director for the Savannah Area Chamber of Commerce, says veterans usually have a strong work ethic and other qualities sought by employers.
"So many of our member companies actively look to hire service members once they return to civilian life," Hunt says. "They know the type of employees they're getting, and there's often a skill set there that's a direct match."
Some of these veterans work for defense contractors. Lockheed is by far the state's biggest contractor, with $2.6 billion in annual business, followed by the Georgia Tech Applied Research Corp. with $288.4 million.
The Department of Defense spent $6.4 billion on contracts in Georgia in 2015, according to the latest figures from the Defense Manpower Data Center with the Census Bureau. That's 2.6 percent of the state's gross domestic product (GDP) and ranks 20th among the 50 states.
Because the state's defense contracts have steadily declined from the $8 billion spent in 2010 – down to a low of $6.1 billion in 2014 – the state government has taken steps to protect contractors. The GUARD Initiative at the Georgia Department of Economic Development was launched in 2015 to help aerospace and defense companies diversify and find new business opportunities in case defense contracts dry up.
"Some things can be shifted, and some things it's a matter of figuring out," says Amy Hudnall, director of GDEcD's Centers of Innovation for Aerospace, which helps manage the GUARD initiative. "Some areas we can diversify. If you're building parts that go into aerospace, you may be able to make those parts for the automotive industry."
But the shift is not always easy and in some cases may not work at all.
"If you're building C-130s at Lockheed, it's difficult to diversify and build C-130s for non-military purposes," she says.
William Ball, the Washington-based director of the Governor's Defense Initiative, says the presidential election results bode well for Georgia military bases but won't take them out of danger.
"Party majorities have little to do with the health of our bases," he says. "The missions drive the Pentagon's assessment of the 'military value' of each installation and major command. So if you look at the missions based in Georgia, you would conclude that the arrows are pointed up, not down, in almost every instance. That doesn't mean that the pressures are off, but it does mean that our outlook is improving."
Congressional leaders are likely to keep opposing any BRAC proposed by the secretary of defense, he says. But the most immediate danger, Ball says, is sequestration – mandated budget cuts stemming from the Budget Control Act of 2011.
"The looming threat of this sequester budget control act is significant exposure for everyone in DOD and our bases in Georgia if that is not dealt with," he says.
The Cobb Chamber's Connell says the biggest threat is not a BRAC but rather when a branch of the service chooses to close down or consolidate the mission. That creates a long-term sense of anxiety, he says.
"Over the next several years," he says, "something has to give."