100 Most Influential Georgians of 2017: Wielding Power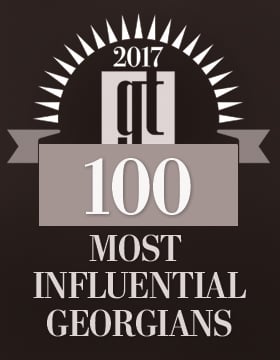 If leadership is influence, as the author John C. Maxwell says, then we not only have a list of the 100 Most Influential Georgians, but a representation of the strength of leadership in our state. For this, our 19th list, we have included many of the usual suspects – politicians, CEOs, college presidents – but we've also added a number of new names and faces to the list. All are people who inspire, exasperate, lead – and influence us.
Some work behind the scenes and some are recognized in every corner of the Peach State. But they have one thing in common: Each of the 100 people you'll find on the following pages have an enormous impact on the daily lives of Georgians.
We at Georgia Trend do not take the task of selecting the most influential people in the state lightly. It's a year-round process that involves lots of meetings and discussions. The original list is always more than 100, and we think the final group – subject to retirements, course corrections and shifts in power, not to mention late-in-the-year hirings and firings and a controversy or two – represents the realities of leadership, power and influence in Georgia.
You'll also find a list of Notable Georgians on page 52 – people who are making an impact in the state or have made an impression on the Georgia Trend staff this year.
Individual profiles were written by Mary Anne Dunkin, Candice Dyer, Jennifer Hafer, Lori Johnston, Karen Kirkpatrick, Tom Oder, Christy Simo and Bonnie Smith. – The Editors
---
David Abney
Chairman & CEO
UPS
Atlanta
Abney began his UPS career in 1974 as a part-time package loader. Today he leads the world's largest package delivery company, which recently announced a $400 million, 1.2-million-square-foot regional sorting and distribution hub in west Atlanta that will create 1,250 jobs. He was unanimously appointed chairman of the UPS board of directors in 2016. – MAD
---
Stacey Abrams
Minority Leader
Georgia House of Representatives
Atlanta
Abrams, the state's first African-American minority leader and the first woman to lead either party in the Georgia General Assembly, ran unopposed in 2016 for a sixth term representing District 89. In July, she was awarded a coveted speaking slot at the Democratic National Convention. The New Georgia Project, which she founded, has registered thousands of voters. – TO
---
Russell Allen
President & CEO
Georgia Bio
Atlanta
Allen directs initiatives that position Georgia as a prime spot for companies, organizations and others in the life sciences industry. He is leading an effort to launch a Patient Advocacy Network that will address such issues as striking a balance between controlling costs of life-saving drugs and how that might impact R&D and innovations in the medical arena. – TO
---
Dan Amos
Chairman & CEO
Aflac
Columbus
During Amos' time as CEO at Aflac, revenues have grown from $2.7 billion to more than $21 billion. Aflac was named by Fortune magazine in 2016 as one of America's Most Admired Companies for the 15th year. Aflac has also been on the Ethisphere Institute's list of The World's Most Ethical Companies for 10 consecutive years. – MAD
---
Brian Anderson
President & CEO
Greater Columbus Georgia Chamber of Commerce
Columbus
Since taking the helm in 2015, Anderson has overseen the recruitment of several new businesses as well as the expansion of existing industries, creating hundreds of new jobs. In October, Hammett Steel announced a new 184,000-square-foot facility in Columbus, while in May, Convergys Corp. announced a new location that will bring 450 jobs to the community. – JH
---
Kerry Armstrong
Chairman
Atlanta Regional Commission
Atlanta
Armstrong is serving his second term, overseeing the organization responsible for planning and governmental coordination for the 10-county Atlanta region. He is also director and past chair of the Gwinnett County Chamber of Commerce and is a director of the Greater North Fulton Chamber of Commerce, where his stewardship fosters the sustainability of Atlanta's ever-sprawling northern arc. – CD
---
Ed Bastian
CEO
Delta Air Lines
Atlanta
An 18-year veteran of Delta, Bastian was instrumental in leading the airline from bankruptcy in 2005 to being the de facto leader in the airline industry today. Named CEO in May 2016, Bastian is committed to growing the airline's reliability and customer-centric operations and expanding its global footprint, while ensuring the security of passengers. – MAD
---
Brandon Beach
President & CEO
Greater North Fulton Chamber & North Fulton Community Improvement District
State Senator
District 21
Alpharetta
Sen. Beach serves as chair of the Science and Technology Committee and as secretary of the Transportation Committee. As president of the North Fulton CID, he's been instrumental in the creation of more than $90 million in new infrastructure in the area. He was an advocate for the recently passed North Fulton T-SPLOST and supports expanding MARTA into the area. – JH
---
Mark Becker
President
Georgia State University
Atlanta
Becker's commitment to student success and revitalization of downtown has made Georgia State one of America's most diverse universities. The newest capital addition: the Research Science Center for biomedical research; last July, a College of the Arts was added. GSU also received the go-ahead to purchase Turner Field for redevelopment as a football stadium and mixed-use complex. – BS
---
Vance Bell
Chairman & CEO
Shaw Industries Group Inc.
Dalton
Bell has spent 11 years at the helm of this floor-covering giant that continues to grow with the acquisition of USFloors this past December. Shaw, with annual sales of $4.8 billion and 14,000 associates in Georgia, will also open a $24-million design center this year in Cartersville and opened an $85-million manufacturing facility in Adairsville in December. – KK
---
Charlie Bethel
Judge
Georgia Court of Appeals
Dalton
Bethel, a Republican, served in the State Senate from District 54, before being named to the Court of Appeals in November. As senator, he worked to pass legislation supporting children and families, increasing access to high-quality higher education, reforming the criminal justice system, and supporting roads and infrastructure designed to promote economic growth. – JH
---
Paul Bowers
Chairman, President & CEO
Georgia Power
Atlanta
Bowers praised the efforts of Georgia Power employees in restoring service ahead of schedule to the 340,000+ people impacted by Hurricane Matthew in October. Construction of Plant Vogtle Units 3 and 4, the first nuclear facilities in the U.S. in 30 years, continues although completion has been pushed back to 2019 and 2020. – BS
---
Karen Bremer
Executive Director
Georgia Restaurant Association
Atlanta
Bremer's organization advocates for the 17,000 restaurants in Georgia that see more than $18.9 billion in sales annually and employ more than 400,000 people. The GRA partners with the Department of Agriculture on the Georgia Grown Executive Chef program to showcase the state's local produce and meats on restaurant menus. – CD
---
Jon Burns
Majority Leader
Georgia House of Representatives
Newington
Burns, an agribusinessman, was elected to the legislature from District 159 in 2004 and elected majority leader in 2015. During the last legislative session, he played a prominent role as chair of the subcommittee that was the first stop for the major transportation funding bill the government signed into law. – CD
---
Carol Burrell
President & CEO
Northeast Georgia Health System
Gainesville
In 2016, Northeast Georgia Medical Center was named eighth in the country for hospital care, No. 1 in Georgia for overall hospital care and No. 1 in heart health by independent healthcare quality rating services. In 2015, Burrell oversaw the opening of the first new hospital in Georgia in nearly 20 years when NGHS opened a facility in Braselton. – JH
---
Mark Butler
Commissioner
Department of Labor
Carrollton
Butler is committed to creating valuable workforce solutions for job seekers and businesses across the state. Under his leadership, the GDOL launched Jobs for Georgia's Graduates, a pilot program to improve graduation rates for at-risk students. He has also seen the unemployment rate in the state drop during his tenure to less than 5 percent in August 2016. – BS
---
Casey Cagle
Lieutenant Governor
State of Georgia
Chestnut Mountain
Cagle, long a proponent of education reform, recently released his first book, Education Unleashed. In it, he proposes replacing the one-size-fits-all approach to public education with a new system that would allow communities to design a system that works for them. He's a strong advocate for career academies, which now number more than 35 across the state. – JH
---
Chris Carr
Attorney General
State of Georgia
Dunwoody
In November, Carr became Georgia's top law enforcement officer. Formerly the state's economic development commissioner, Carr is now tasked with enforcing state laws and investigating public corruption. As commissioner, Carr helped bring projects representing $14.1 billion in investment and 83,000 jobs to the state, and his agency was recognized as the top economic development agency in the country. – JH
---
Meria Carstarphen
Superintendent
Atlanta Public Schools
Atlanta
Carstarphen has made vast improvements since becoming superintendent in 2014, making sure any new initiatives stay focused on the system's 50,000 students. That means anything from working with families to get kids to school on time and implementing a new social and emotional learning initiative to making the APS a charter system this year, a move that delivers increased decision-making power to schools, parents and teachers. – BS
---
C. Michael Cassidy
President & CEO
Georgia Research Alliance
Atlanta
Cassidy leads the nonprofit that helps Georgia's universities expand research and commercialization capacity. Since 1990, GRA has leveraged $600 million of state funding into more than $4 billion of federal and private investment. He is also co-founder of the GRA Venture Fund, created to finance promising companies that emerge through the GRA's commercialization programs. – JH
---
Chris Clark
President & CEO
Georgia Chamber of Commerce
Peachtree City
In 2016, Clark's Georgia 2030 tour sought input on important factors that will define the state's business climate in the next 10 to 15 years, including the need for communities to recruit the next generation of workers – millennials. Under his leadership, Georgia has been named the No. 1 state for business for four years by Site Selection magazine. – JH
---
David Connell
President & CEO
Cobb Chamber of Commerce
Marietta
As the leader of one of the most influential business advocacy organizations in Georgia, Connell is focused on strengthening the economy and supporting Cobb's 45,000-plus businesses. Cobb is booming, with new Class A office space under construction, the upcoming opening of SunTrust Park and the Atlanta United soccer team's training facility also set to open this year. – MAD
---
Gretchen Corbin
Commissioner
Technical College System of Georgia
Rome
Corbin is commissioner of a system of 22 colleges and 244,000 students that form the backbone of the state's workforce development operations through programs such as its growing college and career academies and the much-lauded Quick Start. In spring 2016, the Georgia Film Academy, a partnership between TCSG and the University System of Georgia, opened its first soundstage at Pinewood Atlanta Studios. – LJ
---
Hardie Davis
Mayor
Augusta-Richmond County
Augusta
Davis, Augusta-Richmond County's first elected black mayor since the city and county governments consolidated in 1996, has championed former President Barack Obama's My Brother's Keeper initiative and launched a summer youth employment program. Davis also helped start the Power Lunch initiative to pair community leaders with students as reading mentors and is on the African American Mayors Association's board of trustees. – LJ
---
Cynthia Day
President & CEO
Citizens Trust Bank
Smyrna
Day joined Citizens Trust Bank, the largest African-American owned bank in Georgia, in 2003 as executive vice president of management services. Nine years later she assumed the position of president and CEO. During her tenure the bank has achieved record earnings levels and has grown through acquisitions to an asset level of approximately $400 million. – MAD
---
Nathan Deal
Governor
State of Georgia
Demorest
Creating jobs, appointing judges, education and Hurricane Matthew were priorities for Deal in 2016. He vetoed House Bill 757, the "Religious Liberty" bill and signed Senate Bill 367, a new phase of criminal justice reform. He advocated for the Opportunity School District referendum, which did not pass. It would have allowed the state to take over chronically failing schools. – BS
---
Nancy Denson
Mayor
Athens-Clarke County
Athens
As mayor, Denson has focused on reducing the poverty rate, improving local schools and creating a business-friendly government. During her tenure, Athens has been named one of the Top 17 Most Affordable Cities. Prior to her election as mayor, Denson founded and served on the board of the Athens Emergency Food Bank. – BS
---
Kit Dunlap
President & CEO
Greater Hall Chamber of Commerce
Gainesville
In 2016, Dunlap and her team helped facilitate 25 new and expanded businesses in the area, representing 900 jobs and $262 million in capital investment. Those companies join the chamber's 500 business and 2,500 individual members – 46 of those international companies representing 18 countries. – CD
---
Tim Echols
Member
Public Service Commission
Bogart
Last November, Republican Echols was reelected to his second six-year term on the state's Public Service Commission, which plays a role in setting policy through its oversight of energy companies operating in the state. A vocal advocate of renewable and clean energy, Echols hosts the annual Clean Energy Roadshow public seminars around the state. – CS
---
Terry England
State Representative
District 116
Auburn
England, whose legislative leadership has helped Georgia maintain its AAA bond rating, ran unopposed in November for a seventh term representing District 116. In July, the Georgia Academy of Family Physicians named him a 2016 Family Medicine Legislative Champion of the Year for his support of Georgia health initiatives and stewardship as chairman of the House Appropriations Committee. – TO
---
Tom Fanning
Chairman, President & CEO
Southern Co.
Sandy Springs
Fanning became the leader of America's second largest utility in July when Southern Co. and AGL Resources completed their merger, doubling Southern's customer base to 9 million. In the fall, Fanning, chair of the Federal Reserve Bank of Atlanta, began leading a search committee to replace Atlanta Fed President Dennis Lockhart, who is stepping down in February. – TO
---
Tom Frieden
Director
Centers for Disease Control and Prevention
Atlanta
Frieden leads the top U.S. health institute responsible for meeting national and global public health challenges, including HIV, antibiotic-resistant bacteria and issues like blood pressure, obesity and tobacco use. With the spread of Zika-carrying mosquitoes to the United States, Frieden has been an advocate for Congress to provide funding to help protect pregnant women from the disease. – TO
---
Jennifer Frum
Vice President for Public Service and Outreach
University of Georgia
Athens
Outreach is the name of the game for Frum, who leads the PSO's programs and initiatives, which have a $587-million impact across Georgia through everything from ensuring seafood safety to assisting with downtown development to sponsoring leadership programs. The first-ever certification program for economic developers in Georgia launched in 2016 through the Carl Vinson Institute of Government, a PSO unit. – LJ
---
Larry Gellerstedt III
President & CEO
Cousins Properties
Atlanta
Gellerstedt's company developed such familiar Atlanta skyline landmarks as the Bank of America Plaza and 191 Peachtree – which Cousins sold last year. Also in 2016, Cousins completed a $2-billion merger with Parkway Properties. Gellerstedt is also active in the community, serving as chair of the Georgia Research Alliance and as a trustee of the Robert W. Woodruff Foundation. – CD
---
Jerry Gonzalez
Executive Director
Georgia Association of Latino Elected Officials
Atlanta
For every election, Gonzalez galvanizes the participation of the Latino community. Through voter engagement efforts, the Latino electorate has grown to well over 150,000 from a mere 10,000 in 2003. Gonzalez seeks to give the state's Latino community a voice in political issues such as immigration reform while training a new generation of leaders with the GALEO Institute for Leadership. – CD
---
Todd Groce
President & CEO
Georgia Historical Society
Savannah
Groce is responsible for guiding the premier independent statewide institution charged with collecting, examining and teaching Georgia history. Last spring, he led the society in celebrating the publication of the 100th volume of the award-winning Georgia Historical Quarterly. The organization, along with the Office of the Governor, also manages the annual Georgia Trustees program, the highest honor the state bestows. – TO
---
P. Russell Hardin
President
Robert W. Woodruff Foundation
Atlanta
Hardin continues to lead the largest foundation in the state, with assets of $3.1 billion at the end of 2015. The foundation, which awarded nearly $143 million in grants in 2015, has a goal of improving the quality of life in the state through investments in health education, economic opportunity and community vitality. – BS
---
Jaimie Hebert
President
Georgia Southern University
Statesboro
Hebert, former provost and vice president for academic affairs at Sam Houston State University in Texas, was named president of Georgia Southern University in July 2016. He joins at a key time, with a record 20,673 full-time students this fall. The university, which has a regional economic impact of $846 million, offers 125 bachelor's, master's and doctorate degree programs. – LJ
---
Steve Henson
Minority Leader
Georgia Senate
Tucker
Henson, the Democratic leader in the state Senate, ran unopposed in the November election as he won an eighth term representing District 41. In the 2016 legislative session, Henson led the Democrats in opposition to high-profile bills on religious freedom and campus carry gun legislation. The bills passed both chambers but were vetoed by Gov. Nathan Deal. – TO
---
Doug Hertz
President & CEO
United Distributors
Atlanta
The third generation to run his family's business, Hertz led an aggressive period of growth and expansion making United Distributors the largest beverage alcohol wholesaler in both Georgia and Alabama. Hertz also founded Camp Twin Lakes for children with serious illnesses and disabilities and is involved in numerous philanthropic activities. – MAD
---
P. Harris Hines
Chief Justice
Georgia Supreme Court
Marietta
Hines was elected chief justice of the State Supreme Court in September 2016 and will assume the position Jan. 6. During his 21-year tenure on the Georgia court, Hines has served as chair of the justice for children committee and vice chair of the Georgia Judicial Council. As chief justice, Hines will chair the judicial council. – BS
---
Doug Hooker
Executive Director
Atlanta Regional Commission
Atlanta
Hooker oversees the regional planning and intergovernmental coordination agency for the 10-county Metro Atlanta area. With 2.5 million people expected to move to the region by 2040, boosting the population to 8 million, the commission is preparing with its PLAN 2040, a comprehensive blueprint to sustain the metro area's livability and provide a framework for a thriving region. – CS
---
Donna W. Hyland
President & CEO
Children's Healthcare of Atlanta
Atlanta
In her 30-year-career with Children's Healthcare of Atlanta, Hyland has overseen monumental growth that has resulted in making CHOA one of the largest pediatric healthcare systems in the country. It's also one that is consistently ranked a Top Pediatric Hospital by U.S. News & World Report and one of the 100 Best Companies to Work For by Fortune magazine. – MAD
---
Tim Hynes
President
Clayton State University
Morrow
Under Hynes, CSU is having a profound impact on the region, and with a new Strategic Plan 2022, that impact should continue to grow. The university contributed $273.7 million to the local economy in FY 2015. U.S. News & World Report ranked CSU among the top 140 universities in the South for 2017. – TO
---
Johnny Isakson
U.S. Senate
Atlanta
Reelected U.S. senator in November, Isakson chairs two committees: Veterans' Affairs – Isakson is a veteran himself – and Ethics. He recently released a discussion draft of legislation that includes bipartisan proposals to improve health outcomes for Medicare beneficiaries living with multiple chronic conditions. He's also worked to increase access to mental healthcare for veterans. – CD
---
Jan Jones
Speaker Pro Tempore
Georgia House of Representatives
Milton
Jones, a Republican who represents District 47, helped create the city of Milton and in 2016 helped draft the transit expansion deal for Fulton County that voters approved in November. Jones, who was elected in 2003, serves on several committees, including the House Appropriations, Education and Rules Committees. – LJ
---
Steve Justice
Executive Director
Georgia Centers of Innovation
Atlanta
Justice, an award-winning aerospace engineer, was appointed to head the center in September. Previously, he was director of the Center of Innovation for Aerospace. The Centers of Innovation, a division of the Georgia Department of Economic Development, provides industry expertise to help Georgia businesses grow and develop new products, services and markets. – TO
---
Daniel J. Kaufman
President & CEO
Gwinnett Chamber of Commerce
Lawrenceville
Since 2013, Kaufman has served as president and CEO of one of the largest suburban chambers of commerce in one of the fastest-growing and most diverse counties in the nation. The chamber, with more than 2,000 members, helped recruit more than 2,100 new jobs and had 21 project wins in 2015. – MAD
---
Brooks Keel
President, Augusta University
CEO, Augusta University Health
Augusta
Keel presides over a college of 8,500 students and a health system that includes Augusta University Medical Center and the Children's Hospital of Georgia. The university continues to bolster the cybersecurity sector with its Cyber Institute, the 2016 Cyber Georgia summit, where the CIA director and the deputy director of the NSA spoke, and an agreement this fall with the NSA to give soldiers and civilians taking NSA courses the ability to apply those courses toward an AU degree. – JH
---
Brian Kemp
Secretary of State
State of Georgia
Athens
As Georgia's chief elections officer since 2010, Kemp has implemented several e-government solutions for voters, including registering to vote online; Georgia also offers one of the nation's first mobile voting information apps, GA Votes. Kemp was also instrumental in launching the SEC Primary last March – the largest regional primary since 1992. – JH
---
Muhtar Kent
Chairman & CEO
The Coca-Cola Company
Atlanta
Coke's focus under Kent has been on women, water and well-being, with a goal to empower 5 million women entrepreneurs by 2020. The world's largest beverage company is also focused on environmental issues, employee safety and economic development, giving back more than $117 million in 2015 in more than 70 countries. This May, Kent will step down as CEO after 9 years in the position; he will continue as chairman of the board. – BS
---
Ross King
Executive Director
ACCG
Fayetteville
Since 2010, King has headed the agency responsible for ensuring Georgia's 159 counties provide services that meet the health, safety and welfare needs of their citizens. This year, he is in line to become the president of National Council of County Association Executives. He is also vice-chair of the Georgia Department of Natural Resources Foundation. – TO
---
Bill Leahy
President
AT&T Georgia & the Southeast
Atlanta
Appointed president in 2015, Leahy manages and directs AT&T's legislative, regulatory and external affairs initiatives in nine southeastern states. Earlier this year, he announced the AT&T Fiber Ready designation, which helps local economic development officials more effectively position their communities for site selection by emphasizing the availability of high-speed, fiber-based services. – JH
---
Craig Lesser
Managing Partner
Pendleton Consulting
Sandy Springs
While Georgia's economic development commissioner from 2004 to 2007, Lesser helped attract $8 billion in new investment and expansions that created more than 40,000 jobs. Today, he is focused on economic development at the local, state and international level, speaking on the topics around the world. For his efforts, the Atlanta Regional Commission recently presented him with the 2016 Harry West Visionary leadership award. – MAD
---
Griffith V. Lynch
Executive Director
Georgia Ports Authority
Savannah
Former GPA COO Lynch was named executive director in 2016. The state's deepwater ports and inland barge terminals contribute $20.4 billion in income, $84.1 billion in revenue and $2.3 billion in state and local taxes and support more than 369,000 jobs across Georgia. The Savannah port is the nation's fastest-growing and fourth-busiest container terminal. It will continue on that trajectory with the $706-million Savannah Harbor Expansion Project, which will accommodate larger ships when completed as early as 2020. – LJ
---
Chris Markwood
President
Columbus State University
Columbus
Since Markwood took the helm of CSU in June 2015, the first class of film certificate program students graduated in partnership with the Georgia Film Academy, and the school celebrated the re-opening of Pasaquan, a 7-acre art environment that CSU helped rehabilitate. Last year, university researchers also received CSU's first-ever patent for a tool to train military and emergency personnel. – CS
---
Kyle Marrero
President
University of West Georgia
Carrollton
Marrero has led UWG since 2013, earning the university Institution of the Year and President of the Year honors from the University System during his tenure. The university continues to grow enrollment with 13,300 students; stature with a regional impact of $518 million; and faculty and staff with more than 1,500 full- and part-time positions. – KK
---
Terry McGuirk
Chairman & CEO
Atlanta Braves
Cobb County
McGuirk has overseen a year of the biggest changes since the Braves moved to Atlanta in 1966. The most prominent is preparations to relocate the team from Turner Field, its home since 1997, to SunTrust Park in Cobb County. The Battery Atlanta, a $1-billion mixed-use development, will surround the 41,500-seat ballpark. Both will open this year. The team also named a new manager for the 2017 season, Brian Snitker. – TO
---
Russell McMurry
Commissioner
Georgia Department of Transportation
Atlanta
McMurry had the honor of leading the DOT in its centennial year. Created in August 1916 in an era of rutted dirt roads, the agency oversees the nation's 10th largest paved road infrastructure and has an annual budget of more than $3 billion. McMurry embraces change and is preparing the agency to meet the challenges of a not-too-distant transportation future that will include such technological innovations as drones, connected vehicles and self-driving cars. – TO
---
Ceasar Mitchell
President
Atlanta City Council
Atlanta
Mitchell serves as the seventh president of the Atlanta City Council, where the Atlanta native advocates for safer communities through specific initiatives, including police foot patrols. He has championed key legislation facilitating economic revitalization in underdeveloped areas and supported legislation for community input on the Atlanta BeltLine. Last June, he threw his hat into the ring to run as the city's next mayor. – JH
---
Hala Moddelmog
President & CEO
Metro Atlanta Chamber
Atlanta
Moddelmog, who was hired as the Metro Atlanta Chamber's first female president in 2014, oversaw the chamber's move from its longtime home near Centennial Olympic Park to its new office at 191 Peachtree St. She continues to help Atlanta position itself as one of the nation's top destinations with the regional ChooseATL initiative, which highlights the metro area's opportunities for career growth, its livability and its unique culture. – LJ
---
Jere W. Morehead
President
University of Georgia
Athens
In November, UGA launched a $1-billion comprehensive capital campaign, the largest in the school's history. UGA also set a fundraising record for the third consecutive year – also Morehead's third year as president – with $183.8 million, a 28 percent increase over the previous year. A Science Learning Center opened in 2016, and construction is underway on the next phase of Terry College's Business Learning Community. – LJ
---
Paul Morris
President & CEO
Atlanta BeltLine
Atlanta
Under Morris' leadership, the Atlanta BeltLine is transforming the city with a combination of rail, trail, greenspace, housing and art. The BeltLine's budget for the 2017 fiscal year was approved with $2.2 million in funding for affordable housing. The corridor also showcases artists and musicians, providing a great way to explore Atlanta's 22-mile loop of historic rail lines. – BS
---
Jeff Mullis
State Senator
District 53
Chickamauga
Mullis, who was first elected in 2000 to represent District 53, was the chairman of the Senate Rules Committee in 2016 and also served on the Appropriations, Economic Development and Tourism, and Regulated Industries and Utilities committees. He is a proponent for stopping illegal immigration and improving Georgia's schools. – LJ
---
Charlotte Nash
Chair
Gwinnett County Board of Commissioners
Dacula
Nash has worked in county government since the '70s, serving as county finance director and county administrator before being elected chair in a 2011 special election. Top priorities include preparing the county's water and sewage for future growth and soliciting citizen input on a multimodal transportation system. – JH
---
Lamar Norton
Executive Director
Georgia Municipal Association
Atlanta
Norton leads a staff of more than 91 employees and a membership of 521 cities. The GMA provides lobbying, training and technical services to city officials across the state and is developing a series of workshops for city officials to provide guidance on dealing with tense situations and hostile environments with the intention of strengthening the level of trust in local government. – CD
---
Sam Olens
President
Kennesaw State University
Kennesaw
Olens, who previously served as Georgia's attorney general, became president of KSU in November. While his appointment was met with some controversy, he has said in his first months as president that he intends to focus on improving the graduation rate, need-based scholarships and faculty support. Olens also previously served as chair of the Cobb County Commission and the Atlanta Regional Commission. – KK
---
Keith Parker
CEO, General Manager
MARTA
Atlanta
Since he took the helm in 2012, Parker has turned around Atlanta's once-beleaguered transit authority. Now State Farm, NCR, Mercedes-Benz and Kaiser Permanente are all relocating closer to MARTA stations. In November, voters approved a half-penny sales tax that will raise $2.5 billion over 40 years to fund major improvements like new rail stations, bus routes and more frequent service. Parker was also named one of Governing magazine's 2016 Public Officials of the Year. – CS
---
Karen Paty
Executive Director
Georgia Council for the Arts
Atlanta
One of Paty's responsibilities is providing access to the arts for all Georgians, specifically through supporting state arts organizations (primarily nonprofits) with grant money. She has also worked to integrate the arts with cultural tourism, initiating a multi-year program to foster sustainability of Georgia's arts organizations and developing greater collaboration among organizations. – CD
---
David Perdue
U.S. Senator
St. Simons
Perdue had more than 40 years of business experience as the CEO of Reebok and Dollar General when he was elected to the U.S. Senate in 2014 on the promise to help rein in spending, create jobs and tackle the nation's debt. For the 114th Congress, he chairs the Foreign Relations Subcommittee on the State Department and USAID Management and Agriculture Subcommittee on Conservation, Forestry and Natural Resources. – MAD
---
Egbert Perry
Chairman & CEO
The Integral Group
Atlanta
Perry is part of the team that plans to redevelop the dormant 165-acre General Motors site in Doraville into a location for film studios, offices, retail and housing. He's considered an innovator in urban revitalization, and his real estate development, advisory and investment management services firm provides services in urban markets across the U.S. He's also chairman of the board of Fannie Mae. – LJ
---
G.P. "Bud" Peterson
President
Georgia Institute of Technology
Atlanta
Peterson, Georgia Tech's 11th president, was selected chair of the NCAA's Board of Governors in August. Some 122,000 square feet of building space is under construction on campus, and this December the school announced it will be opening the Georgia Tech Tianjin University Shenzhen Institute in China. U.S. News & World Report ranked Tech this year as the 7th best public university in America. – LJ
---
Jay Powell
State Representative
District 171
Camilla
Powell, who was initially elected in 2008, is chairman of the House Ways and Means Committee and ex-officio of the Appropriations Committee. He also serves on the Rules, Judiciary, Governmental Affairs, and MARTA Overview (MARTOC) committees. A former mayor of Camilla, Powell's district includes Mitchell County and parts of Colquitt and Decatur counties. – LJ
---
David Ralston
Speaker
Georgia House of Representatives
Blue Ridge
The 73rd speaker of the Georgia House – and the first speaker to come from North Georgia – Ralston is a strong proponent of conservative values. Still, he has resolved not to support any "religious liberty" bills that may come up in this year's session, saying it may be better handled at the federal level. He is also a member of the executive committee of the National Speakers Conference and vice-chair of the Southern Legislative Conference. – MAD
---
Robert Ramsay
President
Georgia Conservancy
Athens
President since 2014, Ramsay oversees the member-supported organization dedicated to land conservation, environmental advocacy, coastal protection, sustainable growth and outdoor stewardship. In October, the conservancy led a service project to repair and restore the portions of Ft. McAllister State Park and Skidaway Island State Park that were damaged by Hurricane Matthew. – CS
---
Kasim Reed
Mayor
City of Atlanta
Atlanta
When Reed took office in 2009, he faced a $48-million budget shortfall. Under his leadership, the city has had six years of balanced budgets with no property tax increases, and its cash reserves have grown from $7.4 million to $150 million. He also initiated reforms to address the city's $1.5-billion unfunded pension liability and added 900 police officers in the city. – CD
---
Robert Reichert
Mayor
Macon-Bibb County
Macon
Re-elected for his fourth term, Reichert is the longest-tenured mayor in Macon's modern history. He led Macon and Bibb County through consolidation in 2014 and has supported growth around downtown, including the Second Street Corridor connecting centers of economic activity. His focus is to grow Macon-Bibb County to become the transportation, logistics and cultural hub of Middle Georgia. – BS
---
Valerie Montgomery Rice
President & Dean
Morehouse School of Medicine
Atlanta
Montgomery Rice is the first woman to lead the freestanding medical school and is dedicated to its mission of advancing health equity, with a new strategic plan unveiled in 2015. She was named a winner of the national 2017 Horatio Alger Award, which honors leaders who have overcome significant adversities to attain success. – KK
---
Earl V. Rogers
President & CEO
Georgia Hospital Association
Atlanta
Since 2013, Rogers has served as president and CEO of the Georgia Hospital Association, leading 179 Georgia hospitals through the changes and challenges resulting from the Patient Protection and Affordable Care Act. For the eight years prior to his appointment, he led GHA's advocacy efforts in Atlanta and Washington, D.C. – MAD
---
William H. Rogers Jr.
Chairman & CEO
SunTrust Banks
Atlanta
Rogers leads one of the largest financial services companies in the country, with $205 billion in total assets and $159 billion in total deposits. Rogers serves on several boards, including Operation HOPE, and is the chair of trustees for the Boys & Girls Clubs of Metro Atlanta. This year SunTrust Park, the Braves' new Cobb County home, will debut. – CS
---
Candice Saunders
President & CEO
WellStar Health System
Atlanta
Saunders began her career as a critical care nurse. She became president of Metro Atlanta's largest healthcare system in 2014 and assumed the title of CEO this year. She champions innovative programs promoting employee welfare, earning the company a spot on Fortune magazine's 100 Best Companies to Work For and Working Mother magazine's 100 Best Companies. Saunders oversees 11 hospitals, numerous outpatient facilities and some 20,000 employees. – JH
---
David Shafer
President Pro Tempore
Georgia Senate
Duluth
First elected to the Georgia Senate in 2002, Shafer was elected Senate president pro tempore in 2013 and again in 2015. Described as a "conservative workhorse," Shafer has sponsored legislation to implement zero-based budgeting, limit tax increases and provide for periodic review of government regulations. – MAD
---
Allen Shiver
President & CEO
Flowers Foods Inc.
Thomasville
Shiver is a company man, beginning his career with Flowers Foods in high school. Since 2013, he has overseen the business's operations and strategic growth initiatives while also leading its national sales and marketing efforts. The Thomasville-based company produces and markets packaged bakery foods in the U.S.; boasts 10,900 employees; and sees annual sales of $3.78 billion. – JH
---
Jeff Sprecher
Chairman & CEO, Intercontinental Exchange
Chairman, New York Stock Exchange
Atlanta
Sprecher helped lead ICE to a record-breaking first quarter in 2016, with $1.2 billion in revenue and $369 million in net income. ICE launched ICE Data Services in June as part of the integration of Interactive Data, which ICE acquired last December. Sprecher is 2017 chair-elect for the Metro Atlanta Chamber and sits on several Atlanta-area boards. – LJ
---
Walter C. Sprouse Jr.
Executive Director
Augusta Economic Development Authority
Augusta
It's an exciting time to be in economic development in Augusta, which is seeing a huge influx of tech companies and a growing manufacturing sector. Thanks in large part to Sprouse, companies including Unisys, Starbucks, ADP, T-Mobile, Huntsman and EdenCrete have made huge investments in the area – more than $331 million in 2014 and 2015 alone. – KK
---
Kessel D. Stelling Jr.
Chairman & CEO
Synovus
Columbus
In 2014, Stelling led the company to a 23 percent rise in profit to $195.2 million. Synovus handles around $30 billion in assets to customers through 28 locally branded divisions, 250 offices and more than 332 ATMs in Georgia, Alabama, South Carolina, Florida and Tennessee. He also is a board member for Georgia Power and is chair of the University System of Georgia Board of Regents. – CD
---
Lee Thomas
Deputy Commissioner
Georgia Film, Music and Digital Entertainment Office
Atlanta
Thomas was tapped to head the Georgia Department of Economic Development's Film, Music & Digital Entertainment Office in 2011. In 2016 alone, the state has welcomed 245 TV and movie productions, including Captain America: Civil War, The Accountant, Stranger Things and Atlanta. All those productions represent a $7-billion economic impact and have made Georgia tied at No. 3 in the world for film production. – CD
---
Lindsey Tippins
State Senator
District 37
Marietta
Republican Tippins chairs the state Senate's Education and Youth Committee and sponsored last year's SB 364, which aims to reduce emphasis on standardized testing in student and teacher evaluations. The bill was backed by nearly every major education group in the state. In June, State School Superintendent Richard Woods honored Tippins with the Superintendent's Impact Award for his sponsorship of the bill. – BS
---
Trip Tollison
President & CEO
Savannah Economic Development Authority
Savannah
As head of SEDA, Tollison's mission is to create, grow and attract jobs and investment to the Savannah area. In 2015, the organization helped bring 17 new projects, 667 jobs and $204.7 million in investments to the region. Last year, it also launched the Savannah Entertainment Production Rebate Incentive to draw more film business to the coast. – CS
---
Chris Tomlinson
Executive Director
State Road and Tollway Authority
Georgia Regional Transportation Authority
Loganville
Tomlinson oversees SRTA, Georgia's toll operator and transportation bond financing authority, and GRTA, which seeks to reduce congestion and improve mobility through efficient regional commuter services. As part of his role, the Morehouse College and Georgia State College of Law graduate helps oversee, in partnership with the Georgia Department of Transportation, the managed toll lanes under construction in Cherokee, Cobb and Henry counties. – CS
---
Teresa Tomlinson
Mayor
Columbus-Muscogee County
Columbus
Tomlinson is in her second term as mayor of Georgia's second largest city. She is an advocate for a high-speed passenger rail from Columbus to Atlanta and led a voter-approved effort to create redevelopment districts to help revitalize underutilized areas intown. Tomlinson also counts the successful revamping of a flawed pension plan and healthcare system for city workers as some of her achievements. – TO
---
Steve Tumlin
Mayor
City of Marietta
Marietta
Tumlin is finishing his second term this year. During his tenure, the blighted Franklin Road area has seen a renaissance – and a rebranding to Franklin Gateway – through ongoing efforts to reduce crime and revitalize the area. Thanks to those endeavors, the 33-acre, $60-million training complex and home of the new MLS team Atlanta United broke ground this year, and The Home Depot opened a new IT center, bringing 1,000 jobs to the area. – TO
---
William D. Underwood
President
Mercer University
Macon
Underwood, Mercer's president since 2006, has grown the university's enrollment and stature with a focus on community engagement and an increasing emphasis on research. Externally funded research expenditures have grown to $32 million, and funding from the National Institutes of Health, the National Science Foundation, the Georgia Cancer Coalition and the Georgia Research Alliance has increased. – KK
---
T. Rogers Wade
Chairman
Governor's Defense Initiative
Sandy Springs
Wade serves as chairman of the governor's initiative to create new jobs by pursuing economic development opportunities at Georgia's military bases and surrounding communities. He sits on numerous boards, including the University System of Georgia Board of Regents, the Georgia Research Alliance and the Georgia Chamber and is also chairman of the Georgia Public Policy Foundation. – TO
---
Joel Wernick
President & CEO
Phoebe Putney Health System
Albany
Phoebe operates four locations that impact 35 counties in Southwest Georgia. Under Wernick's leadership, the system has added physicians and expanded and improved facilities with state-of-the-art health innovations. The system serves as the area's largest employer with more than 4,500 staffers. This year, the system launched a rebranding campaign, the first change to its brand and logo in 25 years. – CD
---
J. Alvin Wilbanks
CEO & Superintendent
Gwinnett County Public Schools
Suwanee
Wilbanks, who has overseen Gwinnett County schools — with 139 schools and 178,000 students the largest system in the state — since 1996, received a two-year extension that will keep him in that role until June 2018. The school system's main office has been renamed the J. Alvin Wilbanks Instructional Support Center, and under his leadership Gwinnett County has twice won the Broad Prize for Urban Education. – LJ
---
Phillip A. Wilheit Sr.
President & CEO
Wilheit Packaging
Gainesville
Wilheit has focused on growth in Hall County and the state by chairing the Gainesville-Hall County Development Authority; he also sits on the Greater Hall County Chamber of Commerce board, the Georgia Natural Resources Foundation, North Georgia Mountains Authority and the University System of Georgia Board of Regents. He is the recipient of the 2016 J.W. Fanning Award from Leadership Georgia. – BS
---
Stan Wise
Chairman
Public Service Commission
Marietta
Wise was recently elected to a two-year term as chair of the PSC, a five-member agency that helps ensure consumers receive safe, reliable and reasonably priced utility services. Wise has served on the PSC since 1995. He also serves on the National Association of Regulatory Utility Commissioners' Natural Gas Committee. – CS
---
Richard Woods
School Superintendent
State of Georgia
Tifton
With 22 years experience in public education – including 14 years as a high school teacher – Woods' focus is putting heart back into teaching. He has said the passage of SB 364, which reduces the emphasis of testing on teacher evaluations, is a common-sense move. In October, Woods announced Vision 2020, with goals that by 2020, every child in Georgia will be on the path to proficient reading by third grade, the state will exceed the national average graduation rate and more. – BS
---
Klaus Zellmer
President & CEO
Porsche Cars North America
Atlanta
Zellmer oversees the import and distribution of cars through 186 U.S. dealers and four ports of entry. He further leads operations for the $100-million Porsche Experience Center and North American headquarters in Atlanta, which opened in 2015 – a 27.7-acre complex that includes corporate offices, a 1.6-mile driver development track, a technical training center and fine dining restaurant. – CD