2017 Georgian of the Year: Agriculture Commissioner Gary Black
Growing the Georgia Brand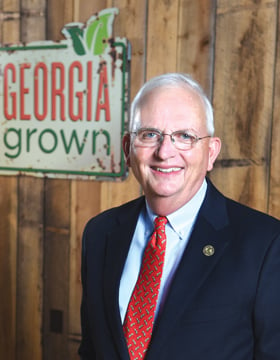 Gary Black likes the notion that Georgia's Department of Agriculture may very well touch the lives of more Georgians than any other part of state government.
Now in his second term as the state's elected agriculture commissioner, Black is a farmer who raises cattle on 72 acres of land near Commerce that his father bought in 1969 and is a former lobbyist for the state's mammoth agribusiness industry.
"I firmly believe that if agriculture in Georgia is healthy, then Georgia is healthy – from an economic standpoint," he says.
His department oversees agriculture, of course, but is also responsible for food safety, animal health, regulating grocery stores and food processing plants, protecting gasoline quality and licensing pest control companies. It even weighs the balls used in the state lottery drawings at its metrology lab in Tifton.
Since 2011, Black and his staff have added a strong business dimension, notably through a rejuvenated and revamped Georgia Grown program, a marketing and economic development effort that promotes locally grown products and assists agribusinesses. In its reincarnation, it is uniting producers, processors, retailers and consumers.
The program and the commissioner have won recognition, including the state tourism industry's Bill Hardman Sr. Tourism Champion in Government Award for 2016, given to Black, and the Hardman Tourism Champion Partnership Award, given to the Georgia Grown program – even as their work has drawn strength from a renewed and widespread interest in food quality and sustainability.
"Many people are at least two or three generations away from the land," Black says. "I believe the land and products of the land are actually a magnet to the soul. That's a part of this draw."
For his commitment to Georgia agriculture and his efforts to promote the industry and its economic contributions, Gary Black is Georgia Trend's 2017 Georgian of the Year.
He counts some heavy hitters among his supporters.
"As agribusiness continues to be Georgia's largest industry, Commissioner Black's steadfast leadership has been essential to maintaining Georgia's position as the No. 1 state in which to do business," says Gov. Nathan Deal.
"His contributions to the agriculture industry have strengthened the connections between farmers and consumers while highlighting Georgia as a premier business destination," he adds. "Commissioner Black's vision and leadership with the Georgia Grown program have provided significant benefits for the state tourism industry and will have a long-term impact in the lives of Georgians for years to come."
Zippy Duvall, longtime president of the Georgia Farm Bureau, now president of the American Farm Bureau Federation, says, "Gary Black has been a real friend and advocate to Georgia's farmers. He's a rare breed these days: a true leader and statesman. One of the qualities a great leader must have is the ability to prepare his organization or industry for the future. Gary has spent his whole career shaping and encouraging farmers to step forward and get involved to make a difference in their families and communities."
---
No. 1 Industry
Any way you slice the numbers, agribusiness is Georgia's top industry: It contributes some $74 billion each year to the state's economy. One of every seven Georgians works in agriculture, forestry or related businesses.
Poultry ranks first among the state's agricultural products – its value, Black says, "is north of $5 billion." Georgia is a top producer of peanuts, pecans, rye and spring onions and ranks high in cotton, watermelons, peaches, blueberries, corn, bell peppers, tomatoes, onions, cantaloupes and cabbage.
He sees the poultry industry growing even stronger. "There are so many uses for chicken, continuing development of products – that demand continues to grow. We're very good at producing a quality, competitively priced poultry product, and it's still going to be a large part of our future, too."
When Black talks about the current crop year compared to the previous five, he is not just summarizing staff-generated reports; he is drawing on years of experience and a lifetime of connections he has made working within the industry.
Both the spring '16 vegetable crop and the peach crop were very good, he says, but the drought and the effects of two hurricanes took a toll on commodity crops later in the year.
"Unfortunately, fall vegetable season suffered pretty significantly from disease pressure and lack of rain. It is truly a mixed bag for our pecan growers. The crop is excellent for those growers who escaped the path of the hurricanes. For our growers impacted by the winds and soaking rains, their losses will be felt for years to come," he says. "Despite the loss of mature and fully producing trees, which will take at least seven years to even start recovery, it is in the farmer's nature to be the eternal optimist. It is pretty much inherent in their DNA."
For cotton and peanuts, Black reports wide swings of the pendulum. "There's some good peanuts, some bad peanuts, some good cotton, some bad cotton. Hurricane Matthew caught some of our cotton farmers in a particularly bad time, resulting in significant losses. And then you have your farmers who escaped anything that made the news but still had to work through the everyday challenges that come with agriculture."
---
Beginnings
Black's dad was in the military – Black was actually born at Fort McPherson in Atlanta in 1958. Once his father left the service, the family spent some time in Texas, then moved when Black was in high school to the Commerce farm that he now operates with his wife, Lydia.
He tells the story of the high school counselor who steered him toward agriculture and the local FFA (Future Farmers of America) and jokes that he was intrigued by the blue jackets members got to wear. Then it was on to UGA and the College of Agriculture and Environmental Sciences. "I thought I was going to be an ag teacher," he says, but an opportunity to intern on the Senate Agriculture Committee in Washington with the late U.S. Sen. Herman Talmadge caused him to change direction.
"The purpose of my internship was not to solve world peace," he recalls, "but deliver mail and pour water for the senators who were meeting – and listen." It was a good place for a young man committed to a career in agriculture. "The bug bite goes back to then."
He worked for the Georgia Farm Bureau for seven and a half years, then for the Georgia Agribusiness Council, lobbying for 21 years at the state Capitol.
Despite the urging of colleagues and friends to pursue public office, he says it took him six years before he made the decision to run. He lost his first try for agriculture commissioner in 2006 but was successful four years later. He followed Tommy Irvin, who served as Georgia's commissioner for an unprecedented 40-plus years, and took office with big ambitions. He was re-elected in 2014.
---
Georgia Grown
The Georgia Grown program is Black's baby, and he is clear about the economic motivation.
"We unashamedly proclaim our goal is to be the best department of agriculture in America," he says. "There are many moving parts, but we felt we had to have the best marketing division and a state brand. Our job is to make Georgia Grown the finest brand in America.
"Looking at this five years ago, there was such pent-up consumer demand. If we responded favorably, we felt like it would be very successful," he says. "Georgia Grown is our economic development arm. We can point to dozens of cases where because of Georgia Grown, businesses are expanding, sales are up. If we can help enhance [what happens] between consumers and these producers, manufacturers and processors – it's good for Georgia's economy."
The Georgia Grown name had been around for several years before Black and his team took it and ran with it. "We felt like it was time for maybe a higher degree of energy and to really operate with a set of business objectives, rather than saying, 'Here's another program for the state' and print up a bunch of brochures."
Georgia farmers and agriculture businesses can purchase a Georgia Grown license – fees go directly into the Georgia Grown commodity commission, Black says, and all the money is used for promotional activities. There are levels of participation, starting as low as $100 for a basic silver membership. "Every member of Georgia Grown has skin in the game. They feel like they are part of a family," he says.
"Once you have a license," Black adds, "you choose how to leverage that brand for the strength of your business. If you want it on your business card, fine; if you want to put Georgia Grown on your barbecue sauce, fine. If you want it on your wholesale box of bell peppers, great; if you want to plaster it all over your website, awesome. If you want to make T-shirts for your brand and want to put Georgia Grown on the back – proceed and make money."
He emphasizes that Georgia Grown is a marketing program, not a regulatory program; so there is no rigid supervision – but the department does have an interest in seeing that the logo is used properly.
"From time to time, we'll get a call where someone has seen a Georgia Grown sticker on a pineapple," he says. "That's when our marketing people make a visit."
By design, the program emphasizes agriculture-related jobs. Take a product like peach preserves: "We do not regulate that every one of the peaches is [from] Georgia. What's most important is that those jobs are in Georgia. The jobs manufacturing the peach preserves are here, the feed is manufactured here. It may have Iowa corn, but it's a Georgia Grown feed.
"The strength of our program has come from the ability to have brand impressions in many different sectors – Georgia Grown on a feed bag or barbecue sauce. You might have Georgia Grown on a truck hauling finished lumber. We have retail partners like Subway and Kroger that feature the brand in their network advertising.
"Subway is a Georgia Grown member," Black says. "They were already buying tomatoes, bell peppers and cucumbers from Georgia producers, but no one knew it. We worked out a licensing agreement. Now when a Subway ad goes on Channel 10 in Albany and a portion of that commercial is the Georgia Grown brand – it's brand impression. When it's seen everywhere – restaurants, school cafeterias, the grocery shelf – it becomes familiar. Georgians like that."
---
Keeping It Local
Increased interest in how and where food is grown helped make this the right time for the Georgia Grown program. Black believes the appeal of the farm-to-table and local food movements is elemental and springs from a desire to connect.
"There's not been a time in my life when people were more interested in food," he says. "People are fascinated by how it's prepared, fascinated by how it's grown."
He holds his cell phone aloft and shakes his head. "Most of us are on these devices all week long, but it's still not a real relationship, it's a machine. We see people wanting to go to a farmer's market, or they see a farm listed on a menu item in a restaurant. That gives that Georgian an opportunity to connect with a real person."
He sees the family farm as the key to a prosperous agricultural industry – and a great deal more.
"The health of the family farm as a unit is a critical component of national security," he says "For us to be secure and safe, the nation has to have a secure and safe food supply. That's only going to be produced efficiently by a family farm."
But family farms are changing – they are larger. "We have many in Georgia that have multiple thousand acres," Black says. "That's a product of economy of scale and technology. When technology was a mule-drawn plow, no wonder it was called 40 acres and a mule – that's about all you could look at."
Most of the acreage under cultivation in Georgia this year was planted using GPS and satellite technology. He describes a visit to a turf farm in middle Georgia, watching "a $500,000 hands-free, single-operator sod harvester harvesting in an arc across that field. The whole apparatus was guided by satellite – cutting off a strip of sod, automatically rolling it, automatically stacking it on a pallet. Then when that pallet was completed, it was bound and slid off the back."
---
New Directions
To the list of what people think of as typical Georgia crops – peaches, poultry, pecans, peanuts – have come blueberries, a relative newcomer but an impressive one. Georgia is now the leading blueberry-producing state in the country. This is thanks to public investment and the efforts of the agriculture school at UGA, Black says.
"We had public investment in UGA 25 or 30 years ago that launched the development of plant material, varieties, practices to actually build an industry from the bush up, if you would. To come from nowhere to leading the nation in product is a great testimonial to our land grant university, and heroes like Scott NeSmith – Scott is Dr. Blueberry. In the span of his career he's been able to construct, literally from the ground up, a brand new industry that's now worth $400 million."
The same innovative spirit is adding other new and promising crops in Georgia – olives, ginger, even citrus.
"I was in Mitchell County at a ribbon cutting for a Satsuma [oranges] operation," Black says. "There's one in Bulloch County. Probably 20 years ago we never thought we'd see commercially grown Georgia citrus.
"Whether it's ginger or olives or Satsuma or pomegranates, there's a specialty nature to these products. There may be a limit, but the reason those people are successful, they have visionary family farms that are investing in technology and investing in trial and error. Those efforts make a pretty good case for why agriculture and its farm families are so fascinating – they are always on the edge of innovation, always trying to run to where the ball's going as opposed to waiting for it to be hit to them."
---
The Future
Black believes the current fascination with food and the land bodes well for the future of agriculture. "There are some young people – I don't want to say it's the Green Acres syndrome – but they are tired of living in the city. The millennials want to make a contribution or want to be a part of something that's meaningful."
He understands and shares that desire, but says the idealism must be tempered with a bit of pragmatism.
"There is no higher calling than being able to feed, clothe and shelter people with goods you produce, but the bottom line is the business still has to be profitable." Farming is a capital-intensive endeavor, yet "there's a gravitational pull for some of this generation to get back to the land."
The majority of students who enroll in UGA's agricultural college or Abraham Baldwin Agricultural College (ABAC) in Tifton, Black says, do not have a farming background. They are from more urban and suburban areas like Dunwoody or McDonough – young people who want a career in agriculture.
He recounts a story of visiting Atlanta's Benjamin E. Mays High School last spring to see the school's greenhouse, where an aquaponics program, steered by senior Sydney Stepney, a participant in last summer's Governor's Honors Program in agriculture science, is flourishing in an urban environment and growing kale for the Atlanta Public Schools lunch program.
Black hopes the 2020 Vision program the department is working on, with the state's departments of education and public health, will draw even more attention to agriculture – and give another boost to school nutrition.
It's an outgrowth of the Feed My School For A Week initiative, now in 43 schools statewide, which aims to supply the schools for one week with 100 percent Georgia Grown products for breakfast and lunch, all within budget. Black calls it a booster club for the cafeteria.
"That leads us down another road – our 2020 Vision. By the start of the 2020 school year, at every school, every year, every day, at least 20 percent of the menu [will be] Georgia Grown."
To Black, these nutrition programs go beyond simply bringing Georgia products into the schools; he is optimistic about the long-term possibilities. "We believe if we can do a better job in the cafeteria, put a good nutrition program out there, it may be our best path to improve academics, improve arts, improve athletics," he says.
"We have a real chance. If we are all willing to dare to dream together, we can really change school nutrition for future generations."