Throughout the year, Georgia Trend publishes several special lists. Many readers have called and written asking how to nominate candidates for these lists. Here's the scoop.
40 Under 40
Nominations are now closed. The nomination period for the 2023 40 under 40 was March 1, 2023 through April 21, 2023 at 5 p.m.
Each year Georgia Trend honors 40 of the state's best and brightest under the age of 40. Whether you know someone who's making a difference on the national stage or is a mover and shaker in his or her corner of the state, if they are under 40 years old as of Oct. 1, 2023, we want to hear about them.
The ideal candidate is someone who is successful in his or her profession and is passionate about community service. There are a few cases in which a day job alone is enough of a qualification, but the state is filled with people who excel from 9 to 5. We're looking for those whose involvement and commitment goes well beyond what they are paid to do.
Remember, we don't know these nominees, so paint a picture of their involvement, their passion, their commitment, their excellence – and ask others to chime in with letters of support or separate nominations – this will help us to get to know them and understand why they are potential candidates for recognition. You may also include backup material such as resumes or letters of recommendation.
The nomination period is now closed. Look for the 2023 honorees in our October 2023 issue.
The 2023 Legal Elite nomination period is Monday, April 10, 2023 through 5 p.m. Friday, July 7, 2023.
Who do you think is the state's most effective lawyer? Each December, Georgia Trend magazine's annual Legal Elite listing highlights the state's most effective lawyers, as chosen by their peers, in 16 different practice areas.
To nominate, you must be an attorney who lives and practices in Georgia and is a member of the State Bar of Georgia.
You may not nominate yourself, but you may nominate attorneys in your own firm, as long as you nominate an equal or greater number of attorneys outside the firm.
The nomination period is now open from Monday, April 10, 2023 through 5 p.m. Friday, July 7, 2023. Click here to make your nominations.
2023 Georgia 500 – Coming in the Fall of 2023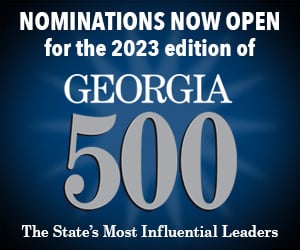 Announcing the second annual edition of GEORGIA 500 – The State's Most Influential Leaders – coming in the Fall of 2023
The nomination period will be open from November 7, 2022 through January 31, 2023 at 5 p.m.
This 2nd edition of our new annual publication will deliver readers an informative, engaging look at Georgia's most powerful leaders across major industries and organizations. Selections will be based upon extensive research, nominations, and hundreds of interviews, resulting in a selective guide to the Georgians who impact our state.
The nomination period is now open. Click here to nominate.
Georgian of the Year/100 Most Influential Georgians
Honorees in these annual features, which appear together in January, are selected exclusively by the Georgia Trend editorial staff based on our own knowledge and observations of the state's power structure. The same holds true for the Notables list that accompanies them.
Although we don't take nominations for this honor, we're happy to consider serious suggestions. Feel free to email them to us at editor@georgiatrend.com.
Sign up to get our free news roundup, Georgia Trend Daily, in your inbox
Sign up to receive the free monthly digital edition of Georgia Trend in your inbox