Georgia Fare: Let's Make a Fort!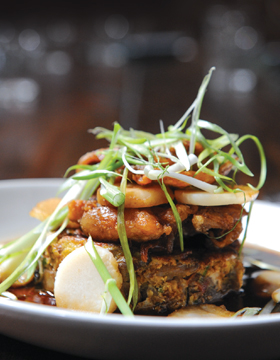 As our nation recovers from a bruising election and prepares to inaugurate a new president, perhaps we need a little perspective. You think we've had a tough time lately? How about those freezing Januaries that birthed our own Revolution, at the cost of many hardy souls who believed that something better, something greater lay at the end of their years of starving struggle.
The former Northerners who created Atlanta's Ticonderoga Club use upstate New York's Revolutionary War site as a winking touchstone. (On Lake Champlain, Fort Ticonderoga was an important base, held in turns by the Americans and the British.) It's a proud reference, complete with Early American touches (captain's chairs, eagle emblems, rum drinks) and an improvised-with-what's-on-hand feel.
With its Christmas lights and whacky ephemera, it has the free-wheeling confidence (and wry sense of humor) of people who hold solid convictions. In this case, the convictions have to do with really good food that doesn't follow a mold; perhaps the most interesting cocktails in town; and service that treats people like human beings rather than a focus-grouped checklist. In other words, life, liberty and the pursuit of happiness.
Ticonderoga adds another dimension to the myriad dining choices in the hot Krog Street Market on the Atlanta BeltLine. From sandwiches, sushi, noodle bowls and tacos to sit-down French, you'd seem to have it all, but Ticonderoga adds a sense of fun that can otherwise seem a little forced here.
That said, I'm always wary when a restaurant that's new and popular, like Ticonderoga Club, does not accept reservations. So we arrived for dinner not long after the doors opened and were ushered past tables in an open area facing the market that feels a little like a porch, to one of two booths in the dark, welcoming brick-and-wood interior.
I'm always encouraged when a host seats people first-come, first-serve to the best seats in the house, rather than trying to fill up less desirable tables right off the bat, or keeping booths empty because it might be possible to cram one or two more people in later – even if it means your party of three will be squeezed around a tiny two-top. (This seems to happen more often when diners are, ahem, a bit older or a bit more female than seems desirable. I've experienced this too many times to think it's an accident.)
The menu is so whimsical it almost seems like a rum-induced fever-dream: Smaller "fancies" include veal sweetbread piccata, maitake egg foo yong and spiced pork confit. Dinner entrees ranged from a vegan tofu bowl to the honking, $72 "Chuck Wagon" steak with garnishes ("enough to feed an army"). Then there are the "special cups": The signature Ticonderoga includes rum, cognac, sherry, pineapple, lemon and mint ($9) and is a wonderment of balance and restraint in a chilled metal cup with shaved ice. Barkeep Greg Best is well-known for his ways with uncommon elixirs, of which there are many here. You can even order a glass of Madeira or a bottle of sherry. The Hootchy Cider Punch ($11) is French cider and Amer "Ticon" – their housemade version of the bitter orange liqueur – with house bitters.
Our waiter seemed to enjoy crouching by our table, walking us conspiratorially through our options, proposing combinations he thought we'd like. (He was certainly right about the Holland Tunnel, an off-the-menu drink that's a sort of citrusy Manhattan.)
What's great about the eccentric bill of fare is that it really works – the all-over-the-map food isn't a gimmick, just great edibles without limitations that enhance the entire experience. If the experience here seems more focused on food that goes with cocktails, cider, beer and wine than vice-versa … how do you think those Revolutionaries got through those Januaries, anyway?
Our favorite indulgences here, aside from the delectable cocktails, include the Ipswich Clam Roll, perhaps inspired by the landmark Massachusetts diner that is itself the shape of a clam box. True clam roll aficionados will rejoice to discover these are whole clams ("with bellies" in local parlance) and battered, not crumbed. Served in a split roll with a side of Cape Cod potato chips, the sandwich comes at a patriotic price of $17.66.
The starters are perfect appetite-piques, including a very respectable and traditional steak tartare, with egg yolk, traces of hot sauce and Kewpie mayonnaise, served on crisp disks of sliced Daikon radish; the "otah otah" (a mousse of catfish and shrimp steamed and grilled in banana leaf, topped with minced lemongrass and shallot and served with peanut sauce) is delicious even with its tiny hairlike bones. Asian references also abound in the daily catch – in our case, black bass with a Vietnamese basil, mint-and-mango salad dressed with fish sauce – and the side of sliced Japanese eggplant, braised in coconut milk and topped with crisp bits of shallot.
Yeah, you could have the right-sized dessert – a dollop of rummy chocolate mousse with orange cookies – but if you're not driving, you'd do as well or better with the Irish coffee or any number of other finishers available here, like a glass of Madeira or a cocktail conspiratorially suggested to you by your waiter.
Why not? It's January, and you've got to make it through this revolution somehow.
---
Ticonderoga Club
Krog Street Market (99 Krog St. NE), Atlanta
404.458.4534
Hours:
Dinner, Thursdays-Tuesdays
Brunch Sundays
(Closed Wednesdays)
Parking: Valet or limited self-parking in lot
Dress Code: Ragtag band of patriots. Eyepatch optional.
---
Stay Warm This Winter With Cocktails by the Fireplace
The Old Pal
Athens
The classics, and then some, at this Normaltown outpost that attracts restaurant industry types late into the night. Happy hour whisky sours are a righteous $6.
The Colonnade
Atlanta
If the fireplace doesn't soothe you, the hefty old-fashioned will.
The Olde Pink House
Savannah
The downstairs bar is where the regulars go to toast each other and their toes around the hearth.
plantersinnsavannah.com/the-olde-pink-house