Connection, Capacity and Collaboration
The Georgia ports match big volumes with big performance, creating a big impact on the state.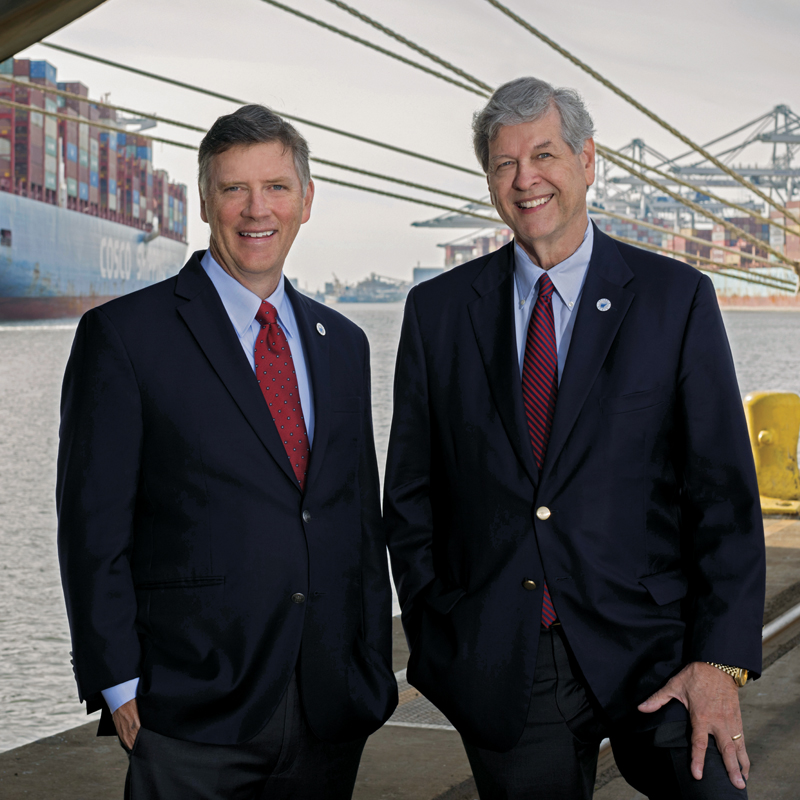 It's been more than five years since Savannah first welcomed the biggest container ship to dock at an East Coast port. It carried about 14,000 twenty-foot-equivalent container units (TEUs) of cargo. Thanks to the tireless effort and vision of the Georgia Ports Authority (GPA), as well as the strong support of the state's stakeholders, the ships and the action have continued to get bigger and better at Georgia's ports. A record-breaking volume of 5.76 million TEUs came through Savannah in the fiscal year ending June 30, up 8% year-over-year. The coastal economic powerhouse flows financially to every corner of Georgia, to the tune of more than $59 billion in state gross domestic product.
"The increases in volume the past two years have been unprecedented," says Joel Wooten, GPA board chair. "The good news is that we have done the pre-planning. The Port of Savannah and GPA have really been pushing forward plans we had to increase capacity sooner than we expected."
"We have for essentially two years been running at peak level, driven mostly by the COVID-19 situation and increased consumer purchasing," says Griff Lynch, GPA executive director. "It's presented some unique challenges to the industry and the supply chain, but what we're seeing is normalization of volumes in about that October-November time frame."
Companies moving cargo through the Port of Savannah enjoy greater reliability in addition to accessibility to 70% of the U.S. population. Growth at the Georgia ports is happening early as well as often. Cargo owners have been making increased and early orders to ensure product availability. As a result, the traditional peak season of September and October appears to have arrived earlier this year. Nearly 531,000 TEUs were handled in July, an increase of 18% year-over-year and 7.4% month-over-month and the trend continued in August with 575,513 TEUs. That added up to more than a million TEUs in the first two months of the 2023 fiscal year, another record, and sets the stage for an annualized rate of more than 6 million TEUs.
---
Building Momentum
GPA has focused intently on speed of operations even while millions of logistics pros and consumers were playing the waiting game during the pandemic. It's in the organization's DNA to deliver and respond quickly to critical needs that arise, spending what's required to get the job done.
"Right now at the Georgia ports we're spending $1.3 billion to upgrade our facilities," Lynch says. "Even more impressive is the fact that we're going to invest $4 billion over the next 12 years." One of the biggest upgrades is GPA's realignment and expansion of container Berth 1 at Garden City Terminal. When it's complete in June 2023, the Port of Savannah will be able to simultaneously accommodate four vessels carrying more than 16,000 TEUs, in addition to three smaller vessels.
"It's going to be a brand-new additional big-ship berth that will significantly increase our berthing capacity, allowing over 1 million [more] TEUs per year," says Wooten, adding that eight new large ship-to-shore cranes are also coming in 2023 with several to be positioned at Berth 1. "We'll have first-class, A+ berthing, cranes, capacity and container storage."
Through expedited construction, Savannah's Garden City Terminal has expanded from 80,000 container slots in late 2021 to 100,000 slots. Completed in July, the first phase of the Garden City Terminal West expansion delivered 25 acres for immediate container storage and additional support to container operations.
Garden City Terminal West expansion Phase II, which has begun on 90 acres of container storage space, will add a total of 1 million TEUs of annual capacity in phases in 2023 and 2024. To be supported by 15 electric rubber-tired gantry cranes, the site will include a new full-service truck gate into Garden City Terminal with expanded hours to include evenings and weekends and a direct connector road to the terminal's main container yard.
---
Brunswick Rolls On
Although the past year was challenging for the Port of Brunswick, that wasn't due to lack of demand. As frequently reported, original equipment manufacturers in the automotive industry were unable to make parts, which led to a major shortage of finished cars.
"We were down slightly in Brunswick, but that's starting to change," Lynch says. "We're up 2.5% and I think that number will grow because automakers are starting to produce cars again."
GPA's significant improvements in Brunswick will no doubt help the cause. Wooten reports that $150 million will go to increasing capacity there, with all projects on schedule for completion in 2023.
These include adding a fourth berth on the south side of the Colonel's Island Terminal, which boasts the second-busiest port in the U.S. for total Ro/Ro (roll on/roll off) cargo. The project will enable more efficient handling of larger vessels – those carrying 7,000 or more vehicles. All told, development of more than 60 acres will take place on the island's south side, including a high-and-heavy area to accommodate oversized vehicles, an auto parking area, an equipment- processing center and a warehouse.
GPA will add 560,000 square feet of storage space at the Colonel's Island autoport to serve the vehicle and heavy machinery trade. The north side of Colonel's Island will see two new warehouses, a vehicle-washing station and a loading ramp. GPA will also upgrade near-dock storage areas to better accommodate heavy machinery used in agriculture, construction and warehousing operations.
"That's the beauty of Brunswick … that we still have room to grow and increase capacity," Wooten adds.
Such potential was reflected in the September announcement that Nissan North America chose Brunswick as a new entry point into the U.S. Nissan joins about two dozen other automakers – including Hyundai, Kia, Mercedes-Benz and BMW – that the Brunswick port is serving.
---
Tracking Success
To better serve major inland markets from Atlanta to Dallas and Chicago, GPA opened the final nine of 18 working tracks at Savannah's Mason Mega Rail Terminal in November 2021, increasing rail capacity by 30%. Aiding cargo fluidity and reducing rail dwell time, which is approximately two days at Garden City Terminal, the 85-acre rail yard allows the Port of Savannah to build and receive up to six 10,000-foot-long trains at once.
"With the Mason Mega Rail completion, we'll have the largest railroad facility on terminal at any port in North America," says Wooten about the logistics node that accommodates two of the nation's biggest railroad freight operators, Norfolk Southern and CSX. "We've increased our capacity significantly and have future capacity to grow, so that's huge."
Lynch adds, "The beauty of the Mason Mega Rail is multiple things: obviously it increases our rail capacity, but to the extent that we can help take trucks off the road that's a good thing, and by increasing rail traffic we also increase our sustainability footprint. It's just a matter of how we can serve the state better."
The Mason Mega Rail completion ties into the GPA's strategic plan to establish inland nodes or ports to efficiently transport containers via rail to Savannah and drive economic development across the state, including in rural areas that were particularly affected by the supply chain adversity of the past year and a half. The 42-acre Appalachian Regional Port in Murray County, a joint effort of the county, the state of Georgia, GPA and CSX Transportation, opened in 2018.
The planned 104-acre Northeast Georgia Inland Port in Gainesville will provide a direct link to the Port of Savannah via Norfolk Southern while offsetting 600 roundtrip highway miles for every shipped container.
"A great example of its foresight is the GPA's investments in its regional ports throughout the state of Georgia," says Huali Floors USA President Julian Dossche, who currently runs about 80 containers per month through Savannah from his Murray County headquarters. During his nine-year working relationship with GPA, Huali Floors has reached upwards of 3,000 monthly container shipments. "We currently use the Appalachian Regional Port for all our drayage services and this has allowed us to mitigate the fluctuations in gas prices and increased cost of trucking."
---
Deepwater Dependability
One port's problem can be another port's opportunity, but seizing that opportunity doesn't happen without vision and preparation.
Uncertainty on the nation's West Coast, unprecedented and unplanned vessel calls in Savannah and record cargo exchanges per ship have all meant more business flowing through Georgia ports. "In addition to organic growth among its port customers, Savannah trade has also been boosted by West Coast labor talks and delayed access to rail at West Coast ports, prompting a significant shift in vessel calls," says Wooten. "GPA is currently handling an elevated number of ad hoc and new service vessels at the Port of Savannah."
Susan Peterson, co-owner of Atlanta-based dinnerware company Relish says, "At the height of the supply chain issues in 2020 and 2021, we waited as much as a month to move a container after [it arrived] in Los Angeles. Moving all of our business into the Savannah ports, we have received every container on time."
During times of supply chain adversity, it's more important than ever to leverage flexible port operations. Customers find that flexibility in Savannah, an owner-operator port that allows the GPA to adapt to ever-changing circumstances and make infrastructure investments to accommodate future needs. Of the many positive steps GPA took to address the surge in container trade in fall 2021, the establishment of pop-up container yards around the state to handle long-dwelling containers has maintained the fluidity of the marine terminal.
"The Georgia ports team has consistently been able to look around the corner and anticipate future needs for businesses like us," says Dossche. "The white-glove-style service and willingness to work through supply chain hiccups has allowed us to continue to service our customers in the utmost fashion. Supply chains that are not flexible and diversified are not going to survive through disruption. The GPA team fully understands this and for that reason you continue to see their investments and growth within their core competencies, as well on new technologies."
Many companies could only dream of such service during the latest global supply-chain imbroglio. GPA is now serving vessels in a bigger and better way thanks to the Savannah Harbor Expansion Project, which was completed in first quarter 2022. The more-than-20-year project, which is projected to net more than $291 million in annual benefits for the nation, allows ever-larger ships to transit the river with heavier loads and fewer tidal restrictions.
"Growing container-handling capacity will also prepare GPA to take on additional business as new and existing customers route more trade through Georgia's deep-water ports," says Wooten. "By increasing container space at Garden City Terminal, GPA is accommodating the expansion in global commerce that supports job growth in Georgia, which is central to GPA's mission. Industries from logistics to auto manufacturing and agriculture to retail depend on Georgia's ports for reliable supply chain solutions."
---
Team Effort
There's more than expansion of space at the Georgia ports. Since last year's peak in container volume, a new company in Savannah has been established, delivering value to port customers through integrated operations across all berths and the ability to move more cargo. The new joint venture, Gateway Terminals, consolidates the container terminal, truck gate and stevedoring services of Ports America, Ceres Marine Terminals and SSA Atlantic to streamline their activities.
"This improved efficiency and collaboration has come at the perfect time, in light of the sustained increase in cargo volumes," says Wooten.
Overall, the GPA's collaborative relationship with state and local government, the Georgia Department of Transportation (GDOT), the International Longshoremen's Association, stevedores, private industry and other stakeholders is absolutely essential. That goes for daily business efficiency, but also, as seen with the ports' major capacity-building steps, turning forethought into strategic planning and then into critical, proactive measures.
"The secret sauce for the GPA is truly not just what we're doing, which are massive investments, but also what the state is doing, from the governor and legislators down to our economic development group and the local folks, including mayors and county [chairs]," says Lynch, citing the enthusiastic turnout in late August at the opening of the $51 million Jimmy Deloach Parkway extension, which spans more than 3.8 miles from U.S. 80 to Interstate 16 and is "the final piece" connecting the ports to the warehousing district and then via I-16 to Atlanta.
Says Lynch, "We can make all these wonderful investments and increase capacity, but if it's not a team effort and we don't improve the infrastructure outside our gates we're not going to be as successful as we are. What I love, whether it's GPA, GDOT or other folks across the state, all are aligned and doing the right thing for Georgia."