Georgia Ports' 75 Years of Success
Georgia ports celebrate a diamond anniversary by breaking records and setting the stage for future growth.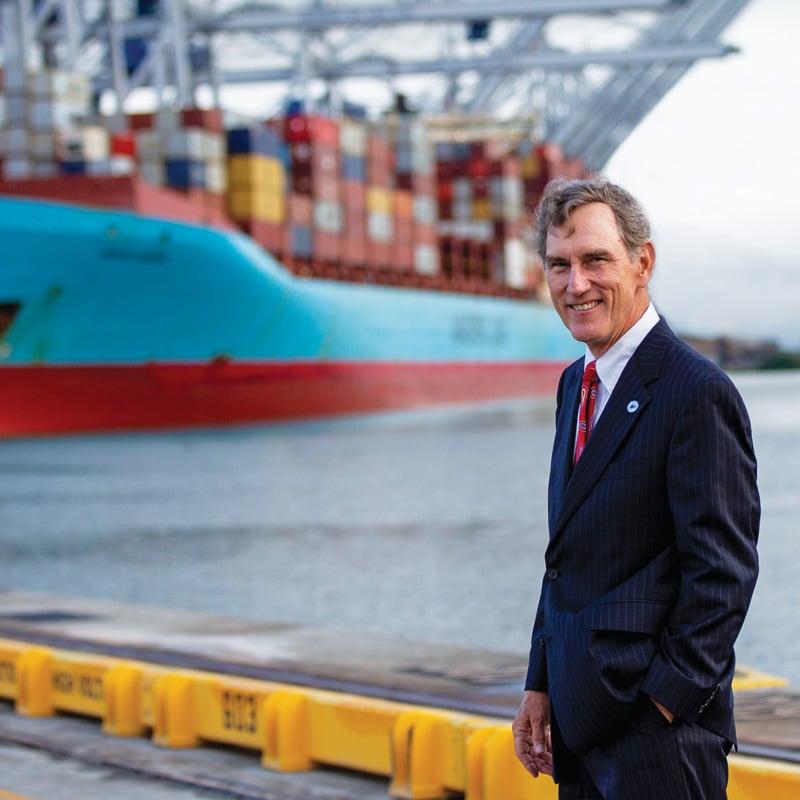 When the state legislature created the Georgia Ports Authority (GPA) in 1945, it would have been difficult to predict the ports' phenomenal success all these years later. But legislators laid the groundwork for growth, and GPA's original goal of operating the state-owned facilities to foster and encourage domestic and foreign commerce has never wavered.
Over the years, GPA acquired more land, steadily made improvements and recognized the tremendous efficiency gains that could be achieved through the ability to handle cargo shipped in large containers. By the 1970s, the first container terminal had opened in Savannah and a second one was on the drawing board.
However, the 21st century has seen the ports' biggest growth spurt. According to Keith Mason, principal of KWM Capital Management, GPA board member from 1998 to 2005 and chair from 2001 to 2003, GPA's container volume wasn't in the nation's top 10 in the early 2000s. Today, the Port of Savannah is the country's third largest container gateway, the fastest growing port and the biggest exporter of container-shipped agricultural products. From January through May of this year, more export containers moved through Savannah than any other U.S. port.
The Savannah and Brunswick ports have become the economic epicenter of Georgia and the Southeast. They support more than 439,000 jobs throughout the state and contribute $106 billion in revenue and $2.9 billion in state and local taxes to the Georgia economy.
In spite of reduced cargo shipments due to the coronavirus pandemic, the ports finished FY2020 in June essentially on par with last year and managed to set a few records. Total tons moved through all GPA docks reached a high of 37.77 million, an increase of 0.6% over FY2019. The Savannah port handled a record 4.5 million twenty-foot equivalent container units (TEUs). It's already set a record for FY2021, with August as its busiest month ever. Strong pre-pandemic exports and cargo volumes, coupled with a spike in e-commerce during the pandemic, have buoyed the ports' performance.
"In e-commerce, our forecast for five years from now really came about in three months because [it] just picked up so much," says Will McKnight, GPA board chair.
In addition, the ports were declared an essential industry, meaning there was no total COVID-19 shutdown.
"When this all started, we kind of went into this mode we called isolate and operate," says Griff Lynch, GPA executive director. "We said if we have somebody that [had] COVID, and they're an operator of a machine, we're going to isolate that machine and that area of the yard, taking a machine out of service and having it scrubbed down and sanitized and then putting it back into service." He says out of 1,300 employees, there have been 10 to 15 cases at any one time, and he credits GPA team members, customers and ports supporters for persevering throughout the crisis.
Increased rail capabilities also contributed to the ports' strong FY2020 finish. The inland Appalachian Regional Port (ARP), opened in Murray County in 2018, vastly exceeded projections in number of rail shipments to and from Savannah.
"We were hoping to handle about 18,000 to 20,000 containers at the ARP for our fiscal year [2020]," says Lynch, "and we handled approximately 27,000 containers. I think this fiscal year is even going to be better. While we may be challenged with volume COVID-wise, there's no question that ARP will grow most likely by double digits again."
Savannah's on-port rail service by Norfolk Southern and CSX has enabled GPA customers to deliver their goods farther and faster into the interior of the country than is possible from most other U.S. ports.
"We're the only port that is able to put a container on a rail within 24 hours of coming off the ship," says McKnight. "I think other ports are more in the six- to 10-day range."
He says cargo coming from ports in California and the Gulf Coast take three days longer to get to places like Memphis, Tenn., than shipments carried by rail from Savannah. "So for all these e-commerce customers, that just means money in their bank account because time is money to them," he adds.
---
Project Progress
Along with business as usual, projects to improve efficiency and accommodate more and ever-larger container ships are ongoing at Georgia's ports. Expanding rail capacity remains a top priority with the build-out of the Mason Mega Rail facilities. GPA terms it "rail on a whole new scale."
The project, which began in 2018, is increasing the number of on-port tracks from eight to 18, adding 97,000 feet of new rail at the Garden City Terminal for a total of 179,000 feet. When it's completed next year, the Mega Rail will double Savannah's rail capacity to 2 million containers per year. The expanded infrastructure will cut transit time by 24 hours to Midwest markets like St. Louis, Chicago and Cincinnati.
Huge rail-mounted gantry cranes are key to the expansion and GPA has the first two of an eventual eight in operation with the remainder to be phased in over the coming year. These electric-powered cranes span nine tracks and speed cargo transition onto super-long freight trains that can carry up to 500 containers behind one locomotive.
"We can do a 10,000-foot train in our port, 18 of them at one time," explains McKnight. "These cranes are 100 feet long and they can take a box and turn it 90 degrees and put it on the train in about three seconds. We're able to fill these trains up in about 24 hours so they can get out of the port."
The Georgia Department of Transportation (GDOT) has done its part by building a bridge over the new tracks. The Hwy. 25 overpass, which opened in August, allows the Savannah ports to operate the railyard without disturbing neighborhood traffic. Lynch says now trains, autos and trucks can move unimpeded throughout the area directly in front of the terminal.
"I want to give the Georgia Department of Transportation a lot of credit because the project was delivered ahead of time and within budget," he says. "They just knocked it out of the park; they built this overpass, essentially in one year's time."
Work is progressing on both of Savannah's terminals to pave the way for more huge cargo ships that will come to the port through the Panama Canal. Part of the smaller Ocean Terminal is being renovated to handle container vessels. When completed next year, the project will take some traffic off the Garden City Terminal while one of its berths is being upgraded. The latter improvements will be finished by 2023, expanding the number of berths to four – or 50% of the port's capacity – that can serve the world's largest cargo vessels.
In addition, plans are underway for the new Savannah Container Terminal, an almost 200-acre facility that will be built across the river on Hutchinson Island. The new terminal is expected to be state-of-the-art and will add more than 2.5 million TEUs to the port's capacity. The first phase will be completed in 2025.
Dredging of Savannah's outer harbor is complete and work on the inner harbor should be finished next year, adding five feet of water depth. "So we'll have a 47-foot depth in the inner harbor and [a] 49-foot outer harbor," Lynch says. "For every foot of additional water depth, we can load approximately 200 more containers on the ship. So five feet more water equals 1,000 more containers loaded."
He expects the billion-dollar harbor deepening, which has been in the works for more than 20 years, to pay dividends quickly. "The Army Corps [of Engineers] evaluated the economics of this thing and for every dollar invested, $7.30 were calculated to benefit the economy and the people in the southeast region," he says.
"It's hard for me to explain why five feet make such a difference for us in the depth of our port," says McKnight. "We'll be able to have 14,000-TEU ships sail in and out of our port 24/7, whereas right now we only have a five- or six-hour window as far as the tide to be able to bring them in and out."
Over at the Port of Brunswick, construction is complete on a 40-acre dockside parcel dedicated to auto processing at the Colonel's Island Terminal, which is a roll-on/roll-off (Ro/Ro) facility. That means it serves ships carrying vehicles like cars and trucks that are loaded and unloaded by means of built-in ramps. The expansion increases car storage by about 6,000 spaces and adds rail capacity.
In FY2019, more than 110,000 vehicles were transported to inland markets by rail from Brunswick and the port moved 614,000 units of Ro/Ro cargo, contributing to Georgia's ranking as the second busiest U.S. hub for import and export of vehicles, machinery and other Ro/Ro types. GPA has enough land permitted for expansion to grow capacity to 1.5 million Ro/Ro units per year.
---
Eyes on the Future
The law that established GPA 75 years ago called for a three-member commission to guide the authority. Today, that board has grown to 13 members from around the state, appointed by the governor for four-year terms. It's up to the board and the ports executive director to look ahead and anticipate needs 10 to 20 years out.
"The governors I've known – and that includes Democrats and Republicans – have generally put people on the board with a business background, but also an understanding of the relationship [the port has] with the state's economic development efforts," says Mason. "The other thing that's been a hallmark is having continued, consistent bipartisan support from members of the [Georgia] legislature, the governor's office and the congressional delegation."
GPA was set up to be self-supporting, paying for operations and improvements from the revenue the ports generate. Lynch emphasizes that taxpayers are not footing the bills "because the Georgia ports [are] run like a business. We build these projects from our own cash flow. We are responsible to do that and we take that seriously."
Stressing that point, McKnight says, "We don't have any debt, which is pretty phenomenal in that it allows us to do things most ports just dream about." For example, GPA recently bought 145 contiguous acres next to the Port of Savannah that will help it continue to grow. It's the largest addition of space in more than 20 years and should eventually translate into more than 1 million additional TEUs in annual capacity.
Both McKnight and Lynch credit their predecessors for looking to the future and putting plans in motion for crucial improvements like the Savannah harbor deepening along with working to attract container shipments from big box retailers like Walmart and Target.
"The insight of all my predecessors that were looking out 10 and 20 years and putting money aside to build infrastructure for 10- to 20-year projects, that's really the success story of the port," says McKnight. "If you look back over years, we have hired the best of the best people in the business to run our ports and that's why we're so successful. The thing we will celebrate with our 75-year anniversary is just how we've been looking to the future and always looking forward to what [needs to be] done."
---
History of Georgia Ports, 1945-2020
1945 Gov. Ellis Arnall signed legislation creating the Georgia Ports Authority (GPA)
1948 GPA purchased the 407-acre U.S. Army's Savannah Quartermaster Depot in Garden City, which became the first GPA terminal
1956 Gov. Marvin Griffin signed a bill making Brunswick and Bainbridge state ports; North Carolina entrepreneur Malcolm McLean invented the metal shipping container, revolutionizing worldwide cargo shipment
1958 GPA purchased the 200-acre Ocean Steamship Terminal from the Central of Georgia Railway
1962 GPA purchased Colonel's Island in Brunswick for $1.1 million; three berths were added at Garden City Terminal; improvements were made at Ocean Terminal
1972 Garden City's first container terminal opened and container service with Japan began
1992 Port of Savannah harbor widened to 500 feet
1995 Port of Savannah chosen as primary port of entry for Atlanta's 1996 Centennial Olympic Games
2001 GPA handled more than 1 million TEUs in a year for the first time
2003 Port of Savannah ranked 4th busiest in the nation
2012 U.S. Army Corps of Engineers released final documents for the Savannah Harbor Expansion Project, after 15 years of study
2014 Port of Savannah handled more than 3 million TEUs
2016 First vessel – and the largest at 10,100 TEUs – called on Savannah through the expanded Panama Canal
2017 First 13,000-TEU ship called on Savannah, which handled 8.5% of U.S. containerized cargo volume and 10% of all U.S. containerized exports
2018 First 14,000-TEU vessel arrived at the Savannah port; the inland Appalachian Regional Port opened in Murray County
2019 Port of Savannah moved a record 4.5 million TEUs in the fiscal year
2020 The CMA CGM Brazil, the largest container ship ever to serve the U.S. East Coast at 15,000 TEUs and equal to eight Statues of Liberty in length, docked at Savannah