A new way to dine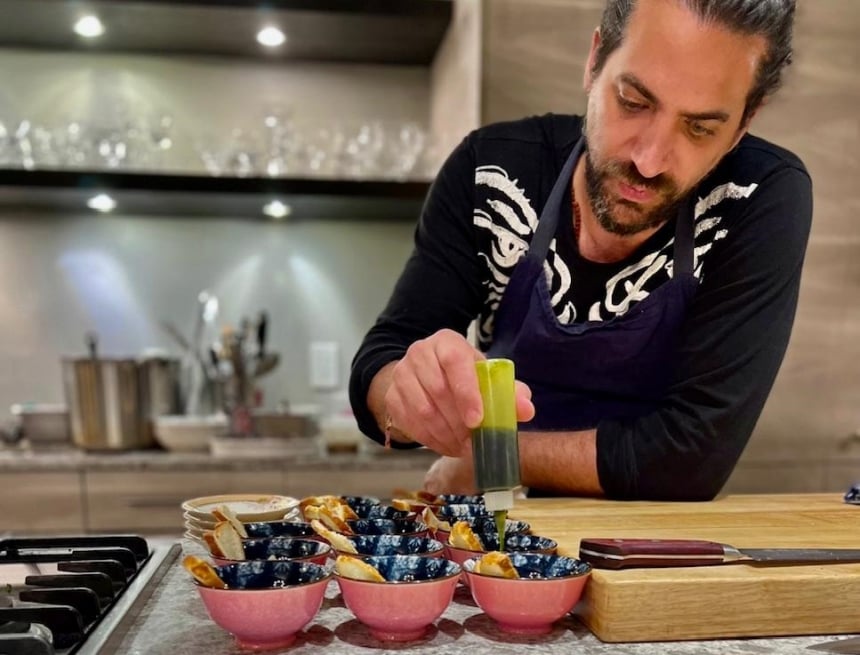 The Third Space is not your typical restaurant with a set menu or hours, or even a pop-up, but a place to nourish yourself and commune with others. Reserve a time of your choosing, eat and drink as much as you want and stay until your heart's desire. Owner and chef Shay Lavi just wants you to have a good time.
Lavi grew up with Libyan and Turkish parents in Or Yehuda, a city in the Tel Aviv district. Food was central to their lives and also a connection to the community. "I grew up picking up eggs from our neighbor and dropping off a cake while I was there. On the way back, I would stop by where the cows were to get some milk, and give them a bag of beans that my mom just dried," Lavi says.
When Lavi immigrated to Atlanta in 2015 and started working at American kitchens (Ecco, Wrecking Bar and most recently executive chef at Nur Kitchen), as well as his own bakery, restaurant and catering business, he felt a lack of community. He came to believe that modern society and mass farming has distanced us from the food, and that chefs didn't always act like leaders.
He wanted to make a change, and decided to get rid of menus and the traditional restaurant concept.
In October 2022, Lavi and his wife Karen moved into The Third Space (formerly occupied by Asha Gomez) to offer a unique dining experience where guests would book a seat, or the entire space, for an intimate evening. With a long dining table and eclectic décor, you feel like you are in someone's dining room. Grab a seat at the bar facing the open kitchen to interact with chef Lavi, where he'll note your dietary preferences even as he cooks in the moment with seasonal ingredients sourced from Georgia farms and Florida boats. He whips up homemade fig preserve, cured salmon tartare, lobster sweet potato souffle, lemon braised cabbage, beef stuffed okra and whole roasted branzino, among other dishes. Meanwhile, Karen chats with guests and pours from a great wine selection. There are no set courses or pairings. You are served until satisfied. With no formalities, you feel right at home. "It is a big party and each dish is created just for you!" Lavi says.
One of Lavi's goals was to have better control of the products he sources by building human connections with the people behind them and purchasing only what's available. Another was to treat his crew as a community, and create professionals who have high self-esteem and are proud of their work. The staff at The Third Space is small, but each person has an instrumental role to play in bringing life to the plate. Lavi says, "We don't cook because we want to earn a lot of money. We cook because we love it."
Photo of Chef Lavi, courtesy of The Third Space
Do you follow us? Find us on Linkedin, Facebook, Twitter and Instagram.