Southeast Georgia: Blossoming Ecosystem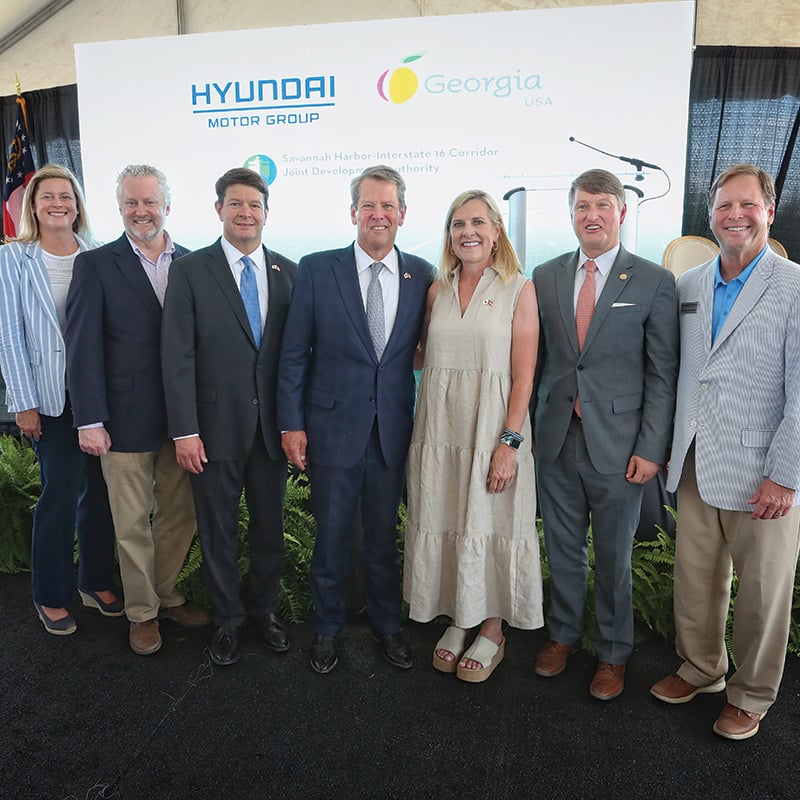 When South Korea's Hyundai Motor Group announced in May 2022 its intention to build a $5.4 billion plant to produce electric vehicles in Bryan County, the jolt it sent through Southeast Georgia proved electric, too.
Proximity to the ports of Savannah and Brunswick, railways and interstate highways make the region a choice location for businesses that move products. Beaches, mild winters, open spaces and vibrant downtowns make this region the home of choice for transplants moving from the traffic of bigger cities and colder weather in the Northeast and Midwest.
Located less than 31 miles from the Port of Savannah, with access to I-95 and I-16, the plant to be built on the 2,923-acre megasite will have capacity to produce 300,000 vehicles a year, offer 8,100 jobs and create a powerful economic engine for surrounding communities and the state as a whole. The ripple effects will be felt as Hyundai's suppliers locate their own plants near the megasite; the state's original prediction of $1 billion in additional investment has already been exceeded by $600 million.
Hyundai's arrival will accentuate trends that the rapid growth of the port has already initiated in several counties – an influx of new industries, soaring demand for warehouse and industrial space and the land on which to build them, increased demand for housing and services and retail, and a need for workers – especially skilled workers.
Besides the plant itself, "we anticipate an ecosystem will blossom in that area to support these companies and their employees," notes Hugh "Trip" Tollison, president and CEO of the Savannah Economic Development Authority.
Preparations are in full swing. The Georgia Department of Transportation and county governments are working on highway and local road improvements, including redesigning the I-95 and I-16 interchange. Water and sewer infrastructure is being upgraded in some counties. A task force has been set up to identify strategies to increase the regional skilled workforce pipeline.
The Hyundai plant's immediate beneficiaries will be the four counties located around the port in a rough semicircle – Bryan, Chatham, Effingham and Bulloch. In 2014, the four came together, establishing the Savannah Harbor-Interstate 16 Corridor Joint Development Authority (JDA) to attract a landmark investment to the site in Bryan County, after realizing that to land such a project would take a coordinated effort.
"We did everything we could to make the site as attractive to prospects as possible," says Anna Chafin, CEO of the Development Authority of Bryan County.
All four counties have an equal voice in the JDA and work together to secure Hyundai-related projects. For non-Hyundai projects, each competes independently.
Another benefit of the JDA is that it discourages potential investors from playing one county off against the other, says Brandt Herndon, CEO of the Effingham County Industrial Development Authority. If one county wins a supplier, all expect to get some benefit, including new job prospects for their residents. "The invisible county line means nothing to companies or logistics," Herndon says.
Bryan County was doing well even before the Hyundai announcement, Chafin points out. "As of the 2020 census, Bryan County was the fastest-growing county in the state and the sixth-fastest-growing county in the nation," she notes, adding that the county continues to receive investment unrelated to Hyundai. To accommodate the influx, St. Joseph's/Candler health system plans to add two new medical facilities there.
---
Strong Growth
Recent developments in the region promise both job growth and environmental benefits. Among them: an $84 million investment by Plug Power to open a green-power production plant in Kingsland and an agreement by Green Power EMC to bring an additional 252 megawatts of solar energy online to serve 16 subscribing electric membership corporations (EMCs) across Georgia. Plug Power's zero-emission fuel production plant will help the company better serve industrial customers across the Southeastern U.S. and will create 24 jobs. Construction of the first of three South Georgia Green Power sites – which together will produce enough low-cost, renewable power to help serve more than 44,000 EMC households – will begin in Jeff Davis County later this year.
Previously, Effingham's economic base was mainly manufacturing and industrial. However, the last six years have seen strong growth in logistics as the Port of Savannah expands and commercial property becomes hard to find, Herndon says.
Meanwhile, as property is snapped up, developers are in a race to find suitable tracts for their projects. Will Lombard, Atlanta-based senior vice president with Trammell Crow Company, was "beyond excited" when, after years of searching in the Savannah area, the company located a 477-acre site in Effingham County to build Coastal Trade Center, with 4.7 million square feet of logistics space.
Bulloch County, the fourth member of the JDA, has attracted two Hyundai suppliers: auto parts manufacturers Joon Georgia and Ecoplastic.
As for Chatham County, Hyundai's arrival adds to an already-thriving economy based on the port and tourism and helped by the region's entertainment production industry, which generated $207 million in direct spend in 2022.
Hyundai supplier Seoyon E-Hwa, which has a plant in LaGrange, announced it will build a second $76 million facility in Chatham. Demand is so strong that developers are now constructing bigger buildings to keep up with warehousing demand while rents rose 28%, the commercial real estate company Jones Lang LaSalle reported in fourth quarter 2022.
Georgia's other major port, Brunswick in Glynn County, already the nation's second-busiest hub for Ro/Ro (roll on, roll off) cargo like cars and tractors, will become even larger and more efficient. A $150 million development plan to be completed this year will raise the annual capacity from 1.2 million vehicles a year to 1.4 million.
Glynn County also hopes to feel the ripple effect of Hyundai and is fielding requests for information from Hyundai suppliers, says McKenzie Padgett, director of business development for the Golden Isles Development Authority.
---
Attracting Visitors and Development
In 2022, the Golden Isles proved golden in more ways than one for Glynn County. Tourism, the county's biggest economic driver, was up 23% compared to preCOVID 2019, bringing lodging revenue for the year to $229 million, Padgett says. Downtown Brunswick is also thriving, with new restaurants and a historic hotel undergoing restoration. Broadband is being installed in rural sections of the county that still lack it.
However, all this activity comes against the background of a serious worker shortage, says Ralph Staffins III, CEO of the Brunswick-Golden Isles Chamber of Commerce.
Labor is less of an issue in Camden County, site of Naval Submarine Base Kings Bay, home port for ballistic missile and Trident nuclear-powered submarines – a facility that generates a former-military workforce of skilled engineers and technicians, says James Coughlin, executive director of Camden County Joint Development Authority.
In addition, Camden hosts two green hydrogen production plants owned by Latham, NY-based Plug Power. The Authority provided land and local site support to attract Plug's $84 million investment.
Capable of producing 15 tons of liquefied hydrogen a day, the company expects the plant to achieve full production soon, with further expansion to 30 tons planned.
A big boost to the county's $159 million tourism industry is expected from Cumberland Inlet, a 721-acre, $500 million coastal project in St. Marys that will include an ecotourism park alongside a marina, boutique hotel, retail, restaurants and vacation rentals. Atlanta-based
Jacoby Development Inc. – the company behind Atlantic Station – broke ground on the project in August 2022. St. Marys is also the launch point for visitors to Cumberland Island, another tourist draw.
"From an economic development standpoint, we are busier than I have been in a long time," says Coughlin.
The county's location off I-95 near I-10 and close to Florida has attracted interest from distributors and logistics companies, along with light industry, while ecotourism and residential development is strong.
"The real estate market has just exploded, with folks moving in from the West and Northeast," Coughlin notes, as well as empty nesters from Florida. The area is also attracting people and companies who had been looking at Florida but were deterred by its higher cost of land and insurance, spurring new retail, restaurant and commercial growth, especially in Kingsland, he adds.
---
Adding Value
Like Camden, Liberty County, which shares Fort Stewart-Hunter Army Airfield with Bryan County to the north, can offer businesses an ex-military workforce. The county has a strong industrial base, especially in the distribution and e-commerce sectors as well as manufacturing. To accommodate existing growth, four new industrial zones were recently designated.
Foreign direct investment accounts for 70% of the county's industrial companies, notes Carmen Cole, director of Operations and Business Development for the Liberty County Development Authority.
"We are beginning conversations to bring everyone to the table to capitalize on capturing some of the growth from Hyundai," says Cole.
Some Southeastern counties away from the coast are also chasing growth, including Coffee County, a regional commercial and employment hub in a predominantly rural region.
The county aims to diversify its economy by adding value to the products of its agricultural base along with new industry, says Matt Seale, CEO, Douglas-Coffee County Chamber of Commerce and Economic Development Authority. As an example, Pilgrim's Pride recently expanded its poultry operations in Douglas with a $75 million facility to produce pet food ingredients.
Water, sewer and natural gas expansions at Barrington Agri-Business Park are intended to generate $45 million in private investments, while broadband is being expanded. Meanwhile, there's rejoicing in the city of Douglas that a Publix grocery store will soon open to supplement its other big-box and retail stores, and Coffee Regional Medical Center has expanded its service offerings.
"The city is thriving. We want people to think of it as a destination," Seale says.
However, the county's growth presents a new challenge. The population is increasing, but available housing is tight, especially for low-income and middle-in-come families. "We have to encourage residential construction," Seale says.
To the south, Ware County wants to let the world know it is open for business, says Jason Rubenbauer, president and CEO of Waycross-Ware County Development Authority. Several planned expansions and new industrial projects, some in the solar area, are in the works.
"We are proud of our [Okefenokee] Swamp and are a logistical hub, something we are focusing on," he adds.
The fate of a plan by Alabama-based Twin Pines Minerals to mine titanium on the edge of the Okefenokee National Wildlife Refuge could impact neighboring Charlton County's economic fortunes. The company claims mining will not harm the swamp, but the plan has drawn staunch opposition from residents of nearby communities and environmentalists.
While not all counties in Southeast Georgia have adopted the mantra of growth, Seale has high praise for the state's efforts. "They have done such an incredible job in the last five to 10 years by creating resources," he says. "It requires on our part to know what is out there and to take advantage of it."
Click HERE to return to the 2023 Economic Yearbook hub