Southwest Georgia: Energizing Rural Communities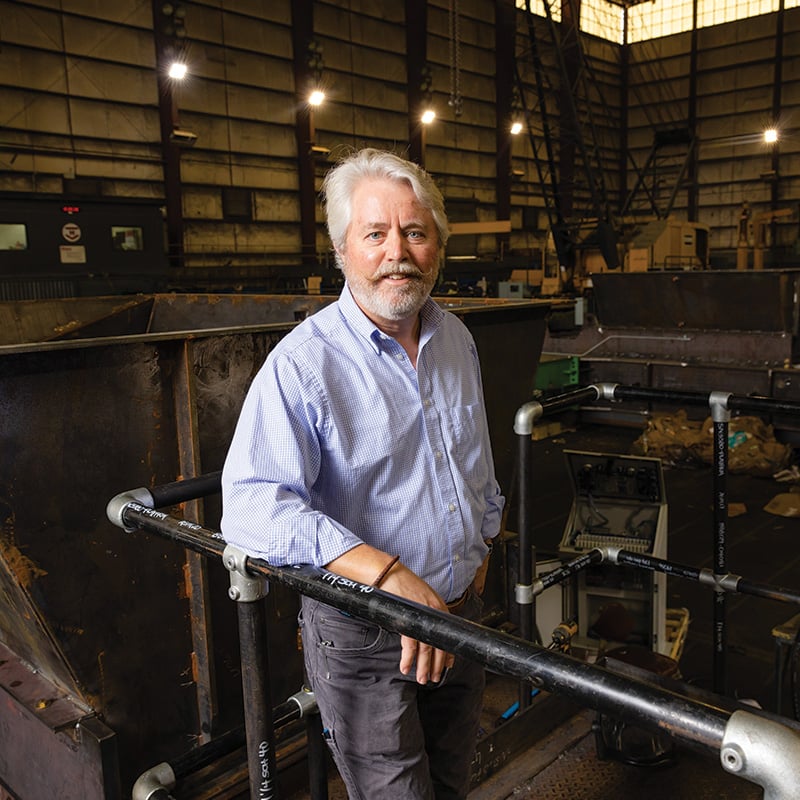 Some might say that rural areas are lacking crucial amenities necessary for attracting new business and industry. But economic developers flaunt what they have: available land and other natural resources, a trainable workforce and unmatched outdoor recreational opportunities, among other pluses. And it appears to be working.
Crisp County embraces all things age-related but doesn't limit itself.
Long home to manufacturers of agricultural chemicals and equipment, the county embraces a growing eco-friendly base, says Grant Buckley, executive director of the Crisp County-Cordele Industrial Development Authority.
Since the late 1800s, Harris Waste Management has produced industrial balers shipped around the world for compressing things such as cars and cardboard into manageable chunks to transport to recyclers. With roughly 100 employees, Harris earlier this year wrapped up an $8 million renovation and expansion of a 14,000-square-foot shop.
Advanced Drainage Systems chops and grinds postindustrial plastics to make new products. And coming soon is a company that recycles tires into small rubber particles used for artificial turf and mulch, says Buckley.
Just to the south and straddling I-75, Tift County announced a $95 million expansion to Orgill's Southeastern distribution center, says Dale Atkins, director of Tift County Development Authority, adding that Orgill is the world's fastest-growing independent hardware distributor, serving more than 50 countries.
Both Tift and Dougherty counties want to develop an industrial park served by rail. While Tift purchased 400 acres a few years ago with that in mind, Jana Dyke, president and CEO of Albany-Dougherty County Economic Development Commission, says she's still looking for the perfect location. In the meantime, she continues to nurture relationships with existing business and industry and remains proactive.
Lowndes County sold its 100,000-square-foot spec building to baking company Bimbo QSR, which announced a $200 million investment to build a second bakery in Valdosta, creating an additional 295 jobs, says Andrea Schruijer, executive director, Valdosta-Lowndes County Development Authority.
---
Industry Diversification
Rick McCaskill, executive director, Development Authority of Bainbridge and Decatur County, has also seen changes in the types of business and industry the county attracts.
"When I came back in 2008, our economy was tied to building and construction, with window plants and carpet plants, that type of thing. Since then, we've really changed the footprint on all of that, so we are much more diverse," says McCaskill.
Case in point: What began as a small research and development footprint for Danimer Scientific turned into plans for a $700 million, 2 million-square-foot biodegradable materials manufacturing plant that will create 400 jobs for Decatur County.
Also courting research and technology is Lowndes County, where CJB Industries Salvus subsidiary is partnering with Georgia Tech to develop several products, one of which can test air quality of a space in seconds, says Schruijer.
"It's growing and will support an additional 50 to 75 employees in science, engineering, biology and precision manufacturing over the next few years," she says.
James Eubanks, executive director of the Mitchell County Development Authority, says Fire-Dex, manufacturer of turnout equipment worn by firefighters, is investing about $10 million in two phases, adding a line and about 30 more jobs at a clothing plant that shut down about five years ago.
"This is a more specific type of clothing plant, obviously, and quality is very closely monitored, so it does provide for some pretty nice-paying jobs," he says.
Another existing business expanding there is Beall Tire, a tire wholesaler that has served the region since 1964. They've now expanded into internet sales, adding about 15 jobs to a new fulfillment center.
"Switching over into the internet sales is partly due to the number of different tires that have come on the market lately, especially with electric vehicles," Eubanks says.
That innovation extends to companies coming to the U.S. for the first time. Ecrimesa of Spain, for example, is making Thomas County its U.S. headquarters, says Shelley Zorn, executive director of the Thomasville Payroll Development Authority. Manufacturer of metal and steel parts for firearms and the automobile and aerospace industries, the company is investing $5 million and will initially create about 30 jobs.
Likewise, starting construction this year on 40 acres in Red Hills Business Park is Troy Acoustics, maker of acoustical paneling used in gun ranges, movie theaters, sound studios and spas. The $40 million facility, slated for completion in 2024, will bring just over 100 jobs.
While innovation abounds across the area, those much-needed ag projects continue to prosper as well. Shelling is underway at American Peanut Ingredients in Seminole County after delayed equipment deliveries stalled the project, says Sarah Avery, president of the Donalsonville-Seminole County Chamber of Commerce.
"That overall investment started out at $80 to $90 million, and it's probably $120 million at this point," she says of the project that created about 100 jobs. "We're still excited about it. For a small county, that's really big."
---
Increasing Connectivity
Also big for small counties is connectivity. It's no secret that lack of broad-band access is a challenge across much of Southwest Georgia. But year by year, county by county, more communities are coming online. One of the larger awards for broadband recently was given to Colquitt County, where $25 million in American Rescue Plan Act (ARPA) funding will be used to make broadband available to almost every household in the county, says Chas Cannon, Colquitt County administrator.
"It puts us on a level playing field with metro areas that have this kind of capability at their fingertips," says Cannon, adding that funding for broadband is very competitive.
In Lee County, broadband is currently being installed at a cost of $21 million for about 4,200 homes and businesses, according to Lisa Davis, executive director of Lee County Chamber of Commerce and Development Authority.
Another successful broadband effort is underway in Cook County, where Windstream will expand rural broadband at a cost of $10.9 million, says Lisa Collins, director of the Cook County Economic Development Commission, increasing telecommunication speeds for about 3,100 customers.
"It will increase the availability of telemedicine services, distance learning and telework in the community, which will be very helpful for us," she says. The project is slated to be complete by the end of 2024.
---
New Jobs, More Housing
Communities across Southwest Georgia are feeling the housing shortage and it's a good news-bad news situation. A 14% increase in population in Bainbridge and over 6% countywide is a good problem to have, says McCaskill. As of February, there were 300 single-family homes and multiple apartment complexes under construction there.
Honoring the 120-year historical and cultural significance of the Gillespie-Selden Institute in Cordele is the aim of Gillespie Gardens, a 53-unit housing development being developed by The Vecino Group with low-income housing tax credits, says Buckley.
Lowndes County reports a housing shortage, as well. What isn't in short supply is jobs. GAF Materials announced last fall it will invest $146 to bring its commercial roofing manufacturing business and 135 new jobs to Lowndes over the next six years.
About 1,300 residential utilities customers are in the pipeline because of new apartments, condos and subdivisions, says Zorn about Thomasville's housing crunch. "Every person we recruit wants to know about workforce and wants to know about housing," she says.
Also reporting increased population, Lee County is anticipating how the sun will shine on its residents. Phases II and III of Silicon Ranch's 3,000-acre utility-scale solar project are both scheduled for completion by end of year, says Davis.
Cook County faces the same housing situation but sees it as an indicator that the county is "on people's radar," says Collins, noting that in the past few years about 275 units have been constructed and another subdivision is in the works.
"We've been very successful this year with [business] expansions," she says, adding that both Elite Structures and Steel Building Systems are expanding. Likewise, Cardinal Glass, makers of tempered sketched glass blocks, just finished an $8 million, 63,000-square-foot expansion for offices and new equipment.
Still working toward establishing its Cook County facility, Renewable Biomass Group has signed a 10-year contract with Norfolk Southern for rail service and has several contracts with European companies, all in anticipation of launching its $300 million wood pellet plant in Adel, says Collins.
---
Improving Healthcare Access
While access to healthcare in rural regions can be challenging, expansion of services is underway in several counties. Albany's Phoebe Putney Health System recently broke ground on a new four story trauma and critical care tower and the Living & Learning Community, an expanded nursing school for project partner Albany Technical College, along with 80 apartments for nursing students.
The two facilities represent the largest construction project in the Albany area and Southwest Georgia's most significant investment in new healthcare infrastructure in recent years. The projects are part of a $250 million commitment from Phoebe for new facilities, services and technology.
Just over an hour away, South Georgia Medical Center announced plans for a new $14.5 million emergency department on its Berrien County campus, adding 26,000 square feet.
North of Berrien, Crisp Regional Hospital in Cordele is investing about $10 million in a new 23,000-square-foot facility that will house medical offices, urgent care, a pharmacy, and orthopedic and physical therapy services, says Buckley.
In a time when rural hospitals are closing their doors, the 65-bed Donalsonville Hospital in Seminole County received a pledge from Ameris Bank for $50,000 via the Georgia HEART Rural Hospital program.
"They have really worked hard in the last couple of years to get any kind of grant funding they could, and they've been updating their equipment," says Sarah Avery, president, Donalsonville-Seminole County Chamber of Commerce.
Currently under construction in Terrell County is Albany Area Primary Healthcare's newest clinic, slated for completion this year. The $2 million facility will replace an existing one in downtown Dawson, allowing for additional integrated services, including behavioral health, podiatry and dentistry.
---
Heart of the Matter
Resources, whether dollars or expertise, are always needed for improving communities, especially in rural areas. Valdosta State University offered to provide expertise four years ago when it established the Center for South Georgia Regional Impact and chose longtime South Georgia economic development specialist Darrell Moore as executive director. Since then, by connecting communities in need with students and professors in positions to help, they've completed about 300 projects for rural communities, says Moore.
From small projects like creating a logo to larger ones like creating a recreation authority, there is a broad spectrum of needs across the region, he says.
"I think every one of them is making the communities more competitive from an economic development standpoint and attracting residents to the community," he says.
"We're giving our students experiential learning opportunities that will make them more valuable candidates or employees when they get their degree."
Click HERE to return to the 2023 Economic Yearbook hub