Northeast Georgia: Leadership and Collaboration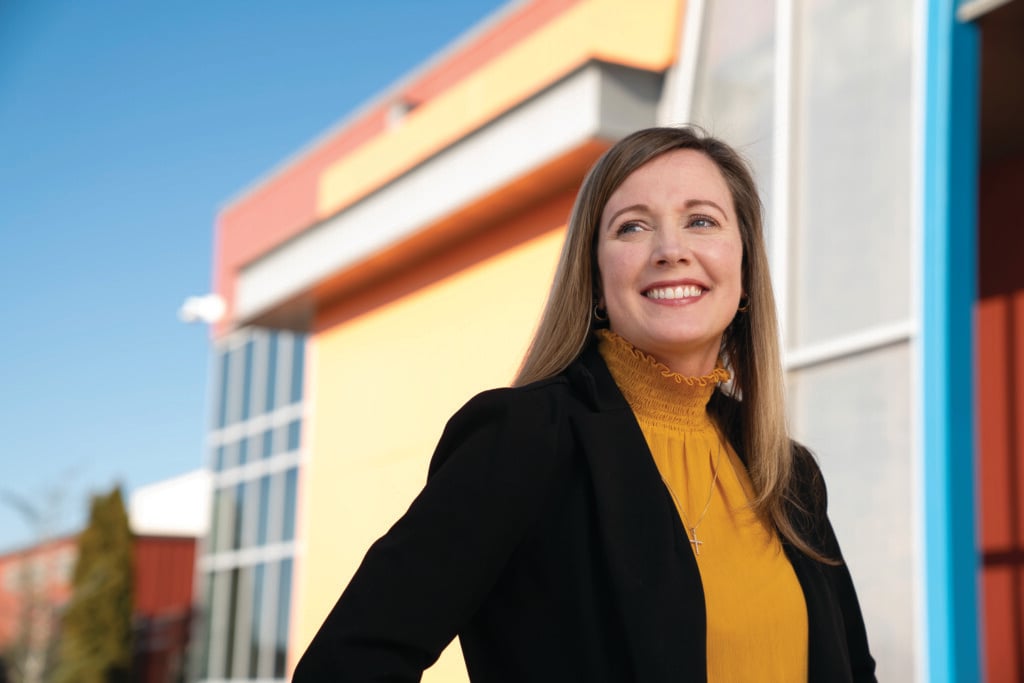 Despite a global pandemic and ongoing supply chain issues, collaborative relationships among the region's economic development leaders have helped Northeast Georgia communities continue to thrive.
"It's the leadership and being able to work together [that makes a difference], and not just within Gainesville and Hall County, but within the region itself," says Tim Evans, vice president of economic development at the Greater Hall County Chamber of Commerce.
Adding to that economic development success story, improvements and expansions in manufacturing, healthcare, biotechnology, local government, education and hospitality are transforming the terrain.
In Hall County, for example, construction on one of the more anticipated projects for the region is set to begin soon – the Northeast Georgia Inland Port.
"This is an exciting project for our region because it will offer improved access to the container port between Gainesville and Savannah for our existing industries, leading to huge infrastructure improvements," says Evans.
A $46.9 million federal grant will help build the new inland container port along the I-85 and I-985 corridor in Hall County. It will have a capacity of 200,000 lifts per year on a 104-acre site at the Gateway Industrial Centre. Construction should be complete in about 24 months.
According to Georgia Ports Authority, the new inland port will serve the region's manufacturing and logistics corridor by shifting more containers from truck to rail, thus reducing highway traffic, carbon emission and cargo owners' costs.
---
Expanding Manufacturing
Over the next two years, there are multiple manufacturing facility additions and expansions slated for the region.
Novelis, one of the world's largest aluminum recyclers, is investing $36 million in Greene County to expand its capabilities in automotive closed-loop recycling, a process that recycles the aluminum in a way that allows it to be used indefinitely.
"It's a nice capital investment in the community and will help their company grow," says David DuBois, director of economic development in Greene County. "Novelis has been in Greensboro at this facility for quite a while, and I believe this expansion solidifies their presence here."
In August 2022, SungEel HiTech, a Korean lithium-ion battery recycler, announced construction of its first U.S. recycling facility in Stephens County. SungEel Recycling Park Georgia, LLC, a subsidiary of SungEel HiTech, plans to begin operations in 2024. The company is investing more than $37 million in their new facility and plans to create 10 jobs.
"One of the largest factors transforming the terrain in Stephens County and Northeast Georgia is the expansion of electric vehicles [EV} manufacturing," says Brittany W. Ivey, president and CEO of the Stephens County Development Authority. "In the past year, Stephens County has worked on three projects related directly to the EV industry."
Just three months after the SungEel Hi-Tech announcement, Steves & Sons Inc., a high-volume, family-owned millwork manufacturer, announced it will invest more than $100 million and create 170 jobs over the next three years as it builds a new 310,000-square- foot, state-of-the-art facility in Jackson County.
"We are so excited to Jackson County have something of this magnitude locating in unincorporated Jackson County," says Jamie Dove, public development director for Jackson County. "The building and space that they are going into sat vacant for far too long, and Steves has some very intricate plans on improving the building for their function. We feel that they are going to be a fabulous community partner."
---
Healthcare Improvements
In addition to transportation and manufacturing, Northeast Georgia is experiencing growth and improvements in healthcare.
Northeast Georgia Health System (NGHS) is opening a 66,000-square-foot hospital in Lumpkin County. The $69.5 million Northeast Georgia Medical Center Lumpkin will provide 16 private inpatient rooms, 10 state-of-the-art emergency treatment rooms, four dedicated observation rooms, a fast-track area and separate entrance and exit, three operating rooms and one procedural suite to support orthopedics, sports medicine, general surgery and other services. It will have 150-plus employees.
"We believe the investment by NGHS will be a catalyst for other medical, commercial and residential developments in Lumpkin County for many years to come," says Rebecca A. Mincey, executive director of the Development Authority of Lumpkin County. Kevin L. Herrit, director of economic development for the Dawson County Chamber of Commerce, is also looking forward to the benefits the new medical center will offer residents in his community, which is about 15 miles south of Lumpkin.
"As Baby Boomers are retiring, we are getting a lot more residents who are moving out from the Atlanta area, pushing up Georgia 400 and coming our way," Herrit says. "We are starting to see the healthcare industry growth over here so that people have better access to specialty healthcare from here all the way up toward White County."
Union General Health System (UGHS) in Union County recently completed an expansion of its medical campus with a new 44,000-square-foot medical office building, which will house Union General Orthopedics and Sports Medicine, the Union General Women's Health affiliated facility and finished and leased space for private medical practices.
---
R&D and Education
Research and development, as well as higher education, are keys to transforming the terrain in two Northeast Georgia communities.
Boehringer Ingelheim is building the Animal Health Global Innovation Center in Athens-Clarke County. The $57 million investment will bring 55 new positions, increase laboratory space and provide additional research and development capabilities.
"Athens is perfectly positioned as 'home' for the expanding pharmaceutical and biotech industries," says David Bradley, president and CEO of the Athens Area Chamber of Commerce. "[With] the intellectual resources offered by the University of Georgia [UGA], proximity to Atlanta and through serving as the healthcare hub of Northeast Georgia, we have much to offer companies seeking to start or expand in those sectors." Ilka McConnell, director of economic development for Athens-Clarke County Unified Government, says, "The new center will help change the nature of the [Boehringer Ingelheim] facility in Athens. They'll still have animal vaccine production, but we are very excited that it's going to shift more toward research and development." Last September, the University of North Georgia (UNG) announced a $15 million expansion at its Blue Ridge Campus in Fannin County that will include a new 25,000-square-foot building. It will host programs for professional and continuing education and the Institute for Healthy Aging, as well as community meetings, student activities and conferences.
"UNG makes a huge impact on our community, and this expansion will continue to create opportunity," says Christie Gribble, president of the Fannin County Chamber of Commerce, who notes that Blue Ridge continues to grow and prosper.
---
Tourism Boom
After nearly two years of limited travel due to the COVID-19 pandemic, communities throughout Northeast Georgia are once again seeing a boom in local tourism, which has led to growth in lodging.
The new Bridge Creek Inn (previously Clayton Inn) in Rabun County is scheduled to open Labor Day weekend. It is undergoing major renovations after sitting vacant for almost a decade. "It's going to be a fantastic boutique hotel that I think is going to be a great addition to our Main Street in Clayton," says Rick Story, director of development for Rabun County and Forward Rabun. "It will really tie together our active, full downtown."
Ridgeline Investment Partners are renovating the property, which will include the addition of a third floor, 45 guest rooms and suites, a coffee shop, lobby bar and a full-service restaurant, in addition to event space. They expect to create an additional 40 jobs in the area.
Habersham County, where the Mountain Laurel Festival in Clarkesville and Big Red Apple Festival in Cornelia draw thousands of visitors to the area each year, awaits the opening of a new Marriott hotel.
Charlie Fiveash, director of Partnership Habersham, says the 80-room hotel, which is valued at $8 million to $10 million, is expected to open by the end of 2023 and should bring approximately 30 jobs to the community.
"This will be a big benefit to our business community because they need a more upscale hotel, and it will certainly enhance the tourism we already have," adds Fiveash.
---
Boosting Workforce
Whether a manufacturer is expanding its footprint or a new hospital is being built, job openings will be on the rise, so some Northeast Georgia counties are focusing on boosting their workforce.
Beth Truelove, president of the White County Chamber of Commerce, says workforce skill alignment has always been a topic of conversation – not just for White County, but for the entire region.
"Our chamber recognized that without solid talent, our businesses could not grow and thrive," Truelove says. "We are assessing our current labor pool and strategically working to address the skills of highest need and broadest impact. This will include addressing issues with wrap-around services that include housing, childcare and transportation that have previously been siloed."
The Talent Pipeline Management program, an initiative of the U.S. Chamber of Commerce that she describes as a supply-chain approach to talent, is helping businesses determine critical skills for new hires.
Hart County has seen a significant and sustained focus on workforce development and education through the Hart College and Career Academy (in partnership with Athens Technical College), UGA's Archway Partnership and the Hart County School Charter System, all focused on pathways related to industry sectors recruited by the county.
"The results have been favorable for Hart County, providing the community with more than 3,900 advanced manufacturing jobs with high rates of pay and benefits," says Dwayne A. Dye, director of economic development at the Hart County Industrial Building Authority.
Whether a county is focusing on workforce development like White County or supporting the growth of manufacturing and lodging in its communities, one thing remains a mainstay in Northeast Georgia: none of it could be done without collaborative relationships among leaders. Together, they are helping their counties thrive and prosper, regardless of pandemics, inflation and supply chain issues.
Click HERE to return to the 2023 Economic Yearbook hub