East Central: Preparing for the Future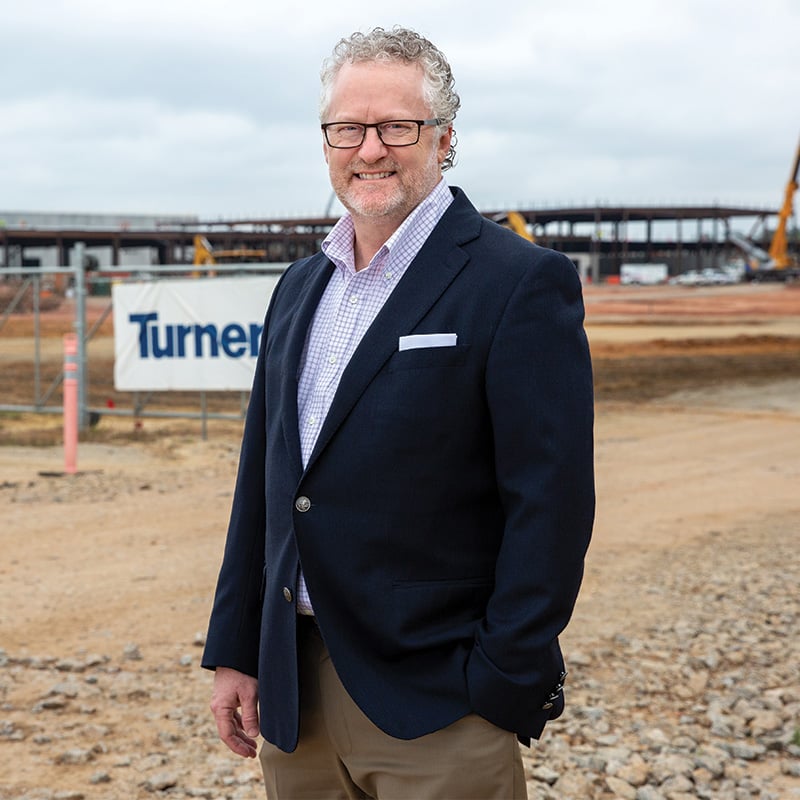 Counties in East Central Georgia look to two powerful economic engines. To the north is the long-established metro of Augusta with its large industries, educational institutions and military installations.
Southeast is the emerging megasite where automaker Hyundai Motor Group is building an electric vehicle and battery plant. The $5.5 billion facility is projected to open by 2025.
"We were one of the four counties that brought Hyundai to Bryan County," explains Benjy Thompson, CEO of the Development Authority of Bulloch County. The collaboration brought "the largest project in the history of the state to the coastal region," he added.
As construction of the massive facility is underway, suppliers and service providers are racing to set up their own operations before the first EV rolls off the assembly line. These companies need to be close to the plant and a Bulloch location puts them about 30 miles away, says Thompson.
Bulloch won the first of these suppliers when Joon Georgia Inc. announced it will build a new manufacturing facility in the county. The plant, which will make frames for the Evs, is expected to create more than 600 jobs with a $317 million investment.
In addition, Ecoplastic, a Korean-based auto parts manufacturer, will invest $205 million into a manufacturing facility in the county. The company, which produces consoles, bumpers and other parts, is a tier-1 supplier for the automaker. The project will add more than 450 jobs.
Since February 2022, the county has added 1,400 jobs and $900 million in capital investments, according to Thompson.
---
More Manufacturing
Augusta and Richmond County have long been a center for commerce and economic development in the region. They are home to an array of educational institutions including Augusta University, the Medical College of Georgia and Augusta Technical College. There is a large military presence at Fort Gordon, which includes the Army's Cyber Command.
These assets have created a region that is primed for growth of business, industry and people.
Over the last year, the county created "just shy of a billion dollars in new capital investment from our manufacturing base and just shy of 1,000 jobs," says Cal Wray, president of the Augusta Economic
Development Authority. "Our manufacturing base is growing. We've had good success and our retail base continues to grow as downtown revitalization is still continuing."
The drive to build more electric vehicles is reflected in Solvay Specialty Polymers' plan to build an $850 million plant in the city. The facility will manufacture key lithium-ion EV battery parts for automakers.
Denkai America is also investing $150 million on a 115-acre site in the Augusta Corporate Park. Plans call for the company eventually to spend $430 million on a headquarters and manufacturing plant that will employ about 250 people.
Its products are used in printed circuit boards for the aerospace and defense industries and are also now part of EV's lithium-ion batteries.
"We're seeing a lot of growth in the EV supply chain in the state," says Wray.
The new plant joins the rapidly expanding electric vehicle and battery ecosystem that has found a home in Georgia, he says.
A key to attracting manufacturing to an area is the right infrastructure. The county is
adding 150 megawatts of electrical capacity along with building an additional 4 million gallons of capacity for water and sewer, according to Wray.
"There's lots of infrastructure going into the ground to not only help the projects announced, but for future projects," he says.
---
Enhancing Quality of Life
Several years ago, the city of Evans in Columbia County was named the best place to live in America by Money magazine. The honor was reflective of the city and county's drive to add services and infrastructure that enhance quality of life.
Those assets got a boost when Augusta University Health announced plans to build a new 100-bed hospital and a medical office building in Grovetown.
"We're the largest county in the state that does not have a free-standing hospital," says Robbie Bennett, executive director of the Development Authority of Columbia County. "That hospital will be a significant investment into this community and an expansion of the teaching capacities of Augusta University."
The county has also been busily adding jobs. The White Oak Business Park is now home to 3.4 million square feet of industrial space and over 5,000 jobs, according to Bennett.
Existing industries are adding capacity. KSB Mining completed a $44 million expansion of its GIW Slurry Pumps manufacturing plant and headquarters in Grovetown.
"It allowed them to create the world's largest white-iron foundry. And they're continuing to grow, continuing to look at what the future holds," says Bennett. (The facility produces white cast-iron industrial products that are used for wear-resistant surfaces of slurry pumps.)
Local officials are also gearing up to meet the needs of a rapidly growing population.
"We partnered with the Columbia County Chamber of Commerce on childcare roundtables to understand what we may be able to do in capacity building for childcare," says Bennett. "Right now, a lot of communities have long waitlists for quality childcare."
Another key asset is housing. In Wilkes County, the city of Washington partnered with Herbert Homes Inc. to build about 100 market-rate starter homes on a 27-acre parcel within the city, according to Janet Parker, economic development director at the Washington-Wilkes Payroll Development Authority.
"The idea behind this is that they're going be affordable for workforce [housing]," she says.
The project will include both multifamily and single-family housing units. The homes are expected to be priced in the $120,000 to $250,000 range, making them within the reach of working people, says Parker.
---
Continued Growth
This region is experiencing an expansion of business that few could have imagined during the depth of the pandemic.
"We have a lot of business and industry that, despite everything going on over the last couple of years, are having the best years they've ever had," says Greg Sellars, executive director of the Jefferson County Chamber of Commerce & Development Authority.
One good example is Stuckey's. This more-than-80-year-old family business, known for its pecan log rolls and roadside stores, will create 60 new jobs and invest more than $5 million in a Jefferson County facility and headquarters, says Sellars.
A great deal of the growth in these counties is happening at small businesses that are often the bedrock of their communities.
"We are not necessarily trying to attract 200- to 500-job manufacturing companies," says Christine McNeese, executive director of the Lincoln County Development Authority.
This county relies on its natural assets, including Clarks Hill Lake, to build a solid tourism industry. Large industrial operations might not be compatible with the natural wonders that draw so many people here, says McNeese.
Small operators such as Lakeside RV Repair have expanded in the county's business park, according to McNeese.
In Emanuel County, companies are expanding to meet greater demands for their products. Wincore Windows & Doors recently added two lines to their manufacturing operation and about 100 jobs, according to Ken Warnock, CEO of the Swainsboro-Emanuel County Chamber of Commerce and Development Authority.
Crider Foods added 150 jobs last year while putting about $25 million into new equipment and expansion of facilities, he says.
Availability of trained workers is one reason that Ritz Instrument Transformers, Inc. decided to return to Burke County and open a new manufacturing facility in Waynesboro, according to Jonathan Lupo, executive director of the Development Authority of Burke County. Ritz will be making and testing current and voltage transformers.
The company was in Burke County in the early 2000s and felt like it had an established workforce in the community that it wanted to get back to, Lupo says.
---
Impactful Initiatives
As part of the Sun Belt, Georgia has also been a prime spot for solar farms.
Washington County will soon be the site of a 150-megawatt solar farm owned by NextEra Energy Resources, a subsidiary of NextEra Energy Inc., according to Jayson Johnston, executive director of the Development Authority of Washington County.
In Warren County, Bulldog Solar, a subsidiary of North Carolina-based Pine Gate Renewables, recently completed its 81-megawatt facility on a 1000-acre site, according to O.B. McCorkle, executive director of the Warren County Development Authority.
Small towns and rural areas are also finally getting access to broadband through a variety of public and private initiatives.
Much of the heavy lifting for running fiber to homes is being handled by electric cooperatives like Washington EMC.
It formed a partnership with Conexon Connect to provide high-speed fiber internet to more than 12,000 homes and businesses in 10 Middle Georgia counties including Emanuel, Glascock, Hancock, Jefferson, Johnson, Laurens, Warren, Washington
The venture includes a capital investment of more than $54.5 million, according to an announcement by the EMC. Warren County and the cities of Camak and Warrenton joined in a public-private partnership with Comcast to build out service to "about 1,360 under-served homes and businesses," says McCorkle. "We have never had high-speed internet in Warren County, anywhere. So this was a huge, huge accomplishment."
---
Overcoming Challenges
The University of Georgia (UGA) Archway Partnership program has assisted local communities across the state in solving economic and social challenges.
Thomson-McDuffie County became the first recipient of UGA's Connected Resilient Community (CRC) designation, which recognizes Georgia communities that partner with university experts to increase economic development potential.
"We're a small community that is just starting to experience this wave of growth that's coming from Augusta and Columbia County," says Don Powers, president and CEO of Forward McDuffie, the organization for economic development in Thomson-McDuffie. "Gaining access to the various disciplines at the University of Georgia to help us with imaginative thinking and problem-solving is the value [of this program]."
That growth wave has been reflected in company expansions such as the local Advance Auto Parts distribution center. The company expanded its location from 365,000 square feet to 600,000 square feet, according to Powers.
Throughout this region of Georgia, counties and communities are gathering the assets and building the infrastructure they need to grow and flourish. These preparations will benefit not only those who live and work here now, but those who follow them in the future.
Click HERE to return to the 2023 Economic Yearbook hub