Central Georgia: Substantial and Sustainable Impact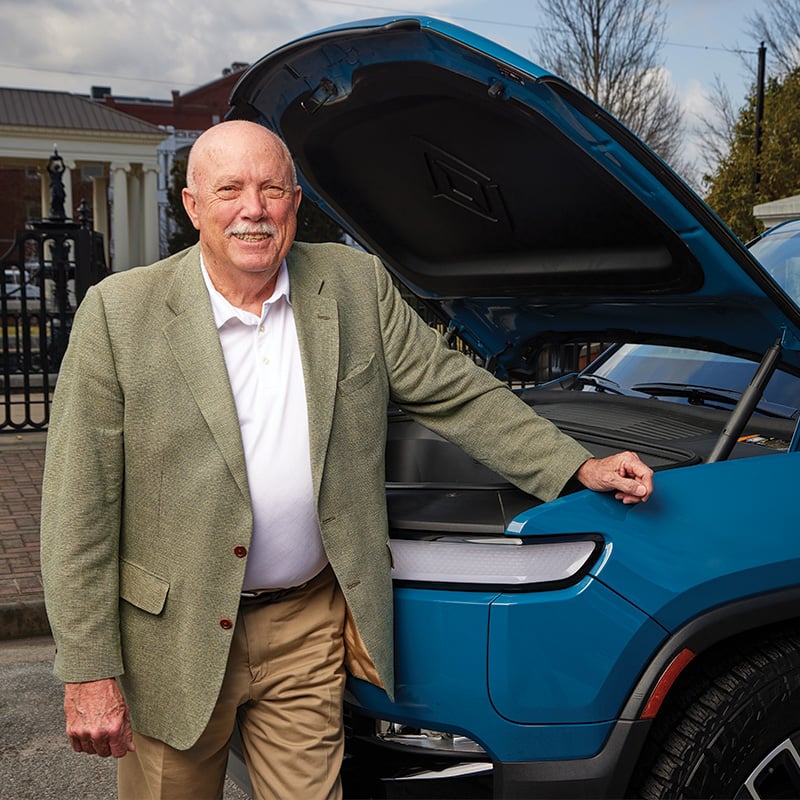 Central Georgia is a center of gravity for Peach State progress. By historical standards, global reach and elevated quality of life, the region's advancement has been transformational.
Gov. Brian Kemp announced in December 2021 what was then the single-largest economic development project in state history. Rivian Inc. plans to invest $5 billion in a nearly 2,000-acre manufacturing campus for its electric vehicles at what is known as the East Atlanta Megasite, represented by the Joint Development Authority (JDA) of Jasper, Morgan, Newton and Walton counties.
"Our county has slightly over 20,000 people, so the fact that this facility will bring 7,500 high-quality jobs when it is fully operational is quite a significant impact," says Bob Hughes, president and director of Economic Development at the Madison-Morgan Chamber of Commerce and a member of the JDA. "Our county continues its journey seeking to maintain its unique rural character while also being a home for advanced manufacturing."
The automotive industry is driving growth elsewhere in Central Georgia. Aided by the expansion of SR 96 to a four lane highway that will eventually connect Interstate 16 and Columbus via Geneva, Twiggs County's I-16 Industrial Park is experiencing a flurry of activity setting the stage for new logistics and manufacturing developments.
"With the announced location of the new Hyundai manufacturing facility in Bryan County, the automotive industry is a new target as suppliers want to be close to the manufacturer but not within the immediate labor pool of the new operation," says Judy Sherling, executive director of the Development Authority of the City of Jeffersonville and Twiggs County. "Our industrial park at the intersection of I-16 and SR 96 is about 100 miles from the new Bryan County facility and on the direct route between it and Hyundai's existing operation in Montgomery, Alabama."
Milledgeville and Baldwin County, which at one time boasted the largest concentration of state-owned property and facilities outside of Atlanta, are "poised to be a hotbed" for development and support for advanced manufacturing, as well as agriculture and food services, asserts Jonathan Jackson, executive director of the Development Authority of the City of Milledgeville and Baldwin County.
"Our location near and with easy access to Interstates 16 and 20 bodes well for the support of the electric-vehicle manufacturing wave sweeping the state," he says.
The Milledgeville Baldwin County Industrial Park has seven industry expansions underway and two available sites totaling nearly 114 acres, 61 of which are pad-ready. Development of the 1,500-acre Sibley-Smith Industrial Park continues, and the 544-acre Fall Line Regional Industrial Park is well positioned at the intersection of U.S. 441 and Ga. Hwy. 540, which will be the future Interstate 14 running from San Antonio, Texas, to Augusta, Ga.
"The crossroads south of Atlanta allows industries to move raw materials and finished products in all four directions while avoiding bottlenecks when it comes to existing routes," Jackson adds.
---
Front and Center
A county located midway between one of the 10 largest U.S. metros and the fourth-busiest port in the country is prime real estate. Ryan Waldrep, president of the Dublin-Laurens County Development Authority (DLCDA), says the area is well positioned to attract industries supporting distribution and logistics, the automotive/electric mobility industry and advanced manufacturing.
"Due to growth along the I-16 corridor, we have been approached by a number of developers that are interested in constructing speculative industrial warehousing space in the community," says Waldrep.
In addition, FH Packaging has recently acquired a building for East Coast distribution in Dublin, and Tyres International has leased a 75,000-square-foot facility there to serve the Americas.
Also, Peterbilt of Atlanta, a truck sales and service company, will expand into Dublin with 25,000 square feet of shop and warehouse space to serve shipping volume between Savannah and Macon.
The breadth of Laurens County's economic momentum is demonstrated by both industry and geographical range. The North America division of the French sustainable construction materials company Saint-Gobain announced in second quarter 2022 that it will expand its Dublin manufacturing facility to the tune of $28 million invested and 400 new jobs created over a two-year span. The Dublin expansion of GovStrive, a human resources services and solutions provider for federal government clients, will increase the company's total workforce in the area by 50% to 150 employees.
---
Energized Opportunity
Connectivity is up and unemployment is down in agricultural Macon County, which produces more milk and peaches than any other Georgia county. As of August 2022, 30% of Macon County residents had access to high-speed internet thanks to a nine-county, $90 million project made possible through $25 million in American Rescue Plan grant funds, $7.5 million in FCC Rural Digital Opportunity Funds, and major investments by Flint Energies and Conexon Connect.
"Broadband is certainly a game changer for rural Georgia," says Gerald Beckum, executive director of the Development Authority of Macon County.
The light of opportunity shines from downtown renovations, including a mini-brewery operation and loft apartments, to the largest solar energy farm in Macon County. When Competitive Power Ventures completes the approximately 600-acre CPV Stagecoach Solar facility near Andersonville, it will produce enough electricity to power around 17,000 homes. About 250 to 300 construction jobs are being created over the 21-month project timeframe.
Beckum reports that 400 new jobs were created from 2019 to 2022, but since then the county is on target to create 500 additional jobs thanks to a total investment of almost $225 million. Although 250 of those new jobs will come from a large solar field installation (800 to 1,000 acres), many jobs will come from our local businesses. FW Logistics, FreshRealm and Tyson Foods have replenished many jobs in the local food processing and cold storage sector. Expansion at International Paper and the re-opening of U.S. Ceramics' kaolin facility are expected to create 50 to 100 more jobs.
"For many years, the unemployment figure [in Macon County] was hovering between 12 to 14%, but now it's near 3%," Beckum adds.
Twiggs County, which touts itself as the "geographic center of the state," enjoys a prime position along the I-16 corridor between Atlanta and Savannah, and like Macon County the municipality is broadening its integrative appeal through expanded broadband.
"Gone are the days when families had to live in large cities, as telecommuting now allows a simpler lifestyle in rural communities," says Sherling. "The county and its partners are investing millions in broadband expansion as well as infrastructure expansion to accommodate the expected growth in residential, retail and industrial activity."
---
Workforce of the Future
Increased high-speed Internet connectivity certainly helps connect people to jobs, but labor shortages and workforce development remain critical needs. In Macon-Bibb County, thanks to the Greater Macon Chamber of Commerce and a $500,000 Peyton Anderson Foundation grant, one solution for Georgia's fourth-largest city is the GreaterMacon Works talent recruitment website.
"This issue requires a transformational approach," says Jessica Walden, president and CEO of the Greater Macon Chamber. "This recruitment tool lays the foundation for a shared message in Macon – it showcases the city as both rooted and rising."
Led by neighboring Houston County and including 10 other counties and seven educational institutions, the $5 million Middle Georgia Innovation Project aims to help build the region's workforce of the future. Opening in summer 2023, the Fort Valley State Fab Lab (digital fabrication lab) will focus K-12 students on careers in STEM (science, technology, engineering and math), according to Angie Gheesling, executive director of the Development Authority of Houston County. In addition, The Fort Valley State Mobile Information Technology Center, a partnership with Georgia Tech through a Georgia AI Manufacturing grant from federal and state funds, will educate students about STEM majors with a focus on precision agriculture.
"The Middle Georgia Innovation Corridor consists of an innovation community which brings together and connects elements, including defense, manufacturing, industry, education and healthcare, of the Middle Georgia region into both a geographic and conceptual space," says Gheesling. "Collaboration across these elements within the innovation corridor – it is a true partnership, including partners the Middle Georgia Regional Commission and 21st Century Partnership – will drive transformational activities which will deliver and attract world-class talent and economic opportunity."
---
Adding Value
When one hears of life-saving products made for millions of people across the globe, Ben Hill County might not be the first place that comes to mind. Think again.
"Upon completion, MANA Nutrition's Fitzgerald facility will be the largest hunger-solution facility in the world and will be using Georgia-grown peanuts to continue to transform the way acute malnutrition is battled globally," says Jason Dunn, executive director of the Fitzgerald-Ben Hill County Development Authority. "Their life-saving product is shipped around the world and is credited with saving millions of children suffering from acute malnutrition."
MANA Nutrition, a Georgia-based nonprofit maker of ready-to-use therapeutic food (RUTF), announced a 38,000-square-foot, $36 million-plus expansion to its Ben Hill County facility in May 2022 with completion scheduled for 2024. The company's mission "to end malnutrition" will be greatly expanded with the new and improved location, which will be able to produce three times the amount of RUTF.
MANA, Polar Beverages, Modern Dispersions South (thermoplastics compounder), West Fraser Timber (lumber producer) and Millex (furniture manufacturing) will bring a total of nearly $250 million of investment to Ben Hill County and the county seat of Fitzgerald in the near future, according to Dunn.
"2022 was a year that saw our collaboration with existing industries come to fruition," he says. "Additionally, we are expecting to see two other significant expansion projects from two existing manufacturers break ground in 2023."
In December, Profile Products, a global agriscience technology manufacturer, opened a campus in Jasper County, investing more than $35 million and creating 80 new jobs. The new plant will produce wood-based erosion-control tools and gardening sublayers that will improve vegetation growth, conserve water and sequester carbon.
Industry growth means more jobs, which trigger the need for increased housing, and, as real estate pros are known to say, retail follows rooftops. That's the traditional formula of economic development. But Georgia's hardy heartland has demonstrated advancement – including game-changing broadband expansion, an unprecedented EV project and the world's largest hunger-solution facility – goes beyond traditional to transformational.
Click HERE to return to the 2023 Economic Yearbook hub