Wine tips for the holidays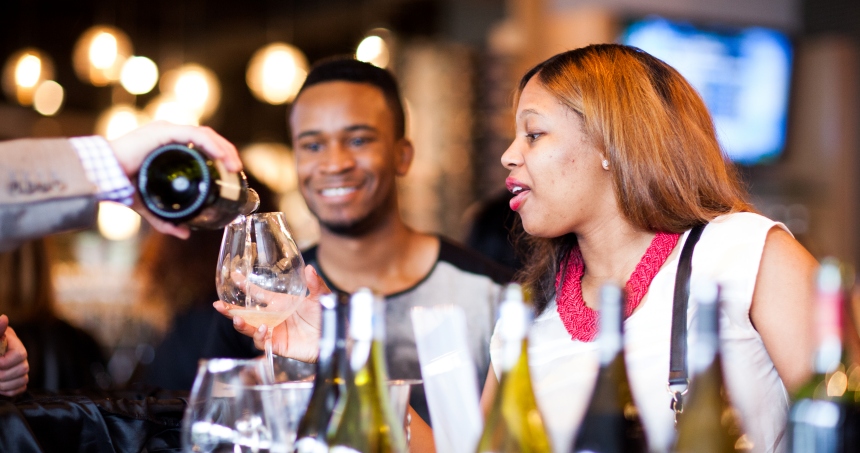 How many times have you wandered the wine aisle at the grocery store and been overwhelmed with the selection of countless bottles? When you are scrambling to make your Thanksgiving dinner or to buy Christmas presents, the last thing you want to do is read every label and figure out which wine your guests would prefer to drink.
Thankfully, educational stores like Vino Venue in Dunwoody make it easier. Co-founded by Lelia Bryan and her late husband, Michael (who started the Atlanta Wine School in early 2000s), Vino Venue is a wine shop, tasting room, restaurant and school – all in one place. The couple wanted to create a space for those who wanted to learn about wines and taste them before committing to buying. Over the past 10 years, they expanded to offering wine and cooking classes, a wine club, and wine-themed trips to places like Piedmont, Bordeaux and California.
What makes this neighborhood wine shop different from big-box sellers is the unique collection of wines and personalized recommendations. Each week, beverage director and partner Rob Van Leer tastes more than 100 types of wines from all over the world to carefully select what goes on the shelves and in the wine club. He gets to know customers' profiles by asking them a series of questions. An informal wine-shopping interview can last between 10 seconds to a half hour, depending on the interest of the buyer.
For this holiday season, first think about what are you cooking, who you are hosting and what is your budget, Leer advises. He says you can get quality wines at every price point, and can follow certain pairing guidelines. For example, dry, tart or sweet lambrusco from Emilia Romagna goes well with a charcuterie board. Easy-drinking sauvignon blanc, gamay and delicate pinot noir are also good with hors d'oeuvres. Champagne, Beaujolais, Burgundy and many Tuscan and Oregon wines pair with practically everything and are good to keep on hand.
A German gewürztraminer, French gamay and merlot, or Oregon pinot noir will also fare well at a turkey dinner. If you are serving a brunch of, say, cornmeal-crusted oysters, frittata, fruit and biscuits, serve something that's cold, sparkling and has low alcohol content, like a fruity pear cider from Normandy.
Wines can also star at your cocktail party. Add a sprig of rosemary and a sliver of fresh orange to Chandon Garden Spritz. Top vibrant and sweet cognac-like Pineau des Charentes with inexpensive apple cider and cinnamon stick. Serve red or white vermouth on the rocks, with a splash of OJ or soda water, or make a classic negroni.
As the meal progresses, you can go bolder and richer, pairing French pinot noir with lamb and steak, Spanish Rioja with salmon, and fruit-forward California wine with burgers. Get a dessert wine to round off the meal or serve a glass of grande cuvée to reset everyone's taste buds. Plan for an average of a bottle per person for a dinner party, and remember you can always drink what's left next day!
To taste before you buy, check out Vino Venue's 32 wines "on tap," or attend its high- end wine tasting class on Dec 4th.
Photo courtesy Vino Venue
 Do you follow us? Find us on Linkedin, Facebook, Twitter and Instagram.