Georgians Get a Ticket to Ride
The federal Bipartisan Infrastructure Law will keep major transportation projects moving forward.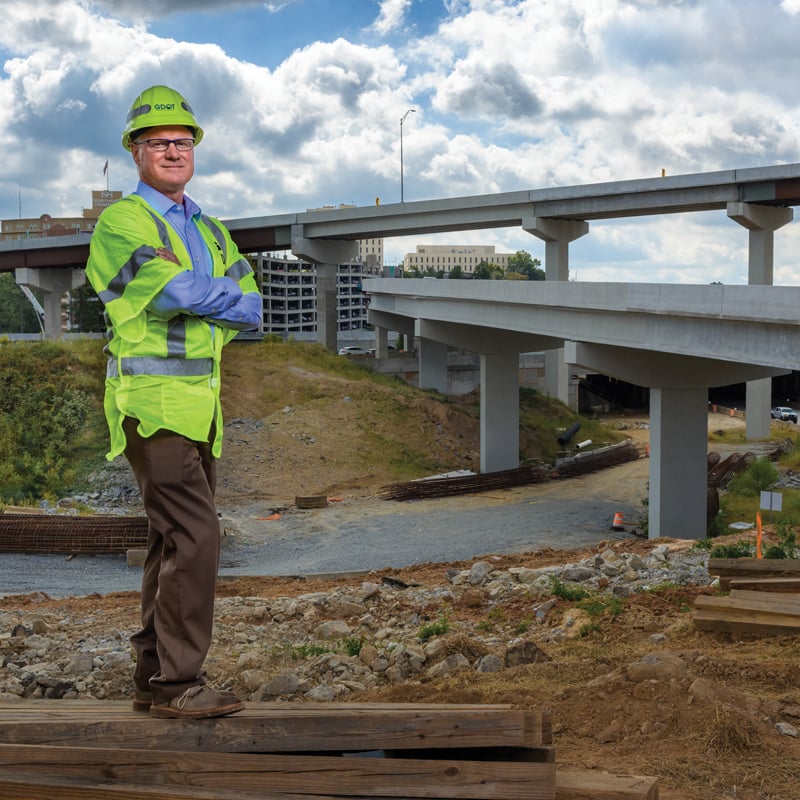 Whether it's futuristic traffic lights that talk to cars, trendy statewide electric vehicle chargers or functional bus rapid transit (BRT) stations, the new Bipartisan Infrastructure Law will benefit Georgians for decades to come.
The historic law that passed Congress last November – formally known as the Infrastructure Investment and Jobs Act – includes a once-in-a-generation national investment of $350 billion in highway programs from fiscal years 2022 through 2026 and provides for the largest dedicated bridge investment since the construction of the interstate highway system.
Russell McMurry, Georgia Department of Transportation (GDOT) commissioner, says what it means for the state "is a pretty nice increase in our federal funding program and some new programs." Over five years, Georgia will get $9.27 billion – a 21% increase in the first year and a 2% increase in year-over-year funding for each remaining year. Those funds require a 20% match in state dollars, a percentage GDOT had expected and planned for. Accordingly, the General Assembly increased GDOT's 2022 budget by $106 million. McMurry calls this the good news.
The bad news, he says, is a mixed story. Georgia got the least federal share of any state for bridge replacement. That's because Georgia's bridges are among the nation's best – only 2% are in poor shape. "I'll take good, safe and sound bridges over getting a lot of federal money to replace bridges in critical need," McMurry says. The state's federal allotment for bridge replacement or repair is $45 million a year. Most of those are city or county bridges, so the majority of the federal bridge replacement dollars will help local governments.
---
Projects Moving Forward
Transportation infrastructure is key to Georgia's economy remaining strong and maintaining its ranking as the best state in the nation to do business. "Everything you have," McMurry points out, "got to your store or your doorstep on a road." With Georgia facing significant population growth projections, the transportation funding from the federal government is especially critical as GDOT makes important investments in major infrastructure projects. "Should the law never have passed," McMurry adds, "it would have been very draconian to stop or not move projects forward."
Key among those projects is the transformation of the I-285/Ga. 400 interchange, one of the largest undertakings in Georgia history. Scheduled to finish in 2023, the work is entering its most difficult phase, replacing the original I-285 bridges. Lane and ramp openings will bring incremental improvements, but McMurry cautions that replacing original bridges will involve some painful traffic congestion.
After work on the interchange began in 2017, Georgia created the Major Mobility Investment Program (MMIP), which is designed to reduce congestion along vital freight and passenger corridors. The MMIP includes several high-profile interstate and interchange projects across the state. One is about to begin on the east side of I-285. "We have just given a notice to proceed to a contractor to rebuild the I-20 East and I-285 interchange," says McMurry. "It will be very similar in size and scale to I-285/Ga. 400 and will include adding lanes to the east to Stonecrest Mall." Work is expected to begin in 2023 and conclude in 2026. GDOT will also make improvements to the I-285/I-20 West interchange in Cobb, Fulton and Douglas counties and is preparing to begin the procurement process to select a construction developer.
Not far from the I-285/Ga. 400 interchange, the Chamblee Doraville Community Improvement District (CID) has secured $3.7 million from federal and local sources to support its inaugural transportation plan, says Malaika Rivers, executive director of the Chamblee Doraville CID. The funds will pay for plans and designs to alleviate congestion in some of the area's most difficult bottlenecks. "Chamblee is one of the fastest growing cities in metro Atlanta, while Doraville will soon be home to the state's largest film studio," Rivers says. "So, keeping up with the pressures of growth is a major priority for the CID. Because we can't do this alone, working with our two cities and state agencies will help open us up to additional funds through the Infrastructure Investment and Jobs Act and the Inflation Reduction Act. It's definitely an exciting time in infrastructure development."
Two projects are addressing growth in freight and commercial traffic. North of Atlanta, construction is beginning on a stretch of I-85 from Gwinnett County to Jackson County to increase interstate capacity for freight traffic headed to South Carolina. GDOT is conducting environmental and acquisition work now with procurement still a few years out.
South of Atlanta, GDOT is doing environmental work and will soon begin right-of-way acquisitions on 41 miles of commercial vehicle- only lanes along I-75 from the I-475/I-75 interchange near Macon to the McDonough area. Procurement is still a few years out. The project will divert freight traffic from the general-purpose lanes.
In Middle Georgia, contractors working in multiple phases on the I-16/I-75 interchange have been slowed by the complexity of navigating around railroads and cemeteries and the building of a new bridge over the Ocmulgee River. Construction is still four to five years from completion.
In Savannah, reconstruction of the I-16/I-95 interchange and widening of I-16 from I-95 to I-516 will continue through next year. The project has a huge focus on freight, with most of it coming toward Atlanta.
---
Transit Without Borders
The infrastructure law will also bring $924 million in funds to the Atlanta region over five years, which is a 35% increase, says Heather Aquino, interim executive director for the Atlanta Region Transit Link Authority (ATL), the State Road and Tollway Authority (SRTA) and the Georgia Regional Transportation Authority (GRTA). "We will be watching to see how we can best leverage discretionary grant opportunities that have been dramatically increased as a result of the [law]," says Aquino.
Regarding a multi-agency study of the possibility of express-lane BRT transit on the top end of I-285, Aquino says that for the first time, cities that border the top-end express lanes worked in partnership to fund design and engineering work for a proposed express lane transit service. In addition, the ATL, MARTA, Cobb and Gwinnett counties, GDOT and the Atlanta Regional Commission have signed a memorandum of understanding for the next phase of engineering. GDOT plans to begin procurement activities on two top-end I-285 express lanes during the third quarter of 2023.
"The inclusion of Cobb and Gwinnett counties is significant in that the region came together regardless of borders to recognize the importance of transit on this major corridor," says Aquino. The transit-without-borders concept includes efforts by the ATL and regional partners to develop a set of regional fare policies, which Aquino says will take several years to complete, that will be used as a guide to update the regional fare system.
"We are working to replace our Breeze fare- collection system and have been coordinating with our partner transit organizations in Gwinnett and Cobb counties to make sure the regional system works for all riders across metro Atlanta," says Collie Greenwood, MARTA general manager and CEO. "The whole top-end conversation is really about making sure that MARTA, GDOT and the constituents are working together to create this transit connector," says Greenwood. "It means to me that there is an appetite for MARTA to extend into areas that we haven't been invited into before."
The infrastructure law will result in about $200 million more for MARTA over five years, says Greenwood. The funds will help accelerate MARTA's program to maintain its current system. For its expansion program, grants will be available on a per-project basis. Under the infrastructure law, Clayton Southlake BRT is eligible for $150 million. The federal funds require various levels of matching funds, which MARTA draws from a dedicated sales tax in Fulton, Clayton and DeKalb counties. The funds will also help MARTA maintain what Greenwood calls the system's underbelly – 48 bridges, 23 tunnels, 116 elevators, 150 escalators – that support MARTA's 550 buses and 262 rail cars.
An operations and maintenance facility MARTA is building in Clayton County will receive $33 million in federal investment and is another example of how the new infrastructure law will benefit MARTA and Clayton. When the facility is finished, the agency will no longer need to send buses to Clayton and bring them back to Atlanta to house, fuel and service them. Another way MARTA is establishing itself in its newest community is through economic development and private investment that the Clayton Southlake BRT will generate around the BRT stations, which Greenwood says will look and function like stations on the rail lines.
---
Crazy Cool Innovation
There's some "pretty crazy stuff coming down the path from a technology point of view," says McMurry, adding that the focus is on safety and mobility innovation. For example, Georgia leads the nation in traffic signals that talk to cars. "We are on our way to deploying over 2,600 signals, mainly in metro Atlanta and also in Savannah around the port," says McMurry of the "talking" signals. They tell your car infotainment center how much time is left before a red light turns green and the speed needed to get through the next signal on green. Manufacturers are putting this technology in cars now, says McMurry.
Another area of innovation involves Georgia's response to an electric vehicle charging plan included in the new law. GDOT will start work next year with private partners to install chargers statewide, with the first ones every 50 miles on interstates. "We are excited to advance charging around the state," McMurry says, "because Georgia has made such a splash in the EV industry."
On a safety-oriented technology front, GDOT is partnering with traffic-data third parties like INRIX and Drivewise to add a feature to the electronic logbooks of tractor-trailer drivers that will warn them of dangerous road conditions such as oncoming sharp curves or congestion.
---
Rural Areas Benefit
The Bipartisan Infrastructure Law also is having a positive impact on rural Georgia, both in terms of counties that have approved a transportation special purpose local option sales tax (TSPLOST) and for rural transit. "Cities and counties will have opportunities for discretionary money like they have never had," says McMurry. "We at GDOT like to partner with those cities and counties with TSPLOST where we can help with federal or state dollars."
Statewide, 42 counties have a single-county TSPLOST in place and four regions are implementing regional TSPLOST, according to Kathleen Bowen, associate legislative director at the Association County Commissioners of Georgia. These local sales taxes dedicated to transportation purposes have become a popular funding mechanism for local governments.
The new law provides a financial boost for transit in rural Georgia. For communities with populations of less than 50,000, Georgia is scheduled to receive an additional 12% in transit funding as well as an additional 6% to purchase buses for rural transit providers and to enhance providers' aging facilities. This is critical, says Patricia Smith, GDOT transit program manager, because "for many residents, public transit is the vital lifeline for accessing needed services such as grocery shopping, employment, basic care and critical medical care appointments."
In fiscal year 2021, GDOT allocated funding of $34.6 million to rural transit providers. Operating in 82 systems in 129 counties, these providers made 747,000 passenger trips. The state is continuing to market a Let's Ride app to connect riders with providers to increase users. A major rural focus by GDOT is on the 30 counties that do not have transit. "One of our goals," Smith says, "is to have public transit in all 159 counties by 2050."
---
Score!
StationSoccer becomes a crazy-successful transit innovation.
When the World Cup arrives in Atlanta in 2026, it will be late to the party – by 10 years. Atlanta's soccer enthusiasm has risen to a fever pitch since MARTA approved a brainchild idea, initially called "crazy," to build mini soccer fields at its rail stations.
In 2016, a pilot field at MARTA's downtown-Atlanta Five Points Station – the world's first soccer field at a rail transit station – opened for play. The crazy idea was on its way to crazy success. StationSoccer is a first-in-the-world network of what will be 10 mini soccer fields at public transit rail stations. Soccer fields have since been built at four more MARTA stations. Plans are in the works to finish the remaining five fields before the World Cup arrives.
The StationSoccer idea came in a MARTA-commute lightbulb moment to Sanjay Patel, director of strategic projects for nonprofit Soccer in the Streets, which uses soccer to cultivate and connect healthy communities. Patel's idea attracted four founding partners: Soccer in the Streets, MARTA, the City of Atlanta and Atlanta United Foundation. Since then, multiple partners have come aboard and StationSoccer has won numerous awards. Now at the halfway goal, what impresses Patel "is seeing the benefits of what can happen when transit agencies, municipalities and [the] public- private [sector] work effectively together."
Soccer in the Streets oversees building the fields. It hopes to eventually reach about 2,500 StationSoccer kids, many of whom have never played soccer because of travel and cost barriers. Now, they can play for free and travel to matches free on a MARTA StationSoccer railcard.
"Soccer in the Streets has given my family an opportunity to experience a sport that would have been otherwise impossible to fully participate in," says Makeisha Robey, a mother in West End. "My son has found an activity he adores. Realistically, if this field was not here, he wouldn't be playing soccer."
It's comments like these, says MARTA Interim General Manager and CEO Collie Greenwood, that are "a fantastic example of MARTA being important to the community we serve." A pay-for-play adult league helps fund the kids' teams.
Other cities, transit agencies and even professional soccer teams have taken notice. Planners from Charlotte visited to get ideas for a light-rail system they are building. Major League Soccer team Chicago Fire FC called to get ideas for Chicago transit. And StationSoccer was a "wow factor" that helped in convincing FIFA to select Atlanta as a World Cup city.
What international World Cup fans will see when they ride MARTA during the games, says Patel, will be much more than a soccer project. It's led to art projects and community gardens at participating stations. "StationSoccer," Patel says, "is going to re-knit communities and connect folks who would not have otherwise met."