Southwest: Small Communities Shine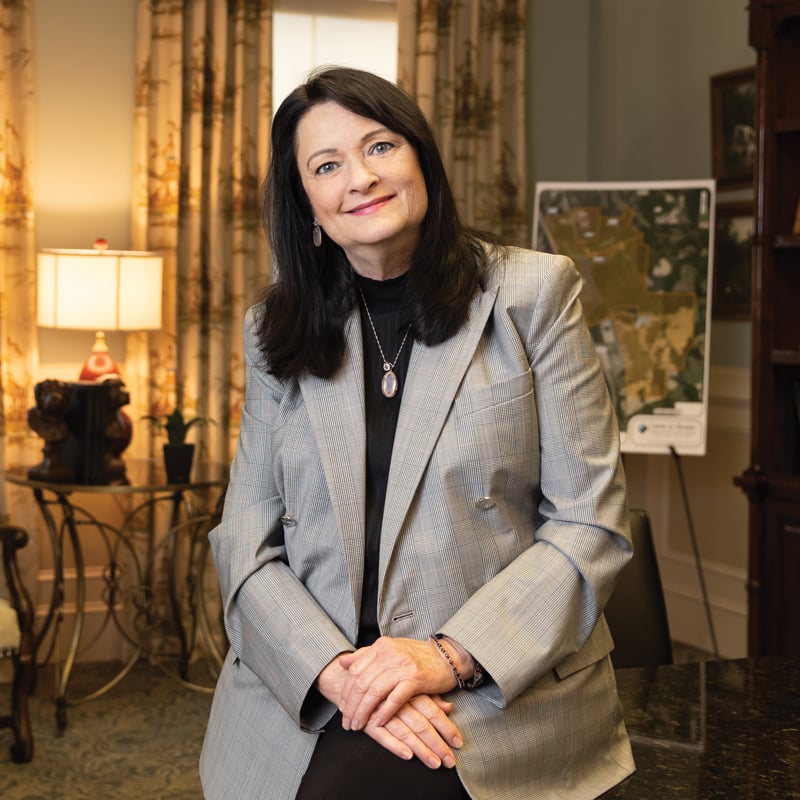 Southwest Georgia has gained momentum since the start of the pandemic — ask any economic development leader in the region. This highly rural area of the state has attracted newcomers and expanded local businesses to the tune of hundreds of millions of dollars in new investments.
More business means more jobs and the need for more workers to fill them. Southwest county developers are taking the labor shortage in stride, digging into workforce development to sustain the growth.
"What has contributed to the growth in the past and will continue to grow us in the future is that local, grow-your-own, entrepreneurial spirit," says Shelley Zorn, executive director of the Thomasville Payroll Development Authority.
The Great Resignation has impacted communities big and small throughout 2021, and while this region was not an exception to this economic trend, it has adjusted quickly.
"For the small towns, I think this has been a time for them to shine," says Julian Brown, executive director of the Grady County Joint Development Authority. "We're not like, say, Atlanta, Columbus or Savannah. Our communities aren't server-based." Grady County's economy is not dependent on the restaurant industry, Brown says, so their agricultural and manufacturing industries have thrived due to pandemic demand.
Communities like Grady, Decatur and Colquitt Counties are coming up with strategies to supply large manufacturing and agricultural industries with local employees. To do this, they are starting with the high schools.
"How do we get more work [businesses]? And how do we sustain it [with workers]? We've reached into our high school and technical college programs for the answer," says Barbara Grogan, president of the Moultrie-Colquitt County Development Authority.
Grogan says that through these workforce development programs in the local school system, anywhere from 250 to 300 outgoing high schoolers could secure jobs at food-processing facilities such as Sanderson Farms and National Beef, for example.
Colquitt County is the No.1 agricultural county in the state, producing more than $545 million in revenue from agriculture. "The demand is just astronomical," Grogan says. "So we are trying to figure out a way to meet that demand."
Meeting demand with labor is the key to sustaining the Southwest's communities, says Cynthia Tori, a Valdosta State University economics professor.
"We had a really tight labor market [in 2020], and we continue to have a very tight labor market even though our labor-force size has increased," Tori says. "We've seen an uptick in wages because of this lack of availability of labor, which is good on one hand, but on the other it really does squeeze profits for our local businesses."
---
Playing to Strengths
With more people working at home or in hybrid environments since the start of the pandemic, the increased demand for consumer goods continued from 2020 to 2021. That played into some of the economic strengths of Southwest Georgia.
From food processing in Colquitt County to warehouse distribution in Lowndes County, this region is home to some big names in various industries, such as The Home Depot, Coca-Cola Bottling Co. and American Bio Energy Converting Corp., just to name a few.
More people are eating at home, making home improvements and participating in recreational activities, which explains the growth in this area's agricultural, building material and recreational vehicle industries.
This area is also seeing investment from new industries, such as Blockstream, a global leader in Bitcoin technology, which expanded in Adel.
Also new to Cook County is Trulieve Cannabis Corp., a medical marijuana company, which announced last year that it will invest $20 million into an indoor marijuana cultivation facility. Coca-Cola's $60 million facility opened in Tift County in May, creating more than 200 jobs. Ashley Home Store is investing $15 million in a 150,000-square-foot distribution center in Thomas County.
Dozens of other companies have committed to multimillion-dollar investments in this region, with industries such as gun manufacturing in Thomas County (Check-Mate Industries), trucking in Crisp County (Indian River Transport Co.) and recreation in Lowndes County (Correct Craft).
The increased demand extends to local businesses, according to Tommie Beth Willis, president and CEO of Moultrie-Colquitt County Chamber of Commerce, which grew by 100 new members in 2021.
"We have never hit triple digits as far as new members joining the chamber, and we think that speaks volumes to the economic development of our community," Willis says. "Now, we just need employees, from big industries all the way to our locally owned small businesses."
More than 90% of the businesses in Colquitt County are locally owned, Willis says, making small businesses a crucial part of the local economy. That is the case in surrounding counties too, such as Cook and Tift counties.
Lisa Collins, executive director of Cook County Economic Development Authority says her county is in the early phases of a five- to seven-year economic development plan that will include targeted growth in local businesses, as well as existing and new industries.
Collins says that in 2022 alone, there are more than $350 million in new industry prospects for Cook County, which could result in hundreds of jobs.
Where businesses and jobs grow, new residents follow. Lee County's population grew by 17% according to the 2020 census, as did Decatur County's by 5.5%.
---
Educating the Workforce
Economic development is more than just attracting new business. It also means supplying that business with workers with a range of skills. That's where education comes in, and everything from high schools to tech schools to four-year colleges are pitching in.
Southern Regional Technical College's service has locations in 11 counties, including Colquitt, Decatur, Early, Grady, Miller, Mitchell, Seminole, Thomas, Tift, Turner and Worth counties. The school's president, Jim Glass, says that the college wants to be part of the solution to the labor crisis in 2022.
"We want to be at the table. We want to be the first one that our development authorities and our chambers call when they're bringing new business and industry to our counties," Glass says.
Southern Regional ran an economic impact study in 2019, which found that the school has a $166 million economic impact on the surrounding counties, supporting more than 3,500 jobs.
One of the biggest industries the school services is healthcare, which is also suffering from a nationwide shortage of skilled labor. Glass says it is important for schools to be flexible and responsive to the needs of the various local industries to which they supply labor.
"These are companies that are in our region, and they depend on us to provide help," Glass says. "The good part about the technical college system in Southern Regional is that we are pretty nimble."
Dougherty County houses the region's biggest city, Albany, and the state's largest HBCU (historically black college and university), Albany State University. In 2021, Albany State had an economic impact of $182 million, according to university president Marion Ross Fedrick.
"In the medical environment, Southwest Georgia needs to be bolstered, and we are playing a major role in that," Fedrick says. "We produce more degree nurses than any other institution in the state. Our hospitals and facilities are having so many resignations with nurses. We have replaced those nurses and other health care professionals as well, such as physical and respiratory therapy."
Workforce development in Southwest Georgia starts earlier than college. Deron Rehberg is the county coordinator for the University of Georgia agriculture and 4-H extension offices in Grady and Thomas County. Their programs work with middle and high schoolers to introduce them to several local food industries as well as careers in family and consumer sciences.
"It's all about relationships," Rehberg says. "These programs exist for those students that are not planning to head off to college. They show students that they can then go into the industry base here and go right into the workforce with minimal transition."
Looking at the prospects for the rest of 2022, forecasters predict another year of positive growth for the region, especially in workforce development.
"If you're in a labor market and looking to maybe change a career or look for a job, this is a great time to do it because there are so many positions out there," Tori says. "That trend is for continued economic growth through 2022."
---
People to Meet
DeAnna Julian
DeAnna Julian is the executive director of The Arc of Southwest Georgia, a disabilities advocacy group based in Albany. Julian and her team work with families across the region to provide support, training and development services.
Jack Hadley
Founder, president, curator and namesake of the Jack Hadley Black History Museum, Hadley works with local youth in Thomasville to educate them on the Black history of the area. With close to 5,000 artifacts in the collection, this museum won the 2021 Community Impact Award for Nonprofit of the Year.
Click HERE to return to the Economic Yearbook Hub