Northwest: A Greener Path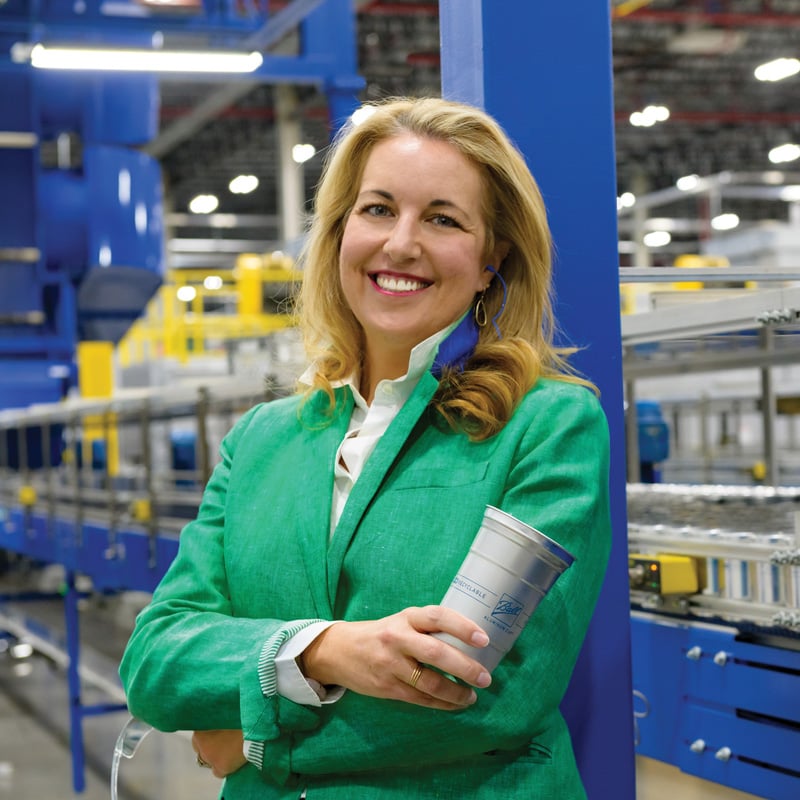 Jobs and the economy of Northwest Georgia are increasingly tied to the growth of clean energy innovations like electric vehicles.
In Gordon County, TEKLAS, a Turkish supplier of electric vehicle parts, invested $6.5 million in its first North American facility and headquarters. It will be housed in a 200,000-square-foot facility in Calhoun and create more than 120 jobs.
The international company produces rubber hoses and plastic tubes for automotive fluid systems for companies including General Motors, Volkswagen and Mercedes-Benz.
In Dalton, another auto industry company is putting the finishing touches on its new plant. GEDIA Automotive Group built an $85 million advanced manufacturing facility to make parts for electric vehicles. It will eventually add 200 jobs when operating at full capacity.
"I can tell you that they have been hard at work putting that plant together and later this year, they will start shipping products to Mercedes-Benz for a new electric crossover vehicle," says Carl Campbell, executive director of the Dalton-Whitfield County Joint Development Authority. "We're seeing a lot of activity from component makers, from battery manufacturers. There's a lot of interest there, a lot of demand. I think it's going have staying power."
---
Carpet Counties
This region's economic health relies on both old and new industries. Along with high tech "we have a strong concentration of floor covering," says Kathy Johnson, president & CEO of the Gordon County Chamber of Commerce. "They've recreated themselves over the past few years and we're still seeing substantial growth in in that, particularly vinyl flooring."
This corner of North Georgia has long been dubbed the carpet capital of the world. Here you can find some of the nation's largest floor-covering companies. After recovering from the Great Recession, these companies have continued to grow.
Mohawk, the world's leading manufacturer of ceramic tile and natural stone, operates plants throughout the region and is based in Calhoun.
Shaw Industries Group, Inc. is expanding its resilient manufacturing capabilities in Ringgold in Catoosa County. The company invested $20 million as part of an anticipated three-phase expansion.
About 84% of this county's population leaves the county each day for work. Expansions like Shaw's will create employment within the county for local citizens.
"Our goal is to keep more of our citizens working in our county," says Amy Jackson, president and CEO of the Catoosa County Chamber of Commerce. "We'd like to have those opportunities here."
---
Job Readiness
This area is still very much a place where people know how to make things – with an eye on the future. GE Appliances in Walker County recently announced plans to invest $118 million to expand manufacturing operations at its subsidiary Roper Corp. in LaFayette. The move will result in the creation of more than 600 new jobs. Roper makes cooking products such as wall ovens, cooktops and ranges for the Monogram, GE, GE Profile and CAFE brands.
The investment will improve material flow and increase assembly-line efficiency by adding cutting-edge advanced manufacturing technology.
"It's always good when existing industry is continuing to grow in the community," says Stephanie Watkins, Walker County Economic Development director.
When businesses and industries thrive, so do communities. An investment that might seem modest elsewhere can bring a big boost to smaller areas. "We've had about $15 million [in expansions] over the last 18 months in Trenton, which is a small industrial city at the far northwest corner of the state," says William Back, executive director of the Dade County Industrial Development Authority. "Key things for us are wage increases — we're looking at basically about a 60% increase in four years."
Counties in the region are also making sure they're ready with the right site when companies come calling. The Development Authority of Polk County recently received Georgia Ready for Accelerated Development (GRAD) certification for phase three of the Cedartown North Business Park. These GRAD sites allow developments to be put on fast-track construction thanks to advanced due diligence.
Last year, Oldcastle APG purchased the authority's 100,000-square-foot building in the business park, along with 17.35 acres adjacent to the building. The manufacturer of concrete masonry, hardscape and other building products will initially create 20 jobs in Polk County, which will grow to 45 when it's at full capacity, according to Chris Thomas, president and CEO of the Development Authority of Polk County.
---
Cargo Connection
A strong transportation network drives development, and in Northwest Georgia that path is getting greener. Over the past three years, a big boost to the economy has contributed to a cleaner environment. Murray County's Appalachian Regional Port is a rail-connected pathway to and from the Port of Savannah. Moving cargo by rail means fewer trucks are on the road. Companies can bypass the congested truck traffic around deep-water seaports as they move goods inland. They can also bypass traffic-congested Metro Atlanta.
The inland port's location has contributed to Murray County's growing economy. Several companies have landed there as a direct result of the port's location, according to Eli Falls, executive director of the Murray County Industrial Development Authority and the Murray County Chamber of Commerce.
Companies like GE Appliances, Huali Floors and vinyl flooring contractor United Surface Solutions have invested millions in facilities and created hundreds of jobs. More companies are looking at the area and more announcements are expected later this year, he says.
In calendar year 2020, the inland port handled 32,816 containers, an increase of nearly 14,000 boxes, or 73%, compared to 2019.
---
Online Boost
With the increase in online commerce, logistics and distribution facilities are growing at a fast pace, particularly along with I-75 corridor. Thanks to its location just north of Metro Atlanta, Bartow County is becoming an attractive area for developers.
"The parts of our economy that are doing especially well include logistics and supply chain, first and foremost," says Melinda Lemmon, executive director of the Cartersville-Bartow County Department of Economic Development. "No surprise. They were doing well pre-pandemic, but through the pandemic, logistics and supply chain has been probably one of the fastest-growing sectors for us."
Amazon is among the companies that have headed this way. The online retail giant has developed a Last Mile Delivery Station on Acworth's Third Army Road in southern Bartow County.
---
Sustainable Growth
In Rome and Floyd County, economic expansion has been brisk, boosting an already strong manufacturing base. More than $810 million in capital investments have added 581 jobs in the last three years, according to Pam Powers-Smith, president and CEO of the Rome Floyd Chamber of Commerce.
"We have had several expansions among manufacturers," says Powers-Smith. "What's most important is taking care of our companies that have been here a long time. They're making the choice to expand and build on a foundation that they've already created here."
A new Ball Corp. aluminum cup plant opened last year and is now churning out as many as 700,000 recyclable beverage cups a day. A second production line is set to be added in the spring of 2022.
The facility, which employs 115 workers, is the sole Ball cup plant in the U.S.
Sustainability has become a business priority for companies in Northwest Georgia. Pirelli's Rome plant is now making the world's first FSC-certified tire, using sustainably produced rubber as verified by the Forest Stewardship Council. These tires represent a new horizon for increasingly sustainable tire production.
While it doesn't get the attention that big plant openings do, small business is often a major driver for economic development. In Chattooga County "our small businesses are pretty much booming," Cindy Rivers McGraw, executive director of the Chattooga County Chamber of Commerce. "We had a lot of growth in small business development with new ones opening up during the pandemic."
Downtown Summerville is filled with retail and restaurants.
"There are some developers who are redoing buildings and getting retail into those buildings and just big things happening in downtown," says McGraw.
These small businesses get a boost from two major tourist attractions.
Paradise Garden in Summerville was the home and workplace of renowned folk artist Howard Finster and is now a museum and park dedicated to his life and art.
James H. "Sloppy" Floyd State Park, near Summerville on the edge of the Chattahoochee National Forest, also did a "booming business over the pandemic because people wanted to get outside," says McGraw.
Whether it's clean energy products, expansions at long-time manufacturers or downtown revitalization, Northwest Georgia clearly has a green and growing path before it.
---
People to Meet
Wes O'Dell
Callers to O'Dell's J&W Sports and Apparel are greeted with a question: "What kind of fan are you?" He has turned collegiate sports apparel into a destination for fans of all types. Since opening the Chatsworth store, he's gained attention by hosting a series of signings with some of the biggest names in Georgia sports, from the Dawgs to the Braves.
Tom Shinall
As development director of the Savoy Automotive Museum, Shinall has helped lead the campaign to bring a unique cultural site to Cartersville. In a city already famed for its world-class museums, he is dedicated not just to building support for the museum, but also fostering a greater understanding of the role that cars have played in society.
Click HERE to return to the Economic Yearbook Hub