Northeast: Multifaceted Sustainability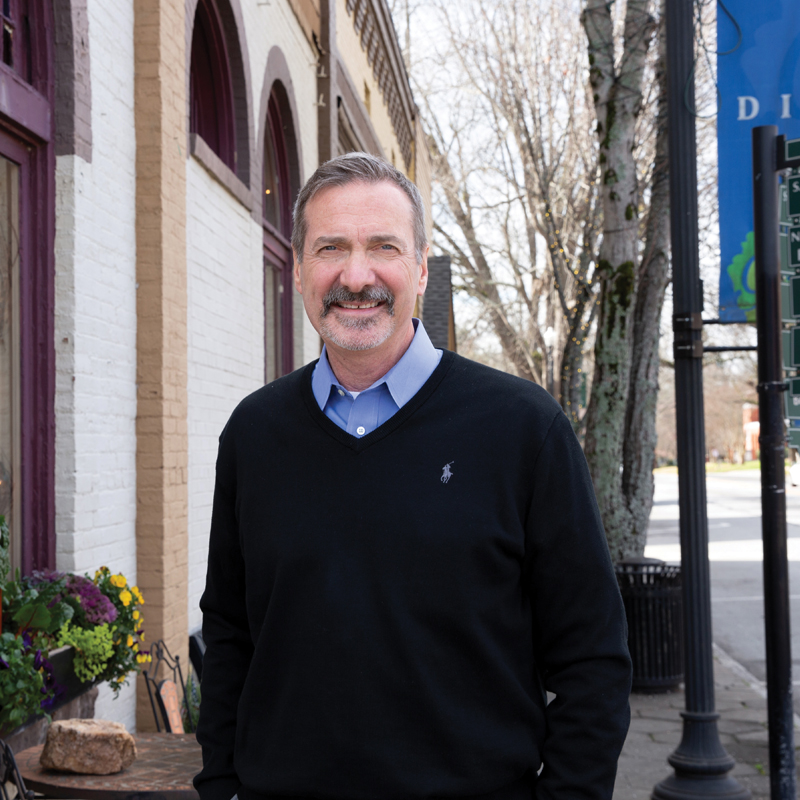 Sustainability means not only preservation of natural resources, but also smart economic growth and planning that promotes equity, affordability and community balance. In Northeast Georgia, green comes in all different shades.
For example, the largest recycler of aluminum in the world, Atlanta-based Novelis, is growing in Greene County with a $36 million expansion and modernization of a 64,500-square-foot building in Greensboro.
"Novelis' facility was the first stand-alone, used-beverage-can recycling facility in the company and is now responsible for pioneering the majority of its recycling technologies," says David DuBois, economic development director of Greene County.
DuBois points out that aluminum is the most recycled and recyclable material with a proliferation of applications for its reuse in the building, automotive parts, food and beverage and cosmetic industries. It takes 95% less energy to recycle aluminum than to produce primary aluminum, market research shows.
"This expansion by Novelis will impact our region by not only providing more capacity to recycle aluminum but also adding more jobs," DuBois says.
Recycling can sometimes seem confusing when it comes to solid-waste services, but Athens-Clarke County aims to please its customers. Its award-winning recycling division runs a commercial composting facility and facilitates a sustainable industry roundtable to connect business with best practices and waste process design resources. It operates a CHaRM or Center for Hard to Recycle Materials that, amazingly, includes a "Repair Café" where people can receive free fixes of broken items.
"We also have a teacher reuse store where donors can pass along office and art supplies and furniture for area educators to 'shop' for their classrooms at no charge," says Ilka McConnell, economic development director of Athens-Clarke County Unified Government.
How important is sustainability in Athens-Clarke County's private sector? The biotech company RWDC Industries is putting $260 million behind its commitment. By repurposing and reusing a vacant 400,000-square-foot manufacturing facility and existing public infrastructure in Athena Industrial Park, it aims to replace single-use plastics made of fossil fuels with fully biodegradable biopolymers, using a technology developed by the company. The major investment will create 200 jobs, as well.
"When you think about just how many straws, cups and lids we use every single day that are made from difficult-to-recycle plastics, you realize the game-changing global impact of RWDC's technology as companies are making decisions to invest in more sustainable packaging," says McConnell.
In Spring 2019, Athens-Clarke County's mayor and commission adopted a strategic plan to promote 100% clean and renewable energy for the community, which started with government buildings and facilities and continues to leverage community engagement to develop the most effective renewable policies and technologies.
The Office of Sustainability worked with a community advisory committee to create the plan, says McConnell. "It has been a fantastic learning process to discover how many sustainability efforts are already in the works here in Athens, and to identify opportunities to share information with and between businesses in our community to encourage and support efforts towards greater energy efficiency and sustainability," she says.
For water planning and drought resilience, Athens-Clarke County purchased Rock Hill Quarry to create a reservoir that will eventually hold an estimated 4 to 5 billion gallons. The department is also building a pump station to provide treated and recycled wastewater for reuse by local businesses.
Recycling also fuels a thriving business in Dawson County, where the founders of Premier Surplus realized that many customers needed a more comprehensive service for dealing with their outdated electronic assets. In 20 years, Premier Surplus has gone from operating out of a single-car garage to servicing Fortune 100 and 500 corporate customers throughout the Southeast. The woman-owned company specializes in electronic asset recycling solutions, including "end-of-life" equipment management, remarketing, recycling and product and data destruction.
"The future of sustainability is right here in Dawson County with Premier Surplus," says Mandy Power, president and CEO of the Dawson County Chamber of Commerce and Office of Tourism Development. "The warehouse is a sight to see, with a very extensive process to carefully destroy sensitive data and break down electronic recyclables. They ship materials all over the world."
An ISO and R2-certified (responsible recycling) business, Premier Surplus has added a shredding operation to more efficiently process e-waste, recover materials and adhere to its zero-landfill policy. It has also added 24 employees at its 137,000-square-foot facility, which services more than 40 major accounts, including large government agencies.
From recycling to electric vehicle components, the Northeast part of the state is becoming increasingly focused on sustainable technologies. South Korea-based SK Innovation, which makes batteries for electric vehicles (EVs) has invested $2.6 billion in its Southeastern U.S. hub in Jackson County and is already constructing a second plant that will open next year. In total, the company plans to hire 2,600 workers and the general consensus is that the battery plants will attract manufacturers of other components in the EV supply chain, creating even more clean-energy jobs.
---
Green Means Go
The growth of green industry jobs is part of a broader economic upswing, which is strong even amid challenges with workforce recruitment, according to Power, who reports an unemployment rate in Dawson County as low as 1.6% at the end of 2021. A new Miller's Ale House has provided almost 100 new jobs, and OneLife Fitness, which opened a new location in early 2022, has created more than 30 new jobs, she says.
"2021 was another year of exponential growth in tourism and retail, with each providing healthy tax revenue sustainability," says Power. "The economic impact over the long term will be great. We have the landscape and natural resources in a time of the continued pandemic where people are looking to get outside for adventure."
Two tourism expansions in Dawson County will continue fuel the growth. Atlanta Motorsports Park will add state-of-the-art, trackside condos with two of the three planned phases already sold out. And the 4,300-acre Iron Mountain Resort, which straddles Dawson and Lumpkin counties, added cabins and RV sites to create a weekend destination for outdoor thrill-seekers. The family off-road and camping destination has also completed a clubhouse with a restaurant soon to follow.
Outdoor tourism is fueling growth in Rabun County, too, and one family-owned retailer is sharing its bounty to sustain noncommercial organizations. Recognized as a "Small Business ROCK STAR" in 2021 by the Georgia Department of Economic Development, Wander North Georgia is helping local nonprofits through its "One Percent for Rabun County," in which the company donates 1% of its overall sales. That amounted to more than $49,000 for local nonprofits and civic groups last year.
As for companies that focus on the road, Cottrell, an industry leader in manufacturing and assembling over-the-road car haulers and equipment, is investing $125 million in a new 500,000-square-foot facility, which will serve as the company's North Campus next to its original Gainesville site.
And in Hall County, Ammeraal Beltech, a global manufacturer of lightweight conveyor belting, has opened a new production plant in Buford, an investment of more than $19 million that will create 83 jobs.
---
Healthy Growth
Sustainability takes on a new, deeper meaning during COVID-19, from safety protocols to healthcare delivery.
The Gainesville-Hall County metro has long been a healthcare hub, as well as a regional center for employment and services, and now its healthcare capacity is moving up a big notch. In an estimated $540 million investment, the North Patient Tower 2 at Northeast Georgia Medical Center (NGMC) Gainesville will bring together major critical care services, including cardiac care in the Heart Institute, a new Level II Emergency Trauma Center, 150 patient-care rooms and a new helipad, when it is scheduled to open in 2024.
"In critical care, every minute counts," says Tim Evans, vice president of economic development for Greater Hall County Chamber of Commerce. "This is bringing critical life-saving care minutes closer to the [millions of] lives served by this medical center in Northeast Georgia. And this obviously boosts employment opportunity as well within the Northeast Georgia Health System, which has approximately 9,000 employees, the biggest portion of which are employed at the two largest medical centers, NGMC Gainesville and NGMC Braselton."
Critical services must expand with population growth but challenges to recruiting and retaining talent continue. The new Graduate Medical Education program (GME) at Northeast Georgia Medical Center has expanded to offer more than 140 medical students their residencies within the community. As Evans asserts, program location is a strong predictor of where medical residents will ultimately practice medicine.
"It's not a question of 'will we grow?' but rather 'how can we encourage the best quality development for the future?'" he adds. "The GME program is bringing the best and brightest to Gainesville-Hall County for their residencies, and we think that is part of the long-term solution to attracting healthcare talent to stay in this region." That is one more vital driver of sustainable economic growth.
---
People to Meet
Abigail West
When not serving as a creative reuse specialist for Athens-Clarke County's Solid Waste Department, where she also coordinates the Teacher Reuse Store, West is busy running her own art studio, where she transforms "trash" into functional and beautiful works. Big world problems, such as the climate crisis, are best faced with hope and creativity, she believes.
Jack Albanese
Terrapin Beer's vice president of operations has led the company's "Terraprint" sustainability efforts, which include becoming the first Georgia brewer to purchase renewable power directly at its own facility through a partnership with Cherry Street Energy, an Atlanta-based renewable energy company. The 720 solar panels atop Terrapin's roof and parking lot sunshades will go a long way toward the company's goal of reducing its energy consumption by 30%.
Click HERE to return to the Economic Yearbook Hub