Central: Rich in Resources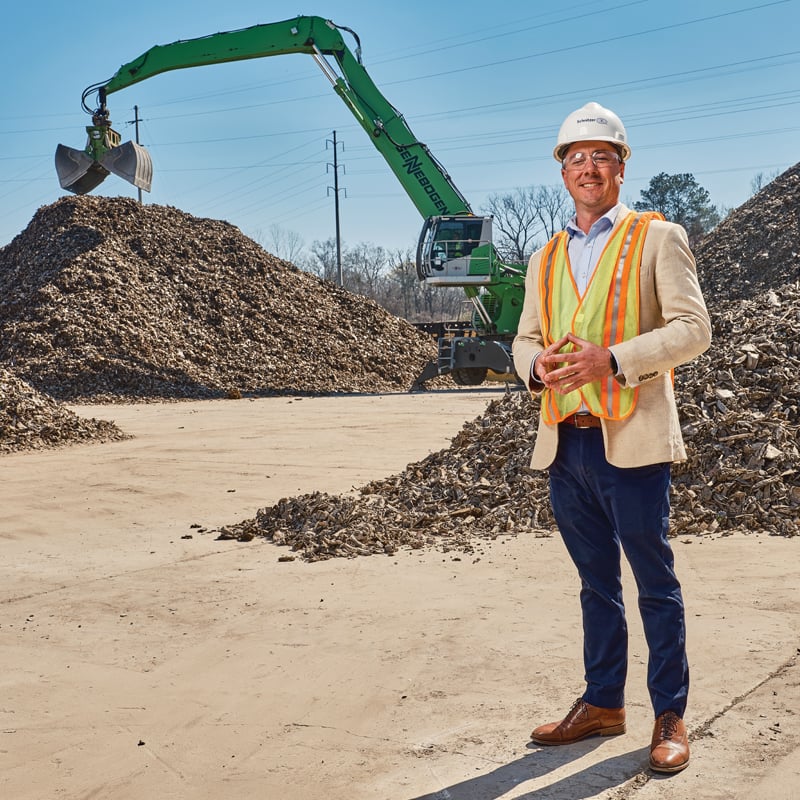 Across Central Georgia, counties are increasingly focused on using their natural assets to build a vibrant economy. By plugging into the rising demand for clean energy, expanding the infrastructure needed to attract people and companies and developing historic sites to draw in tourists, the region is taking its future into its own hands.
That future is largely driven by abundant renewable resources like timber.
Houston County's Interfor, the largest lumber producer in the state, invested $30 million in expanding sawmill operations in Perry. It supplies a broad range of lumber products, including fibers for house frames, trusses, furniture and industrial packaging, to customers around the world.
The company employs more than 1,200 workers and operates seven sawmills across the state.
As the Central Georgia economy is becoming more diverse, the area's abundant sunshine powers green energy initiatives. Just north of Robins Air Force Base is the site of a 650-acre solar farm built by Georgia Power. The array of solar collectors began adding power to the grid in 2021.
Another clean energy initiative is being spearheaded by Silicon Ranch Corporation, which is investing $55 million in a new 68-megawatt solar project in Houston County. In partnership with Green Power EMC, Silicon Ranch will provide the solar energy it generates to more than 30 Electric Membership Corporations (EMCs) across Georgia, according to Angie Gheesling, executive director of the Development Authority of Houston County.
---
Soaring Higher
The Central Georgia region is becoming a strong hub for manufacturing, transportation and warehousing. This trend is being driven by major logistics connections provided by I-75 and I-16, according to Yvonne Williams, president and CEO of the Greater Macon Chamber of Commerce.
"We'll will see a lot of growth with logistics-type industry over the next years," says Williams.
That includes Macon's Middle Georgia Regional Airport, which has become a focus for economic development in the region. MHIRJ Aviation Group expanded its Maintenance, Repair and Overhaul (MRO) Network with the opening of a new facility at the airport. MHIRJ is the world's largest regional MRO providing these services to air fleets. Its first investment in Georgia will add 200 jobs.
An array of companies have located at the airport. Dean Baldwin Painting, which strips and paints aircraft, opened a four-hanger facility at the airport last year.
These companies are following a swam of others such as Embraer, the world's third-largest civil aircraft manufacturer. Robins Air Force Base got the ball rolling when it relocated parts of its maintenance operations to the airport a couple of years ago.
"Global demand is very strong right now and we are truly an international city," says Stephen Adams, executive director of the Macon-Bibb County Industrial Authority. "We have companies that make and ship products to and from places all around the world, so we've seen just how interconnected we are with the global market."
The role that an airport, even a small one, plays in both the local and regional economy is on full display at the Heart of Georgia Regional Airport in Dodge County. The facility is home to Middle Georgia State University's aviation management programs, which include air traffic control, flight training and mechanic programs.
Responding to the demand for trained aircraft personnel, the program is about to get a major upgrade, according to Charles Williams, executive director of the Eastman-Dodge County Development Authority.
"We are dotting I's and crossing T's on an arrangement that will massively expand [the program]," says Williams.
Plans are being formulated to add as many 700 more students to the program, he adds.
"They're going to rebuild and remodel and revamp and reorganize facilities that are here and add a bunch of hangers for new airplanes," says Williams.
---
Expansions Drive Growth
While new company relocations get the headlines, expansions by established firms usually produce the greatest number of jobs and long-term, sustainable economic impact. When a local community can keep an existing industry and also see it expand, the benefits multiply.
Last year private equity firm Arlington Capital Partners acquired Triumph Group Inc.'s Baldwin County facility. The rechristened Qarbon Aerospace quickly began expanding the business and adding workforce. The new company is providing complex fabrications and assemblies for all structural sections of the aircraft to a wide range of companies.
"There was a bit of a reduction in force before the sale went through," says Jonathan Jackson, executive director of the Development Authority of the city of Milledgeville and Baldwin County. "[Now they are] adding those jobs back in, and then some, and we're hopefully going to see them thrive as they have diversified their product line."
The company plans to expand its workforce from about 340 to more than 600 over the next five years, according to Jackson.
In Ben Hill County, food and beverage companies are growing in Fitzgerald. Polar Beverages is adding 30 new employees as it ramps up production of its bottled-drink line from 20 million to more than 40 million cases annually, according to Jason Dunn, executive director of the Fitzgerald and Ben Hill County Development Authority.
"[The project] is a good example of the community and a private investor working together," says Dunn.
---
Infrastructure Improvements
Counties understand that a resilient and sustainable economy must be based on strong infrastructure.
"We're seeing a lot of interest in our area from people who now understand they can work remotely," explains Judy Sherling, executive director of the Development Authority of the city of Jeffersonville and Twiggs County. "So one of the areas where we're really trying to focus on is broadband. Service providers are looking at ways they can get broadband into more homes and more areas."
Local telecom Windstream is in the process of running broadband service throughout downtown Jefferson.
The county is in the midst of a big expansion of its sewer system and solid-waste treatment and water system. These projects include nearly $900,000 to expand the capacity of the wastewater plant at the I-16 industrial park and just over $1 million to upgrade the water system.
"We're taking pipe out to more people and able to hook up more businesses," says Sherling.
Monroe County is also installing broadband through a partnership between the Central Georgia Electric Membership Corporation and Conexon, according to Joyce White, executive director of the Development Authority of Monroe County.
Internet service is vital to economic development. Companies depend on broadband and any area without it is at a disadvantage. It is fueling a phenomenon that first gained notice during the pandemic. Increasingly, people are leaving cities and working remotely.
This migration can be seen in rising home prices and more activity among home builders.
"We've seen more developers and more homes built than we've seen in the past," said Kathy Oxford, executive director of Barnesville-Lamar County Industrial Development Authority. "Our population is starting to grow a little bit. And we've got some infill areas in the city, as well as in the county, that are seeing some growth."
A small subdivision that sat empty since 2010 is now the site of more than two dozen new homes, according to Oxford.
---
Electric Opportunities
Industries seek places to relocate and expand that allow them to move in and get up and running quickly. Putnam County went through a rigorous process to get its new 121-acre South Industrial Park (SIP) Georgia Ready for Accelerated Development (GRAD) Select-certified, according to Matt Poyner, executive director at Putnam Development Authority.
Local leaders believe the effort will pay off.
"We're pivoting from the [way] traditional manufacturing has been done in Putnam County to try to get more into [the] technology lane," says Poyner.
The growth of the electric vehicle industry in Georgia is driving counties like Putnam to look at what it takes to attract companies and suppliers.
Electric vehicle maker Rivian plans to build a $5 billion battery and assembly plant east of Atlanta along I-20 that's projected to employ 7,500 workers. Suppliers to the company will locate near the plant opening up opportunities for Putnam, according to Poyner.
Along with industrial parks geared toward big companies, Dublin and Laurens County are constructing a site suited to small business and entrepreneurs.
"This [park is] just for those small businesses and entrepreneurs to help them be able to collaborate with each other and help solve challenges that they may have," says Ryan Waldrep, president of Dublin-Laurens County Development Authority.
The Development Authority is also readying a 331-acre industrial site on Georgia Highway 257 that is served by rail, along with providing all the infrastructure needed for a company to get up and operating quickly, according to Waldrep. The site is GRAD Select-certified.
And, the central region is focused on preserving its natural resources with an eye toward economic development from enhanced tourism.
The 2,000-acre Ocmulgee Mounds National Historical Park is on its way to becoming the country's next national park and the first in Georgia. Already one of the most visited tourist destinations in the area, winning the designation would mean more visitors seeing its archaeological collections that date back to the last Ice Age.
"We've got a huge opportunity with this national park designation at Ocmulgee," says Williams. "We're trying to add several thousand more acres to its borders, so that we would have green space all the way from Macon down to Hawkinsville, with trailways, fishing and (wildlife) habitat."
It's just one more way Central Georgia is parlaying an array of economic and natural resources into a sustainable future.
---
People to Meet
Jim Stone
Stone, a film producer and director, has been instrumental in bringing Hollywood or least a big part of the film industry to central Georgia. Since relocating Tytan Pictures, his full-service film production house, from Tybee Island to Eatonton, the area has increasingly become a destination for film crews and stars like Bruce Willis. Stone was also able to purchase the former state prison to use as both offices and a set for films.
John and Leah Foster
The Fosters returned to their hometown of Fitzgerald to start a business by bringing a piece of local history back to life. The circa 1905 Fitzgerald Pillars is one of the town's oldest historic properties. They reinvigorated the rambling property into a wedding venue and meeting and conference facility for groups and organizations throughout the region.
Click HERE to return to the Economic Yearbook Hub