2022 Industry Outlook
How Georgia's primary industries will likely fare this year and in the future.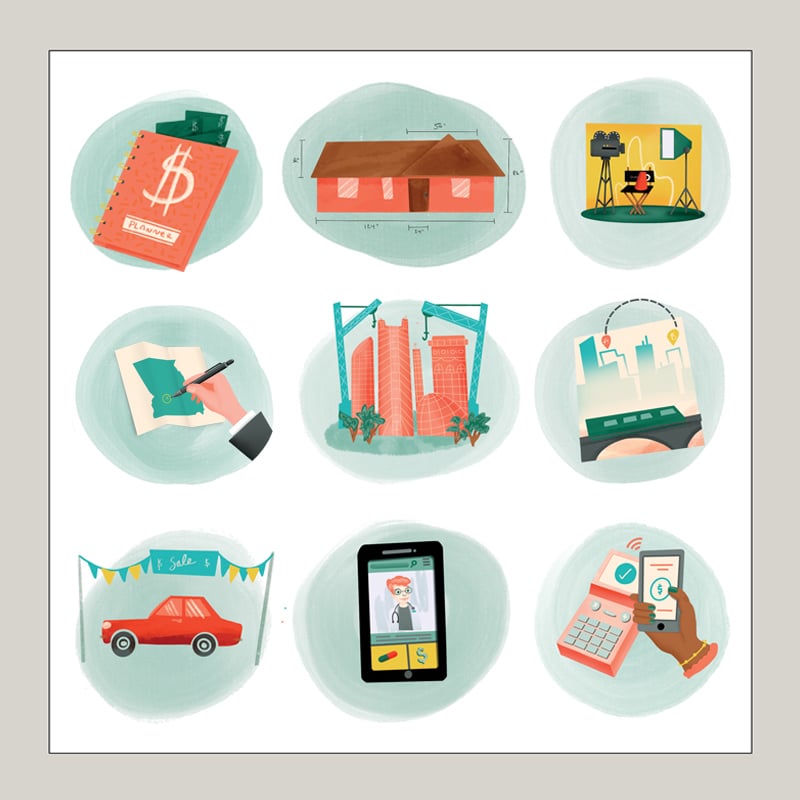 Georgia continues to outpace the nation in recovery from the COVID-19 pandemic due to a number of state-specific factors, and some industries in the state are experiencing dramatic growth. Our annual outlook for Georgia's primary industries is based on research from the Selig Center for Economic Growth at the University of Georgia's Terry College of Business. Predictions were made prior to the Russian invasion of Ukraine.
---
Financial Technology
During the pandemic, people adopted new mobile technologies, including mobile banking and touchless payment systems, which gave financial technology (FinTech) a boost. Most customers seem pleased with such services and probably will never return to their pre-crisis ways of banking and shopping. Georgia's FinTech ecosystem remains very healthy. FinTech companies are drawn to Georgia because the large number of existing companies ensures deep pools of experienced workers who have specialized talents. Also, Georgia's post-secondary education system is focused on the production of new talent for the industry. For example, the Georgia FinTech Academy – available at 15 of the University System of Georgia's 26 institutions – will provide the talent needed to attract even more financial technology companies to the state.
---
Cybersecurity
The digital transformation of many industries, including healthcare, mobile banking and entertainment, was an existing trend that the pandemic dramatically accelerated. The speed of this widespread digital transformation increases the risks of cyber attacks, which puts Georgia's cybersecurity industry onto higher short- and long-term growth trajectories. Georgia's cybersecurity industry is located primarily in Atlanta and Augusta, where the presence of the U.S. Army Cyber Command at Fort Gordon and Georgia Cyber Center provide the foundations. Fort Gordon provides a critical mass of dependable contracts, and the Georgia Cyber Center provides the leadership and talent needed to attract more cybersecurity firms to Georgia.
---
Healthcare IT & Telemedicine
Georgia is attracting and growing healthcare IT companies, and that sector will create thousands of high-paying jobs in the state over the next decade. The COVID-19 crisis greatly accelerated the adoption of telemedicine by traditional healthcare providers, which helped people get accustomed to online delivery of healthcare. It is likely that many patients will continue to use online healthcare, which bodes well for healthcare providers, healthcare IT companies and cybersecurity companies.
---
Headquarters Operations
The build-out of headquarters projects will be an important force powering Georgia's current and future economic growth. Several major headquarters projects were announced in 2021, including Remington Firearms, shipping giant Hapag-Lloyd, logistics company Vanderlande Industries, healthcare staffing firm Soliant, artificial intelligence software leader GreyOrange and building products company GCP Applied Technologies.
Hartsfield-Jackson Atlanta International Airport and Georgia's ideal geographic location make the state a good hub from which to serve operations in the Americas. In addition, access to talent and the strength of the business community are important drivers of headquarters locations in the Atlanta metropolitan statistical area.
---
Healthcare
The outlook for Georgia's large healthcare industry is good but its economic recovery from the pandemic is far from complete. The ambulatory healthcare services subsector recovered very quickly while hospitals and residential-care facilities are still struggling. The industry is adapting to the new realities imposed by COVID-19. The fast rollout of telemedicine by many traditional healthcare providers made the ambulatory healthcare industry more resilient than hospitals or nursing and residential-care facilities. In 2022, residential care providers should benefit from an upturn in business that will lead to a sustainable recovery. The recovery may not be too vigorous, however, because family members will continue to provide more care to aged and ill relatives at home than prior to the pandemic.
On a more optimistic note, higher home prices will give homeowners who want to move into nursing and residential-care facilities the means to do so. As the pandemic winds down, hospitals should see a solid, sustainable upturn in demand for their more profitable services. Nonetheless, it may take years for hospitals to fully replace the jobs that were lost over 2020-21, especially in rural areas of the state.
---
Specialized Professional Services
Factors that will encourage providers of highly specialized professional services to favor sites in Georgia include the good business climate, logistical advantages in terms of serving far-flung clients and the available professional workforce. For example, the Boston Consulting Group's 2020 decision to create a new regional support center in Atlanta reflects the ease of using the area as a geographic hub from which to serve clients throughout the Southeast. Many changes created by the COVID-19 pandemic will generate business for providers of professional services and consultants, including the accelerated adoption of high-tech trends. Similarly, recent increases in regulations at all levels of government will mean more business for consultants.
---
Transportation & Logistics
The prospects for this industry are excellent, thanks in part to the abundance of logistics and distribution projects already in Georgia's economic development pipeline. Similarly, the build-out of economic development projects involving the relocation and expansion of manufacturers bodes well for the transportation and logistics industry. Additional state-specific drivers include the outstanding performance of the Port of Savannah and the Port of Brunswick. Improvements in the state's transportation infrastructure will expand the state's importance as a regional and national logistics and distribution hub. In 2022, this highly cyclical industry will benefit from more spending by consumers, increases in industrial production, more homebuilding and population growth. In addition, the accelerated shift to online retail benefitted Georgia's distribution and logistics industry in 2020-21 and will do so again in 2022.
---
Film Industry
Georgia's film industry set a record of $4 billion in direct spending in FY2021, and the industry's prospects in 2022 are excellent. Since the Georgia Entertainment Industry Investment Act was signed into law in 2008, direct spending by the film industry has increased from $93 million in 2007. State incentives help ensure that nearly all studio space is booked, while the Georgia Film Academy helps provide well-trained workers. The state's diversity of locations is a good fit for a wide range of film and TV productions. Now, new movie and film production increasingly begets additional movie and film production. As the professional, technical and physical infrastructure becomes more fully developed, the economic benefits of each dollar spent on film and television production in Georgia should generate larger impacts for our state's economy.
---
Financial Services
Several favorable trends, such as above-average population growth, suggest that Georgia's financial institutions will do very well. The upcycle in residential real estate will also benefit financial institutions as rising home prices favor banks' top- and bottom-line growth. However, weak commercial property prices will hurt banks. The prospects for deposit growth are good but an almost flat yield curve will limit financial institutions' ability to profit from borrowing short and lending long. Higher demand for many types of loans will support Georgia banks' profits. Households' credit scores are at decent levels and are not expected to deteriorate too much even as forbearance policies and eviction moratoriums end. Higher consumer spending will support growth of non-revolving credit to households. More major home renovation projects will cause the use of home equity loans to increase. More auto loans will add to the bottom line but substantially less mortgage refinancing will challenge the bottom line. Banks adapted to COVID-19 by accelerating the use of digital banking products as well as streamlining processes, which increases productivity, resilience and competitiveness.
---
Leisure & Hospitality
It will take many years for Georgia's leisure and hospitality industry to fully recover from changes wrought by the pandemic. Different segments of the industry are recovering at different rates. Leisure travel is recovering much faster than business travel. Within the business travel segment, trips to see clients and make sales calls are coming back fairly quickly, especially when such trips can be made by car rather than by plane or train. Domestic travel is coming back much faster than international travel, both for leisure and business purposes.
Demand for lodging will rise substantially, but from a still depressed level. Prospects vary by property type. Economy and midscale properties that cater primarily to essential workers, construction crews, truck drivers, first responders, extended-stay guests and drive-to-leisure travelers will fare best. Upscale and luxury properties catering to group and convention travelers, inbound international travelers and fly-to-leisure and business travelers will fare worst. Full recovery for such properties could take many years due to structural changes such as the widespread substitution of videoconferencing for in-person events.
---
Manufacturing
Production by Georgia's manufacturers will increase more quickly than GDP. The main impetus for growth in manufacturing production will be recovering global demand. Persistent shortages of critical inputs and other supply chain problems mean more goods are needed to restock stores and warehouses. Inventories were only partially restored in 2020-21 and will be fully restored in 2022. COVID-19 is the main downside risk, but an escalation of the U.S.-China trade war could endanger the projected increases in industrial production.
More positively, Georgia saw many manufacturing economic development projects announced in 2020-21 and those projects – as well as some announced in prior years – will continue to build out, contributing to the increase in industrial production expected in 2022. Georgia's manufacturing sector is cyclically sensitive and depends heavily on international supply chains and export markets. In most years, Georgia manufacturers' focus on export markets works to the state's advantage economically and will do so again in 2022.
---
Vehicle & Vehicle Parts
Georgia's vehicle and vehicle parts manufacturing industry will benefit from higher domestic demand for vehicles, although supply chain problems will limit the gains. Political pressures that encourage foreign manufacturers to invest more in U.S. production facilities and to buy automotive parts from U.S. manufacturers will help. Another reason Georgia will do well is that the U.S. automobile manufacturing industry is becoming increasingly concentrated in the Southeast. When it comes to both distribution and consumer markets, Georgia is in the sweet spot in the middle of the southern auto corridor with proximity to major assembly plants, major suppliers, interstates, ports and rail. Since the pandemic began, Georgia has had very good success growing the electric mobility supply chain.
---
Homebuilding
Georgia's homebuilding industry did well in 2020-21 and is likely to rise higher in 2022. Sales of new and existing homes, permits to build new single-family homes, permits to build new multifamily housing, and home repair and renovation activity will increase. Home price appreciation will slow. Increases in demand for housing will stem from low mortgage rates, job growth and population growth. In addition, investors will be active. Persistent low inventories of homes for sale ensure that the increased demand for housing will boost new single-family and new multifamily homebuilding. New jobs and slightly bigger inflation-adjusted paychecks will give households the wherewithal to buy homes. Mortgage rates will be low in 2022, though slightly higher than in 2021. The main negatives are supply constraints and decreased affordability due to recent home price appreciation.
---
Nonresidential Construction
Spending for new nonresidential construction will increase in 2022. Public spending for construction projects will be exceptionally strong. In the private sector, the upturn in nonresidential construction is underway but lacks vigor because office and commercial rents are depressed, vacancy rates are elevated and absorption is limited. Those powerful headwinds largely offset any tailwind generated by low interest rates and the housing boom.
Nonetheless, overvalued equity and bond markets make investors interested in income-producing property as an asset class. In many markets, tenants still will have the upper hand in lease negotiations in 2022, but to a lesser degree than in 2021. Private spending will increase to build data centers, communications infrastructure, research and development facilities and warehouses.