Improving Livability
North Fulton County CIDs are working to provide safer and healthier alternatives to cars for better quality of life.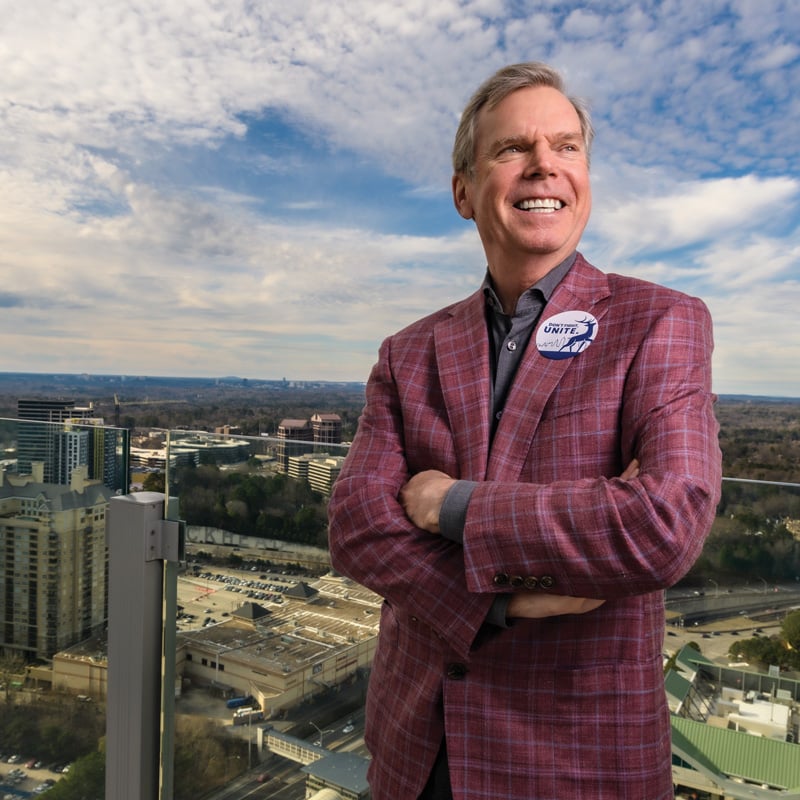 Peachtree Road, Atlanta's signature street running through the heart of Buckhead, desperately needed a makeover.
"Peachtree had become a 'traffic sewer' and was not attractive, and people did not want to walk along it," says Jim Durrett, the Buckhead Community Improvement District (CID) executive director.
Peachtree's state in the late '90s helped spur the creation of the Buckhead CID, one of five community improvement districts in north Fulton County pursuing infrastructure to make the car-centric metro area more walkable, safer and attractive.
The Buckhead CID, Midtown Improvement District, Upper Westside CID, North Fulton CID and Perimeter CIDs are quasi-governmental entities using extra taxes from commercial property owners to make upgrades and also to leverage those funds for additional work.
The CIDs are nimble in getting projects off the ground, says Brandon Beach, executive director of the North Fulton CID, which runs north along Georgia 400 from Mansell to McGinnis Ferry roads. In fact, he says, that's kind of why CIDs exist – to be able to fast-track projects and get things done quickly.
Peachtree now looks more appealing, Durrett says, with aesthetic upgrades from Maple Drive to Peachtree Dunwoody Road.
"It is much more walkable and invites people to get out of their car and to make a trip on foot," he says, noting work continues this year with a third phase from Maple to Shadowlawn Avenue.
It's just one of the improvements north Fulton's five CIDs are eyeing in 2022. Here's what they did last year as well as their future plans.
---
Midtown: Wow Factor
Midtown development has been on a roll in the last decade, with more than 50 large-scale projects that have transformed Atlanta's skyline. Nine high-rises were completed in 2021, with 16 under construction at year's end in the 1.2-square-mile area.
"I don't know of any urban district in the country that's got this volume of new development that's happening," says Kevin Green, president and CEO of Midtown Alliance, a nonprofit coalition of civic and business leaders that provides staffing and operations for the Midtown Improvement District. Amid this boom, the district is shepherding 13 major projects in 2022 as well as a half-dozen smaller ones. "It's going to be an extremely busy year for us," Green says.
High on the agenda are four street-scape projects with buffered multimodal lanes, sidewalk expansions, lighting, street furniture and landscape improvements – what Green calls "complete streets." Piedmont Avenue, Juniper, Fifth and Spring streets are getting this overhaul, which will be a boon for cyclists and pedestrians. Juniper is the biggest of the four, stretching from 14th Street to Ponce de Leon Avenue.
Also in the works is the proposed extension of 15th Street, from its dead-end with West Peachtree Street, to Williams Street. Green describes the project as "a relief valve for 14th Street" with bike lanes and pedestrian access.
"Everything we're trying to achieve you could just distill into four words – happy people on foot – which is why we spend so much time building out the pedestrian and multimodal infrastructure," Green says. "It's not just about moving cars. It's about moving people and making walking a preferred mobility option."
High-rises haven't hurt walkability either, Green says. "It improves it, frankly," he says, "because we've got our own zoning in place that requires new development to meet the street in such a way that they add to the pedestrian experience."
The district tries to enhance underused public spaces. The long-awaited Art Walk along five blocks between 10th and 11th streets will be a pedestrian promenade linking the Midtown MARTA station to the Woodruff Arts Center. "It's envisioned as a kind of a creative way to engage residents and employees and visitors in a real pedestrian-friendly atmosphere that's got a lot of public park," Green says.
Peachtree Place between Peachtree Street and Crescent Avenue, near the Midtown MARTA station, faces a similar transformation. Dubbed Commercial Row Commons, the project involves building a public plaza by eliminating on-street parking. "It needs places for people more than places to park cars," Green says.
Other plaza enhancements include landscaping on the southeast and southwest corners of 15th Street along Peachtree.
A few blocks south, a grassy area at Peachtree and 10th streets will be converted into a fenced dog park and a place for lawn games, public gatherings and a climbable play structure. The corner is a temporary space for public art, with "Conversation Peace," a take on the rock-paper-scissors game, the current eye-catching installation.
An artist-in-residence program is working with property owners who will donate street-level retail for a year, Green says, giving six artists a place to work.
"We're really trying to do is just sort of crank up the 'Wow, man,'" he says, "just try and shape the part of the urban experience that's under our control and find opportunities for people to come together in new and meaningful ways."
---
Buckhead: HUB404 Hopes
The pandemic has proven how much people crave outdoor spaces, adding urgency to Buckhead's need for a major gathering place.
High on the Buckhead CID's to-do list, HUB404 is a proposed 9-acre green space that will cap Buckhead's MARTA station and part of Georgia 400 from Lenox to Peachtree roads.
"There is no place where people can gather in a plaza or a park," the CID's Durrett says. "So we're creating a place where the community can come together and be a community."
With an estimated price tag of $268 million over three phases, the project hit a bump when the 2020 lockdown halted fundraising plans.
The CID hopes funding for final design and engineering will come in 2022, with construction ready by the end of the following year. The park could open in 2025, Durrett says, " if everything goes swimmingly." HUB404 would link into MARTA, with the Buckhead station beneath the park. It will boost transit ridership, Durrett contends, allowing people to arrive at the park without driving. It would connect to PATH400, the trail system that runs along Georgia 400.
Also tying into HUB 404, Lenox Road eventually will be a "safe street" from Piedmont to East Paces Ferry roads, Durrett says, referring to changes being made to improve safety for people who walk, drive, bike and use other forms of transit. Construction should begin in 2022 on the first phase, a boardwalk on the Lenox Square side of Lenox Road from the Lenox MARTA station to Peachtree Road.
A second phase would cross over Peachtree and extend to Phipps Boulevard, the loop behind Phipps Plaza. A third phase would integrate directly with HUB404, going from Phipps Boulevard, crossing Georgia 400 and finishing up where Lenox Road dead-ends into Piedmont Road. An elevated pedestrian-bicycle bridge system would connect to the park.
While those parts may be years away, the CID is working with several agencies and organizations on other multiuse streets this year. Work will start on widening Piedmont Road from Peachtree to Lenox roads, increasing the number of lanes from five to seven and creating a multiuse path on the west side. Construction also is set for a roundabout to make the Wieuca Road-Phipps Boulevard interchange less dangerous.
Safe streets also mean ensuring public safety, and the CID has increasingly turned its attention to crime, which has become a significant concern and a contentious issue related to the proposed secession of Buckhead from the city of Atlanta.
The Buckhead Coalition worked to develop a safety plan with the Atlanta Police Foundation, the CID and others. (Durrett is also the president and CEO of the coalition, which is a not-for-profit group of business and civic leaders that provides staffing and services to administer CID projects and programs.)
Other security measures include expanding the city's Operation Shield camera and license plate reader network, purchasing police cruisers for off-duty officers to do patrols, enlisting off-duty officers for bike patrols and providing rent subsidies so police can afford to live in the pricey area. The Atlanta Police Department will open a new precinct at Peachtree and West Paces Ferry Road this summer.
Buckhead City proponents point to crime as a factor in their push to create a separate city by seceding from Atlanta, but the CID opposes cityhood. "We can't solve our problems by carving ourselves away from everybody," Durrett says, speaking as Buckhead Coalition head.
Buckhead leaving Atlanta could spell the CID's demise.
"We are a creature of the city of Atlanta," Durrett says. "And if Buckhead is no longer in the city of Atlanta, then our continued existence as a community improvement district is in question."
---
Upper Westside: Green Goals
Parkland is a precious commodity for the Upper Westside CID as northwest Atlanta's industrial area transitions into more mixed-use development.
The Waterworks Greenspace at Northside Drive and 17th Street near the Hemphill Water Treatment Plant could be an oasis. Here, the CID is collaborating with the Friends of Waterworks, Park Pride and the city on "a learning landscape" set to open in 2022.
"We decided it'd be just so fun to make these installations and various elements that we're designing [for the park] tell the story of the treatment process that's happening all around on the rest of the property," says Elizabeth Hollister, CID executive director.
Seven steps of the water treatment process are now interpretive play elements, Hollister says. "There's a little amphitheater that represents – it has three steps – and it represents the three different reservoirs, where water is piped in from the Chattahoochee," she says.
The district also is helping move back chain-link fences at 17th and Howell Mill Road at the Hemphill plant following negotiations with the Department of Watershed Management over the hilltop corner. The fences were first installed before the 1996 Olympics. The move will open up an additional 2 acres of green space and offer what Hollister calls "breathtaking" views of downtown, Midtown and Buckhead from "The Hill," one of the highest points in the city.
The Westside CID completed its first master plan in 2021 after tackling projects adopted earlier. Having a districtwide plan is important, Hollister says, in a CID that covers three city council seats, six neighborhoods and up to five neighborhood planning units.
"We're now at our five-year mark, which just feels to me significant," she says. "I feel like we're hitting our stride."
Transportation is another focus. Railroads divided the district into isolated pockets, limiting the number of roads and resulting in congestion as the population ballooned. About 40% of roads lack sidewalks, making walking difficult and dangerous.
"We're trying to retrofit our industrial corridors to be able to be what we call multimodal," Hollister says, "so that people who want to walk, people who want to bike, people who want to ride MARTA and drivers all have options for how to use the roadways."
Streets such as Howell Mill Road are so narrow in spots it's hard to retrofit them for bike lanes, Hollister says. As a result, construction is planned in 2022 for bike lanes on Brady Avenue, a parallel route to Howell Mill, linking up with existing lanes on Marietta Street.
"It'll be a way [for bikes and scooters] to actually get to White Provisions and the Interlock [a mixed-use development] and all of the development that's happening around 14th Street and Howell Mill all the way from downtown," Hollister says.
It's a first step in building a cycling network in West Midtown as the CID studies bike lanes on 10th and West Marietta streets. "Those are major initiatives for 2022," she says, "that would both tie into this first investment in Brady Avenue."
In addition to bike lanes, the CID is thinking about multiuse trails. The Atlanta BeltLine, the loop of mostly former railroad tracks that goes around the city, is supposed to come through the area, but there's no easy rail-to-trail conversion for tracks still in use. "The Beltline has for a long time saved this area for last," Hollister says, adding she's encouraged by the progress of a feasibility study reviewing locations and considering community feedback.
The CID uses an incremental approach, Hollister says, evaluating small improvements before deciding on a bigger rollout. For example, it sought a pocket park at MARTA's Brady Avenue facility. When MARTA initially declined, the CID pursued a mural instead.
"They responded so positively to the mural that suddenly the idea of a pocket park was back on the table," Hollister says, noting the Brady Avenue park will soon be built.
---
Perimeter: Interchange Makeover
Metro Atlanta may awaken from one major traffic nightmare when the Georgia Department of Transportation (GDOT) finally completes the reconstruction of the I-285 and GA 400 interchange after five years.
"Our main goal is that interchange," says Ann Hanlon, executive director of the Perimeter CIDs, made up of the Central (DeKalb) Perimeter and Fulton Perimeter CIDs. "That is the big-time investment."
Perimeter CIDs contributed $10 million to the $800 million GDOT project and help communicate work progress and traffic tie-ups to ease commuters' pain.
"It's been a long time in the making," Hanlon says. "I will be ready to pop a bottle of champagne, that's for sure."
The interchange makeover will dramatically increase traffic flow from Alpharetta to downtown Atlanta, she says.
"It will improve mobility over the top half of North Metro Atlanta," Hanlon says. "I don't think people grasp how positive it will be."
The complicated project includes construction on I-285 bridges over Glenridge Drive, Ga. 400 and Peachtree Dunwoody Road that will involve lane closures on I-285 in June. The current plan will shut down two inside lanes on 285 in both directions from Roswell to Ashford Dunwoody roads.
Replacing the stretch of 285 over Peachtree Dunwoody will allow part of PATH400 to reach the Perimeter, Hanlon says.
It's "a critical linchpin to get the trail built under Peachtree Dunwoody," she says, explaining GDOT's work there will enable a trail system to connect to PATH400 in Buckhead and eventually to the BeltLine.
The trail's first section will run to the "King and Queen" office towers at Concourse. Perimeter CIDs then will join with the city of Sandy Springs to continue the trail up Peachtree Dunwoody to Hammond Drive and finally Mount Vernon Highway – a project Hanlon estimates will take "a couple of years."
Once the interchange work is complete, Hanlon says, the focus turns to proposed express lanes across 285's upper half that will increase access to the Perimeter. Toll lanes also are planned on Georgia 400, although the procurement process has been delayed.
"It will open up new lanes and new access across points into the Perimeter," Hanlon says, including new exits at Perimeter Center Parkway on I-285 and Mount Vernon Highway on 400.
"Ten years from now access will be fantastic," she says. "There will be half a dozen ways to get in or out regardless [if you're] in a vehicle, on a train, on foot or on a bicycle."
Other 2021 road projects extended the westbound left-turn lane from Perimeter Center West to Perimeter Center Parkway in Dunwoody and the left-turn lane from westbound Perimeter Summit Parkway onto northbound Ashford Dunwoody Road in Brookhaven.
The Perimeter CIDs upped beautification efforts as well. Last summer saw a three-panel mural, "The Commuters," unveiled at the Dunwoody MARTA station.
The Sandy Springs and Medical Center MARTA stations may be next. "Hopefully, [Dunwoody] was the first of many," Hanlon says. "It's important to create a sense of place for commuters."
---
North Fulton: Georgia 400 Growth
Georgia 400 remains the main artery generating prosperity in the North Fulton CID, its executive director says.
"I can tell you the state is committed to Georgia 400," says Beach, also a state senator (R-21). "We look at this as an economic engine for the state with all the businesses up here. And so we know we need to make sure we're investing."
Among the CID's recent investments was a project to ease traffic at Georgia 400 and Windward Parkway. It involved adding a triple left-turn lane on Windward Parkway coming north off 400, a new lane down Windward over to Deerfield Parkway and a double left-turn lane from Windward onto Westside Parkway. The additions "really helped relieve congestion coming off 400 on Windward Parkway, which is a major employment center force," Beach says.
The CID looks next to extend Davis Drive over to Westside Parkway. "It'll open up an artery to have some more connectivity from Mansell [Road] to Westside," Beach says.
Other efforts to spur growth have focused on technology, transportation improvements and trail system expansion.
The Connected Vehicle program at more than 50 intersections is a way to improve public safety and transit, Beach says. Under the program, intersection stoplights use special technology sensors to communicate with vehicles and others via an app.
"All the traffic lights now are synchronized," he says, "and they're connected to a system so that, for example, if a fire engine is trying to get to 400, they have a button they can hit and all the lights will turn green so they can get to the accident anywhere from five to seven minutes quicker, and that saves lives."
Beach is a long-time transit advocate and notes the program will "grow our transit opportunities up here," adding that people will want "to get on a bus and not stop and go from Point A to Point B in a seamless, efficient manner." The CID has invested in five MARTA bus shelters as another way to promote transit ridership.
Additionally, the CID has been active in developing a 3-mile part of the Alpha Loop, a multiuse path that will connect Alpharetta, the Avalon mixed-use development, the Northwinds area and North Point Mall.
"It will improve mobility but really spur economic development and im- prove the quality of life in Alpharetta," Beach contends, describing it as a mini- BeltLine.
The CID also will be involved in the Encore Greenway Park Gateway, which will tie the Alpha Loop with the Big Creek Greenway, another multiuse trail system.
After adopting a third blueprint plan recently, the CID is eyeing new projects, especially as the $1.2 trillion federal infrastructure legislation promises road and bridge funding.
Beach wants to get as many of those shovel-ready as possible." "We can put our hand up and say we've got Project A ready, we've got Project B ready, we've got Project C ready," he says. "Give us some money, and we'll start building it."
It's all part of the way the North Fulton CIDs are influencing the Metro Atlanta region using self-imposed tax revenues from their commercial businesses to change Atlantans' car-centric ways into more livable and pedestrian-friendly corridors.