Perpetually Pushing Ahead
As the Georgia ports smash volume records, investments in future growth remain top priorities.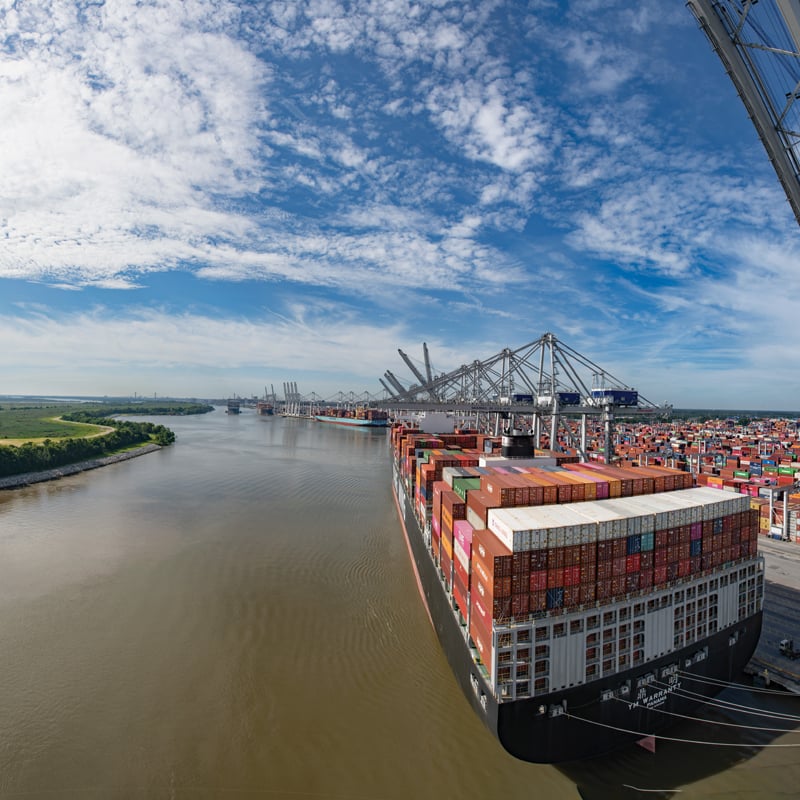 Modern and massive, the Georgia ports run like well-oiled machines. Since the 1700s, the Savannah and Brunswick ports have played integral roles in international trade that continue to grow. But their historic past belies today's future-oriented operations. With efficiency ever top of mind, the Georgia Ports Authority (GPA), which owns both facilities, is constantly improving the ways cargo comes in and goes out. That includes relatively small tweaks like configuring on-terminal roadway roundabouts so trucks carrying 40-foot containers don't have to come to a complete stop until they reach dockside, and huge investments in the most advanced cranes and equipment to cut cargo loading and unloading times.
Perhaps defying logic, the Georgia ports have had some of the busiest months ever during the COVID-19 pandemic, setting trade records several times in part because of the spike in e-commerce. In July, the Port of Savannah handled 25% more twenty-foot equivalent containers (TEUs) than the previous year. Cars and machinery units at the Port of Brunswick were up 39% compared to July 2020. And Savannah's Garden City Terminal became the first container terminal on the Southeast or Gulf coast to move more than 5 million TEUs in a fiscal year.
GPA Board Chair Joel Wooten says the ports are experiencing volume now that they didn't expect until 2025 or 2026. "Savannah has been the fastest growing port in the country but it's been steady growth … fairly predictable," he says. "And then in the past year, we had a 20% growth spurt, so we handled 900,000 more containers than we had projected. It's a tribute to our staff and planning and employees that we were able to handle a 20% increase and continue to do it efficiently and do it well."
The ports typically operate at about 80% capacity. But Executive Director Griff Lynch says right now "we're probably operating at capacity. A year and a half from now, we'll be back into that mode of more capacity than we need, and we'll keep growing into that."
His prediction will likely come to fruition because of the money GPA is plowing into port expansions and enhancements. Since its inception in 1945, GPA has used port revenues to fund improvements and earlier this year, the board approved $205 million in expansion projects.
But for the first time in its history, GPA will pursue a $525 million state-issued bond to fund improvements that will address volume growth. Wooten says the bond issue will help the ports grow in an orderly manner. "If you're operating at about 80%, you can do it very, very efficiently and you can do it at a lower cost than most places. When you have a 20% one-year increase, your capacity is quickly used. We're going to put all that money back into the ports for new cranes, more yard space and more container space."
---
Bigger, Higher, Faster
Cranes aren't a subject most people get excited about but at GPA, new cranes practically inspire rapture. That's not only because of their high-tech capabilities, but because they dramatically increase efficiency and throughput. Highly skilled operators helm several types of cranes GPA uses. These include six-story tall ship-to-shore cranes costing up to $40 million that load and unload 30-ton containers on the largest ships – often simultaneously; mobile harbor cranes that load and unload smaller ships; rubber-tired gantry cranes that move containers stored on the terminal; and rail-mounted gantry cranes used to place containers on trains.
Currently, the Savannah port has 36 giant ship-to-shore cranes and eight taller ones are on order. Six of these will replace older models, bringing the total to 38. "These will be the latest, greatest state-of-the-art," says Lynch. "Six of the cranes will be 164-lift height, so those will be the first of their kind for the Georgia ports. We're going higher and higher so we can [serve] larger vessels. That's what it's all about." He says the new cranes will be delivered by early 2023.
The mobile harbor cranes have allowed Savannah's smaller Ocean Terminal to absorb some of the ship traffic while Garden City Terminal's Berth 1 is undergoing renovation. The renovation is needed for the main container port to accommodate more of the largest ships, those carrying up to 16,000 TEUs. The project involves straightening a bend in the river at Berth 1 and when it's complete in 2023, the berth will be able to serve four of the biggest ships at a time and three additional ones. The result will contribute an estimated 1 million TEUs per year, bringing Garden City's total capacity to 6 million TEUs annually.
Along with more capacity comes the need for additional space to store containers. Two projects are in the works in Savannah to fulfill that need in perfect timing with the port's growth. The Peak Capacity project will add 2,100 new grounded slots for stacking containers that translate into space for more than 650,000 TEUs annually. And GPA recently acquired land near the west side of the port property that will add space to store up to 1 million containers.
One project Lynch is excited about is expansion of the Savannah port's cross-dock capabilities, which eliminate some container storage and speed up cargo exit time from the port. Inbound freight from ships will be immediately loaded onto outbound tractor-trailer trucks via a long, narrow building. The new facility will encompass 300,000 square feet and will have over 300 doors when it opens in late 2022. GPA anticipates transloading 700 to 1,000 containers daily on what is being dubbed the "one-stop dock."
"We have a lot of customers coming in the port and saying they want cross-dock capability," says Lynch. "I think this is groundbreaking because there's nothing [at other ports] that's going to be this large."
The Brunswick port is also getting into the expansion act with the development of a fourth berth to handle more roll-on/roll-off cars and machinery. GPA has received a U.S. Army Corps of Engineers permit to go ahead with the new berth and the project is currently in the engineering phase. Lynch says it will be a two-year project that will probably be completed in 2024.
---
Have Tracks, Will Roll
Increasingly, GPA and its customers are focused on improving efficiency – and environmental impact – through the use of rail to transport cargo. In 2018, the Savannah port began the Mason Mega Rail project designed to increase the number of on-terminal working tracks to 18 for CSX and Norfolk Southern railroads. The $220 million project will be completed this year and will increase the port's capabilities for loading and unloading trains to 2 million containers per year.
"We can put on terminal eight or nine 10,000-foot-long trains at one time," says Wooten. "When the containers are unloaded off the ship, we can take them directly from the dock over to the railyard and put them onto a train. And it can be out of Savannah going to a destination in 24 hours. That's something very few other ports can do. We've got the newest and the best on- terminal rail in the country."
The Mason Mega Rail enables GPA to better serve customers in a region that now extends from Dallas to Memphis to Chicago and elsewhere in the Midwest. Trains from Savannah arrive in the Windy City in fewer than three days.
Rail partners like Norfolk Southern will also be able to provide better service thanks to GPA's rail capabilities. "As we talk to our customers, they say they want more options," says D'Andrae Larry, Norfolk Southern group vice president for international intermodal. "This is speaking to what the market wants and it speaks to more capacity on the East Coast."
He adds that rail is a low-cost, green option that frees up space on highways and creates less congestion in cities. "As we gain scale, [GPA] can load bigger trains and that allows us to accelerate our cost advantage over over-the-road trucking and our green advantage."
A contributor to GPA's increased rail efficiency is the Appalachian Regional Port (APR) in Murray County. Opened in 2018, the inland port provides a 388-mile direct route to and from the Garden City Terminal via CSX rail lines. Occupying 42 acres, the facility's current capacity is 50,000 containers. Lynch says the past year has been a strong one for APR and it has exceeded expectations. "We were hoping to be at about 20,000 to 25,000 containers by now," he says. "This year we closed out over 35,000, so that has been a real success story." The inland port has also helped propel Murray County's economic development with new manufacturers locating nearby and existing companies expanding.
On the heels of APR's opening, GPA's next inland port was announced in Hall County, near Gainesville. It's taken a couple of years for pre-construction activities like site selection, final design and permitting, but construction will start the first half of 2022 and be completed in about two years. The final piece of the puzzle came in late June when the U.S. Department of Transportation awarded the project a nearly $47 million grant that will cover about a third of the total cost.
Hall County is a logical location for an inland port due to the proliferation of manufacturing and poultry processing operations, its location along Norfolk Southern's main rail line through Northeast Georgia and its proximity to four-lane state and interstate highways.
"We've got 320 manufacturers and processors in Hall County and they employ almost 30% of our workforce," says Tim Evans, vice president of economic development at the Greater Hall Chamber of Commerce. "Many of them are looking at this as a way to streamline some of their logistics and particularly supply chain."
The new Northeast Georgia Inland Port will enable customers to ship to and from the Savannah port, a distance of 324 miles, and rely on trucks only for last-mile delivery. With the ongoing shortage of truck drivers, Evans says it's easier to find drivers who want to do short hauls between the inland port and the customer facility. "It will [provide] opportunities for our local trucking firms that serve those short hauls with their own drivers, trucks and trailer frames that are based here in Gainesville," he says.
When it's fully operational, the 104-acre Northeast inland port will have a top capacity of 150,000 containers a year traveling by rail that will offset 600 roundtrip truck miles for each container.
"The volumes that the Georgia Ports Authority aspires to for this inland port terminal are already here," says Evans. "But it's a long-term strategic play. To have an inland port in this region of the state helps ensure that volume of traffic continues to go to the port of Savannah. [It] creates an extension of the Savannah port."
Planning for equipment purchases, capacity expansions and inland ports – including one being discussed for West Georgia near the Kia plant – takes a village. GPA's engineering, finance, operations and trade development teams create projections of customer demand and requirements to meet the demand. Outside consultants and in-house experts develop cost-benefit projections and shipping forecasts. When all the information is distilled, a 10-year infrastructure building plan emerges that is updated every two years.
Some projects, like the $706 million Savannah Harbor deepening that began more than 20 years ago and is about 90% finished, show up on multiple 10-year plans. But GPA keeps finding ways to get them done and add more.
"I'm bullish on the Georgia ports because of the team that we have, because of the location of the ports geographically and because of the central philosophy that the Georgia Ports Authority has had to invest and reinvest our earnings into more capital improvements to make the ports not only bigger, but more efficient," says Wooten. "We have probably the most efficient, most competitive ports in the United States. We have great partners … and great partnerships with our customers because when we get a customer, they usually keep coming back and keep expanding. And that's how good businesses are grown."
---
Did You Know?
Georgia's ports have many advantages when it comes to size, scale and efficiency.
Savannah
• The Garden City terminal is North America's fastest growing and largest container terminal, encompassing 1,345 acres.
• Garden City and Ocean terminals have nearly 10,000 feet of continuous berth space – the longest in the country – for loading and unloading container cargo. The terminals serve 37 ships weekly, the East Coast's second-highest number.
• The largest ships calling on the port hold 16,000 twenty-foot-equivalent containers (TEUs). These ships are as long as four football fields and half a football field wide.
• Ship-to-shore crane operators lift 30-ton containers about 34 times an hour.
• There are 34 miles of working railroad tracks on terminal.
• 6,000 to 7,000 trucks drive in and out per day.
• 9.3% of total U.S. containerized cargo volume and 10.5% of U.S. containerized exports were handled in FY2020.
Brunswick
• The port spans 504 acres and has the capacity for 939 acres at full build-out.
• More than 685,000 vehicles and heavy machinery crossed the dock in FY2021.
• Second-busiest port in the nation for import and export roll-on/roll-off cargo such as cars and heavy machinery.