Recovering, Reopening and Ramping Up
South Fulton County CIDs are forging ahead with efforts to attract more businesses, visitors and residents.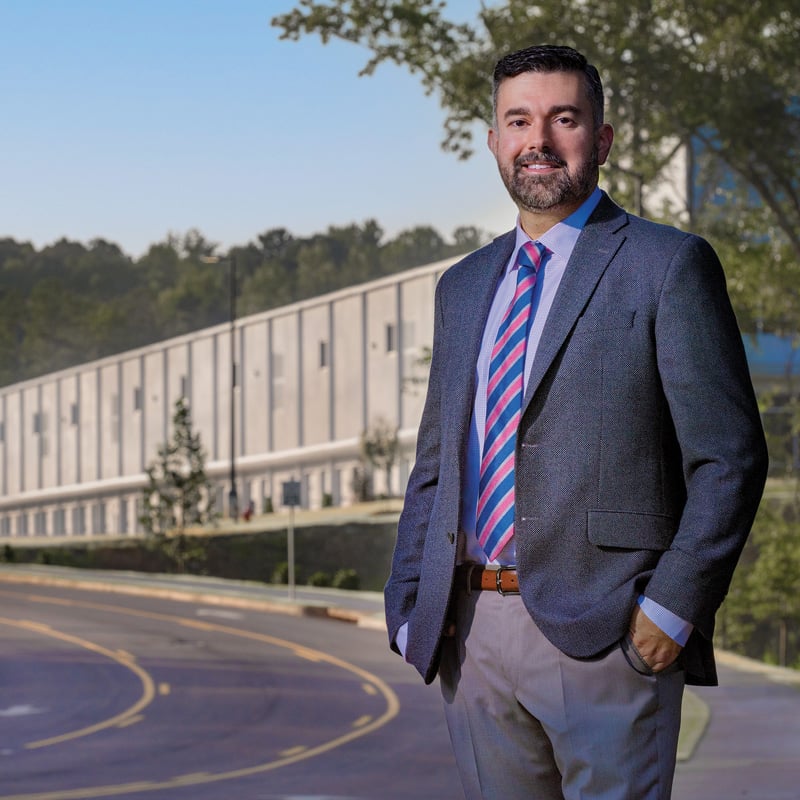 More than 18 months after the pandemic shut down businesses across the nation as well as in Atlanta, the region's community improvement districts (CIDs) are forging ahead, funding and implementing plans to improve mobility, safety and sense of place while attracting further investment. These self-taxing districts have also funded valuable services like COVID-19 testing and vaccine administration.
This summer, as COVID vaccination rates in Fulton County outpaced those statewide, the Hawks gave downtown Atlanta something to cheer about as they made it to game six of the NBA Eastern Conference Finals. Though the Hawks fell to the Milwaukee Bucks 118 – 107, they previously knocked off the New York Knicks and the top-seeded Philadelphia 76ers to advance to the conference finals. It was the first time since 2017 the Hawks made the playoffs.
"We are experiencing a reopening across the country, and I think downtown is no different," says A.J. Robinson, president of the Atlanta Downtown Improvement District (ADID) and its parent organization Central Atlanta Progress (CAP). "We've had several big sporting events, including basketball; the Hawks did unbelievable."
On the heels of the basketball playoffs, an AmericasMart trade show was underway. AmericasMart is a wholesale trade center located downtown which consists of more than 7 million square feet of showroom floors across three buildings.
"So the hospitality industry is recovering and the back half of the year will be even stronger," Robinson says. "There's also been an amazing amount of tourism at the [Georgia] Aquarium, World of Coke, the Children's Museum [of Atlanta]. We're getting a lot of people staying in hotels; hospitality tourism is coming back in a significant way."
Robinson credits the uptick in visitors to the COVID-19 vaccines. As of Aug. 4, 52% of Fulton County residents had received one dose of the COVID-19 vaccine, while 46% of the population was fully vaccinated. That's compared to 46% of Georgians who had received one dose of the vaccine, while 39% were fully vaccinated.
"People are going places where they feel safe," he says. "People are going places where people are vaccinated, and we are one of those places."
At approximately one square mile, the ADID is much smaller than some of the other community improvement districts in the state, but Robinson is quick to point out it's also much denser than most districts.
"Frankly, we're the most visible CID probably in the state of Georgia, and the things we work on are different than what others are working on because of our geography and our visibility," he says. "We're focused on the image and importance of being the heart and soul of Atlanta, and Georgia to some extent, because we are the capital city and so many people visit this part of the state."
Protecting the city's image and its people during a global pandemic has presented unique challenges for ADID over the last year and a half, but the CID rose to meet those challenges in unique and unexpected ways. ADID used its access to digital advertising signs to display public service announcements, including information on COVID testing programs and other safety-related messaging. It also created the ADID Social Impact Safety Team to help the city's homeless.
"We have spent over $350,000 in the past year engaging over 2,000 folks on the street, resulting in nearly 900 shelter placements and connecting over 1,000 folks to COVID testing or vaccinations," Robinson says. "We created our own little social impact force that property owners could call without calling 911, if they had a problem with a homeless individual, and that has been very successful. We felt like it was important to the property owners in our CID to do something different that we wouldn't haven't normally done pre-COVID."
---
New Name, New Plans
Gerald McDowell, executive director of the ATL Airport CIDs, wasn't among the throng of fans at the NBA Eastern Conference Finals. But he did take his daughter to a Women's National Basketball Association game at Gateway Center Arena in College Park to celebrate her 27th birthday.
"I'd estimate there were about 2,000 people at the game," McDowell says. "Capacity is coming back and activity is coming back."
In February, the CIDs officially changed their name from Aerotropolis to ATL Airport CIDs (AACIDs) to better reflect the composition of two CIDs working together, one in Fulton County and one in Clayton County. The districts include more than 325 property owners representing over 900 parcels.
"For us it was kind of a mixed environment during COVID," McDowell says. "By being in the airport area we actually saw an increase in activity especially as it relates to e-commerce."
The AACIDs were part of a recently wrapped $350,000 freight cluster study that was funded in part by the Atlanta Regional Commission (ARC), focusing on the movement of freight and logistics in the South Metro area. The AACIDs received an ARC grant of about $290,000 and contributed a $60,000 match, according to McDowell.
"Coming out of that study, there are 30 or 40 projects that we're going to be pursing to address some of those safety and road issues that were identified," he says. "There's some road widening that may be necessary and those projects could cost in the neighborhood of $25 million to $50 million and include both CIDs."
McDowell says the next step is to prioritize the projects they hope to advance in the next couple of years.
"There will be a 10- to 12-month long process of meeting with stakeholders: each city, each county and strategic partners like the airport, Amazon, FedEx and such," he says. "The relevance of that study and those projects is addressing current movement of freight and logistics, but as we move forward, we need to look out to the next 10, 20, 30 years and make sure the infrastructure can accommodate the growth in South Metro."
In 2018, the joint CIDs self-funded a $350,000 transit feasibility study that was completed in 2019. As a result of that study, they created a mobility district with plans to include personal rapid transit (PRT), an autonomous shuttle operation and a microtransit operation.
"We funded the study 100% because we wanted to be able to take an independent look at the South Metro area to see where the [transportation] gaps are and look at some of the potential solutions," McDowell says. "We are now pursuing each of these transportation options, which are in various stages [of implementation]. This year we're hoping to launch the autonomous shuttle."
The two-year, $1.93 million autonomous shuttle project would run in an office park off Phoenix Boulevard in Clayton County. The 1.5-mile route would connect to three MARTA stops to provide first-mile/last-mile connectivity.
"People are having to walk a long distance between MARTA stops and their destination," McDowell explains.
McDowell estimates it will take six to nine months for the autonomous shuttle to become a reality; six to 12 months for a microtransit operation (this is an Uber or Lyft-like service) to come online; and five to seven years for PRT (on-demand podcars that run on a designated track) to become a part of the mobility district.
"We know in order for South Metro to grow, a 21st century infrastructure system has to be in place which includes these new technologies," McDowell says.
---
All the Right Moves
Moving people and products efficiently and safely are also top of mind at the South Fulton CID. Covering 6,446 acres of commercial and industrial property mostly along the Oakley Industrial Boulevard corridor, the South Fulton CID is a large logistics hub. During the height of the pandemic, companies within the district played a crucial role in the distribution of vital supplies, including Clorox, Duracell and US Foods.
"These warehouses never shut down during the pandemic and now today, they're really struggling to find good employees," says Joddie Gray, CID administrator.
Last year, MARTA put in a special bus route from its College Park Station to the Oakley Industrial Boulevard area making it faster and safer for the area's essential workers to get to their jobs.
"The College Park Station to Oakley Industrial Boulevard gave our commuters a way to get to work during the pandemic and today it remains very well used," Gray says. "It's really been a popular route and it's been really good for our community."
Additionally, the CID completed its Bohannon Road sidewalk project, which is also aimed at providing workers a safe path between MARTA and their workplace.
Another commute option in the district is a MARTA stop at a park-and-ride lot on State Route 74, just south of Oakley Industrial Boulevard. The lot opened just before the onset of the pandemic and subsequently sat vacant.
"Today we're trying to get people into the park-and-ride and now it's starting to fill up," Gray says. "It's really designed more for the Fayette County commuter to get off the road before the interchange at I-85 and State Route 74. It's a very congested interchange, and GDOT is working on a right-of-way expansion now."
And, there's more good news on the mobility front within the CID, its Howell Avenue extension project has also been completed, creating an alternate route for trucks and commuters around the CSX railroad tracks, which are often blocked by trains coming and going from the railroad's intermodal facility.
---
Essential Efforts
The South Fulton CID isn't the only district chock full of essential workers and businesses. Home to food production giants, including Coca-Cola, Pepsi, Frito- Lay, Quaker Oats and Publix's pie-baking facility, along with some of the biggest names in transportation – UPS, Ryder, Penske and Knight Transportation – the Boulevard CID stayed busy.
"Between logistics and food production, Fulton Industrial was buzzing," says Gil Prado, executive director of the Boulevard CID. "Last year when the pandemic began I remember the initial shock of the first couple months, but I also remember driving to work in June during the state of emergency, and mine was the only car on the interstate."
That solidary commute was in stark contrast to the "tremendous truck traffic" and the problems that created in the district, Prado says.
"Trucks were parking illegally and blocking driveways" Prado recalls. "People were shopping from home, particularly grocery store items, and those things are what are produced on Fulton Industrial."
Even as the pandemic raged on, Prado says the Boulevard CID continued working on pillar projects, including public safety initiatives and landscaping improvements.
"We continued to pick up litter and mow the grass to keep the whole district looking good," he says. "There was really no slowdown in our work."
Over the 10 miles the Boulevard CID occupies, there are more than 28,000 workers, more than 1,000 businesses and more than 300 owners across 52 million square feet of industrial space, including a 1.1-million-square-foot Amazon facility that came online last year.
"The district is 97% occupied, so there's very little vacancy," Prado says. "The district is thriving, and it's as busy as it ever has been."
---
Banking on Brainpower
The West End CID may not have millions of square feet of industrial space in its footprint to capitalize on, but it does have the unique advantage of being home to three colleges – Spelman, Morehouse and Morehouse School of Medicine.
"These universities are turning out graduates and a lot of brain power into the marketplace," says Christopher Pierre, West End CID project manager. "The innovation and creativity that that can bring is a huge benefit to the West End."
To make sure the district is putting its best face forward, the CID has made beautification of the Lee Street and Joseph Lowery Boulevard interchanges a priority.
"These are the front doors to these campuses, especially Lee Street," Pierre says. "Having a certain level of beautification is of benefit to them in terms of first impressions of prospective students, parents dropping off students for the first time and students returning to campus for homecomings."
As mostly an amalgamation of many small properties, the West End CID focuses a lot of its efforts on strategic partnerships, according to Pierre.
"The West End is a pretty hot area in terms of development," he says. "We're talking with developers to see if we can work with them and help them accomplish the goals that they have."
One of the larger developments in the West End is the Lee + White project on the Beltline. Located on 23 acres along the Westside Trail, the mixed-use development includes breweries, restaurants, retailers and food manufacturers.
"There are four or five very large developments nearby, and we're trying to figure out ways to work with them and ultimately, if we're able to, be a good partner," Pierre says. "The CID is trying to figure out ways to be of service to our members, but also work with our neighbors to benefit the CID."
Pierre believes the West End is prime for continued redevelopment and sees the CID's role as helping to enhance what the neighborhood already has to offer.
"Our CID is unique because of its position as a pretty purely inner-city CID," he says. "If the city continues to grow and see job growth, I think the West End will continue to be a contender for relocations, for moves, that bring concentrations of employment."
Like West End, the other South Fulton County CIDs are looking forward to a continued business boom and providing the services businesses and residents need to make their communities desirable locations now and well into the future.