Making a Difference
Cobb County's three CIDs are key to improving the ways people live, work and play.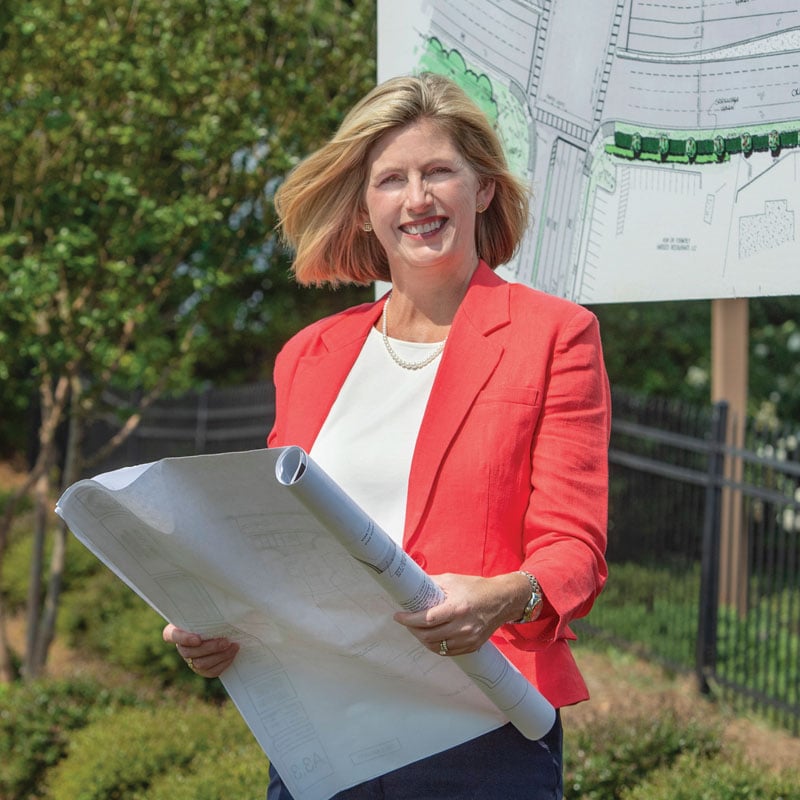 Somewhat surprisingly, it was business as usual for Cobb County's three community improvement districts (CIDs) last year.
"If anything it was busier from a logistics perspective," says Tracy Rathbone Styf, executive director of the Town Center CID. "We worked remotely, but we worked as an essential business throughout COVID."
Community improvement districts are a collection of commercial property owners who pay additional, self-imposed taxes within a certain geographic boundary. They leverage private dollars to fund public projects like infrastructure improvements and traffic mitigation, as well as the creation of new parks, trails and greenspace. In addition to the Town Center CID, Cobb County is also home to Georgia's first CID, Cumberland, and one of the state's smallest, Gateway Marietta.
"[CID] board members are volunteers and for the most part, they pay for the opportunity to volunteer," says Mason Zimmerman, a founding member and former chair of the Town Center CID. "Board members are invested and highly motivated to make our communities better."
Just as the pandemic was taking hold around the country last March, the Gateway Marietta CID (GMCID) voted to renew itself for another six years. Compared to the 6.5-square-mile average size of a CID in Metro Atlanta, Gateway Marietta prides itself on being "small but mighty," consisting of 73 parcel members and spanning about 1.2 square miles, all within the city limits of Marietta.
"During the pandemic we did some great things," says Caroline Whaley, GMCID administrator. "We renewed our CID life cycle and we worked to make sure we were connecting with our commercial property owners and sharing resources. During that time it was so important that communication was happening, even if it was duplicate information."
Public safety is one of the three pillars CIDs are based on, and in 2019 GMCID became the first CID in Cobb County and one of the first in Georgia to install license plate readers, placing four cameras within the district. The other two pillars are infrastructure improvements and beautification, Whaley says.
"We've seen great success with the cameras, not only helping curtail criminal activities, but also in gathering information to continue to make the area safer," she says. "The CID, since its beginning, has worked to maintain two large landscape installations at the Delk Road and Marietta Parkway exit ramps [off I-75]. Those two installs represent about $115,000 in beautification efforts."
One of GMCID's biggest accomplishments, according to Whaley, was securing a community development assistance grant from the Atlanta Regional Commission (ARC) last spring. The $60,000 grant, combined with the CID's contribution of $15,000, is being used to study signage and creative placemaking within the district and is funded through ARC's Livable Cities Initiative.
"We're looking at all aspects of signage, wayfinding and gateway, for the entire CID," Whaley says. "The creative placemaking piece is for the Blanch Drive underpass at the northern edge of the CID. The underpass falls within a residential area, but it is a connection point between east and west."
The study is looking at opportunities to do some more landscaping, add pedestrian paths that would encourage walking, install decorative lighting under the bridge and find places for public art, Whaley says.
"We're still in the throes of the study, but we hope to wrap up by the end of October with recommendations," she says. "We're working with those who live and work in the area and the CID board to identify not only what would fit well, but what is desired."
---
Tackling Transportation
Celebrating its 25th anniversary next year, the Town Center CID was created in the state in 1997, thanks to enabling legislation pushed in 1985 by then-state Rep. Johnny Isakson and then-state Sen. Roy Barnes.
"We're a very established district with very diverse assets," Styf says. "In our CID we have commercial properties, Kennesaw State University, Cobb County International Airport, which is the third busiest in the state, and we have 5 million square feet of restaurant and retail in the district. What that all means for Town Center and our CID is, we have a lot of projects that are meeting the needs of our diverse assets."
There are 496 parcels in the Town Center CID and 275 property owners, according to Styf. Last year, the CID secured the last $15 million needed to fully fund Phase 3 of the South Barrett reliever road alignment project. The project will give drivers an alternate route around Barrett Parkway, one of the busiest corridors in the district. It's the largest infrastructure project in the history of the CID.
The third phase of the project will begin at Roberts Court and cross over I-75 and the managed lanes, linking the district's east and west sides. It is expected to reduce congestion on Barrett Parkway by 22%.
"Phase 3 is a $33.5 million project that will go to construction next year," Styf says. "We get to be the dreamers. We know our areas better than anyone else, and we are the subject matter experts on what can be in our community."
CIDs come in at the beginning of projects, conducting feasibility studies, planning and creating concept designs. The CID then works with partners at the ARC, Georgia Department of Transportation (GDOT) and Cobb Department of Transportation (Cobb DOT) to bring these plans to fruition. Last year, the Town Center CID board approved investing $102,000 to install smart technology on 57 traffic lights within the district to improve traffic flow and allow for emergency vehicle preemption.
"We're working with GDOT and Cobb DOT on traffic signalization improvements," Styf says. "It will provide the ability for traffic lights to adjust for emergency vehicles that need to come through the intersection more quickly, helping them get to where they need to go faster, as well as providing additional congestion relief. It's in the process of being installed, and hopefully by next year it will be up and running."
---
More Mobility Options
The Town Center CID is also working with Cobb County and the city of Kennesaw on plans for a pedestrian bridge along the CID-spanning Noonday Creek Trail over U.S. Highway 41. The CID received $6.7 million from ARC this year to fund the preliminary engineering of the bridge, which is slated to begin this fall. The total project cost is $7.4 million and should be complete in 2025.
"It's an important project for Town Center and the entire regional trail system for our entire community," Styf says. "According to a survey we did, 75% of people on Noonday Trail got to U.S. 41 and turned around and went back the way they came. We also have an educational opportunity around the trail's wetlands. So we're taking a safety project and turning it into a larger educational and recreational amenity for the community."
Having three CIDs in the county offers a unique opportunity for collaboration like the new bikeshare programs being offered by Town Center CID and Cumberland CID. After the CIDs' previous bikeshare provider shuttered operations last May, the organizations did a joint relaunch in December. It's hoped the one-year pilot program will lay the foundation for a regional program with additional community partners.
"We've had almost 1,200 users since we relaunched in December 2020, representing over 2,500 rides," says Kim Menefee, executive director of the Cumberland CID. "We have seven stations and 35 bikes in our fleet. I think our goal is to create that regional connectivity long term, working with Cobb County and the cities that are between us, Marietta and Smyrna. There are 38 miles of connected trails throughout the Cumberland area, not just in the CID."
The 6.5-mile district of the Cumberland CID consists of 190 commercial property owners. It represents 5.4% of Georgia's economy and 36% of Cobb County's economy. Since its inception in 1988, the CID has invested $160 million into more than $2.5 billion worth of projects.
"Our work continued during the pandemic," Menefee says. "Construction of the Akers Mill ramp continued, and we were very pleased that we were able to continue that. The ramp is a CID-led project that will complete the I-75 Northwest Express Lanes system. We have about 100,000 commuters come into the district each day. We are one of the largest job centers in the Southeast, so this ramp is essential for those who not only work, but those that live in the district."
A groundbreaking for the $44 million ramp is scheduled for this fall. Construction should be complete in 2023.
According to Menefee, there are 840 acres of national park land within the boundaries of the Cumberland CID. Two of its most popular bike stations, Palisades and Cochran Shoals, are within the Chattahoochee River National Recreation Area (CRNRA).
"This 840 acres is equivalent to New York's Central Park," she says. "Cumberland continues to transform from a 9-to-5 business center into a community where people work, live and visit."
In recognition of that transformation, the Cumberland CID has partnered with the National Park Service to renovate and improve the Paces Mill/Palisades Unit of CRNRA.
"Right now we're in the design development phase taking that park down to its base and rebuilding it from the ground up," Menefee says. "The unit was built in the 1970s, and it has more than 250,000 visitors a year. Our plan is to renovate that unit and create a more national park like experience."
Plans call for a new visitor's center, new river access points, river-viewing platforms, an amphitheater under I-285 and a "gorgeous meadow."
"All of this will allow people to enjoy this natural asset so much more than they can today," Menefee says. "As we move through the design process, we're working to assemble the funding; it's an $11.5 million project."
Another priority for the Cumberland CID is creating a multimodal transportation system in the district.
"What we want to do is add innovative transportation solutions," Menefee says. "It's a three-mile multimodal path that's designed to improve the connectivity throughout the core of Cumberland and it will include dedicated walking and biking lanes, as well as an autonomous shuttle system."
The three-mile path is estimated to have 14-foot wide lanes, with a five-foot landscape buffer to protect pedestrians and cyclists from oncoming traffic. The $25 million project has already received $8 million in federal funding through the ARC.
Cobb County's CIDs have proven to be a very effective tool to solve problems. They have also been very effective at anticipating future problems and bringing resources to bear to fix them, says Zimmerman. But having imagination is just as important as solving problems.
"Twenty years ago, we saw an opportunity to take portions of unused land and activate them into seven miles of Noonday Trail," he says. "That wasn't a county project. It was an idea born out of the CID and shepherded by the CID. People asked, 'Why do a trail in a car-centric district?' Over the last decade there's been a series of expansions and the trail has only gotten more popular over time. Now it's a feature; it's Town Center's BeltLine."
In partnership with the county and other local, state and federal agencies, Cobb's CIDs continue to work for the greater good of the community, inside and outside their respective districts.
"CID board members are invested and highly motivated to make their communities better," he says. "When you get like-minded creative stakeholders around the table talking about how to solve a problem, they're going to solve it, and that's the key to making a difference."