At Issue: Looking Into the Future
Georgia's new status as a swing state in national elections will change the political environment.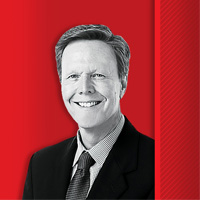 I think we're all very happy that 2020 is over. May 2021 be a much happier and more positive year! Without question, 2020 left some permanent marks on Georgia and the nation.
Politically speaking, the Peach State is entering a new era, that of a purple state. Beginning now, the intersecting worlds of politics, business and media in Georgia will be dominated by this emerging reality.
The fact that Georgia is now a swing state in national elections will no doubt change the political environment and alter how the state is viewed around the country. Looming over the next one to two years in state politics will be two contrasting and competing figures: Gov. Brian Kemp, and on the other side of the political crevice, Stacey Abrams, his expected opponent for governor in 2022. There are other political players in the mix of course, but these two will dominate the political landscape for the foreseeable future.
We don't have to wait long for these new political realities to emerge. The 2021 session of the Georgia General Assembly is immensely important, coming in a non-election year. It may be the last opportunity to pass significant legislation on a number of items before the crucial 2022 elections.
Another development is that the Democrats have new leadership: Rep. James Beverly of Macon is the new House minority leader and Sen. Gloria Butler of Stone Mountain is the new Democratic leader in the state Senate. On the Republican side, Speaker David Ralston of Blue Ridge is poised to once again dominate the House, in spite of internal challenges and rivalries. And the ever-popular Sen. Butch Miller will return as Senate president pro tem.
The Republicans will be in the driver's seat for the next round of redistricting of state legislative and U.S. House seats. This is true in most states in the country, and it's important because it will set the table for which seats will be competitive in the 2022 elections and beyond. Nationally and in Georgia, Democrats had hoped to win enough seats to gain control, but that didn't come close to happening. In fact, the only state legislative chamber that flipped was in New Hampshire, which went to the Republicans. With a new round of redistricting staring them in the face, the failure to pick up seats in the U.S. House and in state legislatures is a great source of disappointment to the Democratic Party. However, as the Atlanta suburbs continue to grow and become more diverse, and more accommodating to Democrats, it will become harder and harder for the majority party to draw districts guaranteed to reelect Republicans. The Democrats learned this painful lesson 20 years ago when the shoe was on the other foot.
Here are some things I will be looking for in the months ahead. Will there be any further changes in voting and elections in Georgia? Since 2018, there have been a number of changes in voter registration and ballot access – changes that most Republicans believe have helped Democratic candidates. But it's a fact that Georgia set records for voter turnout and participation in two statewide elections in a row, 2018 and 2020.
So what will become of the inflammatory charges of voter suppression? This has been the hallmark of Stacey Abrams' fame in America. But can she continue to run on voter suppression when there is little to no evidence to support it?
And what role will Donald Trump and his supporters play in Georgia politics? November and December got pretty ugly between the Trump administration and state Republican officials in Georgia. Will there continue to be divisions and recriminations, or will Republicans in the Peach State unify and move forward in lockstep toward 2022? We'll all be watching.
On a personal note, this will be my final "At Issue" column for Georgia Trend magazine. It's been a great three years and I've certainly enjoyed reaching out to Georgia Trend readers across the state and talking politics. I greatly appreciate the opportunity afforded me by the Georgia Trend team. Unfortunately there simply aren't enough hours in the day to do everything one would like to accomplish. My best to you all, and God bless.