At Issue: Election 2020
The possibility of more surprises and historic firsts.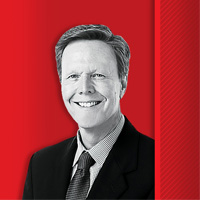 This is the year that keeps on giving. We've had so many surprises and historic firsts this year, almost all unpleasant, that we are by now used to doing things as we've never done them before. Great example: Election Day is now election week. Or possibly even election month. The great national debate over mail-in balloting has led many states, including Georgia, to attempt to extend the voting window beyond Election Day, Nov. 3rd. A federal judge's decision, appealed in September and struck down in October, would have required Georgia to accept absentee ballots provided they were postmarked by Election Day. As of this writing, Georgia is requiring all ballots to be received by Election Day.
The stated reason for these forced changes is to allow people ample opportunity to vote by mail without standing in line at the ballot box and possibly being exposed to COVID-19. This fits nicely with the Democratic Party's goal of litigating every vote in every precinct in America. The Biden campaign has been lawyering up since last summer, an effort led by Eric Holder, former President Obama's self-professed "wingman" who was previously attorney general. Providing an assist is law firm Perkins Coie, which lied to the media about its role in the development and distribution of the anti-Trump dossier, made famous by the Russia collusion case.
Significantly, Biden's supporters have urged him not to concede the election to Trump "under any circumstances," and so they are following the lead of Georgia's own Stacey Abrams, who refused to acknowledge she had lost the gubernatorial election.
So, no, the election won't be over on Nov. 3. It may not be over by Nov. 10. Democratic Party-affiliated groups have vowed to launch lawsuits at the state and local level, aimed at "making every vote count." Republican skeptics counter that what these groups actually want is an opportunity to force states and localities to count questionable ballots that would under normal circumstances be rejected.
This involves a nationwide effort by the left, supported by federal and state judges, some of whom support an anti-Republican agenda and some who may be genuinely concerned about protecting the right to vote, to "reimagine" how votes are cast and how they are counted. This has already been successful in large measure. Imagine the days following Nov. 3, as county election boards try to count tens of thousands of late-arriving mailed ballots, under multiple lawsuits and judicial orders, as throngs of "peaceful protesters" fill the streets demanding justice. This could make the 2000 Florida struggle between Bush and Gore seem like a stroll at the beach by comparison.
To me, the real "tell" in the Democratic Party's intentions is the effort by Perkins Coie attorney Marc Elias, the lawyer for Hillary Clinton's 2016 campaign. On behalf of the Democratic Party and its affiliated groups, Elias is suing Georgia and 17 other states over their voting laws. Most famously, he and the Democratic Party are suing to force states to allow third party individuals or groups to collect the ballots of multiple individuals and turn them in en masse. This practice, known as ballot harvesting, has already proven to be susceptible to voter fraud, which is the Republicans' concern.
Georgia is considered a swing state, and so will be watched closely. But the real action will be in places like Pennsylvania, Michigan, Arizona and Wisconsin. Trump will likely carry Georgia, Florida and even North Carolina. But it will be those other four states that determine who the next president will be. The Biden camp has to be especially interested in Philadelphia, Detroit and Milwaukee, where their lawyers will do battle with Trump's lawyers.
It could even be settled in the U.S. Supreme Court once again, as in 2000. So think of it as Florida times 10 with coordinated street protests, anti-police banners and antifa agitators in the mix.
It's not only the presidency at stake, but control of the U.S. House and Senate could also be decided by ballots counted after Election Day. I could easily see the David Perdue-Jon Ossoff Senate race decided by a few hundred of these disputed ballots.
If the presidency and control of Congress are decided by partisan lawsuits and the counting of questionable ballots, we will slide ever deeper into mistrust and dissension in this country. I hope it doesn't happen. Our electoral system could be forever impacted and not for the better. What a horrible exercise for the most important democracy in the world.