At Issue: Defund or Defend?
The calls to defund the police and for racial justice are playing a role in the presidential and congressional campaigns.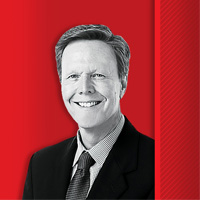 Everyone knows Georgia is an increasingly competitive state on the national political stage. In fact, this November both political parties will spend millions trying to persuade Georgia voters in the presidential campaign and in our state's two featured U.S. Senate races.
It's a presidential election year, so voter turnout will be higher than in 2018. The fortunes of Georgia's congressional and Senate candidates will likely be tied very closely to the success or failure of Donald Trump and his challenger Joe Biden.
This has already been an election year like no other, with the impeachment of the president, a historic global pandemic and active protests and rioting in American cities concerning police violence and racial issues. The success or failure of President Trump will no doubt be tied in large part to the state of the economy and to public perception of his performance on COVID-19. And yet, another factor in the presidential campaign and in congressional campaigns will be the crisis the country is facing from increased street violence, calls to "defund the police" and calls for racial justice.
President Trump is running a law-and-order campaign, with tough messaging built on supporting the police and standing up to the "leftists" who are out to "destroy America." This obviously plays well with his base. And he clearly sees this as a "base" election, in which to win, he has to maximize the votes of his core supporters, especially in the crucial swing states. Georgia is increasingly seen as a swing state, so the battle for that support resonates here.
The Republican Senate incumbents in Georgia, David Perdue and Kelly Loeffler, are singing from the same hymn book. Both senators are emphasizing their support for police and opposition to left-wing attacks on police and American institutions. Republicans in competitive U.S. House races, Karen Handel in the 6th District and Dr. Rich McCormick in the 7th, are doing the same. This is expected, as it matches the views of their supporters in Georgia and gives them their best chance of victory in November.
But the real question is, how will the Democratic candidates in Georgia play this? After all, Georgia, although trending blue, is still a pretty conservative state. The main strength of the Democratic Party in Georgia is the city of Atlanta and its surrounding suburbs. But Atlanta has been shaken by violence since June, with murders skyrocketing to rates not seen since the 1970s, along with higher rates of street violence, protest marches and vandalism. Will Democrats in Georgia really run on a platform of defunding the police, equating violent street demonstrations with peaceful protests and ignoring the destruction of public and private property?
Well, judging from their campaign rhetoric, it seems so. Democratic U.S. Senate nominee Jon Ossoff, challenging Perdue, seems very open to the idea of reducing police budgets, saying it "has to be on the table." One of Ossoff's key supporters, former Clarkston Mayor Ted Terry, strongly supports the Black Lives Matter organization's priority of "Defund the Police." Rev. Rafael Warnock, considered the main Democratic challenger to Sen. Kelly Loeffler, takes care not to use the phrase "Defund the Police," but instead speaks of "reimagining policing" and finding ways to "responsibly fund law enforcement."
But here's the key – both Democratic challengers say they endorse their party's presidential nominee Joe Biden's stance on police and law enforcement. Biden has said he strongly supports redirecting some funding away from police and toward other programs such as counseling and mental health. He also wants to eliminate much of the police hardware routinely used in riot situations. He says that makes the police appear to be an "enemy" of the people they are supposed to protect.
Contrast that with Perdue and Loeffler, and U.S. Senate candidate Doug Collins, the main Republican challenger to Loeffler, who have said to police forces in Georgia, "I have your back." The messages coming from the two parties on these issues couldn't be more different. And they both reflect their national party's position.
So which view will prevail in Georgia in the November election? Republicans will rely on rallying their base, but they also have to hope that suburban voters, particularly women voters, will see the street violence and the calls for defunding the police, and not vote for the politicians who work hard to ignore it or spin it. Democrats will hope that their increasing strength in the Atlanta suburbs will hold, and that the "enthusiasm" for "getting rid of Donald Trump" will carry the day.