Atlanta universities use technology to fight coronavirus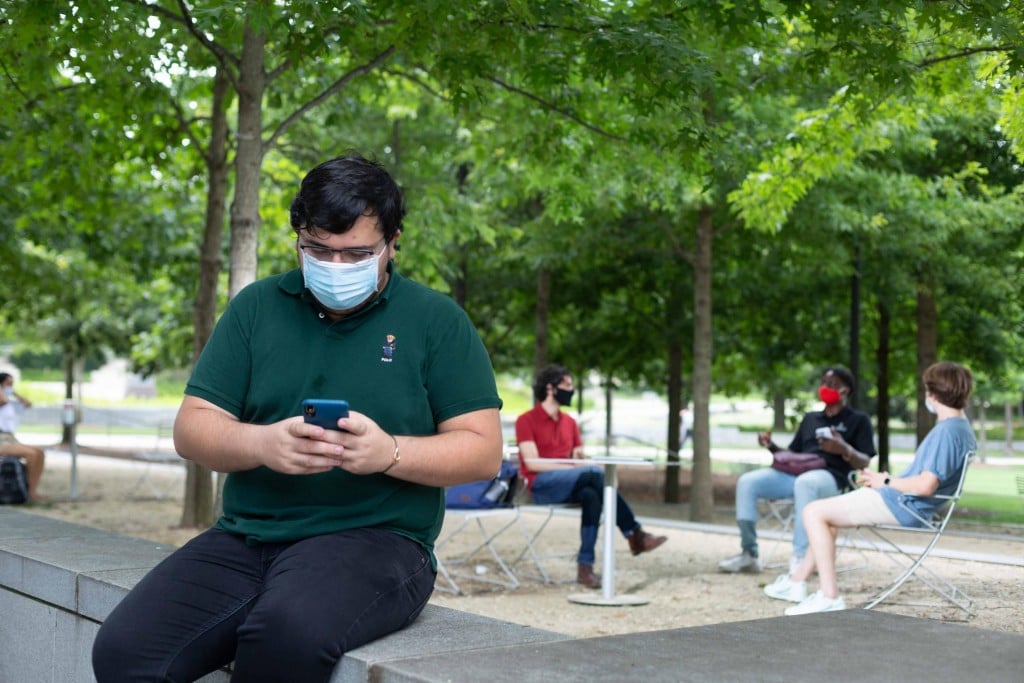 Like many of Georgia's research universities, institutions of higher learning in Atlanta are turning to technology in search of solutions to a variety of problems associated with the coronavirus pandemic. Their efforts run the gamut from new testing methods to providing students a phone app that can detect exposure to the virus.
At Georgia State University (GSU), researchers are mining social media data for a clearer picture of the experiences of long-haulers, those individuals who remain sick sometimes months after COVID-19 exposure. GSU has amassed one of the world's biggest publicly available data sets of coronavirus Twitter chatter – more than 602 million individual Tweets in which patients have shared their experiences. In a collaboration with Britain's Oxford University and Harvard Medical School, the project uses data to identify common symptoms long-haulers share, which enables researchers to study the disease progression based on self-reported symptoms.
In Tweets published from May through July, long-haulers' commonly mentioned symptoms include malaise and fatigue, headache, joint pain, fever, labored breathing, heart palpitations, chest pain and insomnia or sleep disorders. The most serious impacts could lead to development of chronic conditions such as kidney disease, heart failure and chronic obstructive pulmonary disease (COPD). The GSU research team continues to collect nearly 4.5 million Tweets each day.
In addition, GSU has received a one-year, $200,000-grant from the National Science Foundation to develop a tool to detect the presence of the virus. Researchers are working on a simplified testing method using electrochemistry. It's potentially faster and more accurate than current tests. The hope is this research could eventually lead to an at-home test similar to a glucose monitor.
As part of the more than $4.5 million in federal grants Emory University has received this year, its researchers are also developing high-tech diagnostic tools and tests to detect the presence of COVID-19 faster and more accurately. Other facets of Emory's research include rolling out a vaccine trial sponsored by the National Institute of Allergy and Infectious Diseases, enrolling patients in a global antiviral trial for a treatment that could help hasten recovery from the virus and implementing a national survey to understand how many U.S. adults have antibodies to the virus. The university's work to build a national, county-level coronavirus dashboard and tracking map will help local officials understand epidemiological trends and respond accordingly.
And, in an effort to help control the spread of the coronavirus in its campus community, Georgia Tech has begun using the NOVID phone app developed by Carnegie Mellon University. NOVID exchanges synthetic codes with other smartphones running the app that are nearby for more than a short period of time. If a smartphone owner has tested positive for the virus, his or her device can notify other NOVID users who've been in close contact, without sharing any personal or identity information. (Close contact means being within six feet of the person who tested positive for 15 minutes or more.) The rapid notification can encourage early testing and quarantining, helping to slow the virus spread.
The NOVID app is being made available for free to all members of the Georgia Tech community and more than 2,000 individuals are now using it. The technology augments the university's work to develop a test that does not involve a nasal swab to more quickly identify asymptomatic COVID-19 carriers.
Photo provided by Georgia Tech.
Do you follow us? Find us on Linkedin, Facebook, Twitter and Instagram.