At Issue: Working Together
To get to where we all want to be, we're going to have to make changes.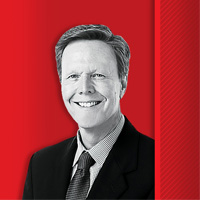 I'm a native Atlantan, born and raised in DeKalb County. And like many natives, I've always had a strong emotional connection to the city and its history. Atlanta has long been closely associated with a certain amount of boosterism and civic pride, whether deserved or not.
Yet another part of Atlanta's culture is undeniably tied to race, the struggle for Civil Rights and the legacy of discrimination. All Atlantans, especially those who were born here, feel this intense and troubled connection as part of our natural heritage.
One chapter of Atlanta's modern history is characterized by the slogan "the city too busy to hate." Coined in the early 1960s by famed Atlanta Mayor Ivan Allen, it came to symbolize a city on the move and one escaping its racially troubled past. By the late 1970s, it had become a cliché, and to some, even an embarrassment.
Over the years the phrase has largely been forgotten as it faded into a mosaic of Atlanta's 20th-century past. And yet it still leaps back into focus, especially in times of crisis or scandal. This summer's protests and riots surrounding the deaths of George Floyd and Rayshard Brooks bring Atlanta's past and present struggles over race and justice into focus, along with a look back at our famous but time-worn slogan.
Atlanta's history of peaceful demonstrations and protests is due in part to the influence and legacy of Dr. Martin Luther King Jr. In fact, MLK became the face of Atlanta, the face that the business community and political leadership preferred to any other. The association with Dr. King greatly benefited the city and the surrounding region in many ways, including a major contribution to decades of economic growth and commercial expansion.
But economic development brought no assurances about peace and harmony. In the 1970s and '80s, Atlanta was considered a violent city with a high crime rate, earning it a reputation nationally as a dangerous location. Yet its race relations were rarely national news in the same way as other major cities such as Philadelphia, New York or Boston. That is partly the legacy of Dr. King and the combined efforts of Atlanta's leaders to protect the image of the city too busy to hate.
In the last several decades, the city of Atlanta has become a combination of a white-dominated business elite and a Black-dominated political class, coexisting and often partnering to further the region's economic goals. But in recent years that consensus has splintered and often broken down. It was never in perfect harmony, but it was a convenient partnership and one that seemed to bring jobs.
The generation of Atlantans who forged and maintained that consensus are now making way for a new set of leaders who must contend with a changing set of circumstances and challenges. The city and the region have arguably made significant progress in social welfare, criminal justice and community affairs. Better housing and minority business programs have helped. Yet as is the case in all major American cities, many problems remain, and social and racial divisions are a large part of that.
The Atlanta police force, now majority African-American, is considered one of the better police forces among major American cities, a tribute to Atlanta's leadership and a focus on communities and empowerment. Yet the current challenges to the nation, our sense of justice and the many issues that still divide us are a significant challenge for any city or state to overcome.
I don't know Mayor Keisha Lance Bottoms, another native Atlantan; we've never met. But her reaction to the initial rioting in Atlanta during the protests after the murder of George Floyd instilled pride in everyone, Black and white. She was alone among Democratic mayors of major American cities in calling for calm, calling for common sense and reaching back to Dr. King's legacy of peaceful demonstration. She was saying, "We're better than this." "This is not who we are." It's something we all recognize and respond to. It's something most Black leaders and white leaders in Atlanta have always wanted to achieve: working together, not apart.
Atlanta is a different place than the city I grew up in. It's more diverse, more global, younger and more mobile. To get to where we all want to be, we're going to have to make changes that bring everyone into the old consensus. Hate crimes legislation is welcome. Police reform is necessary, including the ban on chokeholds. A focus on non-lethal force by police is essential, but so is showing support for police. After all, they have every right to go home alive to their family at the end of their shift. But if we can work together without demonizing each other, the promise of a city too busy to hate – part pipe dream, part corporate slogan – is, ironically, still within reach.