Restaurants on the Front Line
A snapshot in time shows Georgia's second largest employment sector faces unimaginable hardship as it retools for the future.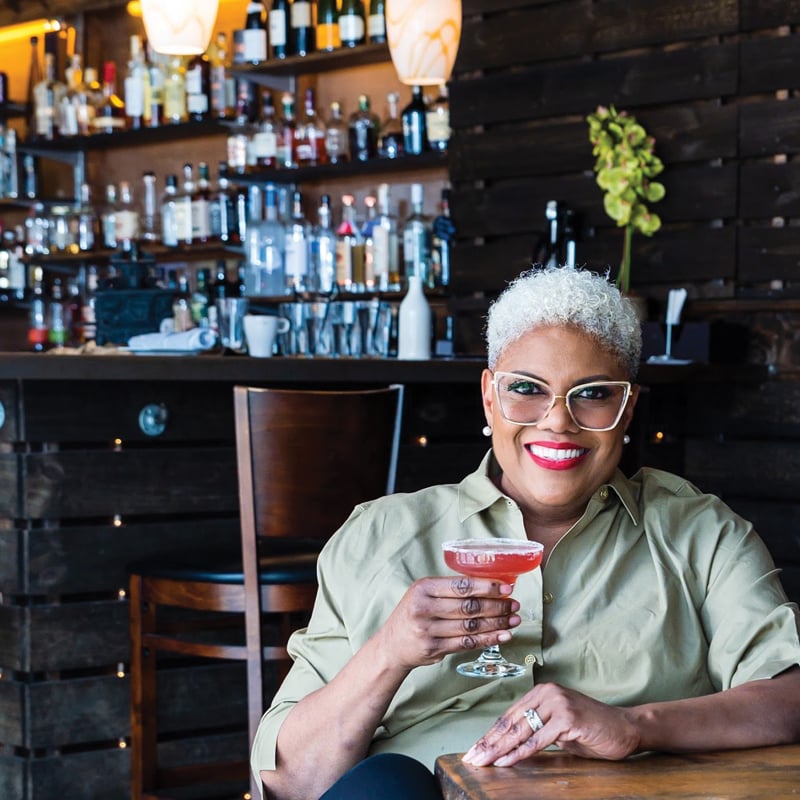 "Oh, I can't even think about that right now. My biggest priority right now is payroll tomorrow, and I want to make sure I have the money for that." That's what Deborah VanTrece, chef/owner of Atlanta's Twisted Soul, said in a late March interview, when asked how she, her restaurant, her employees, her suppliers and her customers might be faring in two months' time, when this article sees print. "I'm a hustler. I've been a hustler all my life. I'm going to continue to hustle," she said.
Like so many of her colleagues in the restaurant business, VanTrece is facing a terrifying challenge with extraordinary courage and ingenuity as it unfolds. In mid-March, quickly pivoting from her usually vibrant, crowded dining room to offer safely distanced curbside takeout, as well as a line of frozen foods, VanTrece was also scheduling twice weekly "Pay What You Can" menus for a clientele she knows may be suddenly out of work – and out of food.
"Most people have been really generous," she said. "But if you call and say, 'I want 10 meals for $10,' I'm going to have a conversation with you. It's not paying the rent, but it's giving me the opportunity to bring my people back in and keep my vendors." Still, she said she is bringing in perhaps one-tenth of her business of a few weeks before. Already, she estimates her losses at nearly $100,000.
Most restaurateurs are still reeling from the sudden disruption of a global pandemic, although some have found ways to survive over the past few months. Everyone is staring into the void – one that experts predict could turn out to be anything from mildly to wildly disastrous. As a nurse friend told me, "I feel like we're in that part of a monster movie where the villagers are waiting for the attack."
Restaurants, which typically operate on razor-thin margins and rely on a network of part-time and gig-economy employees and supply chains, are particularly vulnerable to the widespread business failures expected over the coming months. Large restaurants and chains may have the means to survive, but independent and mom-and-pop establishments largely don't.
As Georgia was told to shelter in place then gradually began to venture out again as weeks went by, the restaurant industry was severely impacted. It faced an immediate shutdown, then slowly adapted and changed course to survive. Here's how it all unfolded.
---
In the Beginning
On March 19, when Atlanta Mayor Keisha Lance Bottoms orders a ban on in-person dining and shutters bars, nightclubs and more, effectively closing 3,000 dining establishments in the city, about 75% of the city's restaurants had already closed. A lot of them will never reopen.
Just four days later, she signs a 14-day stay-at-home order that provides exemptions for essential businesses such as restaurants serving takeout. A record 7.1 million unemployment claims were filed nationwide in March, and that was just a start. By April, the National Restaurant Association estimated nearly two-thirds of the industry's employees were out of work.
Yet on the front lines, as the virus hit, culinary industry workers were doing what they do best when they're in their kitchens – making the most of what they've got on hand, and managing a crisis minute-by-minute.
"It's lemonade time," Savannah restaurant chronicler Jesse Blanco, host of the TV show and website Eat It and Like It, says in a March 23 interview. The voluntary March 17 closures of high-profile Savannah restaurants Husk and The Grey were sobering wake-up calls for a part of the coast that was still seeing spring-break party crowds on Tybee and St. Simons beaches, he says. (Beaches would close March 20 under local directives.) Under March 19 city directives that limit restaurants to 50% occupancy, many Savannah restaurants remained packed as he speaks. "If Outback announced tomorrow they were doing $5 steak dinners, there would be 10,000 people in line, pandemic be damned," Blanco says.
On March 24, Gov. Brian Kemp attempts to walk the fine line between personal and financial health for struggling businesses, issuing a "shelter in place" recommendation largely focusing on people at risk or showing symptoms. In addition, his guidelines forbid public gatherings of more than 10 and "safe distancing" of six feet – without mentioning restaurants. Restaurant owners and workers swamp the lines of the Georgia Restaurant Association (GRA), trying to understand what it means for those attempting to keep their dine-in business going.
"Does the limit of 10 include restaurant employees? Does it mean a party of 10 can dine in, as long as they are six feet away from the next table? What am I supposed to tell people?" GRA CEO Karen Bremer says that day, her frustration nearly palpable.
On April 2, Kemp issues a more stringent set of rules, which designates restaurants as "essential businesses" but limits operations to takeout and delivery only, rendering many of those questions moot. The order was set to expire April 27. (Ironically, to the chagrin of local governments, Georgia's beaches would reopen under this state order, though only for safely distanced exercise.)
---
Meeting New Needs
On these roiling waters, industry players large and small are safeguarding themselves and their businesses – both by taking steps against infection, and somehow keeping themselves afloat until the worst is over. The GRA becomes a go-to resource for restaurants across the state trying to make sense of their new world. The nonprofit launches a series of webinars to unpack how a federal $2-trillion aid bill and SBA loans could help its members with loans, grants, rent abatement and unemployment insurance. The Giving Kitchen, formed in 2012 to help restaurant workers facing a crisis like an unexpected illness or injury, is flooded with requests for help. Since the COVID-19 crisis reached Georgia, the nonprofit has provided $232,912 in financial assistance to more than 150 foodservice workers in crisis.
In Atlanta, Mayor Keisha Lance Bottoms allows restaurants to not only provide takeout, but also beer and wine to go. Restaurant supply services swiftly alter their business models to allow home delivery of restaurant-quality meat, pork and seafood to make up for losses to now-shuttered restaurants. Savannah's Ghost Coast and Atlanta's Old Fourth Ward distilleries, among others across the state, announce plans to alter their production to make hand sanitizer.
In Atlanta magazine, Chef Jarrett Stieber, who had opened his restaurant Little Bear just two weeks before disaster struck, pledged to stick it out by any legal means necessary. "If I have to, I'll sell them paper towels and toilet paper we get through our distributors." Several Atlanta restaurants had re-outfitted themselves as small general stores, selling produce, paper products and condiments.
Others also found new roles: Chef Steven Satterfield, the James Beard Award-winning pilot of Atlanta's Miller Union, teams up with other nationally recognized chefs such as Sean Brock to lobby Congress through a newly formed Independent Restaurant Coalition. He also joins with fellow restaurateur Michael Patrick of Storico Fresco to make 4,000 meals a week for six local hospitals over the next month, packing take-home dinners for medical and support staff who are pulling 12-hour shifts. The Atlanta Hawks Foundation and State Farm are underwriting the effort, which is costing $100,000 a week.
Not only does Satterfield feel his restaurant is filling a need, but "all of our kitchen staff is being kept on payroll," he says. "It means we should be able to make it to the other side of this."
With thousands of former restaurant employees out of work and on the brink of going hungry, the restaurant industry pivots to feed itself. Chef Edward Lee shifts gears with his Louisville, Ky.-based Lee Foundation, partnering with Maker's Mark to create the Restaurant Workers Relief Program, which funds soup kitchens for out-of-work restaurant employees across the country. Linton and Gina Hopkins, who temporarily closed all of their restaurants March 20, including Holeman & Finch and C. Ellet's, lead the charge in Atlanta.
Staplehouse joins with its nonprofit arm, Giving Kitchen, to transform its Old Fourth Ward tasting menu restaurant into a makeshift soup kitchen that serves 50 free meals a day to out-of-work restaurant workers. In Roswell, Table & Main, owned by Ryan Pernice's RO Hospitality, becomes Table & Aid, providing free meals to those out of work in the industry. Cafe Intermezzo partners with suppliers like US Foods for a series of food drives providing more than 50,000 pounds of boxed-up eggs, bacon, dough and other essentials to thousands of out-of-work restaurant employees in Atlanta. And the #ATLfamilymeal initiative brings together chefs, restaurants, suppliers and others to feed Atlanta's hospitality community.
Individuals are also pitching in. John Kessler, former dining critic for The Atlanta Journal-Constitution currently writing for Chicago magazine and serving as a judge for the James Beard Awards, coordinates a network of Facebook friends to buy gift cards and exchange them among cities, garnering $3,000 for restaurants in a few days. "It was just my way of sandbagging," he says.
As March turns into April, restaurants that remain open – more than 60% according to the GRA – are offering takeout and curbside delivery, but it only accounts for on average 10% of their previous profits. Many, like Henri's Bakery in Atlanta, are also offering customers a choice to donate food to those on the frontlines of the pandemic, matching those orders to double the donation.
---
Venturing Out
On April 20, Gov. Kemp announces that restaurants may reopen their dining rooms starting on April 27. Some do, cautiously, but more decide it isn't the right time yet. More than 50 Atlanta and Savannah chefs and restaurant owners representing more than 120 restaurants join #GAHospitalityTogether to make a statement that they will not be opening their dining rooms yet out of the best interest of their employees, guests, community and the industry. The ad stating the names of the restaurants and their owners runs in The Atlanta Journal-Constitution on April 28.
In early May, the GRA offers a Restaurant Guide to Reopening to help those restaurants considering reopening their dining rooms to guests navigate through Gov. Kemp's 39 guidelines. The guide was created in partnership with the National Restaurant Association, representatives of the Food and Drug Administration, academia, the Conference for Food Protection, Ecolab, public health officials and industry representatives to help restaurants return to full operation safely when ready to do so.
Still, the GRA estimates that despite Gov. Kemp's statement that restaurants can reopen their dining rooms to the public, as of mid May, only 35% in the state have chosen to do so. Some 60% are open for drive-thru, curbside pickup or delivery.
For all their grit and positivity, chefs and restaurateurs share mixed opinions about what June will bring. Hugh Acheson, of Atlanta's Empire State South and Athens' Five and Ten, closed his restaurants on March 15, furloughing more than 100 people, and they remained closed as of early May while serving to-go and some 25,000 donated meals backed by the World Central Kitchen and the Blank Family Foundation. His business has seen a 95% loss in revenue.
"We are so [@#!?]ed," Acheson tweets. "Most people I talk to have said, 'If we can get a check from the government and can put off the rent and buy 60 days, I'll be OK.'"
"After 60, 90 days max, then this is going to get sticky," says Blanco.
Others are convinced May's end will bring a turning point: "I think we'll be headed back to normalcy," says Bremer.
While VanTrece decided to shut down her dine-in operation well in advance of city or state orders, because "I watched people not being safe, crowding my staff," Dalton Chef T.J. Kaikobad, of Cyra's, worried that some steps to limit restaurants' services were too much, too soon.
Speaking on the day Whitfield County closed restaurants' dine-in operations, in advance of the state order, he says, "I do have some elements of concern. Some have even used the term 'hysteria.' Our livelihood, and my entire family's assets, are tied into this business."
After shelving his plans to open two new restaurants in mid-April, Kaikobad speaks by phone while assisting staffers applying for unemployment benefits and changing his fine-dining menu to family-style Italian takeout.
"We will be back to business as usual [by June]," he predicts. "America is different from anywhere in the world. We are a people of tremendous faith. A faith in our own abilities. That will sustain us. There will be some changes, yes. But we will survive."
"The restaurants that make it through this are going to be very busy," says Satterfield. "That's our congregation place."
VanTrece believes all of us will come out of this crisis fundamentally changed, and some of the ways we do things will end, perhaps for good. She says she's already looking through a different lens.
"I hope that we appreciate life a lot more. Appreciate people a lot more. I look at everything. I'm scrutinizing everything. What it takes to pay a bill. The mail carriers. The cashiers, the stock people. The people who were invisible," she says, "should no longer be invisible."