At Issue: Vote by Mail
Partisan politics are once again invading legitimate concerns and state governments' efforts to assure voting is available, free and fair.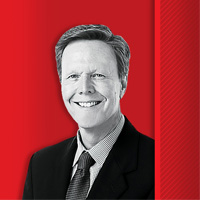 The coronavirus is impacting every nook and cranny of our society, sometimes in very fundamental ways. One concern is over the safety of voting in person and having to interact with others in long lines at the polling place. In the midst of the COVID-19 crisis, this is a valid concern as there are so many unanswered questions and legitimate fears. Thus, most states, Georgia included, are ramping up their absentee ballot procedures in preparation for party primaries this spring and summer.
In April, the Georgia secretary of state's office sent absentee ballot requests to all of the state's 6.9 million registered voters, encouraging them to vote by mail. The Georgia primary was then delayed for the second time to June 9, in part to give the counties more time to prepare. The state election board has also approved a measure allowing voters to turn in absentee ballots at county and local-level drop boxes, thereby avoiding human contact and not having to pay postage to mail an absentee ballot. These are all reasonable and timely government responses to real needs.
However, partisan politics is once again invading these legitimate concerns and state governments' efforts to assure voting is available, free and fair. Democratic Party officials, both nationally and in Georgia, have called for "national," "permanent" mail-in voting. As a matter of fact, U.S. House Speaker Nancy Pelosi and Senate Democratic leader Charles Schumer called for taxpayer funding of a national mail-in ballot program in the recent coronavirus stimulus bill. This was in addition to trying to get funding for the Green New Deal, abortion-related programs and other center-left priorities into a bill that was supposed to benefit small businesses, individual taxpayers and health programs during a global pandemic.
Eric Holder, attorney general during President Barack Obama's presidency, admitted he saw coronavirus as "an opportunity" to permanently change the way Americans vote. U.S. House Majority Whip James Clyburn of South Carolina was quoted as admitting that the coronavirus crisis was "an opportunity" to get Democratic Party initiatives and programs funded. How refreshingly honest!
Republicans, from President Donald Trump on down, smell a rat. Democrats do seem desperate to impact voting systems and processes in America, everything from pushing paper ballots, trying to force an end to voter ID requirements and increasing mail-in ballots, especially in light of the risks of in-person voting. Democrats say the reason is that under current laws, the voting is unfair because not everyone who wishes to vote can do so, and that lower-income and minority voters are under-represented. Many Republicans believe that the Democrats' real motivation is to make it easier to cheat.
The fact that Democrats are calling for a switch to mail-in ballots, and not a majority of Republicans, is a bit suspicious. For one thing, a reliance on mailed ballots makes ballot security more difficult, and certain state voting laws such as Georgia's voter ID requirement would become irrelevant.
For a mailed ballot to count, it must be received by a county election official by election day, the voter's signature must match their signature on their voter registration card, and there can be no duplicate votes on the ballot. Many mailed ballots are discarded every election year because these requirements are not met. With a massive increase in mailed ballots in a November presidential election, one can imagine the lawsuits, the accusations of voter suppression and the media stories of massive voter disenfranchisement that will inevitably follow.
Already, Democratic Party-aligned groups are warning that November's election, due to a reliance on mail-in ballots, will take longer, will be harder and more expensive to count, and that a winner may not be announced for days or weeks. Sounds like Nancy Pelosi's dream scenario.
In any case, we don't have a national voting system, we have 50 statewide voting systems. Some advocates may forget, or choose to ignore, that the U.S. Constitution places such decisions firmly in the hands of the states, as long as states follow federal voting rights standards. And speaking of the states, all 50 already have absentee ballot laws allowing any registered voter to request a mailed ballot. And 33 of those states, including Georgia, are "no excuse" states, which means you don't even need a reason, such as health, to request a mailed ballot. And with the addition of the drop boxes for absentee ballots in Georgia, a voter doesn't even have to pay for postage.
So add mail-in ballots to the long list of politicized, overly dramatized issues that are used by the left to drive a wedge between the two political parties.