Check Out AgLanta Eats Food Festival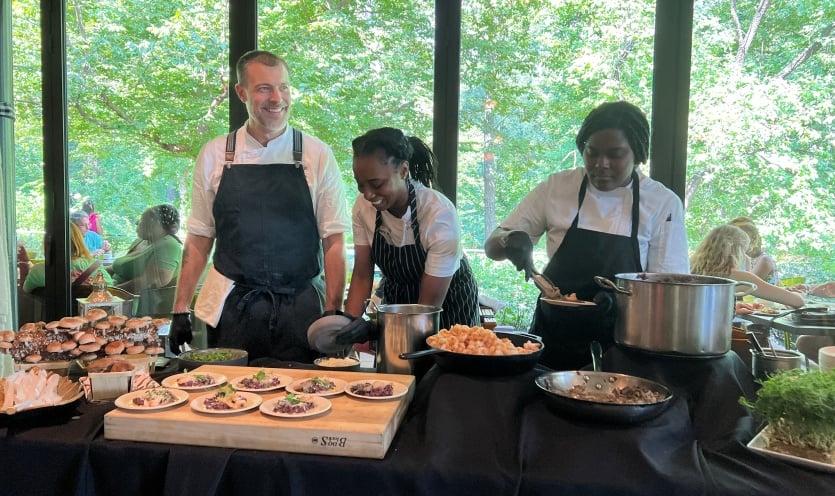 Strolling through the beautiful sculpture gardens and orchid greenhouses at the Atlanta Botanical Gardens is a real treat any time of the year. Add in food stations serving locally grown produce prepared by Atlanta area chefs, live music and a friendly atmosphere, and it's a delight for all your senses.
In late August each year, the botanical gardens host AgLanta Eats, a hyperlocal food festival coproduced by Groundwork Atlanta and AgLanta Grown. This year's event takes place August 21 and raises awareness and funds for local farms and food producers around metro Atlanta. The mission of the AgLanta "Grows-A-Lot" program is to celebrate, educate and unite each of the elements of the local food system.
"There are many benefits to eating local food," says Heather Hussey-Coker, executive director at Groundwork Atlanta. "Beside the fact that locally produced food creates a lesser carbon footprint and retains more nutrients, it also helps regenerate urban spaces and makes a positive environmental impact."
Groundwork Atlanta advocates using vacant spaces in the city to grow food, which in turn improves soil conditions, addresses water runoffs, and heat islands. It also helps put more produce in local markets and employ people to benefit from the urban farm economy.
Seeing the connections between smaller urban farms, often run by families, communities or volunteers, and chefs and restaurants can sometimes be hard. That's why AgLanta Eats brings growers and chefs together at one event where anyone can try the food preparations and also learn about where each ingredient comes from.
Sample bites of Georgia shrimp and rice with local mushrooms prepared by Chef Richard Brown of Longleaf restaurant, who sources from Ellijay Mushrooms and Ashland Farms. Miller Union's Chef Mykel Burkart gets ingredients from a half-dozen farms to create refreshing chilled summer noodles with peanut salsa, collard greens and butternut squash. Vegetarian dark chocolate crémeux and honey pecan tart, created by Blessed Up Blooms' Chef Nailah Marie and sourced from Fruit Forward Orchards and Rooted Faith Farm, will make you come back for more.
At AgLanta Eats, you also see the diversity of food and people who make up our food economy. Taste black beans, cheese and pork-stuffed pupusas (the national dish of El Salvador) at LaBodega!, Vietnamese sweet potato curry prepared by Chef Demetrius Brown at Heritage Supper Club, and vegan eggplant and tomato salad by Chef Kiyoka Nishikawa at Cheffrey's Kitchen.
There are also wine and cocktail vendors offering bubbles, bourbon and herb-infused handcrafted drinks (get a GOAT ticket for open bar access).
Make sure to bring a big appetite and wear comfortable shoes as you will walk through sampling stations sprinkled through the gardens and pavilions, tasting bites and sips of a variety of dishes. Between courses, listen to Mayor Andre Dickens' keynote address and participate in educational cooking demonstrations.
The AgLanta Eats Festival will be held on August 21 at the Atlanta Botanical Gardens. Tickets are available online for $80-200 per person.
Photo by Sucheta Rawal