Recipes and tips to enjoy summer peaches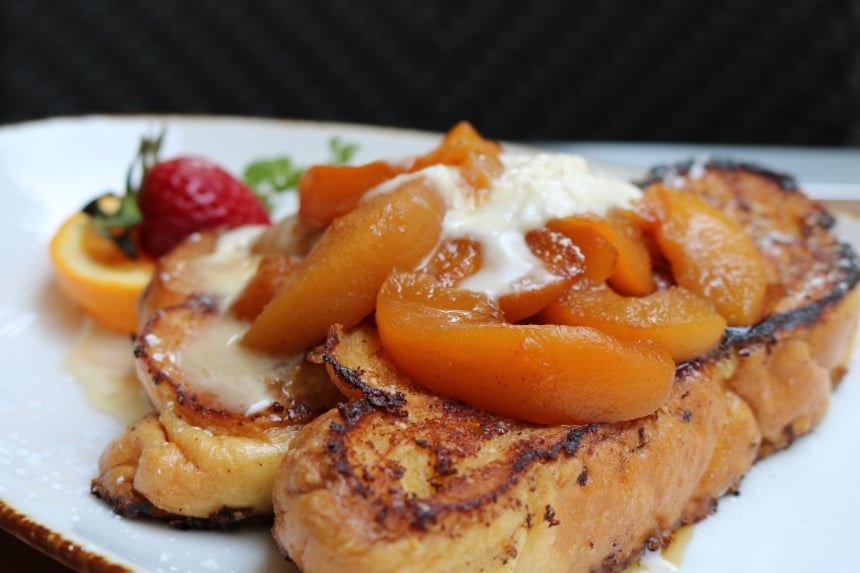 Peach season here, and if you are like me, you probably end up buying more fresh fruit than you can eat. I often find my peaches ripen faster than I can consume them and rush to find new creative ways to use them.
Buying and Storing
From May to September, you can purchase fresh peaches, tour farms and try peachy goodies at various locations around Georgia, such as Southern Belle Farm in McDonough, Penelope's Peaches in Newnan, CJ Orchards in Rutledge, Jaemor Farms in Alto, and more. Heed the advice of Chef Travis Cox at the Loews Hotel Atlanta, who says not to over pick when you visit the U-pick farms and to refrigerate peaches if you do not want them to ripen quickly. If you're buying a few days for a recipe you plan to prepare, opt for an unripe peach, leave it on the counter for two days and it should be ready by the time you need to use it.
Cox's favorite method to store unused peaches is to pickle them. Place sliced peaches in a mixture of 45% vinegar, 40% sugar and 10% spices, boil for 5 minutes, strain, cool and jar. You can also vacuum seal a bag of sliced peaches. He explains that it is important to freeze them quickly after picking, to avoid bruising. You can also make and store peach jams, glazes and sauces to dress sandwiches and chicken wings.
What Makes a Good Peach?
Feel the peach and check its firmness. The skin should not be too dry; it should be soft and fuzzy. A golden, amber hue is a great sign that it is ripening properly. Amber is what makes it sweeter. If it is mostly yellow, it will not be a sweet peach. And, while it may seem obvious, you should be able to smell the fruit's delicious fragrance when you pick it up.
Cooking with Peaches
Chef Cox has been inspired by the summer bounty to create several peach-themed food and drink recipes. The Saltwood Charcuterie and Bar at Loews offers a start of decadent Spiced Peach French Toast made with vanilla-battered challah, topped with crème fraiche, chervil and warm cardamom, nutmeg and cinnamon-spiced peach compote for breakfast. For a savory option, try the sweet potato waffles with fried chicken breasts and sweet peach BBQ sauce and crushed peanuts.
A refreshing summer salad with grilled peaches, fresh blueberries, toasted almonds and drunken strawberries over a bed of peppery watercress greens, tossed in a raspberry vinaigrette, makes for a light and healthy lunch. Cox notes that when grilling peaches, it's important to choose very unripe or frozen fruit. Ripe peaches are too soft to grill and will fall through the cooking grates.
Desserts are an obvious choice when cooking with peaches, and while grilled peaches with ice cream, peach cobbler, and peach crumble are popular options, Executive Pastry Chef Allison Poirier (also at Loews) makes a velvety-custard style peach ice cream using whole unpeeled peaches.
For a summer brunch or backyard get-together, serve Peach Spritz – a peach version of Aperol Spritz with pureed ripe peaches, Combier Liqueur de Pêche de Vigne, a splash of Aperol, prosecco and club soda.
Have yourself a peach of a summer!
Photo of Spiced Peach French Toast courtesy of Loews Atlanta.
Do you follow us? Find us on Linkedin, Facebook, Twitter and Instagram.