2023 Industry Outlook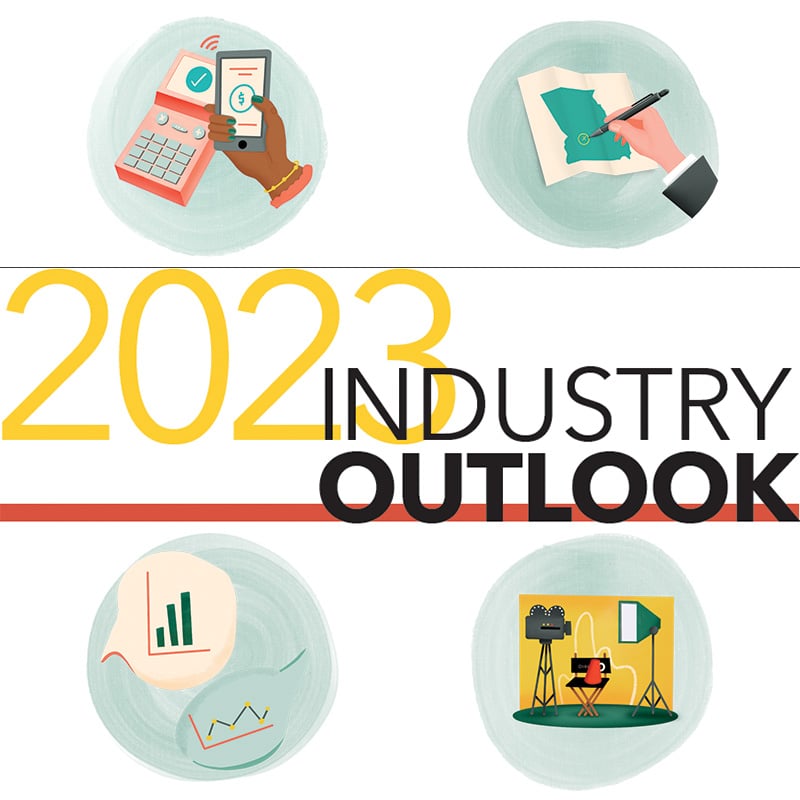 Thanks to several state-specific factors, Georgia continues to outpace the nation in economic growth. Our annual outlook for the Peach State's primary industries is based on research from the Selig Center for Economic Growth at University of Georgia's Terry College of Business.
---
Financial Technology
Georgia's large, well-established, cluster of fintech companies should fare relatively well in 2023. The industry received a boost from the COVID-19 crisis because contagion fears pushed people to adopt new mobile technologies, including mobile banking and touchless payment systems. Most customers will not return to their pre-pandemic ways of banking and shopping.
Georgia's fintech ecosystem is healthy. One of the main reasons why fintech companies locate in Georgia is thelarge number of existing companies ensures deep pools of experienced workers with the specialized talents needed. Going forward, we expect this advantage to increase rather than diminish.
Georgia's postsecondary education system is focused on the production of new talent for the fintech industry. The fintech cluster of companies in the Atlanta MSA has grown rapidly. For example, Global Payments recently acquired EVO, which expanded the combined firm's reach to 4.5 million locations through 1,000 financial institutions.
The acquisition is designed to help the Atlanta-based fintech company expand into new markets, especially business-to-business computer payments. In 2021, Visa announced that it would create a fintech hub in Midtown Atlanta that will create about 1,000 jjobs. The Georgia Fintech Academy – available at 15 of the University System of Georgia's 26 institutions – will provide the talent needed to attract more financial technology companies to Georgia.
---
Cybersecurity
The COVID-19 crisis dramatically boosted the use of online and digital services, which increased the need for cybersecurity. Indeed, the digital transformation of many industries, ranging from healthcare to entertainment, was an existing trend that the pandemic dramatically accelerated. The speed of this widespread digital transformation increases the risks of cyberattacks, which puts Georgia's cybersecurity industry – located primarily in Atlanta and Augusta – onto higher short- and long-term growth trajectories. Talent is the key to Atlanta's success, while the presence of the U.S. Army Cyber Command at Fort Gordon and Georgia Cyber Center are the foundations of Augusta's cybersecurity economy.
---
Healthcare IT & Telemedicine
Healthcare IT and telemedicine will create thousands of high-paying jobs in Georgia over the next decade. The COVID-19 crisis forced traditional healthcare providers to adopt telemedicine and now many people will continue to use online healthcare, which is good for healthcare providers, healthcare IT companies and cybersecurity companies. The industry will continue to expand as projects announced over the last few years build out. For example, in late 2020, Path-Tec announced an expansion of its operations in Columbus that would create 350 jobs. In 2019, BioIQ – a health IT company – announced that it would create 500 jobs in Cobb County. In 2023, Georgia will continue to attract and grow healthcare IT companies.
---
Headquarters Operations
In 2023, the build-out of headquarters projects will be an important force to power Georgia's economic growth. Some are modest, such as Ecopol's North American headquarters in Spalding County, while others – Remington Firearms global headquarters in LaGrange, for example – are massive. Among other companies building headquarters here are logistics company Vanderlande Industries, German multinational shipping line Hapag-Lloyd, robotics company GreyOrange, and Semperit Industrial Products, an international provider of specialized rubber products for industrial and medical use. Hartsfield-Jackson Atlanta International Airport and Georgia's ideal geographic location make Georgia a good hub from which to serve operations in the Americas.
---
Healthcare
The outlook for Georgia's large healthcare industry is good, but recovery from the COVID-19 crisis has been uneven across the industry's major subsectors. The ambulatory healthcare services subsector is booming, while nursing and residential care facilities are slow to rebound. Although providers of nursing and residential care will benefit from an upturn in business, the recovery will not be too vigorous because family members will continue to provide this care at home to a greater extent than before the pandemic. As the pandemic winds down, hospitals should see a solid, sustainable upturn in demand for their more profitable services. Nonetheless, it may take years for hospitals to fully replace the jobs that were lost over 2020-21, especially in rural areas of the state.
---
Specialized Professional Services
Factors that will encourage providers of high-tech and highly specialized professional services to favor sites in Georgia – especially the Atlanta MSA – include the good business climate, logistical advantages in serving far-flung clients, the available professional workforce and a large annual output of newly minted college graduates. For example, the Boston Consulting Group's 2020 decision to create a new regional support center in Atlanta reflects the ease of using the area as a geographic hub from which to serve clients throughout the Southeast. Many changes created by the COVID-19 pandemic will generate business for providers of professional services and consultants. For example, the accelerated adoption of high-tech trends generates business for providers of high- tech services. Similarly, recent increases in regulations at all levels of government generates business for consultants.
Providers of business services that either lower costs or provide necessities should do well in 2023.
---
Transportation & Logistics
Activity in Georgia's transportation and logistics industry is cyclical. In 2023, growth will slow due to recessionary conditions. If the recession is mild, we expect Georgia's transportation and logistics industry will expand in 2023. Georgia's transportation industry will outperform that of the nation as a whole. One state-specific factor behind the sanguine forecast for Georgia's transportation and logistics industry is the abundance of logistics and distribution projects in Georgia's economic development pipeline. Similarly, the build-out of recent economic development projects involving the relocation and expansion of manufacturers bodes well for the performance of Georgia's transportation and logistics industry.
Additional state-specific drivers include the outstanding performance of the Port of Savannah and the Port of Brunswick. Improvements in the state's transportation infrastructure will expand Georgia's importance as a regional and national logistics and distribution center.
The accelerated shift from physical retail to online retail benefitted Georgia's distribution and logistics industry in 2020-22 and will continue to do so, but the ongoing shift in households' spending priorities from goods to services will be a headwind. The bottom line: We expect cargo volumes will outpace U.S. GDP growth. That will be quite an accomplishment for an industry that typically moves in lockstep with the overall economy.
---
Film Industry
Despite the economic slowdown, prospects for Georgia's film industry are very good. State incentives help to ensure that nearly all studio space is booked. The Georgia Film Academy helps to ensure that well-trained workers are available.
As the professional, technical and physical infrastructure becomes even more fully developed, the economic benefits of each dollar spent on film and television production in Georgia will generate larger economic impacts for our state's economy. Recent economic development projects related to film production include Reynolds Capital's investment in Athena Studios, a new soundstage project in Athens. Cinelease Studios-Three Ring is expanding its studio facilities in Covington. Electric Owl Studios broke ground on a 17-acre site in Stone Mountain where Capstone Properties and Domain Capital Group will build a film and TV studio campus. Gray Television announced a partnership with NBCUniversal Media to develop content-creation and management facilities in Doraville. MBS Equipment Company announced the opening of its new East Coast headquarters at Trilith Studios in Fayette County.
---
Financial Services
As the economy softens, credit problems will worsen. Nonetheless, several favorable trends suggest that most of Georgia's financial institutions will weather the 2023 recession relatively well. We will not see a wave of bank failures like we saw in the wake of the Great Recession. Demographic trends such as above-average population growth will help Georgia's financial institutions.
Less positively, the down cycle in residential real estate will hurt financial institutions, but it is reassuring that almost all new mortgage loans are very well collateralized. Home price declines are more likely to be moderate than severe. It's unlikely than many people will owe more on their mortgages than their homes are worth. The prospects for deposit growth are not as good as in recent years, but deposits are already at high levels. Some deposits will migrate to higher-yielding alternatives, but most will remain with banks. An almost flat yield curve will limit financial institutions' ability to profit from borrowing short and lending long, however.
In 2023, slower growth in demand for many types of loans and higher losses on loans will limit Georgia banks' profits. Despite inflation and a weaker economy, households' credit scores are at decent levels, but will deteriorate as economic conditions worsen. Higher consumer spending will support some growth of non-revolving credit to households. Banks are not expected to tighten lending standards too much. Recent high levels of home sales will continue to prompt major home renovation projects, which will help support the use of home-equity loans. More auto loans will add to the bottom line, but substantially less mortgage refinancing will challenge it.
---
Leisure & Hospitality
In 2023, Georgia's hospitality industry will continue its recovery from the pandemic recession, but at a slower pace.
The prospects are different for various segments of Georgia's hospitality industry. Leisure travel will hold up better than business travel. Short trips by car to visit relatives or friends have come back faster than long-trips to attractions or events.
Within the business travel segment, trips to see clients and to make sales calls will continue to grow.
Domestic travel will continue to outperform international travel – that observation applies to both leisure and business travel.
Prospects for the lodging industry vary by property type.
Due to the economic slowdown, economy and mid-scale properties probably will fare best. Upscale and luxury properties catering to group/convention travelers, inbound international travelers and fly-to leisure/business travelers probably will fare worst. Full recovery for such properties could take many years due to structural changes, such as the widespread substitution of videoconferencing for in-person events.
---
Manufacturing
Manufacturing is cyclically sensitive and depends heavily on complex supply chains and export markets. In 2023, production by Georgia's manufacturers is expected to hold up much better than production by U.S. manufacturers. Manufacturing output in Georgia probably will increase even
with the U.S. and global economies in a mild recession, but the pace of manufacturing output growth will slow. One reason Georgia's manufacturing sector will outperform the nation's manufacturing sector is that Georgia saw many manufacturing economic development projects announced in 2020-22. Those projects – as well as some announced in prior years – will continue to build out and become operational, contributing to the comparatively large increase in industrial production we expect for Georgia.
In 2023, supply chain problems are expected to gradually diminish, which will support both Georgia and U.S. manufacturing. Due to persistent shortages of critical inputs and lingering supply chain problems, there will be a need to produce more in many, but not all, product categories. The number of manufacturing jobs in Georgia probably will increase in 2023, but the nation probably will lose some manufacturing jobs.
---
Food Processing
Georgia's largest manufacturing industry is food processing. Food processors fared relatively well during the pandemic, accommodating higher sales to grocers and lower sales to restaurants and institutions. In 2023, Georgia's food processing industry will continue to do well – many of the economic development projects announced over the last few years were food processors. Food production therefore will increase in Georgia in 2023.
Agribusiness and food-processing projects announced in 2020-22 include PepsiCo Beverages, Jack Link's, AFB International, MANA Nutrition, American Peanut Growers Group, King's Hawaiian, Bimbo QSR, Nestle Purina, Anheuser-Busch, BANG ENERGY, Sugar Bowl Bakery, Kerry Group, Batter Up Foods, Frito-Lay, Coffee Cake Bakery and General Mills.
---
Vehicle & Vehicle Parts
In 2023, Georgia's vehicle and vehicle parts manufacturing industries will benefit from higher domestic demand.
In addition, supply chain problems are expected to diminish, which will enable the industry to increase production to better satisfy consumers' demand for vehicles. The average age of a vehicle in the U.S. is 12.2 years, which is a record high.
That bodes well for vehicle sales in 2023. Political pressures that encourage foreign manufacturers to invest more in U.S. production facilities and to buy automotive parts from U.S. manufacturers will help.
Georgia is developing as a nexus of the electric-vehicle manufacturing industry. Hyundai Motor Group's decision to invest over $5.5 billion in Bryan County at its first fully dedicated electric-vehicle and battery manufacturing facility will create 8,100 jobs. Operations are expected to begin in 2025. Since 2020, Georgia has announced more than 20 EV-related projects that will create almost 18,000 jobs.
---
Housing
Housing is one of the most interest-sensitive sectors of Georgia's economy and the Georgia's state's housing market will remain in recession in 2023. Although mortgage rates are not historically high, they are much higher than in recent years. That's the main factor behind the housing downturn. The sharp run-up in home prices from mid-2020 through mid-2022 is a second factor behind the slump. A third factor is a temporary loss of faith in the economy. Shortly after Russia's invasion of Ukraine, people became very concerned about a posible recession, especially as energy prices and inflation soared. The slowdown in job growth that began in late 2022 shook potential homebuyers' confidence, making people less willing to commit to buying a house. These same factors reduced homebuyers' confidence in their ability to sell new homes. In 2023, sales of new and existing homes and permits to build homes and apartments will decrease. Investors also will be less active in the housing market. In 2023, we expect home prices to decline.
---
State & Local Government
In 2022, higher revenue collections and federal funds reversed the downturn in state and local government jobs. The 2022 upturn in hiring by the government was much delayed compared to hiring in the private sector of the economy. In addition, the upturn was not vigorous because it was well understood that stimulus funds received by state and local governments from the federal government were unlikely to repeat. Surpluses, therefore, are better used to cover one time or temporary expenditures instead of new programs or new hires. Nonetheless, state and local governments contributed to 2022 employment growth and will do so again in 2023. A recession will slow growth in state government revenue collections, but high inflation should help prevent a decline in revenue collections. In 2023, local governments' revenue collections will increase strongly due to the lagged effects of the housing boom on property tax digests.