Northwest Georgia: Steadily Pushing Forward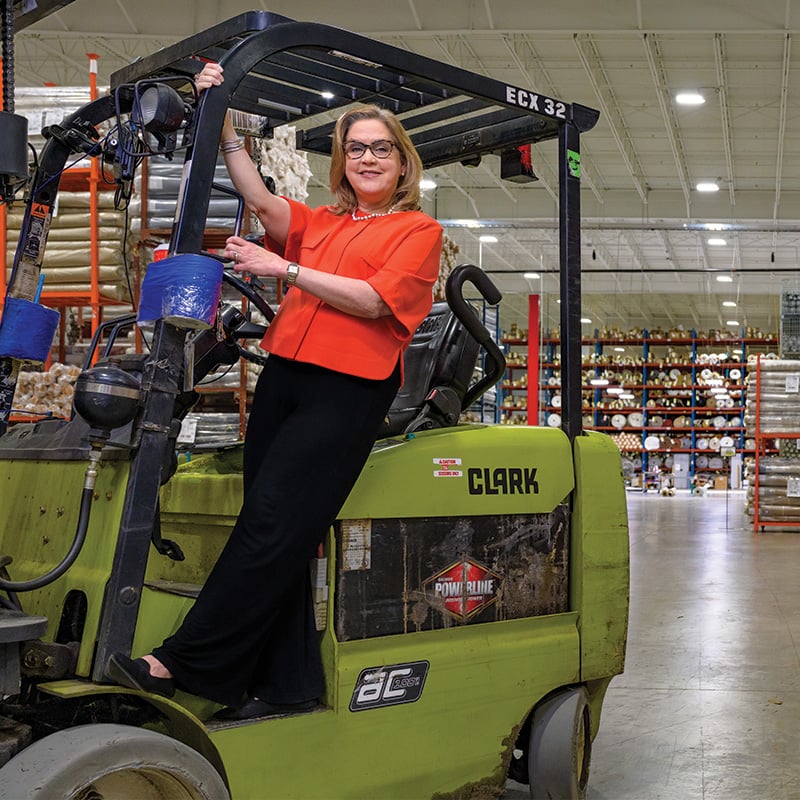 The mountainous terrain of Northwest Georgia makes for a steep hill to climb in terms of developing this region. But this community is up for the challenge.
Billions of dollars in investment is headed for the hills this year in a variety of industries including solar, ecommerce, car manufacturing and product distribution.
In the last year, this region, like many others, has been grappling with workforce shortages and supply-chain delays that interrupted project plans. Despite these challenges, counties have held their ground on steadily pushing industry forward.
---
Green is the Future
The region is well known for its green industries, with the recently expanded Ball Corp. aluminum cup plant in Floyd County and exponential growth in clean-energy industries with two major electric vehicle operations that opened in the last two years: a $6.5 million facility in Gordon County from Turkish company TEKLAS and an $85 million facility from German company GEDIA in Whitfield
County. The region is attractive to EV developers and traditional auto parts suppliers due to its proximity to car manufacturers in the state, such as Kia, and others in the Southeast such as BMW in South Carolina and Volkswagen in Tennessee.
"One of the trends going forward with the state relates to EV as well as solar industries – two emerging markets," says Kathy Johnson, president and CEO of the Gordon County Chamber of Commerce.
That trend continues at an even larger scale in Bartow County, which has seen billions of dollars in growth in green industries. SK On and Hyundai Motor Group announced in December 2022 that they will be investing $4 billion to $5 billion to develop an electric vehicle battery plant in Bartow County, which will create more than 3,500 new jobs. It's one of the largest economic development projects in state history.
On top of that, South Korean solar energy manufacturer Qcells announced a $2.5 billion expansion, which will create 2,500 new jobs for the county. Together, these two projects will boost Bartow's employment population by more than 10%.
"Our community is privileged to support many existing industries in 2022, to see quite a few Class A spec industrial buildings constructed, and to have welcomed Duluth Trading Company [distribution and fulfillment facility] and Hyundai/SK On's joint venture," Melinda Lemmon, executive director of the Cartersville-Bartow County Department of Economic Development, said in an email. "2023 has started off in a significant way too, with the recent announcement of Hanwha Qcells. Decades of leadership and capacity-building is credited."
---
Old is New Again
Well known as the "carpet capital of the world," the Northwest region is still seeing growth in the floorcovering industries.
Shaw Industries in Whitfield County is the third-largest manufacturing facility in the state with more than 6,000 employees. Shaw wrapped up a $20 million, three-phase expansion last year, creating an additional 55 jobs in Catoosa County.
Mohawk Industries in Gordon County is also one of the largest facilities in Georgia with 3,200 employees, according to Johnson. Mohawk is one of the largest floorcovering manufacturers in the country, producing carpeting, vinyl and hardwood flooring among other floorcovering materials. It has called Calhoun home since 1992.
Johnson says these long-time companies have recently started innovating in their operations, drawing new types of jobs to the region that weren't available or needed previously.
"A lot of our floorcovering companies are shifting to having in-house design and marketing roles for photography, videography, catalog design and print products. We've had some physical growth in infrastructure to accommodate pulling that sector in. It draws a different crowd of employees," she says.
Johnson says that while it's important to continue supporting the floorcovering industry, which continues to grow, it is also important for Gordon County to diversify. The recent TEKLAS site and the proximity to the I-75 corridor has helped attract other industries, she says.
"We're working hard on diversity, and I think ecommerce is kind of a different type of growth sector we are seeing," Johnson says. She says she expects close to 15 million square feet of distribution facilities will be ready for move-in between Q4 of this year and Q1 of 2024.
---
Investing in People
The pandemic changed the way that people work, and Pam Powers-Smith, president of the Rome-Floyd Chamber of Commerce, says that has also meant that communities like hers are seeing more and more entrepreneurs starting businesses.
"We had almost 65 ribbon-cuttings last year," Powers-Smith says. "A goal is to continue to service our small businesses and provide them with what they need." Those needs include workforce development. Educating and engaging a labor force continues to be a challenge for the region, but counties have big plans for 2023 to turn that around.
Powers-Smith says Floyd County is unveiling a workforce strategic plan for the community this year, which includes a new workforce website in partnership with Georgia Power that will connect employers with prospective employees.
"We're still going to keep focusing on workforce this year because unfortunately it keeps us up at night, and we know we have to try to do the best we can to help those in Floyd County."
Many communities are putting new emphasis on infrastructure such as expanded broadband, highway access and workforce training to address labor shortages.
"Where there's a challenge, there is also opportunity," Johnson says. "What I am seeing from some of our key industries is [that they're] looking at ways to address that from an educational standpoint, but also [through] automation and artificial intelligence resources."
While companies in Gordon County get creative with robotics, Catoosa County is preparing to unveil its Catoosa County College and Career Academy in August, which will partner with area businesses to train high school students for local careers.
"There's a very dedicated board of directors that have been working with area businesses really for the last three years to form those partnerships for internships and potential jobs once they graduate," says Amy Jackson, president and CEO of the Catoosa County Chamber of Commerce.
This career academy is a major development for this community because more than 82% of the workforce commutes out of the county to get to their jobs, says Meghan Trusley, executive administrative assistant to the Catoosa County manager.
In Polk County, Marianne Wood, executive director of the Polk County Chamber of Commerce, and Chris Thomas, president and CEO of the Polk County Development Authority, say collaboration on big and small business development is the key to an engaged workforce.
The county is seeing increased interest from EV manufacturers in its Georgia Ready for Accelerated Development(GRAD)-certified 240 acres of industrial land in the wake of the SK On and Hyundai development announcement. The county has two college and career academies that it is trying to connect directly to the major employers in the area, such as Parker Meggitt, an aircraft fuel-tank manufacturer, Tip Top Poultry and HON, an office chair manufacturer.
"Marianne and I are diligently trying to revive and connect our partnerships between workforce and education," Thomas says.
---
Restoration Time
Chattooga County is one community in the Northwest region that will spend much of this year rebuilding after significant flooding in late 2022, Cindy Rivers McGraw, executive director of the Chattooga County Chamber of Commerce says. Gov. Brian Kemp called the event a 500-year storm when he visited the county last September.
Rivers McGraw says the storm forced dozens of businesses to close their doors, not knowing whether they will be able to reopen. "It was just tremendous, and we are still waiting to hear whether we can receive federal funding," she says. "We have been able to help 25 households through local flood-relief grants."
Despite the setbacks from the flood, Blake Elsberry, Chattooga County sole commissioner, says the county has been working diligently to prioritize other projects, such as the restoration of the county's historic theater, developing affordable housing and opening the first freestanding rural emergency room in the state, which is an $18 million project.
"We don't have access to I-75, so it's [important to have] outside-the-box thinking on economic development, like our river festival or the ER," Elsberry says.
---
Developing for the Future
Counties like Catoosa are investing in the future in other ways. The 50-acre North Georgia Business Park in Catoosa, directly off of I-75, has room for two medium-sized industrial or manufacturing
facilities. Adjacent to the site, a new Love's Travel Center is being built, which will create 50 to 60 jobs, according to Dan Wright, Catoosa County manager. Wright says the county is holding out for the right development for the property.
"We are trying to save that particular park for manufacturing. If we were trying to have that space for warehousing or distribution, it would have been gone a year ago," Wright says.
He says he is trying to encourage new industry development by setting the stage in the county for industry needs, such as improved infrastructure.
Chattanooga-based White Oak Enterprises teamed with Ohio-based Tenby Partners to develop a Class A industrial park near Chattanooga that can accommodate up to 1.1 million square feet of built-out space. Cloud Springs I-75 Industrial Park is about 40 minutes away from the Appalachian Regional Port in Murray County. Wright says he hopes to work with CSX Transportation to expand rail offerings in the area to attract manufacturers.
The goal for these properties would be to support the onshoring of industries, particularly in the EV space, says Jeff Londis, co-founder of White Oak Enterprises. Based on an economic impact study for this development, Londis says they anticipate a capital investment of more than $100 million by the time the property is fully developed.
"We hope to attract some real strong employers to the area that can really have a profound impact not only in Catoosa County but the North Georgia area as we move forward," Londis says.
Click HERE to return to the 2023 Economic Yearbook hub