Visionary Cities
Communities across the state create positive change.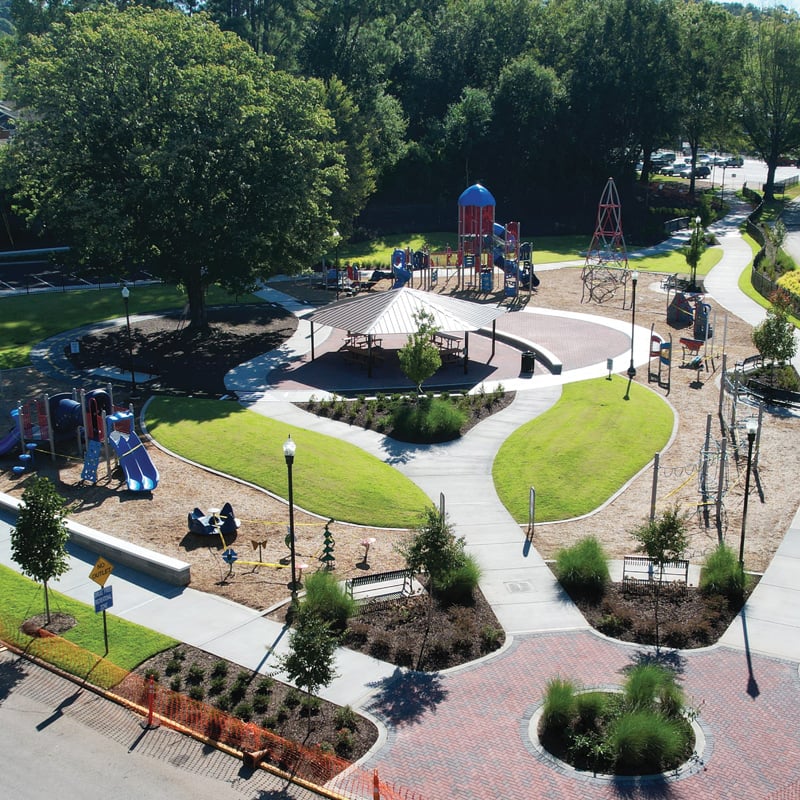 Community. The word has several connotations but broadly it refers to people living together in a specific area. Typically, those residents share the common goal of making their communities better places to live, work and play. Their efforts often involve innovative thinking to overcome challenges and partnerships with local, state and even federal entities.
For the fourth year, the Georgia Municipal Association (GMA) and Georgia Trend teamed up to recognize nine such communities with Visionary Cities Awards for projects that create positive change through collaboration and civic engagement. These projects seek to fulfill an array of needs, including recreation, education, leadership development, conservation, inclusivity and more.
"GMA is thrilled to once again partner with Georgia Trend to recognize this dynamic group of elected officials, city staff and community leaders responsible for their unique and visionary approaches to bettering their communities," says GMA CEO and Executive Director Larry Hanson. "These cities illustrate how serving and connecting their residents through innovative developments and programming can create positive change throughout Georgia."
The Visionary Cities are grouped by population: Large (more than 25,0000), Medium (5,000 to 24,999) and Small (fewer than 4,999). We congratulate these communities on their significant accomplishments and hope their projects will serve as examples for other cities across the state. – Mary Ann DeMuth

---
Large Cities
Engaging Residents
By Patty Rasmussen
Douglasville 
When City Hall tours for Douglas County School System (DCSS) second-graders were halted due to COVID-19 restrictions, Douglasville's community relations team developed a unique way to introduce the youngsters to the inner workings of local city government remotely. The team created "Douglasville Jr.!" – a six-episode internet series for kids that served as a virtual field trip and curriculum enrichment.
"Second grade is when [students] start discussing and learning about the local government," says Emily Hardaway, community outreach coordinator and the human "star" of the show. (Hardaway's costar is a puppet named Freddy, animated and voiced by Community Relations Director Jason Post.) "When we put the video together we geared it toward elementary school, second-graders, but made it so any student could watch and enjoy it as well."
And since videos are unconstrained by space or time limitations, they're able to take students to governmental departments they wouldn't have visited in person.
"Parks and Rec isn't located at City Hall," Hardaway says. "We were able to go to one of our city parks and tell students, 'This is where you can come and play.' Our parks director talked about the programs and camps they offer. It gave more information than the field trip would've provided."
The community relations team collaborated with the DCSS director of curriculum to align the content with classroom instruction. Student reporters interviewed city department directors. Thanks to the use of in-house staff for production and planning, one-time costs were minimal – roughly $700 for set pieces and puppets. Citizens can watch Season 1 on the city's YouTube channel or public access channel, and it will continue to be shown in the classroom. Plans for Season 2 are underway and may include introducing the topics of economic development or visiting the library or animal shelter.
"We hope kids enjoy watching it, but we hope parents or adults in those kids' lives watch it and learn something new, too," Hardaway says.
---
LaGrange
LaGrange is one of those cities that fully grasps the potential public parks hold for community-building, civic engagement and branding. Commitment to its parks was part of the rationale behind the city's decision to take back capital funding and maintenance of the park system from Troup County in 2021.
"The city felt it was time to take those parks back, breathe new life into them, do renovation projects and potentially some new capital projects," says Meg Kelsey, LaGrange city manager. "Parks are quality-of-life amenities that attract people to come and live in LaGrange, and for current residents. We want them to have products to enjoy."
In 2021, the city hired a new parks director and additional staff to help maintain the city's 15 parks (just over 119 acres combined). That's important to park-rich LaGrange where the goal is to link every city park to The Thread, a linear park master-planned to encompass more than 29 miles when completed.
"We want to bring all the parks together and tie our community together so all the neighborhoods in the city can be linked by this amenity," Kelsey says.
LaGrange uses multiple revenue streams to finance its parks, including the general fund and a dedicated line item in the budget. Many capital improvements are funded by a special-purpose local-option sales tax (SPLOST). The city leveraged American Rescue Plan Act (ARPA) funds to build newly opened Moss and Wood Park, and Kelsey recently submitted a grant application seeking funds for a bike playground the city hopes to build across from a city elementary school.
The next big park project, Ridley Lake, will combine $3 million from a Georgia Outdoor Stewardship Grant and $3 million in city funding.
"We think it will be a regional draw for people from other areas to fish, kayak, paddleboard and just enjoy the outdoors," Kelsey says.
---
Valdosta
A patch of green in a city center is a slam dunk, right? But Unity Park, Valdosta's newly opened gathering spot wasn't originally planned for the parcel across from City Hall. It was supposed to be a hotel.
"My parents always told me everything happens for a reason," says Mark Barber, Valdosta city manager and park visionary. "Unity Park fits that scenario very well."
In 2018, after the downtown hotel project fell through, the city purchased the one-acre parcel. Barber described it as a "total eyesore," which the city upgraded – removing derelict buildings and asphalt, then grading and sodding the property.
"For two years it remained a grassy area and was popular just as it was," Barber says. "People loved it. We held events there and people began spontaneously calling it 'Unity Park' as the nation went through civil unrest, COVID and all that. It was a place where folks would just hang out and forget the worries of the world."
Following the community's lead, city officials decided to invest SPLOST funds creating a downtown park and event site, complete with an amphitheater, splashpad and other amenities. Though the eventual price tag ran to $2.9 million, they managed costs by doing much of the work internally or partnering with other entities. The preliminary park design was provided by three University of Georgia engineering students at no charge. Even the park's name was decided upon by the community. Barber said they simply asked the question on the city's website and social media: "What would you like to name the park?"
"Unity Park was the name that came back to us," he says. "I've told our city employees when you get that type of positive positive feedback from your citizens, you know you've done the right thing at the end of the day."
---
Medium Cities
Investing in the Future
By Betty Darby
Camilla
As it emerged from the COVID pandemic, Camilla's elected leadership saw a need to invest in the economic future and leadership development of the city's youth. The result was the Camilla Youth Initiative (CYI), a three-pronged program that offers high school students paying jobs at nonprofit agencies, internships in city offices and a chance to learn first-hand how municipal government functions.
All of this might have been a good idea that the city could not afford, if it were not for ARPA's federal COVID relief funding. Camilla Mayor Kelvin Owens said the city combined part of its ARPA grant with economic development funds from its own coffers to finance CYI, which has an estimated cost of $200,000 a year.
The Camilla Youth Council forms one element of the program. Elected officials, educators and a school resource officer appoint students to this advisory board, which observes the Camilla City Council and provides feedback on issues of special interest to young people.
Another program element provides meaningful work experience – and $10 to $11 an hour – to participants ages 14 to 19 by funding part-time jobs at nonprofits that partner with the CYI. The Mitchell County School System and the Mitchell County Boys and Girls Club pitched in on this aspect. "The program is designed for these teenagers to work for nonprofits only, so they are not only getting a paycheck, but they are serving the community," says Owens. The goal for the program launched last fall is to provide a rotation of six months of employment to 16 to 20 students at a time. Rounding out the CYI is a program tht rotates students into internships in various city departments, including the city manager's office, human resources and public works, to provide experience directly linked to workforce needs.
---
Norcross
Bees and other pollinators are finding Norcross to be a friendlier place these days, thanks to the Pollinate Norcross campaign. City parks, schoolyards, power easements, even the grounds of Norcross City Hall are being planted with native plants, flowers and shrubs designed to attract pollinators.
Every schoolchild and all adults who follow the news know that pollinators are in trouble, their numbers declining due to development, pesticides and other factors. The city of Norcross decided to do something about the problem in a program that turned out to be low-cost and appealing to a wide swath of the citizenry. The city was designated a Bee City in 2018, part of a national program to promote bee-friendly practices, and Pollinate Norcross grew from there.
"Sustainability and environmental stewardship are cornerstone to the City of Norcross and our continued prosperity. Our goal is to help embed sustainability into the routine practices and procedures of the city as a driver for economic development, cost efficiencies and community health and engagement," says Norcross Mayor Craig Newton.
In 2021-2022, the program reached nearly 800 residents through school garden groups, after-school programs, community workshops, employee education and community volunteer events. Costs have been modest: approximately $7,000 from the city's budget and an additional $1,000 in sponsored plants and materials.
The Bee City Committee, the champion of the project, was able to build a relationship with Norcross Elementary and Summerour Middle schools since its goals meshed with the curriculum. Workshops that involved local businesses upped the awareness of the program and created a snowball effect. Master gardeners and garden clubs volunteer time and expertise, as well.
---
Toccoa
The City of Toccoa long dreamed of developing the open land around Lake Toccoa, its municipal reservoir. However, property ownership entanglements and funding concerns complicated those plans. But now, Lake Toccoa Recreational Park is in full flower, funded by a $1.3 million mixture of city tax dollars and federal grant funding channeled through state agencies, supplemented by user fees from golf course fees and paddleboat rentals.
The various amenities were developed in phases, starting in 2014 with revitalization of a nine-hole golf course – once in private hands – that had fallen on hard times. Then, the related pro shop and restaurant were refurbished. Other additions included event spaces complete with a catering kitchen, fishing facilities, picnic areas, paddleboat rentals and, in 2021, the opening of a scenic walking trail – parts of which extend over the water – designed to be accessed by those using baby strollers, walkers and wheelchairs.
The various grants critical to the project came from the Georgia Department of Natural Resources, the Federal Highway Administration, the National Park Service and the U.S. Department of Agriculture.
Building the park also built something else – a sense of community and sort of a homeplace for the city to host public and private celebrations.
"The Lake Toccoa project, after many years, has given people in the whole area a place come and enjoy themselves. It's just great for every age in the community. Families love to come out. The children love to feed the ducks and the fish. We have weddings almost every weekend. It's just a great place for our community," says City Commissioner Gail Fry.
"It's provided more recreation for our community and has become a gathering place," says City Commissioner Terry Carter. "The Toccoa Symphony has the Fourth of July fireworks and performance there. It's not just golfers [who enjoy it], it's a cross-section of the community."
---
Small Cities
Working for the Common Good
By Tom Oder
Sparks
Some of the best things in life really are free. A "Library Everywhere" project in the Cook County city of 2,000 in South Georgia is a prime example. The Coastal Plain Regional Library provides a twice-a-month pop-up mobile library with books to check out and various library services – free to residents and the city – at Sparks City Hall underneath the parking shelter. Launched in August 2022, the project provides city residents of all ages, ethnicities and social status with an event that encourages them not just to read but also to support local small businesses and obtain information about community resources.
Library Everywhere is conveniently located within walking distance for residents who may not have transportation. Books are appropriate for preschoolers, the elderly and all ages in between, and they feature titles and topics from diverse racial and cultural backgrounds. Vendors supply their own goods and add to a festive atmosphere that does much more than offer a way for families to connect with the regional library system. The venue also provides a forum for residents to have conversations with essential community workers from the Sparks Police and Fire Departments.
Community representatives from various sectors, such as Cook County Family Connections, have visited the pop-up library to distribute fresh fruit and resource kits with information on literacy, health and social services.
Representatives from The Haven, located in Valdosta, also have set up during the event to share information about services for victims of domestic violence and sexual assault.
An added benefit is that Library Everywhere has had the same effect of promoting fellowship among city employees as it has in the larger community. "Library Everywhere has boosted employee morale," says Melinda Pettway, Sparks city clerk. "It has been such a joy to see the city employees work together in a spirit of camaraderie, preparing for the pop-up library every second and fourth Thursday."
---
Tybee Island
Studies estimate that 15 to 51 trillion pieces of plastic litter the world's oceans – from the equator to the poles, from Arctic ice sheets to the sea floor, according to the Center for Biological Diversity. In fact, says the national nonprofit conservation organization, at current rates plastic is expected to outweigh all the fish in the sea by 2050.
The City of Tybee Island and the grassroots nonprofit Tybee Clean Beach Volunteers (TCBV) are doing their part to make sure that none of the ocean's plastics or other trash come from the island's beaches. Recognizing that they have the same mission to protect Tybee's beaches, which have earned the reputation of being Georgia's Playground for two centuries, the city and nonprofit formed a collaboration to Keep Tybee Tidy by deploying action, awareness and advocacy to divert trash from the sea and shore.
The city dedicates funding and cleanup equipment to TCBV and collaborates with TCBV and other state and local partners for the Keep Tybee Tidy initiative. Together, the city and TCBV have mobilized volunteers, implemented laws, initiated programs and educated the public to keep Tybee's beaches safe and clean for all living creatures. Ongoing beach clean-ups, creative signage, a new smoke-free beach ordinance and beach toy boxes are prime examples of how this multifaceted collaboration works. The 16.5 tons of beach trash they collect annually would also threaten public health and safety if not gathered up.
"From the city's perspective, we see this program and the partnership with the community as hugely successful," says Michelle Owens, assistant city manager for the City of Tybee Island. "Tybee people are keenly aware that we are stewards of the land, that we have been entrusted with this precious natural resource, and we will do whatever it takes to protect the resource and preserve it for future generations."
---
Watkinsville
For 30-plus years, Watkinsville has been home to Extra Special People (ESP), a nonprofit serving people with disabilities. Even so, during most of that time Watkinsville did not have outdoor recreational facilities that were accessible, forcing the organization to sometimes bus participants to sports and park facilities that met Americans with Disabilities Act (ADA) standards.
Believing that children of all abilities should play together from the earliest possible age, in 2018 ESP Executive Director Laura Whitaker pitched the idea for a Miracle League Ball Field and fully ADA-accessible "Playground of Possibilities" to Watkinsville. She took the city's response – "make no small plans" – to heart. A public-private partnership between Watkinsville and ESP was formed to create a new space between Harris Shoals Park and City Hall where approximately 1.5 million people from a 30-county area have the opportunity to enjoy safe, inclusive and fully accessible activities.
On June 6, 2022, ESP's Miracle League Complex, one of only two such facilities in Northeast Georgia, celebrated its grand opening. The Miracle League Ball Field replaced an old field, with the fully ADA-accessible "Playground of Possibilities" next to it. In its first 90 days, 13,500 people enjoyed the playground and hundreds of ESP clients used the facilities. In September 2022, ESP hosted its "opening day" tournament on the Miracle League Field, drawing hundreds, many playing their first-ever baseball game. "For our community of less than 3,000 people, this is a huge success!" says Sharyn Dickerson, Watkinsville city manager.
"ESP is the conscience and heartbeat of Watkinsville, and to create something with them that is so meaningful to so many in our community is just an unmatched opportunity," says Mayor Brian Brodrick. It's no surprise that other municipalities in Georgia want to replicate that opportunity. A Chatham County Recreation & Parks official inquired about the project, indicating he is looking to build three similar facilities for his community.