Edible education in Chattahoochee Hills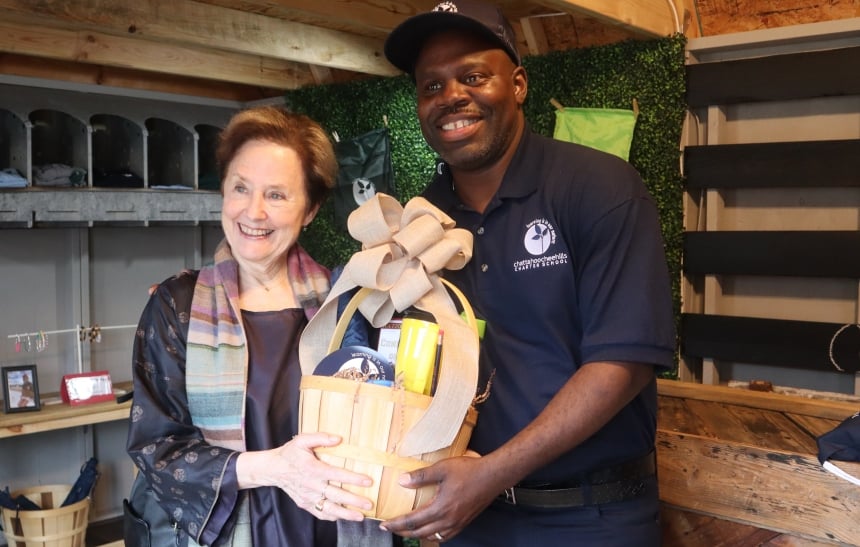 Neat rows of Swiss chard and broccoli heads, towering bright yellow sunflowers and friendly chickens running around — that is not your typical school scene. But Chattahoochee Hills Charter School (CHCS), located in the city of Chattahoochee Hills in southern Fulton County, is an exception.
The K-8 charter school is on a mission to grow 70% of the food consumed on campus by 2025. CHCS has a unique focus on art appreciation, agriculture sustainability and environmental awareness. Students learn to grow, harvest, prepare, serve and eat healthy food as part of the daily routine. Every day, during school hours, they have hands-on experiences that connect their young minds to food, nature and each other. This is not only designed to nurture the body, but to systematically address the crises of climate change, public health and social inequality.
The farm-to-table school lunch idea was started by Alice Waters, one of America's most celebrated chefs whose name is synonymous with the slow food movement, which uses fresh, organic and locally grown foods. A culinary activist and the owner of famous Chez Panisse restaurant in Berkley, California, Waters founded the Edible Schoolyard Project (ESP) in 1995 to use organic school gardens, kitchens and cafeterias to teach academic subjects and the values of nourishment, stewardship and community. ESP now supports a network of over 5,800 programs at schools worldwide, including the one at CHCS.
The community of Serenbe recently hosted a fundraising reception with Waters, featuring a six-course collaborative dinner created by some of Georgia's stellar chefs (including Matthew and Tia Raiford of Strong Roots 9, Anne Quatrano of Bacchanalia and Star Provisions, Claudia Martinez of Miller Union, and Nicolas Bour of The Farmhouse at Serenbe).Parents and community partners have been heavily involved in supporting CHCS's programs since the school opened in 2014.
Patrick Muhammad, the principal at CHCS who is also fondly known as the "principal farmer," had been studying ESP for about five years and developed the school's first gardens and farm. When he was introduced to Waters via Raiford, a mutual friend, his dream came true.
At the school, you can see a greenhouse that holds thousands of seedlings, tower gardens used for lettuce bases, a two-acre farm for row crops, 50 laying hens, an apiary with three bee hives, muscadine vines and smaller gardens located throughout the campus. There are also plans for workshops on sustainable agriculture for parents, shared kitchens and partnership with chefs to supply and feed the community.
Interested in taking a tour of the school, volunteering at the farm, partnering or donating? Visit chatthillscharter.org.
Photo by Middle School Photography Team. Shown are Chef Alice Waters and CHCS Principal Patrick Muhammad
 Do you follow us? Find us on Linkedin, Facebook, Twitter and Instagram.