Art that moves in Macon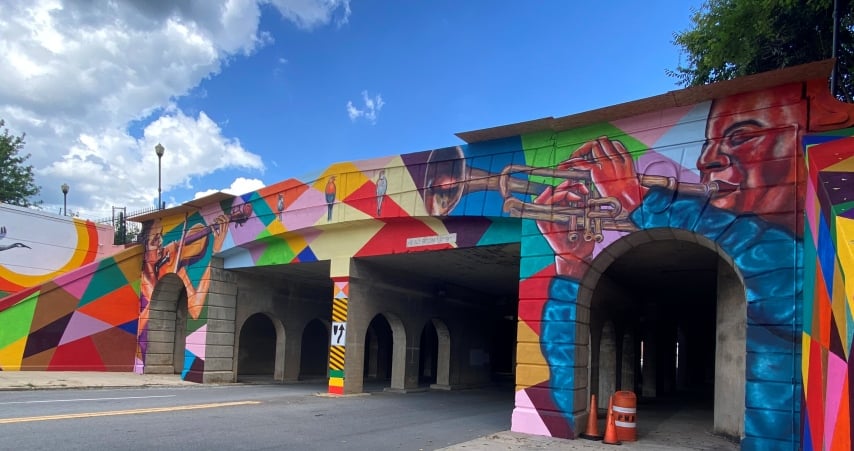 Transportation is crucial to Georgia's success and helps it claim titles like the No. 1 state to do business – but it's not every day that a transit authority in the state wins a cultural award. That's what happened in Macon, where the Macon-Bibb Transit Authority (MTA) was recognized for paying homage to the city's arts and cultural life.
First came the Spirit of Macon, a mural created by Georgia College and State University professor Abraham Abebe that wraps around the corner of Fifth and Poplar Streets at the end of the transfer station which serves as the city's public transportation hub. It depicts an MTA bus and cityscape showing Macon's new and historic buildings. Next was Spirit of Macon II, Abebe's mural spanning the Poplar Street tunnel and paying homage to the city's musical history: A woman plucks at a violin while a jazz musician plays trumpet and three small birds – sited along a real wire that runs the length of the tunnel – chirp along.
Since every MTA bus travels to the transfer station each day, riders and drivers see the public art on their journeys around town.
In addition to the murals, the Macon Arts Alliance Cultural Award also recognized MTA's MELODY, the transit authority's fourth electric bus which depicts more than 20 of "Macon's Music Masters" – stars who have rocked the city on stage and behind the scenes.
They may not win arts awards, but Georgia's planned transportation projects are pretty impressive, ranging from futuristic traffic lights that talk to cars, statewide electric vehicle chargers and functional bus rapid transit (BRT) stations. Funding from the historic Bipartisan Infrastructure Law means Georgia will get $9.27 billion. Learn more about how it will be spent in our November story, Georgians Get a Ticket to Ride.
Photo courtesy of Macon-Bibb Transit Authority. Shown is the Spirit of Macon II mural.
Do you follow us? Find us on Linkedin, Facebook, Twitter and Instagram.