Connecting Style and Substance
Cobb CIDs advance beauty and opportunity.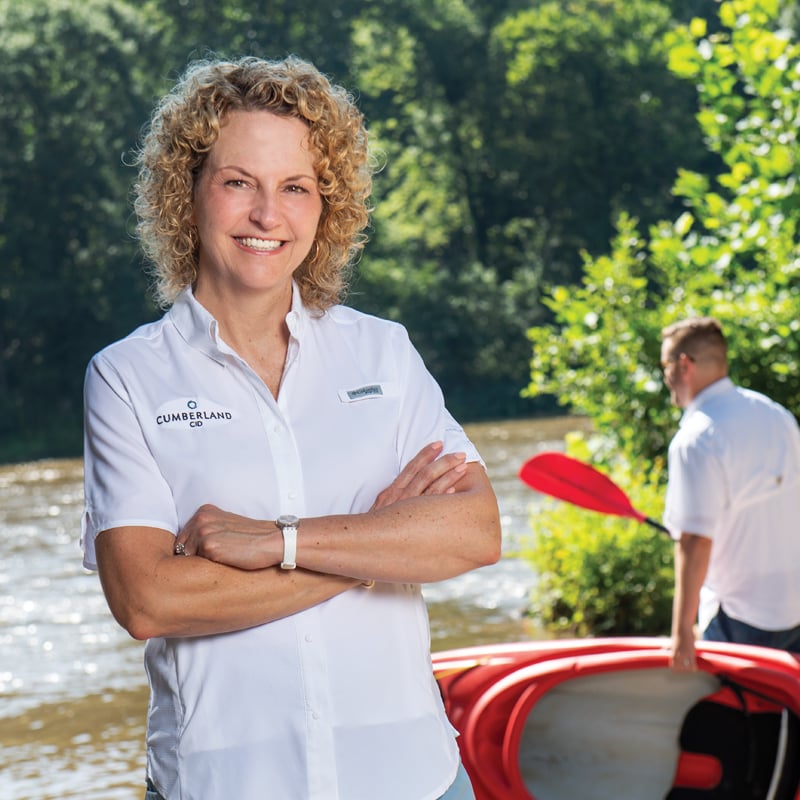 The Atlanta metro has long leveraged its advantages to prosperous effect: an attractive climate, a business- friendly and growth-oriented approach and a large, young and highly educated workforce. It's a winning combo, like sweet tea and barbeque.
Yet growth often comes with challenges, and for "The City in a Forest" sometimes it gets hard to see the trees, well, for said forest. That is to say, community-level needs are more easily overlooked during rapid, citywide growth. That's where community improvement districts (CIDs) come into play. These self-taxing business entities build on the macro benefits of the Atlanta metro with a detailed, targeted focus on hyper-local public improvement projects.
Cobb County knows about growth – it ranked third in year-over-year population growth among the 11 metro counties in April – and it knows CIDs, boasting the first one in the state, Cumberland CID. Cumberland and Cobb's two other CIDs, Town Center and Gateway Marietta, continue to press their advantages in metro Atlanta with impressive beautification, public safety and infrastructure projects.
---
Green and Better In-between
More than a river runs through the Cumberland CID. It also sees substantial capital flows to the tune of a $23.6 billion annual economic impact on Georgia. And its 30,000 residents, including World Series champs the Atlanta Braves who call the area home when they're at the ballpark, have had a good run of late.
But the river is a component of the region's success. The Cumberland CID is home to more than 840 acres of the National Park Service's Chattahoochee River National Recreation Area (CRNRA), a greenspace area that is equivalent to New York's Central Park. The Cumberland CID and the CRNRA are partnering to preserve and protect the Paces Mill/Palisades Unit, the southernmost unit of the CRNRA, which is located at the CID's southern boundary and gateway. It's in line to receive an $11.8 million makeover.
"We're the only CID in Atlanta that has national park land within our boundary," says Kim Menefee, executive director of the Cumberland CID, about the Paces Mill/Palisades Unit, an area that hosts over 270,000 visitors a year, connects to 38 miles of multi-use trails and is home to the Bob Callan Trailhead. "The Chattahoochee River is really a hidden gem in our city. The Paces Mill/Palisades Park Unit preservation will provide an important natural resource to the community in this rapidly urbanizing area and an enhanced, more national park-like visitor experience for generations to come."
Once funding is complete, the preservation effort will include a new state-of-the-art visitor center, additional river access points with new viewing platforms, new and improved vehicular circulation at the various boat ramps and a wide set of steps to help people connect with the Chattahoochee River. Also, a series of protective bioswales will be installed to help filter storm water runoff before it enters the river.
The Cumberland CID was awarded $1 million through the fiscal year 2022 federal appropriations thanks to the efforts of Sen. Jon Ossoff and U.S. Reps. David Scott and Lucy McBath. Preliminary engineering and design plans are slated for completion by the end of 2022. Beyond the Chattahoochee River National Recreation Area, there are certainly many places to go in the Cumberland CID, including Truist Park (home of the Braves), The Battery Atlanta, corporate campuses and a multitude of restaurants and retail shops. The Cumberland Sweep will help people get there. A $100 million project, the three-mile multimodal corridor is designed to improve connectivity throughout the core of the district with an autonomous vehicle (AV) shuttle system along with dedicated walking and biking lanes.
"The idea is to add mobility to the area: the best car mobility, dedicated walking/biking lanes and then this autonomous system," Menefee says. "First- and last-mile connectivity are very important."
The first segment of the Cumberland Sweep has been fully funded through the Atlanta Regional Commission (ARC) and is in the design phase with Kimley-Horn, Cobb County and the Georgia Department of Transportation (GDOT). Earlier this year, the Cumberland CID Board funded a $320,000 study that aims to provide a detailed assessment for AV shuttle deployment, including challenges, risks and potential operational concepts.
"AVs are making substantial strides as technology continues to develop and testing becomes more sophisticated," Menefee says. "AVs have been identified as smart solutions for transit and offer potential solutions for the last mile challenge stemming from large distances between transit stations and stops to final destinations. Studies show that transit use drops 90% when someone must walk more than half a mile to access [it]."
That's not the only solution to traffic congestion. The Northwest express lanes on I-75 need better direct and safe access for the more than 100,000 daily commuters traveling to and from the district. That will improve with a new 12th access point for the popular express lanes at the Akers Mill Road exit, an infrastructure project that Menefee calls "a marquee achievement for the Cumberland CID."
The 24-foot-wide reversible ramp will improve area mobility and boost travel time savings for commuters. A true public-private partnership, the Cumberland CID and its state, regional and county partners, including GDOT, the State Road & Tollway Authority, Atlanta Regional Commission and Cobb County, each contributed significantly to funding the more than $44 million Akers Mill Ramp project, with a $5 million INFRA grant from the U.S. Department of Transportation putting it over the top. Construction is already underway with completion scheduled for the summer of 2023.
"The Cumberland CID's 34-year success would not be possible without the commitment of more than 190 commercial property owners along with our partners at the local, state and federal levels," Menefee says. "Without their support, projects would not be completed. Cumberland continues to evolve from a 9-to-5 business center into a bustling community and entertainment district."
One can see signs of the CID's success from The Battery Atlanta to shopping and world-class amenities and the natural attraction and balance of the Chattahoochee River National Recreation Area. And the numbers certainly back that up with 18% growth in annual economic impact in two years, a 27% increase in population in the last decade and more than 4.5 million square feet of commercial development in the pipeline for the next five years.
"It's truly exciting what's happening in our CID and we're not slowing down," says Menefee, spotlighting the $23.6 billion economic impact figure revealed at the end of 2021. "When we had that growth through the pandemic, we realized that something special is going on."
---
Bridging the Gap
Connecting expands possibilities, but first there must be access. Celebrating its silver anniversary, Town Center CID in North Cobb County sees a golden opportunity to strengthen ties in its 6.25-square-mile area through enhanced connections.
"We're making Town Center Community a vibrant place for all, bringing imagination, funding and leadership to transportation, mobility, trails, parks and cultural assets," says Tracy Styf, executive director of Town Center CID, located along I-75 between the Barrett Parkway and Chastain Road exits. "We advance our vision each day through 14 coordinated projects that transform our ability to connect and access our parks and trails, commerce and retail, restaurants and residential communities."
With the goal of greater connection between activity centers through new links and enhanced roadways with dedicated bike and pedestrian access, the Town Center CID has commissioned studies for new multimodal and trail connections in Cobb Place, Chastain Meadows and extensions to the Noonday Creek Trail system. Engineering and environmental data collection are taking place for a new pedestrian bridge connection on the Noonday Creek Trail at the intersection of Highway 41.
"As our district continues to grow and our residents, employees and visitors are looking for alternative methods for moving in and around the district, these connections will be vital to our future success," says Styf, calling the Noonday Creek Trail bridge over Highway 41 a critical connection. "This is a regionally significant project and is supported by the Atlanta Regional Commission."
Where the trail is currently bifurcated by the highway, the $7 million project, which was partially funded by the ARC, will provide safe, easy passage for pedestrians and cyclists while also encouraging users to continue across the thoroughfare to Kennesaw Mountain National Battlefield and other trail connections in Marietta and Smyrna beyond, similar to the transition between the Silver Comet Trail and Atlanta Beltline.
The Town Center CID consists of nearly 500 parcels and 275 property owners, ranging from small businesses to large employers, and includes five million square feet of restaurant and retail space. It is home to Kennesaw State University, one of the state's largest schools, and Cobb County International Airport, the fourth-busiest general aviation airport in the state.
Major businesses, aviation and academic presences mean big traffic volumes. Thanks to the Town Center CID, the area's infrastructure is getting bigger and better at handling the load. After years of planning, the CID's largest infrastructure project starts construction in the fall: The third phase of the South Barrett Reliever will give drivers an alternate route around Barrett Parkway, one of the district's – and the county's – busiest corridors.
"The complete east-west stretch of the next phase will improve connectivity to Town Center's prime areas of growth," Styf says. "With additional corridor improvements like bike lanes and crosswalks, the public will have a new opportunity to walk and bike where connections previously did not exist. By facilitating interest in these alternative transportation options, the South Barrett Reliever is expected to decrease traffic during peak hours by 22%."
Continuing from where Phase 2 ended at Barrett Lakes Boulevard and Roberts Court (formerly Shiloh Valley Drive), the roadway will cross I-75 and the managed lanes and extend to Barrett Parkway via Roberts Court. Funded by the CID, a Cobb County special-purpose local-option sales tax (SPLOST), the State Road and Tollway Authority and Georgia Transportation Infrastructure Bank, GDOT and the Transportation Improvement Program, the total project costs for South Barrett Reliver phases 2 and 3 are $36.5 million.
"Our partnership with Town Center CID is essential in moving projects forward," says Drew Raessler, director of Cobb County DOT. "We work together to secure funding and deliver critical infrastructure investments like South Barrett Reliever and the Noonday Creek pedestrian bridge that provide significant benefits for Cobb County residents and visitors."
Styf adds, "The two biggest accomplishments of 2021 and 2022 are completing the necessary funding for the South Barrett Reliever Phase 3 and the Noonday Creek pedestrian bridge projects. It is only fitting that we cap this [milestone] year with a historical groundbreaking and [25th] anniversary celebration."
---
Creative Placemaking and More
Whether via interstate or internet, the portal into a city or district should be special if the entity aims to be. To that end, Gateway Marietta CID (GMCID), situated between Delk Road and the South Marietta Loop along Franklin Gateway Road in Cobb County, is planning its next beautification and branding move.
"We will be adding to the established landscaping to create a welcoming entrance from Interstate 75 into the City of Marietta and Gateway Marietta CID," says Caroline Whaley, executive director of the CID, which launched its newly updated and user-friendly website in May. "The signage, designed to complement the existing City of Marietta signage, will create a visual landmark for GMCID."
In mid-summer, the GMCID was in the site-planning phase for Gateway monuments at the north and south ends of Franklin Gateway, along with landscape enhancements to the Delk Road corridor, following completion of phase 1 in February 2020. The GMCID is working closely with the City of Marietta, as well as other stakeholders, through all phases of the project, which is a direct result of a 2020 ARC-funded creative placemaking, wayfinding and signage study. Whaley expects the project to cost around $125,000.
"The Gateway Marietta CID's beautification efforts have helped give a renewed identity [to major parts of our city]," says Daniel Cummings, economic development manager for the City of Marietta. "Businesses looking to locate or expand have and will see the community investment and can trust that their private investments can be maximized. Strategic in utilizing their funds to help improve the district, the CID's plans to continue their placemaking and beautification efforts mean their impact will only grow."
Safety and security are also important community concerns. The GMCID, working in close partnership with the Marietta Police Department, is one of the first CIDs to roll out Flock Safety's license plate cameras, according to Whaley.
"These cameras have been instrumental in helping recover over $100,000 in property," she says. "Due to their success, Flock Safety cameras are now utilized throughout the City of Marietta and Cobb County, along with other CIDs around the metro area."
Cummings adds, "Through collaboration with the Marietta Police Department, the GMCID embraced emerging technology that helps solve crimes and keep communities safe. Their use of Flock cameras has added an additional level of safety and peace of mind to the district's industry and residents."
Gateway Marietta CID is approximately 1.2 square miles and consists of 73 commercial properties. Since its establishment in 2014, the CID has expanded twice to include property owners just south of Delk Road as well as additional property along Franklin Gateway. The newest of three CIDs in Cobb County, GMCID's projected tax revenue for the upcoming year tops $450,000.
Whaley reports that there are nearly 4.1 million square feet of commercial and multifamily residential property within the CID's boundaries, including 530,000 square feet of office space, 133,000 square feet of retail space and almost 1.5 million square feet of industrial and flex space. "With a strong focus on beautification, public safety and infrastructure improvements, GMCID is making a tremendous impact on the Franklin Gateway area," she says. "GMCID is proud to be home to the Children's Healthcare of Atlanta Training Ground – a state-of-the-art facility that is home to Atlanta United – the City of Marietta's Franklin Gateway Sports complex; multiple breweries; and major domestic and international headquarters."
And growth and investment in the GMCID has not abated since the start of the pandemic. As promising examples, Whaley highlights the announcement by MiRus, a Marietta biotechnology company, that it plans to establish its new headquarters in the heart of the CID, as well as new townhomes coming to the Franklin Gateway area.