High-tech Makers
Georgia excels in advanced manufacturing for industries from aerospace to agriculture.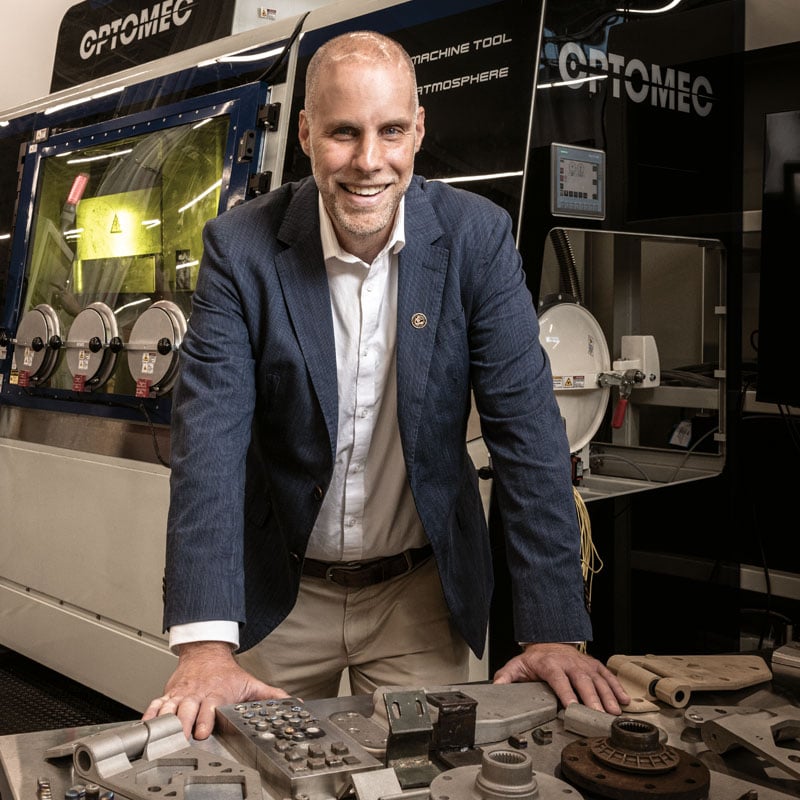 Georgia is a place where people know how to make things. Consider that the parts holding rockets together as they blast into space are made in Dodge County. Carbice in Atlanta produces thermal tape for satellites. And Saft America in Valdosta makes advanced batteries that power airplanes, satellites and race cars.
Manufacturing of all types is soaring in the state, with over 11,000 companies employing an estimated 393,500 workers in 2021 – about 9% of Georgia's workforce. Approximately three-quarters are production workers.
Today's manufacturing is clearly not the old assembly line. Software and robots operated by highly trained technicians are driving America's – and Georgia's – maker resurgence. Even traditionally low-tech operations such as poultry plants are incorporating technology and robotics to automate dirty or dangerous jobs that are hard to fill.
Companies employing these advanced manufacturing practices had a total output of nearly $62 billion in 2019, representing approximately 10% of Georgia's Gross State Product, according to National Association of Manufacturers (NAM) data.
Georgia has a lot going for it as a rising star in advanced manufacturing. Its reputation as the best state to do business is the result of a host of assets for companies looking to relocate and grow, according to John Morehouse, director of the Georgia Center of Innovation for Manufacturing at the Georgia Department of Economic Development (GDEcD). These assets include a pro-business climate, a trained workforce and a strategic location that allows companies to reach 80% of the U.S. market via truck, rail or plane. And the Port of Savannah is a gateway to (and from) the world.
One of the biggest draws is Georgia Quick Start, the nation's No. 1 workforce training program that has provided customized training for more than 1 million workers. Another is the increasing flow of venture capital to the region.
Manufacturers are "recognizing this is where there's a lot of value, and value is what they're seeking," says John Avery, director of the Advanced Technology Development Center (ATDC) at Georgia Tech.
---
Process Control
Maintaining a technological edge doesn't come cheap. Southwire Company, a maker of wire and cable, is in the midst of a $1 billion investment that is "putting a lot of money into our factories, making a difference for our customers and adding capacity," says CEO Rich Stinson.
While the process of making wire and cable has changed little over the years, the technology has advanced.
"What has changed is the equipment and the control of the process to make wire and cable," explains Southwire Senior Vice President William Berry. "We've developed better control of motors, better products such as servo motors [that rotate machine parts with high efficiency]."
To grow manufacturing, the state is channeling resources into helping companies get started and improve their processes and technology. GDEcD's innovation center has "teams that work in agricultural technology, energy technology, information technology, logistics, manufacturing, in aerospace," says Morehouse. "We talk to them about what their challenges are to growth, and then connect them to the right resources in the state, whether that be an expert in academia, or other companies, or government agencies."
The center can gear up to assist an entrepreneur with a new product idea or a large company with a production-line challenge.
---
New Industrial Revolution
The state, along with its agencies and educational institutions, has been pushing adoption of Manufacturing 4.0 (or Industry 4.0), which is dramatically changing the ways companies improve, manufacture and distribute products. New technologies like the Internet of Things (IoT), cloud computing and artificial intelligence (AI) are being integrated into operations.
Georgia Institute of Technology has been at the forefront of research and development in this area. Its Advanced Manufacturing Pilot Facility (AMPF) is a 20,000-square-foot, reconfigurable R&D facility in Midtown Atlanta that provides space for industrial, academic and government agencies to develop innovative manufacturing projects. It also serves as a teaching laboratory for Tech graduate students.
Made possible by a $3 million donation from the Delta Air Lines Foundation, AMPF is a flexible facility that can house all kinds of advanced manufacturing innovation projects, including industrial robotics and additive, hybrid, composite and digital manufacturing.
Companies use the space to test new designs and get feedback about new ways of producing products, according to Aaron Stebner, associate professor in the George W. Woodruff School of Mechanical Engineering at Georgia Tech, who is working on research integrating data informatics and machine learning for development of new manufacturing processes.
The state is committed to helping Georgia companies acquire and develop such advanced technologies to increase efficiency and competitiveness. As part of this effort, Georgia Tech launched the Georgia Manufacturing 4.0 Consortium to work with businesses in defense and related industries. The Georgia Manufacturing 4.0 initiative "is about helping Georgia manufacturers adopt Industry 4.0 technologies. There's a special emphasis on small manufacturers who may be overwhelmed about the latest software they should buy, or don't even have time to think about how to put a sensor on a machine to help with uptime," says Stebner. "Through those programs, we can actually provide them assistance with workforce training, as well as innovate with them."
Gulfstream, for example, equips workers with wearable devices to provide remote step-by-step instructions in situations where a supervisor is not on hand, says Stebner. Augmented intelligence can provide that supervision and continuous reminders to the employee.
"The human workforce is going to move to higher value-added activities, as they always have, whether it's in agriculture, whether it's in manufacturing today, and mechanization or automation back in the day," explains Shreyes Melkote, a mechanical engineering professor who is executive director of the Novelis Innovation Hub at Georgia Tech. The partnership between Tech and the aluminum manufacturer and recycler focuses on basic and applied research related to sustainable processes.
---
Leading-edge Applications
Data is a key to adding efficiency to manufacturing operations. When ProcessMiner opened for business in 2014, its original goal was to optimize manufacturing processes for the pulp and paper industry.
Today, its platform predicts problems in real time using AI within the manufacturing process for companies in the pulp, paper and plastics industries. Pilot projects are underway for water treatment and energy sectors.
"We decided to go ahead and take on the challenge of solving this problem, not for one specific industry, but for manufacturing," says Kamran Paynabar, co-founder and chief science officer at ProcessMiner.
The company's focus is "leveraging AI, data science, machine learning, as well as domain knowledge for improving continuous manufacturing systems," explains Paynabar. It can predict the quality of the product coming off the assembly line by collecting and processing data using machine learning and other technologies.
"Another thing that we really wanted to include in our offering and platform was the combined integration of domain knowledge and process experience plus data analysis to make sure that the solution that we provide actually works for the manufacturing system," says co-founder and CEO Karim Pourak.
Lumber might seem like a simple business, but Rayonier Advanced Materials is developing decidedly high-tech applications for wood and its byproducts, such as purified cellulose. These substances are used in products that require absorbent materials like baby diapers and adult incontinence products. They're also used in plastics, run-flat tires, sausage casings, timed-release pharmaceuticals and even LCD screens, according to Larissa Fenn, director of research and development into new high-purity cellulose (HPC) products at Rayonier's Marketing and Research Center.
One recent project involved the use of wood byproducts to create prebiotics, or the food that fosters the growth of good bacteria in animals. Rayonier partnered with the University of Georgia's poultry science department to test a product in chicken that was derived from wood extraction processes. "We wanted to see how it would perform in increasing their gut health and helping them to be resistant to disease," Fenn says.
---
From Lab to Factory
The state is also a good place for new companies to get up and running.
Carbice is an Atlanta-based start-up company dedicated to designing, developing and producing a unique thermal material to remove heat from electronic devices. It produces thermal tape that can be used in satellites, and the growing company needed assistance to take its manufacturing operations to scale.
Carbice spun out of a lab at Georgia Tech to address a long-standing problem within the space industry of how to control heat generated by satellite circuit boards. It is a prime example of academic research that has evolved into a growing company with a valuable product.
"It's one thing to be able to do lab-scale demonstrations of technology, but I focused on how do you make the material so that it can be scaled up for manufacturing," says CEO Baratunde Cola. "Each of these satellites has about 50,000 square inches of thermal glue that they use to put on all the different electronic boxes. And the problem with it is that that glue is a very challenging manufacturing process."
The company created a first-of-its-kind Space Pad that can adhere to the heat source on a satellite or other device. "Then you can easily take it off and stick it on. It takes a process that used to take three weeks and turns it into a three-minute process," says Cola.
This is a material that will "replace things like thermal grease and thermal paste or graphite pads and ultimately simplify manufacturing," says Cola. "It will improve performance across space, power trains in electric vehicles, semiconductor manufacturing, data centers and cloud computing, graphics cards and high-performance gaming."
Technologies such as 3D printing enable companies to produce products that can be geared to customers in ways that were not possible in the past.
The Atlanta Drone Group is using advanced manufacturing processes to build its unmanned aircraft for "public safety from the ground up," says CEO Matt Sloane. The company just released a new drone that can be configured to carry different kinds of payloads depending on the need of the individual agency, he says.
"We've done a lot of 3D printing of prototype parts, and in some cases, production parts are going to be 3D-printed," says Sloane. "We've done a lot of 3D scanning, looking at the various sensors and scanning them so that we can integrate them into the design. And then we're using cutting-edge carbon fiber lay-up [lamination] methods, that you typically see in [Formula One] racing rather than traditional drone manufacturing."
---
Finding a Better Way
One of the biggest advanced manufacturing sectors is machining. This precision prototyping and manufacturing process creates parts that go into a wide range of products from farm equipment to airplanes.
Eastman's Kencoa Aerospace, a supplier of multi-axis precision-machined and sheet metal-fabricated components, serves a customer list that includes Lockheed Martin, Gulfstream Aerospace and Boeing, which is constructing NASA's Space Launch System – the most powerful rocket ever built.
Aerotech Machining is part of a growing manufacturing sector springing up in Chatham County near the Port of Savannah. The firm opened decades ago to serve the aerospace, agricultural, power generation and rail industries. With the aid of CNC (computer numerical control) machine tools, the company designs and produces parts using preprogrammed software and code to control the movement of production equipment. Aerotech can fashion parts using detailed specs as well as create designs to meet a specific use.
"They may come to us with a need, not quite knowing what the part should look like, and we would design and give them a 3D rendering of the part for their approval," says Aerotech President Joey Jones. "We would make them a prototype. If they accept the prototype, then we will send the part off into production and make them however many pieces they need – from two to 200, or a lot more than that."
Advanced manufacturing companies like these are driven by the need for efficiency and the elimination of waste from production methods. Many companies have turned to production methods such as lean manufacturing to reduce process inefficiencies. Automation and other technologies are now also decreasing process times and costs.
"We started our lean journey in 2003 and so we're working to eliminate waste in all areas of the business," says Brandyn Chapman, CEO of PHX Holdings, which owns Phoenix Stamping Group. The company makes sheet metal and rod component parts. "We've utilized technology as another tool to assist to that end. It's one way we've implemented an ERP [enterprise resource planning] system and then utilized that to streamline and automate specific functions through the use of information technology."
New battery and electric-vehicle parts makers have gotten a lot of press lately in Georgia but one long-time corporate citizen is Saft America. A wholly owned subsidiary of France's TotalEnergies, the company specializes in advanced technology battery solutions for industry. Its products are in everything from satellites to airplanes where reliability is a must. More than 500 batteries are in space "and we've been there since 1966, which I think makes a pretty big statement," says Kirk Rosenlund, general manager at Saft America.
Across the state, advanced manufacturing is growing as the national economy expands and increasingly companies realize that the best place to make things is right here in Georgia.