From Planet to People
Georgia's flooring manufacturers continue to raise the bar on practices that benefit the environment and those living in it.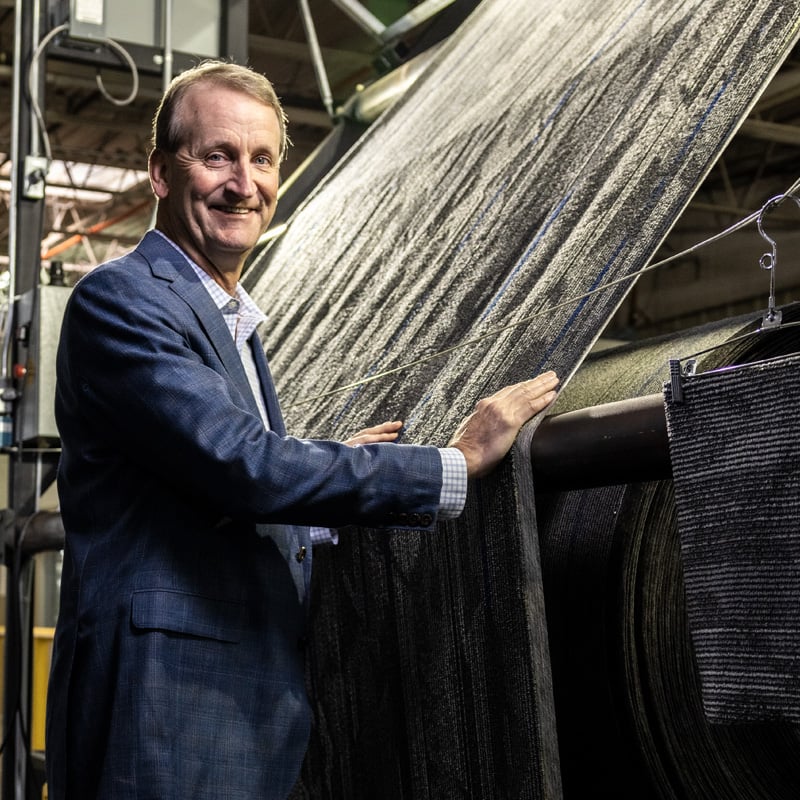 What does sustainability mean, exactly? Your first thought may be about the planet and the environment: using fewer resources (like water and non-renewable energy), creating less waste, making sure soil, water and air are clean, and reducing carbon emissions.
Those are the kinds of issues the flooring industry has been working on for decades. Some manufacturers were urged on initially by commercial customers whose stakeholders were asking questions about their own companies' use of resources and contributions to rising carbon levels.
"The commercial business has had sustainability expectations for a very long time and is really pulling on manufacturers like Shaw to deliver solutions that help them meet their goals, whether that's a sustainably built commercial building or to be part of their value chain," says Kellie Ballew, vice president of global sustainability at Shaw Industries in Dalton. "When Shaw learned how to do that [we brought] that to our residential business. One side is the pull, the other is the push."
So real efforts to improve sustainability when it comes to the environment are not new to the industry. Figuring out how to go more and more green – using recycled material, consuming less water and energy, using renewable energy sources, reducing the carbon footprint – is all SOP at Georgia's four major flooring companies.
And though they continue to make strides in those areas, offering carbon-neutral or even carbon-negative products, for example, sustainability has evolved to focus on people as well as the planet and moved from lessening the impact on the environment to making a positive impact on people. Ballew says that Shaw's materiality assessments – those aimed at finding out how important environmental, social and governance (ESG) issues are to stakeholders – found that "health and wellbeing was by far the answer that permeated both our commercial and residential businesses, which is how people are impacted by products in indoor spaces." Those concerns were nudged even further – maybe shoved is more accurate – by the pandemic, when we all spent a lot more time inside.
Even without COVID, workspaces are undergoing "radical transformation," says James Lesslie, president of the commercial division of Dalton-based Engineered Floors. "Corporations are getting much more in tune with noise, safety and the clean working environment….[People are saying], "If I'm going to work in an office, I want it to be a good environment."
---
Negative Thinking
Lisa Conway, vice president of sustainability, Americas, at Interface, which is headquartered in Atlanta with manufacturing in LaGrange, says she never tires of watching a video where the late founder Ray Anderson tells the story that set the company on a journey to sustainability in 1994. That's when customers started asking what the company was doing for the environment and when Anderson read Paul Hawken's book The Ecology of Commerce. What Anderson described as his "spear in the chest moment" that convinced him he was a "plunderer" ultimately led the company to promise to eliminate any negative impact on the environment by 2020 – its "Mission Zero" that Conway says was achieved a year early.
Interface is well known for its dedication to sustainability, but Conway says the company started with low-hanging fruit like other manufacturers do, tackling things like reducing waste to landfill. "Waste is where a lot of companies and people start, I think, because it's something tangible," she says. Then, looking at greenhouse gas emissions – how are the plants powered, where does that power come from, how can brown energy be supplanted by green energy. "All of that stuff that seems remedial at this point, [issues] that all organizations are thinking about," says Conway. Interface was aggressive in "understanding our footprint was not just about what happens within [our] four walls," she says. "We knew very early on that the supply chain was a crucial part to lowering our footprint." Reaching into the supply chain requires good relationships with suppliers and being willing to ask uncomfortable questions, she adds.
Like the other flooring manufacturers, Interface focuses on circularity, so products are designed to go back into the supply chain, not the landfill, when a user is done with them. That can mean designing products that have a long life and can be reused, using recycled materials (like plastic water bottles to create carpet) and creating products so they can be recycled. Interface's Rising Signs carpet tile collection, introduced in 2021, for example, is made with recycled nylon and is itself recyclable through the company's ReEntry program, which takes back carpet tile and luxury vinyl tile (LVT) at the end of its life cycle. The collection is also carbon-neutral.
Interface has even created a carbon-negative carpet tile, by using a new kind of backing (named CQuest and used on the company's Embodied Beauty collection and select other products). That means there is less carbon dioxide in the atmosphere after the tile has been made. "We figured out how to store more carbon in the product through materials [we use]," says Conway. "We have actually stored more carbon than is emitted to make the product."
When Interface thought about its next sustainability goal, it decided to aim for something that sounded impossible, which it calls Climate Take Back. "It's our commitment to run our business in a way that reverses global warming," says Conway, meaning the company as a whole will be carbon negative. That will entail "running our factories like forests," she says. "And then reaching into our supply chain and replacing virgin raw materials with recycled and natural or bio-based inputs."
Interface is a partner in materialsCAN, the Materials Carbon Action Network, whose members focus on embodied carbon (all the carbon dioxide that's emitted in the manufacturing, production and transportation of materials). The company has also invested in EC3 (Embodied Carbon in Construction Calculator) that Conway says can help commercial owners and tenants make decisions in part based on the carbon footprint of different materials.
---
People-centered Design
At Engineered Floors, Lesslie calls its Kinetex product "the future of flooring." It's a hybrid product that combines attributes of hard and soft surface flooring, which Lesslie says means it lasts longer (like hard surface) but has better sound abatement (like soft surface) and also helps prevent slips and falls. It contains at least 45% post-consumer recycled material and is itself 100% recyclable through the company's Carpet Reclamation Program. And it's made in a way to make recycling a little easier.
"It's one component, all polyester," says Lesslie. "So if you want to recycle it, it's like a water bottle – you don't have to separate it." Carpet, by contrast, is made of different elements that are harder to separate.
Lesslie says Engineered Floors had an advantage when it comes to sustainability because the company is new compared to its competitors. The company was started in 2009 by carpet legend Bob Shaw, who co-founded Shaw Industries, which he helmed until "retiring" in 2005. Engineered Floors was able to start from scratch when it came to making energy-efficient and sustainable decisions about how to build its plants.
Kinetex is an important part of people-centered design at Engineered Floors. Lesslie says it absorbs even more sound than carpet does. "You have to think like a person working at a desk – do they want to hear noise from the cubicle next door?" he says. "You have to look at the workplace experience and how you can improve it. To me, that is where sustainability goes, because it's really about the human experience."
Calhoun-based Mohawk Industries, which along with Shaw dominates the industry, makes both commercial and residential products. Its rapid international growth over the past decade made reaching some of its sustainability goals more challenging. In its 2020 ESG report, the company said it exceeded targets for reducing water use (by 28%) and waste-to-landfill (by 28%), but it reduced greenhouse gas emissions by 20%, which was short of its 25% goal.
"We have made a good start on decarbonization and we are actively working to become better," says Malisa Maynard, vice president of sustainability, who joined the company last year. Within Mohawk Group, the North American commercial flooring division, carpet tiles are carbon-neutral, and Maynard says all of the collections in that group will meet this standard in 2022. Expanding its decarbonization strategy is the priority on the "planet" side, she says, while on the "people" side the company is working to define and highlight diversity. "We take a holistic approach to our decarbonization strategy and look at our total impact across the life cycle of the products," Maynard says.
Mohawk also designs for circularity, maximizing the amount of reused and recycled material used in products, increasing the products' life span and then reclaiming them at the end of that cycle, says Maynard. Its ReCover program, which facilitates the recycling of carpet from any manufacturer, initially targeted commercial customers and was expanded to residential customers in 2021. It also made carpet easier to recycle by developing a backing that uses polyester fibers. Dubbed Recover backing, it debuted in 2021.
The company has new targets for reducing scope 1 and 2 emissions (direct emissions and indirect emissions from the electricity, heating and cooling that a company purchases) and will disclose its scope 3 emissions (other indirect emissions within a company's supply chain) and set targets for those by 2024.
Traditional sustainability concerns will always be critical for Shaw Industries, says Ballew, and the company hit its 2030 goal of reducing emissions by 40% in 2021. Its EcoWorx carpet tile achieved Cradle to Cradle silver certification in 2021 as well. Cradle to Cradle certification is a global standard for products that assesses material health, product circularity, clean air and climate protection, water and soil stewardship, and social fairness. Shaw's carpet tile was among the first to get the certification under a new and more rigorous "Cradle to Cradle version 4" process. Ballew says it's No. 1 on her list of proud achievements for the year. All EcoWorx tiles are designed to be recycled.
"We also had our first Cradle to Cradle gold collection," she says of the Reverse collection. "Just like the Olympics, you've got a whole bunch of bronze and silver medals, but then you finally win that gold medal and you feel pretty good about that."
Shaw also has developed a hybrid flooring product called Reworx that's somewhere between soft surface and hard surface. "If you held it in your hand, you wouldn't quite know – is it carpet, or is it hard surface?" is the way Ballew describes it. Made of 100% polyester, Reworx will make its debut this year.
The company offers recycling for all EcoWorx products through its re[TURN] program and offers services to recycle carpet from its other commercial brands or other manufacturers.
---
Redefining Sustainability
Ballew says that sustainability has evolved to be almost unrecognizable from where it started, with a limited – though crucial – focus on topics like energy, water and waste. Now, she says, there's a growing focus on health and wellbeing. People are more conscious of the products that surround them, like flooring or furniture. And their concerns range from material health (what's in the product?) to indoor air quality (what's coming from the product?) to biophilic design (how can indoor environments incorporate elements from nature?).
Bringing those elements of nature inside, where we spend almost all our time, has significant impacts on mental health and wellbeing, says Ballew. That could mean incorporating textures and abstract designs that recall the outdoors, such as in Shaw's Canopy line; irregular patterns more similar to nature, like Interface's Open Air collection; or inspiration from water, like Mohawk's Shape and Flow.
Shaw calls its approach to sustainability "sustain[human]ability" to signify "putting people at the heart of our efforts," says Ballew. "How does it impact people in our manufacturing facilities? How does it impact people in our communities? How does it impact the people who purchase the product and put it in their space, whether that's commercial or residential?"
At Engineered Floors, Lesslie says the company thinks very local, thanks to its founder's deep roots in the North Georgia area. "Being a good steward for this community and future generations are on his mind every day," Lesslie says. "This company wants to be a good steward." That means working on traditional areas of sustainability, like reducing water usage and taking care of the air, water and soil. It also means thinking about the people in North Georgia. Being a good steward "in every fashion," says Lesslie. "What are you doing to support education? What are you doing to make the community sustainable on a long-term basis? That's like the next evolution of sustainability."