2022 Most Respected Business Leaders Mashama Bailey and John O. Morisano: A Study in Contrasts
Mashama Bailey and John O. Morisano maintain the culinary and societal missions of The Grey restaurant in Savannah.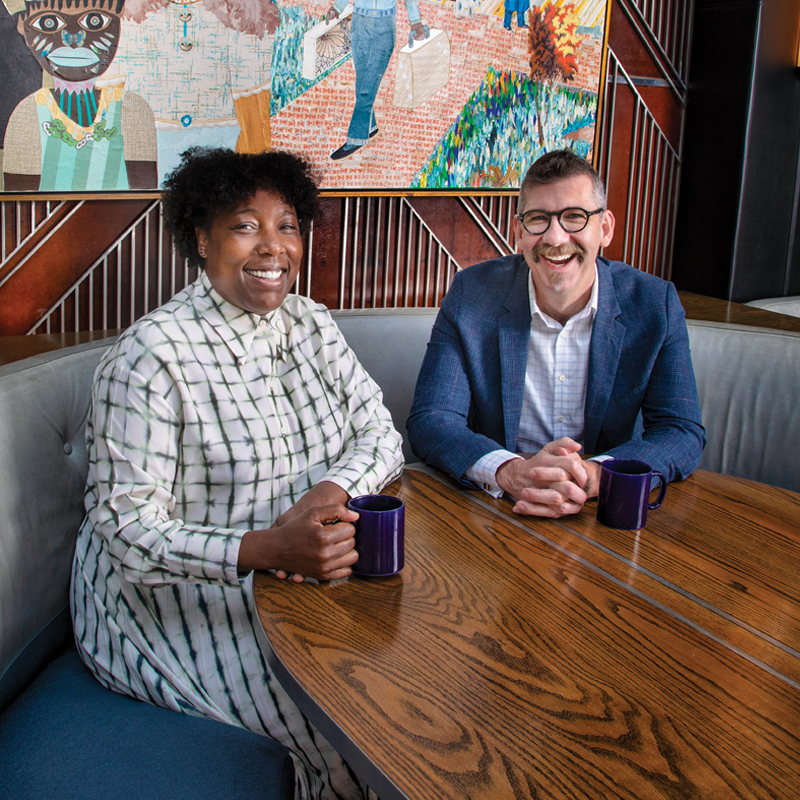 Mashama Bailey and John Morisano finally snap into view on my computer's split screen, after a few minutes of the typical tech glitches familiar to anyone who's forced to communicate online these days. While Morisano is keeping an eye on The Grey – their signature, critically acclaimed restaurant in Savannah – Bailey is in Austin, Texas, where the pair is opening two new restaurants. They will keep swapping places as the new ventures, part of their Grey Spaces restaurant group, find their footing. The first, The Grey Market, opened its doors in Austin on March 11 and the Diner Bar followed close behind in a new boutique hotel in the heart of the city's downtown entertainment district.
Bailey, dressed in pink and coral in the Texas warmth, looks familiar to anyone who's viewed her lyrical profile on Netflix's The Chef's Table, watched her on a recent CBS Sunday Morning segment or seen her photo in the many stories about her groundbreaking cuisine. Morisano (universally called "Johno" since he was a kid) is as nattily attired as Bailey described him at their first meeting in their 2021 book, Black, White and The Grey: checked jacket, jaunty indigo scarf and matching blue eyeglasses.
After a few minutes to talk about a mishap that had just happened in Austin – a shelf collapsed, bringing a load of espresso cups and saucers cascading down onto a dishwasher's head and sending him to urgent care – I congratulate them on being named Georgia Trend's 2022 Most Respected Business Leaders.
For a moment, the two are quiet. Almost nine years into running The Grey, they have racked up an astonishing array of prizes. But for now, Bailey looks down at her screen, and Morisano looks at the ceiling for a moment, blinking. "I gotta tell you," he says, "and Mashama will back me up. I've been emotional only a couple of times in the life of The Grey, and this one choked me up." Then he's quiet again, swallowing hard against rising emotion.
Just as they revealed in their book, Morisano proves to be as outwardly demonstrative as you would expect of someone who grew up in a working-class Italian family on Staten Island. He wears his heart on his sleeve. Bailey was close to her grandmothers and first learned Southern cooking from them and other family members; she chooses her words carefully and studies questions before answering, her passion reserved for her work. She serves her heart on a plate.
As business partners, the two are a study in contrasts: Black and White, male and female, chef and entrepreneur. When he moved to Savannah at 44, Morisano was an experienced businessman, but he had never owned a restaurant and had only lived in Savannah a couple of years before deciding to do so. He writes in their book that purchasing the dilapidated former bus station in his newly adopted city and deciding to turn it into a restaurant "was about trying to figure out a way, as a middle-aged, potentially washed-up White guy, to remain relevant – somewhere, somehow – in a world that moves fast."
Bailey had never been an executive chef but was trained in France and made her mark working under Grace Hamilton at New York City's Prune. She had lived in Savannah and nearby Waynesboro for a short time as a child. But she was born in the Bronx and spent most of her adult life in Queens and, like Morisano, considers herself a New Yorker. Together, the two outsiders created a locally oriented Southern restaurant that is a smashing success.
Within their first five years of opening in late 2014, they had earned the kind of accolades that are the restaurant world's equivalent to Oscars or Tonys. The Grey was nominated for the James Beard Best New Restaurant Award after being open just two months. It won Eater's 2017 Restaurant of the Year. Bailey earned the James Beard Award for Best Chef/Southeast in 2019. This year, she is nominated among the best in the nation for the Beard's Outstanding Chef nod. In addition, the stunning renovation of the once-segregated 1938 Art Deco Greyhound bus station became a gleaming testament to modernity while preserving its historic lines.
"I take it as an honor to be in that space, to be in a Jim Crow building, and to be able to serve people who remember that," Bailey told The New York Times after the restaurant's first Beard nomination. "To be a Black woman in the South, in a city like Savannah, and to have such a stage to cook and perform on, it's mind-blowing." Her first thought after hearing about the initial nomination: "I have to work harder."
---
A Cheery Little Cookbook
Clearly, people were hungry – figuratively and literally – for the unique blend of newness and history that The Grey served up. What's the next step for a white-hot restaurant seeking a higher national profile? A cookbook, of course. One that makes readers and home cooks feel warm and fuzzy while they get to know the people and the recipes behind the banquettes. A happy little cookbook that serves as both travelogue and cheerleader for aspiring chefs and curious foodies…right?
Well, no. Bailey and Morisano delivered something else entirely: a book that challenged the two of them and the reader to think about, and perhaps see the importance of talking about, some pretty uncomfortable topics. From the title to its final page, Black, White and The Grey tackled the most serious problems the two faced while opening and learning how to operate their restaurant. Published in 2021 but written largely pre-pandemic, it contains few recipes, and those are tangential to the main storylines, which involve racism, sexism, violent crime and the difficulty of finding and retaining good workers. It could almost serve as a guidebook – and warning – to anyone who's ever seriously entertained the thought of opening a restaurant, or any service-oriented business, for that matter.
Bailey says she had to be "dragged kicking and screaming" into the book project. In the text, which she and Morisano composed in alternate turns, Bailey wrote, "Why were we even talking about race? Who wants to hear that from a White male? What did he know about the Black community and our history in this country?"
Both believed themselves to be progressive. Yet each had to confront issues they thought they'd already dealt with: racial and sexual bias, an inability to trust. Each recounts a tragic family murder as a kind of psychic shock wave that affected their kin for generations. Both face it again when The Grey's beloved general manager is killed when young men fleeing a shooting hit him with their speeding car. That devastating event, which opens the book, proves to be the turning point that unites them.
While they warn that their writing isn't any kind of list of recommendations to end racism or solve the world's ills, they say the conversation is now open between them and their partnership is stronger for it. They also hope it proves the value of just having that conversation. "I'm still not ready to write that," Bailey says of the "cheery little cookbook." "But it was worth it."
All the while, Bailey and Morisano are parsing out a business that depends on affluent tourists' dollars but sits next to one of Savannah's poorest neighborhoods. And they are building a menu that defies typical Savannah/Southern fare (shrimp and grits, fried chicken, crab cakes) or serves it up in new ways. Bailey describes it as "Port City Southern" – using local ingredients in many of the ways familiar to Southern palates but expanding it to include ingredients of the African diaspora and other native traditions: Ham hock terrine with fermented collards and dilly beans. Duck confit with hibiscus, cabbage and pecans. Fresh local oysters. Sophisticated cocktails and a smart wine list. And a take on a frozen Kool-Aid treat Bailey had as a child in Georgia, called a Thrill.
---
A Blue-Collar Emergency Room
For all its newness, The Grey echoes another iconic Savannah restaurant. Elizabeth's on 37th. Chef/owner Elizabeth Terry, another transplant who became quickly entranced by Savannah's bounty and history, ultimately provided the city with its first nationally recognized restaurant. Executive Chef Kelly Yambor, who took over when Terry retired, credits The Grey for its part in raising the bar for Savannah's entire restaurant scene. She's also very familiar with saga of the dishpit and extreme inequality described in Black, White and The Grey. "I've bailed people out. I've lent people money," she says. "Restaurants are like a family, but they're also a blue-collar emergency room." That emergency room became even more frantic when the pandemic hit – at one point, The Grey Market used funds donated by two regular customers to buy and pack bags of food that were delivered to furloughed restaurant workers throughout the city. Though Elizabeth's, The Grey and The Grey Market – a casual, more diner-like satellite – all closed for months in 2020, they've benefited from Savannah's advantage as a beautiful, sunny tourist destination with nearby beaches. When travelers were hesitant to board planes, they were more willing to drive to Savannah, where tourists spend more than the national average on "exceptional culinary experiences" (16% of daily tourist dollars vs. 11% nationally). Those factors may have helped many Savannah restaurants recover from pandemic losses more quickly than, say, Atlanta restaurants.
According to Morisano, by February 2022 The Grey was nearing a return to pre-pandemic levels of business. However, while The Grey Market in some ways seemed to have been presciently designed for pandemic-era needs (with an emphasis on takeout, including New York-style egg sandwiches, cocktails- to-go and specialty breads), Morisano says it has taken longer to recover. And Morisano's definition of "back to normal" has, like everything else post- pandemic, evolved: "I think it has been less about bouncing back and more about changing models and working with guests to educate them, both at the grassroots and institutional levels. We have settled in to accommodating about 70% the number of guests on any given night that we saw prior to COVID." The restaurant is matching (and at times exceeding) pre-pandemic revenues with those smaller numbers, he says, by "providing extended experiences with multiple courses," as well as managing costs involved with food waste, purchasing, overtime and more. The challenge, he says, is to maintain these revenue levels in far fewer hours – just four dinner services a week at The Grey, for example, as opposed to its pre- pandemic six dinners.
Still, he and Bailey champion their team as the real keys to their restaurants' success, while adding, "The emotional toll [COVID] has taken on the workforce and us as managers is complex and hard to quantify." Added to these struggles are new ones, with a European war complicating supply chains, inflation and transportation costs: "It feels like we are starting over again and again and again," he says. "One thing I can promise you is that restaurants remain very fragile and many, if not all, are still facing operating and economic challenges that remain frightening for those of us in it."
---
A Place at the National Table
The host city to their new restaurants, Austin, shares many of the similarities with Savannah that attracted Morisano and Bailey to begin with – sunny climate, a progressive blue dot in an otherwise red state and a teeming student population giving the entire town a youthful bounce. The award-winning architects and designers behind The Grey, New York-based Parts and Labor Design, are again designing the spots inside Austin's Thompson Hotel.
"We will get the opportunity to do all the food and beverage for the hotel, and we're excited about that," says Bailey. She says that the menu is similar to their Savannah spaces, with Austin's Diner Bar like the casual, cocktails-and-oysters bar that fronts The Grey. The Texas version of The Grey Market mimics its Savannah namesake, both specializing in Bailey's trademark Port City Southern cuisine.
"We'd been offered a lot of different opportunities in a lot of different places. When we went to Austin, we saw an exciting food scene but no one was doing anything like we're doing. We thought there might be a space here for us," says Morisano. Funding, he says, wasn't difficult – more important was finding the right partners with whom they wanted to join in business. "We've always been relationship people," he says. They bonded with their future partners over dinner at The Grey in Savannah. "Then, it was just a matter of negotiating financing, splits and all of the other things that go into a relationship of that sort."
In the meantime, The Grey continues its missions, both culinary and societal. Along the way, Morisano has also launched The Current, a nonprofit, nonpartisan news source covering the southern coast of Georgia. It grew in part from his frustration about seemingly unsolvable generational problems in Savannah, and his friendship with a former Wall Street Journal reporter, Margaret Coker, now editor-in-chief of The Current, who has written a book about her experiences reporting on the Iraqi fight against ISIS, The Spymaster of Baghdad.
After Coker explained the current economic conditions that have made life for traditional newspapers so difficult, Morisano wanted a different financial model to help inform readers about what was happening in the region and to hold people accountable. The project is now funded by grants and reader subscriptions, including a recent $90,000 Google North American Innovations challenge grant. Donors and board members are not informed or consulted on stories.
As for The Grey's place at the national table, that seems firmly set. Mashama Bailey's visionary cuisine and Johno Morisano's goal of blending his business ideas with his personal ideals seem to be having more than a moment. When Savannah chef Joe Randall, a fixture on the local restaurant and dining scene for more than 50 years and co-author of A Taste of Heritage: The New African- American Cuisine with Toni Tipton- Martin, is asked whether Bailey's "outsider" status might have actually given her a unique perspective on local food, he disagrees with the premise. "I don't consider her to be an outsider, because she cooked what she ate at her grandmother's house," he says. And when he's asked if Southern food is going through a resurgence, led by chefs like Bailey, he also pushes back. "There hasn't been a resurgence in Southern food," he says. "We've always been here. It's just that we haven't always been in a position to speak out about it."