Metro Atlanta: Energizing Electric Avenue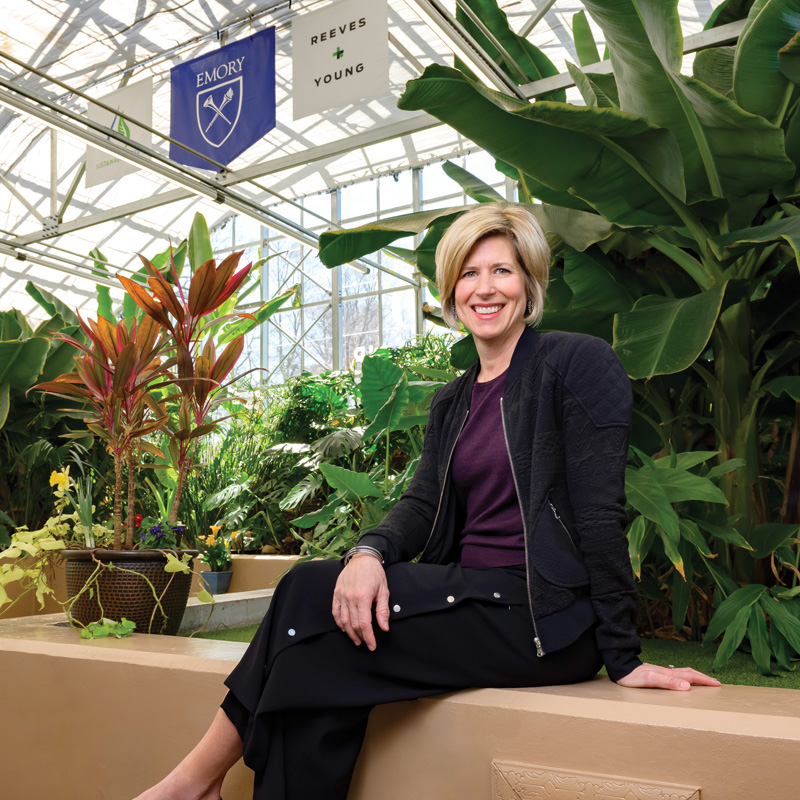 On some level, every new business that comes to town – or every existing one that decides to expand – has the possibility of transforming the community where it's located. That's true of both small and large projects. It's rare, though, for a venture to be truly transformative all across the board: for a region and even the entire state, for an industry and for sustainability.
That's the prospect for the biggest news in Metro Atlanta and Georgia, so big that it goes by one name: Rivian. The electric vehicle (EV) manufacturer will build a plant east of Atlanta, straddling Walton and Morgan counties, to produce electric pick-up trucks beginning in 2024. It's the largest economic development deal in Georgia's history and should create about 7,500 jobs. Once the plant is fully operational, it will have the capacity to make 400,000 EVs annually.
It also represents an industry in which the state wants to shine. In 2021 Gov. Brian Kemp announced the creation of the Electric Mobility Innovation Alliance, a public-private partnership designed to foster innovation and growth in the electric mobility industry.
The Rivian project is a giant jump-start, if you'll pardon the choice of words. "Here we have already what I would call a pillar," says Metro Atlanta Chamber (MAC) President and CEO Katie Kirkpatrick. "We didn't just start with a component. It is really setting Georgia up for a decade of economic success in the electric mobility space." Expect to see more companies making announcements – like EV fast-charging systems maker Heliox, which opened its North American headquarters in Atlanta last year.
Indeed, even as some neighbors who live close to the Rivian site voiced concerns about the size and scope of the project – and others noted that the company has yet to produce EVs at scale – Rivian's plans have already drawn other EV-related companies to the area. Lithium-ion battery recycling startup Ascend Elements (formerly Battery Resourcers) committed to build its first large-scale plant in Covington, an investment of $43 million that will bring 150 jobs.
In fact, Covington was a hot spot in 2021 with SKC investing $473 million to build a new facility to make glass-based substrates for semiconductor chips, bringing 400 high-tech jobs. It's the third big investment in Georgia by South Korean parent company SK Group, which already has another facility in Covington and is spending more than $2.5 billion to construct two plants in Jackson County that will make EV batteries, sparking further development of the electric mobility industry in that part of the state.
"We're going to see the suppliers start to locate next to the manufacturing facility," Kirkpatrick says. "This is jobs. This is jobs for Georgians."
---
Green Screens
Two of Metro Atlanta's film studios are investing heavily in sustainability. In DeKalb County, Electric Owl Studios is building a new 17-acre facility with 140,000 square feet of stage space over six stages, just outside I-285 near the Indian Creek MARTA station. All operations will be LEED (Leadership in Energy and Environmental Design) gold-certified and solar panels will provide some of the energy at the studio. There will also be a number of charging stations for EVs.
"It's the first purpose-built gold LEED-certified studio, because they recognize that sustainability is so important to that industry," says Randi Mason, vice president of economic development for Decide DeKalb.
Electric Owl is a new venture from the partners behind Third Rail Studios at Assembly in Doraville, which was sold in 2021 to Gray Television. Gray plans to substantially increase the existing studio and ramp up development of residential, office and retail space at Assembly. "I think every economic developer in DeKalb is probably working on some piece of this because it's such a big project for the county," Mason says of the plans for Assembly.
In Fayetteville, Trilith Studios, which launched a hundred "filmed in Georgia" peaches onto screens across the world, is continuing to expand by adding more soundstages and a new virtual production facility to its campus. "The demand for content, especially during and coming out of the pandemic, is driving the need for studio space," says Megan Baker, president of the Fayette County Development Authority. That also influenced the expansion of MBS Equipment Company (MBSE), which was one of the first production support companies to locate at Trilith Studios and will now make its East Coast headquarters there. It will be the company's largest global hub.
Trilith Studios' commitment to sustainability is showcased in the surrounding mixed-use development – a 235-acre master-planned "town for creatives," also named Trilith, where homes are powered by renewable geothermal energy, 51% of the land is reserved for green space and walkability is a priority. Pedestrian paths are made of permeable crushed slate to enhance groundwater flow. The residential offerings have been popular. "They can't build houses fast enough," says Baker.
In January of this year, Trilith welcomed an autonomous grocery store to its retail mix. Nourish + Bloom is the one of the first "cashierless" stores in the country, where customers select items and pay by app (no scanning required).
---
Town and Tech
Outside of Rivian, some of the biggest economic development news came from tech companies: Microsoft is set to have a big footprint in Midtown Atlanta, with new offices in Atlantic Station hosting 1,500 jobs related to artificial intelligence and cloud services, and even more notably in Grove Park, where the tech giant will locate its East Coast hub.
The historically Black neighborhood, which is emerging from decades of economic decline, is simultaneously seeing benefits (like the new Westside Reservoir Park, Atlanta's largest green space) and drawbacks (such as rapid gentrification that is driving rents much higher). As Microsoft plans to add 15,000 high-paying jobs there, the company is also trying to figure out how best to sustain the community, promising that 25% of its new campus will feature affordable housing.
The region's growing reputation as a high-tech hub with a tech-savvy base of employees also drew semiconductor maker Micron (500 jobs) and sports-tech entertainment company FanDuel Group (900 jobs) to the Metro area. Fulfillment automation company GreyOrange (200 job) moved its global headquarters to Roswell; Visa, drawn by Atlanta's prominence in financial technology (FinTech), is opening a new hub in Midtown (1,000 jobs); and Cisco is adding 700 jobs in a new talent and collaboration center in Midtown.
In 2022, Atlanta's Gulch – the "hole in the ground" consisting of parking lots and rail tracks right in the center of downtown – will begin its transformation into 12 million square feet of office, residential, hotel, and restaurant and retail space. The massive redevelopment, dubbed Centennial Yards, is already sparking more development plans in downtown. For example, 222 Mitchell, a former office and data center, will become a mixed-use complex. And in South Downtown, Forge Atlanta is a proposed mixed-use development on about 10 acres that would be a hub for life sciences research.
Sustaining a diverse, tech-trained workforce is critical to keeping the pipeline of companies flowing into the area. In a statement announcing the Cisco expansion, the company's executive vice president and chief financial officer Scott Herren specifically mentioned Atlanta's diversity of talent. Atlanta benefits from Georgia Institute of Technology along with Emory University, Georgia State University, Kennesaw State University and the Savannah College of Art and Design, and also its cluster of historically Black colleges and universities. Kirkpatrick calls them "an extraordinary asset that no other community can recreate" and says the diversity of talent is a big draw for tech companies.
It's also critical to expand opportunities and wealth, through efforts such as the Metro Atlanta Chamber's ATL Action for Racial Equality, which brings together more than 240 companies and organizations in a multiyear action plan to improve racial equality across four areas: corporate policies, inclusive economic development, education and workforce development. "How do we increase diverse representation at the C-suite and executive [and board] level?" asks Kirkpatrick. "How do we increase capital for Black founders and the share of Black-owned businesses in our region?"
In 2021, DeKalb County landed more than 3,700 jobs and $375 million investment, ranging from German liner shipping company Hapag-Lloyd's North American headquarters in Dunwoody (250 jobs) to aerospace startup Hermeus that aims to build the first commercial hypersonic jet in a Doraville factory. As with the chamber, Decide Dekalb strives to improve equity to sustain growth and recently hired an equitable economic development program manager who will focus on "building programs for the parts of the county that haven't seen as much development and seeing how we can support building wealth in communities of color," Mason says.
Diversity is a big driver for companies relocating to Gwinnett County, says Andrew Carnes, vice president of economic development for the county's chamber of commerce. And Gwinnett is diverse: Carnes says that if two people were to randomly meet there, there's an 80% chance they would be from different ethnic backgrounds.
The county has targeted five sectors for economic development, including IT, healthcare, manufacturing, supply chain and corporate headquarters. In Peachtree Corners, Intuitive, which makes the da Vinci robotic-assisted surgical systems, is investing a half-billion dollars in a campus that will eventually have 1,200 employees, while Soliant, an education and healthcare staffing firm, added 200 jobs to its headquarters.
Two major developments in Gwinnett are focused on sustainability: The Water Tower, which is a campus attracting companies that are working on innovative access to safe and affordable water services, and Rowen, a planned "knowledge community" devoted to agriculture, medicine and the environment. Water Tower welcomed its first two tenants in 2021.
---
Deepening the Talent Pool
Cherokee and Cobb counties also view sustainability of the talent pool as key to their ability to keep businesses opening and growing. That includes support for entrepreneurs, like the North Atlanta Venture (NAV) mentoring service in Cherokee that gives business owners access to a team of mentors. In Woodstock, The Circuit encourages startups by offering more than 3,000 square feet of coworking space to entrepreneurs and students from Chattahoochee Technical College. It also hosts the local 1 Million Cups chapter, a regular coffee gathering that encourages entrepreneurs to network together and crowd-source solutions to business questions.
Misti Martin, president and CEO of the Cherokee Office of Economic Development, says several companies have started in The Circuit and then moved into commercial or industrial space nearby. Keeping companies local as they grow is part of making Cherokee's business community sustainable, she says. "That's what we want – we want that longevity," she says. "We feel like we have great resources, from the idea stage though scaling the business."
The county saw a number of business expansions in 2021, including advanced manufacturing companies Chart Industries in Ball Ground and Thomas Regout in Canton. New ventures included MOKO, a streaming platform dedicated to "uplifting and inspiring content" whose founder has promised to donate one dollar of every subscription to a charity.
Martin predicts continuing emphasis on entrepreneurship and innovation, and on ensuring that minority business owners are engaged. "We got a grant from Georgia Power last year for programs to help minority business owners," she says. "We're going to do a push on that, probably with our Million Cup program and NAV, to make sure that we are doing outreach to minority business owners so that we're giving them a leg up."
In neighboring Cobb, business expansions included logistics automation company Vanderlande, which is adding 500 jobs to its North American headquarters in Marietta. Recycled paper and packaging company Pratt Industries opened an intermodal logistics center in Austell, the first investment in Cobb County for the Georgia-based company. TKE, the elevator company headquartered near The Battery Atlanta, opened its elevator test facility in one of the world's tallest buildings (which features event space atop the tower). Not only does the county gain 1,000 jobs, Cobb Chamber of Commerce President and CEO Sharon Mason predicts the building will become a tourist destination.
"We had a fantastic year and added another 3,400 high-quality jobs," says Mason. "I think it really shows the strong workforce pipeline we have, that's important to companies." Some 70 projects are in the pipeline for 2022.
"We're thrilled to have many companies in every area expanding," Mason says, ticking off South Cobb, Town Center, Marietta and the Cumberland area. Growing industries include tech, biotech, FinTech and advanced manufacturing and logistics, she adds. "I think over half our economic development wins from last year are existing companies expanding," Mason says. "That shows that we're taking care of our existing companies in such a great way that they're continuing to grow here."
---
Growing in Place
Sustaining existing businesses has led to success in Clayton County, too, where Clorox and ready-to-eat salad maker Fresh Express added shifts to meet demand. Kroger expanded by 200 jobs and launched a same-day delivery service from its Forest Park distribution center.
Prepared-meal delivery service Freshly is opening a distribution facility with 665 jobs in Ellenwood, coming not long after the company opened its first Southeastern distribution facility in Cobb County in 2021. "Clayton County is a supply chain and logistics hub," says Erica Rocker, economic development officer for the Clayton County Board of Commissioners.
A new economic strategic plan, as well as a new data-rich website designed to attract businesses called AdvanceClayton, should help the county continue to fill the pipeline, says Rocker. Neighboring Henry County had another record year in 2021, according to Josh Fenn, executive director of the county's economic development authority. Manufacturing companies that make products for e-commerce supply chains "like the location because they can manufacture and support their customers in Atlanta but also throughout the Southeast," he says. Mattress maker Purple is expanding, adding 500 jobs just a year after opening the production facility in McDonough. E-commerce operations company Radial also expanded after opening a facility in 2020.
Pregis, which makes protective packaging, opened its first production facility in Georgia, bringing 80 new jobs to Henry County, and Feit Electric, a smart-home lighting brand, opened its first East Coast distribution center there with 120 new jobs.
The county is even benefitting indirectly from EVs, says Fenn, because travelers heading to Florida from the Midwest or Northeast need to stop and charge their vehicles just about when they reach Henry County. "While they're doing that, they're shopping, they're eating, they're exploring," Fenn says. "That has been a big hit and we're looking for more synergy there." The county is also looking at marketing the Atlanta Motor Speedway as a test track for EVs.
More proof that the state's drive to be a leader in EVs can go a long way to sustain communities in Metro Atlanta, sometimes even in surprising ways.
---
People to Meet
Jamie and Jilea Hemmings
Nourish + Bloom opened in Fayette County with a litany of firsts: first autonomous grocery store in the Southeast, the first offering contactless robotic delivery in the country and the first owned by African Americans. Husband and wife team Jamie and Jilea Hemmings created a shop where customers choose locally sourced and healthy food from shelves that record selections and send the charge to an app. The couple plans to expand nationwide – starting with the Atlanta BeltLine or Serenbe in Fulton County.
Deanna Sirlin
It's far more rewarding to experience Deanna Sirlin's art than to read about it. Visitors to the Venice Biennale, one of the most prestigious art events in the world, can do just that starting in April. Sirlin, an abstract painter and site artist, is collaborating with fellow Atlantan Megan Mosholder to create "Borders of Light and Water" at the Biennale. They're joined by Atlanta's Shanequa Gay and Augusta's Marianna Williams at what ArtsATL calls "the Olympics of the art world."
Click HERE to return to the Economic Yearbook Hub