East Central: Accommodating Growth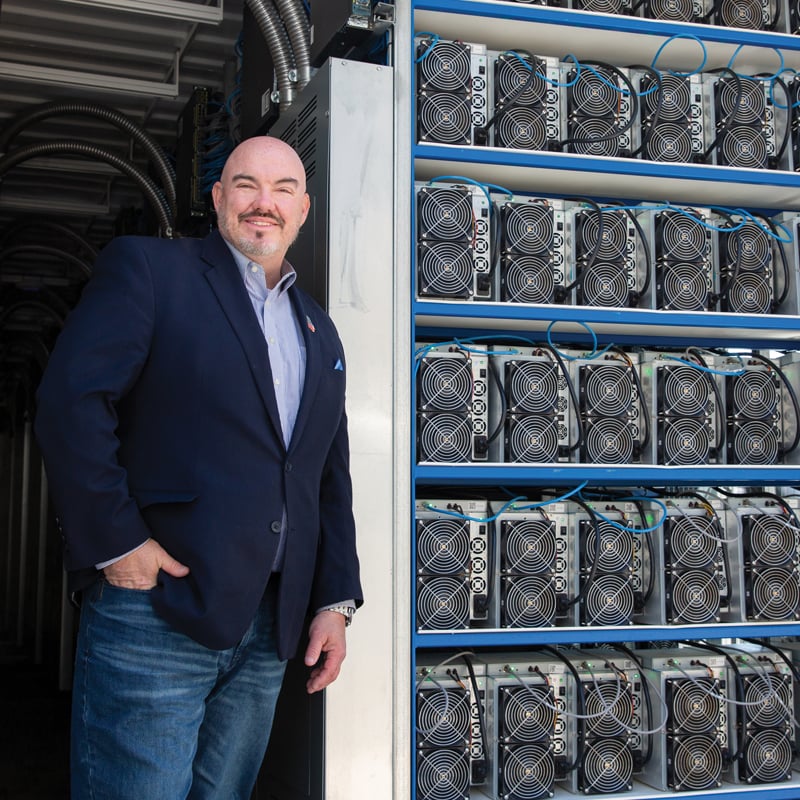 While industries from distribution to cybersecurity have continued to grow in Georgia's East Central region, more and more conservation-minded sectors are taking hold there as well.
Two major recycling companies, Aurubis and PureCycle, are building plants in the Augusta area of Richmond County that will not only bring several hundred jobs and almost $800 million in investments, but will renew copper, precious metals and non-ferrous materials and polypropylene, keeping them out of landfills.
Sustainability is at the forefront in Emanuel County, too, where Steve Hawkins' America Knits uses Georgia-grown cotton at his business in Swainsboro. The Swainsboro clothing factory started in 2019 producing T-shirts and was soon making pandemic-related goods including masks, isolation gowns and scrubs.
Last year the factory was able to return to the original purpose – making apparel. Building on the "dirt to shirt" idea of a totally Georgia-grown product that's sustainably sourced, Hawkins found an opening when the supply-chain woes of stalled overseas freight had retailers looking for goods made in the United States.
"We're not bringing stuff on containers, we're not shipping and bringing [goods] back," says Hawkins. "We have the entire supply chain within a 200-mile circle."
This year America Knits is teaming up with clothing company J.Crew to make 700,000 shirts. Hawkins also hopes to add between 25 to 35 people to his 67 workers, but wants to do it thoughtfully. "We're trying to build [something that's] not a typical sewing-factory wage scale and benefits scale," he says.
J.Crew's Liz Hershfield, senior vice president of sustainability, points out the environmental impact: "We knew we had to focus on soil health given that cotton is a large part of our assortment, and regenerating the earth's soil could have an enormous positive impact on climate change. Regenerative agriculture stood out as the perfect opportunity for J.Crew to make a difference."
Washington County welcomed one of the most out-of-the-box financial businesses in the state last year when Australian Mawson Infrastructure Group opened a Bitcoin mining operation on 15 acres in Sandersville's Fall Line Industrial Park East.
The almost $80 million investment is made up of computers (called mobile data centers or MDAs) that require a lot of energy for running and cooling the equipment. Increasingly, cryptocurrency mining operations are going after more renewable energy. "It's environmentally friendly," says Liam Wilson, Mawson's chief operating officer. "The computers are just sitting there whirring, solving algorithms," not producing waste material as they use emission-free generated power. Sandersville is one of 49 participants in the Municipal Electric Authority of Georgia (MEAG), a partnership with Georgia Power, and was able to provide Mawson with enough power.
Employment numbers won't be high, but there will be site engineers, IT folks and a legal department totaling about 50. Mawson plans another expansion in about a year, using local construction firms but with the majority of the cost for computers, adds Wilson.
"Historically we were known for kaolin mining," says Jayson Johnston, executive director of the Development Authority of Washington County. "Now we are known for bitcoin mining."
In addition to Mawson, the county welcomed a $75 million investment from Redstone Investment Group/Shield Technology for a 200,000-square-foot PPE (Personal Protective Equipment)/nitrile glove plant in the same industrial park. (Nitrile gloves are made of synthetic rubber, a renewable alternative to latex.)
Shield's CEO Alison Bagwell, an inventor and engineer of medical protective products, says she looked at locations around the country before finding Washington County perfect for the endeavor, which will employ 563 workers.
"We use a lot of water for our product," she says. "To make 6.8 billion gloves a year we need 6 million gallons of water a day. And we had to figure out how to be sustainable and not increase the carbon footprint." Johnston says the city of Sandersville engineers are working on "system-wide upgrades to serve this project" and that water recycling is a "huge priority."
The company is already planning a second plant in Sandersville that will make antigen test kits.
---
Preserving Jobs
In Bulloch County, preserving an existing industry saved about 200 jobs when the Viracon glass plant in Statesboro was sold last October to Cardinal Glass, according Benjy Thompson, CEO of the Development Authority of Bulloch County. Before the sale, the plant was scheduled to close. "We had that hiccup," says Thompson. "But within six to eight weeks the facility was sold to Cardinal Glass," with jobs intact.
In the small town of Wrens in Jefferson County, up to 100 jobs were preserved during pecan season when Stuckey's purchased the historic Atwell Pecan Company last year to produce the company's famous pecan log rolls and other treats. Of those jobs, 64 are fulltime workers employed year-round from Wrens and surrounding areas.
"Royce Atwell actually owned a Stuckey's store at one time across from the plant," says Stephanie Stuckey, who left a life in politics to revive her family's business. "It's really kind of a neat history and connection."
Using Georgia-grown pecans, the factory is an example of a full-circle process, she notes. "Some of the farmers are people who have been coming to Atwell Pecans since the 1930s," she says.
Stuckey's is already outgrowing the plant and plans to purchase a 100,000-square-foot, 21-acre site in Augusta. (The company also has a warehouse in Eastman). The Wrens facility will likely continue to be used for pecan shelling, the original purpose of the building. "If we hadn't bought [the plant] they would have gone out of business," she says.
"Just about all of our industry here is in a mode of growing or expanding," says Greg Sellers, executive director of the Economic Development Authority of Jefferson County. The community also received funds from the CARES Act that helped Jefferson Hospital upgrade equipment and replace a roof, which cost close to $900,000.
---
Educating Talent
As the Georgia Cyber Center continues to draw tech companies to its two-tower downtown Augusta location in Richmond County, founders are hoping to add a third building focusing on academics.
"The first two buildings were done very uniquely and very quickly," says Michael Shaffer, executive vice president for strategic partnerships and economic development for the center. "The third building will be built in a more traditional manner through the [Georgia] Board of Regents."
Academic leaders in IT and cybersecurity say the space is needed. "Two to three years ago, we barely had 10 faculty members," says Alexander Schwarzmann, dean of computer and cyber sciences at Augusta University. "Today we have 35." Enrollment is at an all-time high (640) and the school has received research funding from the National Science Foundation and others.
The resurgent economy has companies searching for distribution and manufacturing space in the area, says Cal Wray, president of the Augusta Economic Development Authority. "We get requests for buildings and there is nothing out there under 600,000 square feet or less. Anything small is gone almost instantly."
As the fifth president of Augusta Technical College, Jermaine Whirl arrived in 2020 with big plans. He consulted with area leaders who said the college should recruit a pipeline of talent from elementary school to high school. Another plan: place campuses near the I-20 corridor (Augusta, Grovetown, Thomson/McDuffie County and Waynesboro) to serve professionals in the growing area.
Manufacturing is a major industry, and Whirl plans to build a three-story manufacturing center for advanced technology. "It will be clean, modern, sexy," says Whirl. Also planned is a partnership with University Hospital Health System for a health sciences program. University Hospital will provide access to its Summerville campus as a clinical facility, along with access to the medical office building and scholarship funding, he says.
---
Boosting Infrastructure
Burke County became a University of Georgia (UGA) Archway Partnership community last July, enabling it to benefit from UGA's academic resources to help solve specific challenges. Burke County Chamber of Commerce Executive Director Ashley Roberts says "we're looking forward to seeing how we can utilize the partnership as a resource for our community."
A $1.5 million grant to the city of Waynesboro from the U.S. Economic Development Administration in 2021 will help officials establish a water well/treatment plant for new and existing businesses. The grant was matched with local funds and should create close to 200 jobs.
McDuffie County, another Archway community, has made great strides with workforce development and education thanks to the program and collaboration with Georgia Power, UGA and the local board of education. "We added a welding lab at the high school which gives students pre-training," says Don Powers, president and CEO of Forward McDuffie, who notes there is "great demand" for heavy fabrication and welders due to expansion at Georgia Power's Plant Vogtle.
Broadband expansion in the area through Altamaha Fiber will connect thousands of businesses and individuals in Toombs, Montgomery, Laurens, Emanuel, Treutlen, Johnson and Tattnall counties. The expansion will take up to five years to complete, but many areas are already seeing the benefit.
"Ten percent of our county is really rural," says Ken Warnock, CEO of the Swainsboro-Emanuel County Chamber of Commerce and Development Authority. "This grant will help them get to 100% broadband by the summer of 2023."
As East Central Georgia continues to grow, increased connectivity combined with an educated workforce, logistically-placed manufacturing and distribution centers and an expanding tech industry are leading to a bright future as leaders make sustainability central to their plans for accommodating growth.
---
People to Meet
Elizabeth Vance
Vance oversees tourism in Thomson which includes the small town's "McTell's 12-String Strut:" a series of colorful guitars painted by local artists sprinkled up and down Main and Railroad streets. The 7-foot-tall guitars are a tribute to Blind Willie McTell (1898-1959), noted blues musician who was born there. Popular for selfies, the exhibit has drawn blues aficionados from as far away as Finland, Vance notes.
Patsy Banks
Patsy Banks oversees a family business that comes in dozens of shapes and sizes. At Bug's Gourd Farm in Keysville, Banks and her daughter and son-in-law grow, dry and sell all manner of gourds used for crafts, birdhouses and lanterns. "We also have a lot of people who use them as musical instruments," says Banks, who named the farm after her late black Labrador, Bug.
Click HERE to return to the Economic Yearbook Hub