Historic homes become affordable housing in Savannah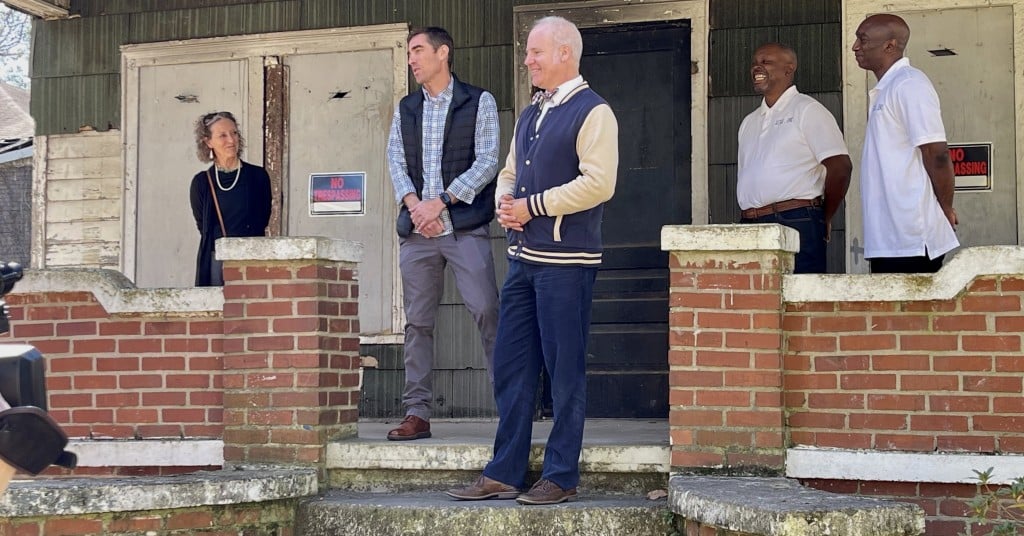 One way to address the enormous need for affordable housing in Georgia is to fix up what's already there. Last month, the Historic Savannah Foundation (HSF), a nonprofit preservation organization, launched its Affordable Housing Initiative with just such an effort. The kickoff took place at a small historic home in the Cuyler-Brownville neighborhood that HSF is renovating.
It's a new step for HSF, which has been working to save threatened buildings in the neighborhood, part of a locally protected historic district, which has lost about 100 homes in the past 20 years. But while HSF saves homes from demolition, it doesn't usually rehab them. Instead, the organization typically stabilizes any historic home it acquires and then sells the property to a buyer who promise to preserve it.
Now, however, HSF is partnering with other agencies, including the Savannah Dream Maker Home Buyer Assistance Program, the Savannah Landbank Authority and private investors, to address the city's need for affordable housing. It's a way to simultaneously save historic homes and avoid gentrification, while providing much-needed housing stock. And though it won't solve the housing problem, it can be a welcome part of a multifaceted solution.
In a statement, Ryan Arvay, HSF's director of preservation and historic properties, said, "We have all this unused housing stock just sitting there. So, instead of building more units, we thought, 'Let's capitalize on the initial investment of materials, energy, labor and fix these up. Then, we'll restrict their use to keep them affordable."
The home, which was donated to HSF, should be renovated in about six to eight months and then will be for sale. The home buyer assistance program, part of the city's Housing and Neighborhood Services Department, helps qualified low-income first-time homebuyers with down payments and will assist potential buyers.
If all goes well with this first home, HSF will continue to acquire and rehab homes in the neighborhood to provide more affordable housing.
Read about more efforts to build new mixed-income housing in Georgia in our March issue.
Photo provided by Historic Savannah Foundation. HSF launched its Affordable Housing Initiative with a kick-off event that included remarks from (from left) HSF CEO & President Sue Adler, HSF Revolving Fund Chair Sam Carroll, HSF Director of Preservation & Historic Properties Ryan Arvay, LCLS Roofing  & Remodeling Owner/Contractor Freddie Lucas and LCLS Project Manager Novell Bryant.
Do you follow us? Find us on Linkedin, Facebook, Twitter and Instagram.