Built With a Purpose
Mixed-income housing is addressing housing shortages throughout the state while revitalizing communities.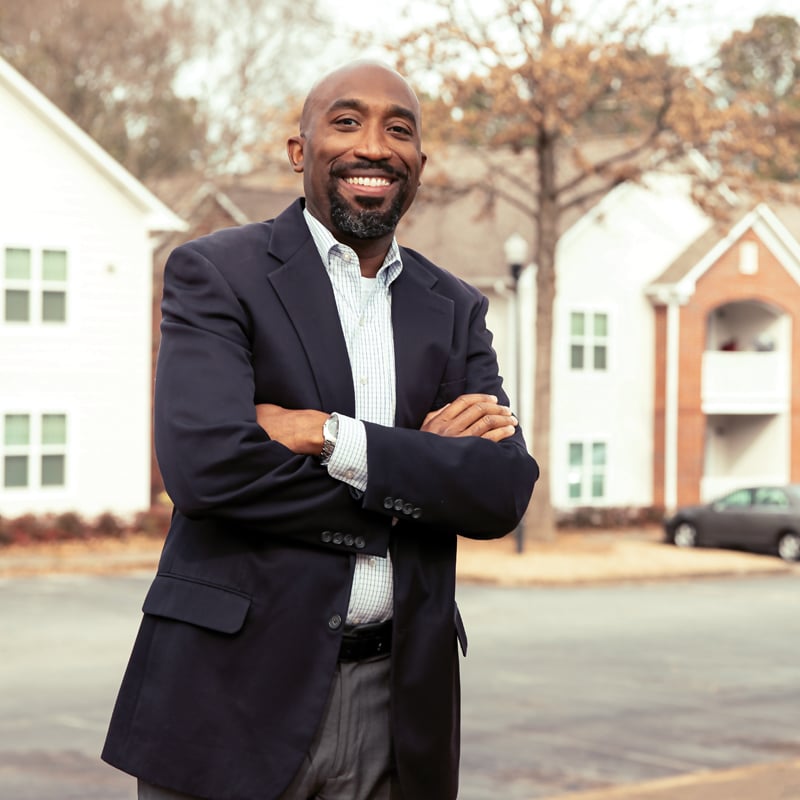 One of the most successful solutions to the lack of housing for people with lower incomes pops up on TV screens each August when the top 30 golfers tee off in the PGA TOUR Championship at East Lake Golf Club in Atlanta. The name East Lake is famous as the city's oldest golf course and the home course of the legendary Bobby Jones. It's also famous as the name of a development – The Villages of East Lake – that pioneered mixed-income housing and is considered the gold standard for such developments across the country.
In that way, East Lake is more than just a successful mixed-income housing development. Daniel Shoy Jr., who was president and CEO of the East Lake Foundation for more than a decade, calls it "transformative, model-based, lasting sustainable neighborhood revitalization work" and says its success is due to it being integrated and holistic.
Across the state, cities, developers and nonprofits are looking to mixed-income developments as they address worsening housing shortages amid rising prices. Many use the East Lake model, which combines housing with educational opportunities and on-site or easily accessed wellness services from partners, while others are getting creative about where they build, how they put deals together – and with whom.
---
Neighborhood Turnaround
Atlanta was the first city in the country with a government-owned housing project (in 1936) and among the first to tear them all down just before and after the 1996 Olympics. Before it was redeveloped in the '90s as The Villages, East Lake Meadows was one of the nation's worst public housing projects, so riddled with crime and drugs that it was known as "Little Vietnam." Residents lacked basic services as well as needed repairs to everything from sagging floors to collapsed pipes.
A number of factors influenced East Lake's transformation; the golf club is certainly one of them. Just as important were visionaries who championed the effort, such as legendary Atlanta developer and philanthropist Tom Cousins and the late Eva Davis, who was a resident, community activist and chair of the tenants' association. Also crucial were the partnerships with public entities like the Atlanta Housing Authority. "To do this work, not just in East Lake but across the country, you have to have strong public partnerships," says Shoy. "We would not be able to do the multifamily work without the [Atlanta] Housing Authority. It's not possible."
The transformation was not without controversy. At one point residents filed an unsuccessful lawsuit to stop the redevelopment, and the majority of East Lake tenants, who were given Section 8 vouchers to cover some or all of the rent to relocate while the old housing project was torn down, didn't return to the new Villages of East Lake.
But the mixed-income development – and the neighborhood – thrived. A new phase of development added 108 apartments in 2021 and the original 542 apartments and townhomes were recently renovated.
The Foundation is partnering with the Atlanta Land Trust to build 40 single-family homes, which will range in affordability from about 60% of the area median income (AMI) up to 120%, according to Shoy.
Kids attend the high-performing K-12 Charles Drew Charter School, which was Atlanta's first public charter school. And a private developer, Perennial Properties, is building 230 apartments plus retail almost adjacent to the new phase at the Villages of East Lake; 39 units of the development, called Tama Glenwood, will be affordable housing (80% of AMI) with the rest at market rate.
It's all about choice, Shoy says. "If you are someone who has moderate income and you make too much to be in subsidized housing, in affordable housing – either the deeply subsidized or the workforce housing – but you don't have quite enough to put a down payment on a home [in the East Lake area], this is the kind of swath that would allow you to be in the neighborhood," he says, adding that Tama Glenwood is "not part of the Villages, but is part of our impact."
---
Financing and Management
Mixed-income housing basically means that some of the units rent at market rates while some are reserved for people with incomes lower than the area median or AMI. Those units are subsidized for residents with low income, with Section 8 vouchers and also via low-income tax credits that developers and investors receive. The Georgia Department of Community Affairs approves a certain amount of state tax credits each year, at 4% and 9%. Those tax credits are conditioned on keeping the units affordable (below market rate) for a number of years, usually 15 but sometimes more.
Income limits are defined by the federal Department of Housing and Urban Development as low (equal to or below 80% of AMI), very low (equal or below 50%), and extremely low (equal or below 30%). When The Villages of East Lake were built, half the units were market rate and half were deeply subsidized for residents at or below 30% of AMI.
Shoy says over the years the foundation learned that the ideal model consists of thirds. "A third deeply subsidized for the public housing units – those are the families you traditionally think about when you think about Section 8-type housing," he says. "The second third are 50 to 60% AMI – think about that as tax credit units, workforce housing. And then the other third in that magic formula are the market rate." That's why in Phase 3, 75 of the 108 new units are for residents who earn 50% to 60% of AMI. (Definitions for "workforce housing" can vary across the country but generally are available to people making 50 to 60% of AMI up to 120%.)
The beauty of mixed-income housing, says Mike Austin, CEO of the Macon Housing Authority, is that you can't tell a resident's income just by looking at the unit. At Tattnall Place, a mixed-income development of duplexes, townhomes and apartments that replaced Oglethorpe Homes public housing in 2006, "we've got young professionals, we've got people on deep subsidy. And you can't look at a door or a building or a unit and say, 'that must be a Section 8 tenant, that must be a college student and that must be a professional,'" he says.
Tattnall Place was built using low-income tax credits, federal funds and a grant from the city. Like East Lake, it's sparked a renaissance for the neighborhood where it's located, Beall's Hill. "We were kind of the first to put our toe in the water over there," Austin says. "And then we just watched, over the years, how the entire neighborhood, including Mercer University, which has enhanced its property close to ours, [has] come in and totally transformed it."
Within the neighborhood, Historic Macon has built or rehabbed about 60 houses, encouraging buyers through programs that offer state tax credits and property tax freezes, and has just broken ground on an affordable housing development. The six duplexes are financed with money from the American Recovery Act and the Knight Foundation and will accept Section 8 vouchers. And Tindall Fields, an affordable housing redevelopment by the Macon Housing Authority of the Tindall Heights housing project, just completed its third phase. Financing mixed-income housing can be complicated and often involves many different layers of financing, including federal and state low-income tax credits for developers and investors, grants from local or national foundations and housing bonds issued by cities and states for low-income housing. "We look for what I call cheap money, meaning low-interest, free or granted," says Austin. "Oftentimes it's a combination. We might get a conventional loan for $200,000, we might get free money for another $200,000, and then we might get the rest, up to $1 million, in tax credits." Of course, then each lender or grantor has reporting requirements. "The more complex the capital stack gets, the more complex the backend compliance gets," says Austin.
Because rents are capped for a number of years, costs for maintenance and upkeep also have to be factored in. The entity managing the property – often a housing agency or a nonprofit like the East Lake Foundation, although some developers have a management arm – has to pay the going rate for any repairs or upkeep. "We're always analyzing this stuff to make sure when we do a deal, it's going to be here for the long run," says Austin.
Management of mixed-income and affordable housing developments is as important as the construction, says David Knight, cofounder and chief development officer at Walton Communities, which develops, owns and manages apartment communities in Atlanta, Gainesville and Augusta. The company's mission includes developing affordable housing, and it partnered with the Augusta Housing Authority to redevelop a public housing project into the mixed-income Walton Oaks with the first phase opening in 2011. Another development for seniors, The Legacy at Walton Green, opened in 2018. Both were financed with 4% and 9% low-income housing tax credits.
"A lot of developers are very capable of doing great-looking communities, but the key is maintaining that community and taking care of the residents," says Knight. The Augusta developments, which encompass more than 700 apartments either finished or under construction, partner with area nonprofits to offer education about nutrition, help kids with reading and provide after-school care. There's a concerted effort to have seniors interact with families, which benefits the entire community. "There's a lot of generational mentoring," says Knight.
There's also special consideration for residents living in the senior or age-restricted housing. Knight says that seniors may tend to stay in their apartments and not socialize, so the community plans activities – everything from continental breakfasts to trips to cultural events and a senior prom. "That's super successful," says Knight. "They dress up and if you're one of the lucky men that lives there, you definitely have your dance card full."
Offering support and services to a special population is key to the success of Gateway Pointe, a mixed-income development in Warner Robins that caters to veterans. The first phase, located adjacent to Robins Air Force Base on a city-owned site, opened in 2019 and includes 90 units, 31 at market rate. A handful of the units are set aside for veterans who are participating in programs at the Georgia Veterans Education Career Transition Resource (VECTR) Center. Health and wellness programs are available on site, according to Amon Martin III, regional vice president for the Southeast at Penn-rose, which partnered with the city and the city's development authority to create the community. A second phase opened recently.
Martin says the location – across the street from VECTR, adjacent to a park and in an area that hadn't seen new development in a while – was ideal. "The city really needed new housing on this side of town, and they wanted mixed income," Martin says. The market-rate apartments are convenient for military personnel and civilians who work on the base. The key to getting Gateway Pointe developed was the public-private partnership and funding that included state low-income housing tax credits. "That really leverages private investment," he says of Georgia's tax credits.
---
Mission-driven Development
It's getting harder to build mixed-income and affordable housing, just as the need grows even greater. Rising construction costs are squeezing developers and investors, and the demand for housing means that the tax-credit programs quickly reach their limit.
"The competition for those credits is very fierce," says Knight, who says this is the first time he can remember that the 4% program is oversubscribed (as the 9% program often is). "That's just because of demand in affordable housing right now," he says.
That's led Walton Communities to think about whether and how it could "layer in" an affordable component in its market-rate developments. But losing that income means having to raise greater equity. "We're looking to see if there are individuals, groups or corporate foundations that will invest with us," Knight says. "That would just sort of be benevolent capital they're investing in this community. They still take ownership of it, but they are not going to get a great [monetary] return on it because the return is going to be helping those residents that live in these mixed-income communities." The benevolent approach is behind one unique proposed development in
Atlanta that would rise on the grounds of downtown's Atlanta First United Methodist Church, one of the city's oldest houses of worship. Evergreen Real Estate Group, based in Chicago, is taking on its first affordable housing development in Atlanta in partnership with the church.
The proposed development includes between 320 and 350 units of mixed-income housing, about 85% affordable and 15% market rate, according to David Block, Evergreen's director of development. Although the site is tight and presents some design and construction challenges, "we see this as a potentially game-changing way to do high-density downtown mixed-income housing in a transit-served location that is close to jobs and shopping and all those great amenities," he says. For the church, addressing the lack of affordable housing is part of its mission. When the congregation started thinking about the next steps in its ministry, "it boiled down to, 'how can we be even more involved in preventing homelessness in the city of Atlanta?'" says Pastor Jasmine Smothers. "We decided that the greatest unused asset we have is the land…. Affordable housing was the next best step for the congregation and community together." That may be true of other churches. Block says he's optimistic about Mayor Andre Dickens' promise to make affordable housing a priority. "We think this is a model that's replicable," Block says. In fact, Smothers says making it replicable and scalable – and community-based – was a requirement. "It only works if we all come together and do it together because then we create a culture and not just a building," she says.
The approach would be a welcome addition as cities across Georgia look for ways to address affordable housing. "We've got to get more investors, more cities, counties, even Congress and the states, interested and involved in providing more cheap money for developers to make [it] happen," says Austin. "If [a development] is done correctly and it's managed properly, then it can be a huge value to the people who live there, obviously, but also to the community that surrounds it."